Introduction
Faisal Town is a prestigious project by the famous Zedem International Private Limited. It is situated on the Fateh Jang Road adjacent to the Fateh Jang Interchange on M-1 Motorway. Faisal Town, like Faisal Hills, is surrounded by the lush green Margalla Hills which add to the immaculate beauty of this society. Faisal Town can be called a blessing in disguise for the investors as it promises high returns and unimaginable profits.
Faisal Town and Faisal Hills can be called sister societies as they are developed by the same company and have almost the same amenities, facilities, and infrastructure. Both these are destined to reach touch the sky in terms of popularity and success.
About Owners and Developers
Chaudhary Abdul Majeed, the former Chairman of MPCHS is the developer of this esteemed society. His company known as Zedem International Private Limited is solely responsible for the development of Faisal Town. MPCHS is also a very well-known housing scheme. So far there are almost 3 sectors in which you can find the MPCHS:
B-17
F-17
E-11
The societies are well built and have excellent amenities and facilities which make life easier for the residents. This shows the experience and expertise of Chaudhary Abdul Majeed. Zedem International has many projects under construction and each one of them tells us about the engineering and architectural capabilities of Zedem.
These are a few ongoing projects of the company:
Sea Square
Faisal Margalla City
Faisal Hills
Faisal Residencia
Zedem International wants to bring a new era to the real estate industry in Pakistan. They are doing so by making outstanding projects that show light on their capabilities and vision for the industry's future.
Location
As mentioned above, Faisal Town is located right next to the Fateh Jang Interchange on the M-1 Motorway. It is connected to all major parts of the city via the motorway and the Kashmir Highway. The highway and motorway both provide access to Islamabad's beautiful city and connect the society with the New International Airport Islamabad.
You may have noticed that this specific project has a totally different location as compared to the other popular housing projects i.e Capital Smart City, ICHS Town, Nova City, Blue World City, Top City, etc.
The Map of Faisal Town
The map below shows the layout plan for the society. It is divided into blocks and each block has plots of different sizes. These size differences make the plots affordable for each class of people out there.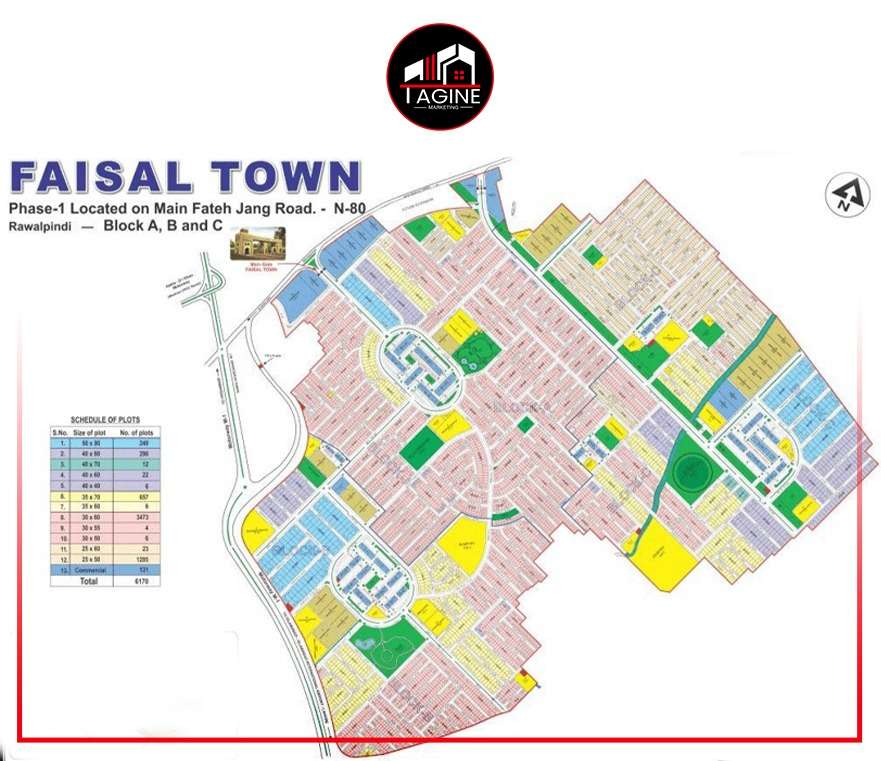 Faisal Town Blocks
As prestigious as this society is, it is still comparatively smaller than its competitors. The society has a combination of residential villas, houses, and commercial areas all divided into 3 blocks:
Payment Plan:
Faisal Town offers a variety of plots which include 5 marla, 8 marla,10marla,14 Marla, and 1 Kanal plot. The payment plan for these plots is divided into 16 monthly installments. You can book your plot by paying a registration fee of Rs 10,000 with the down payment for the plot.
Following are the details about various residential plots: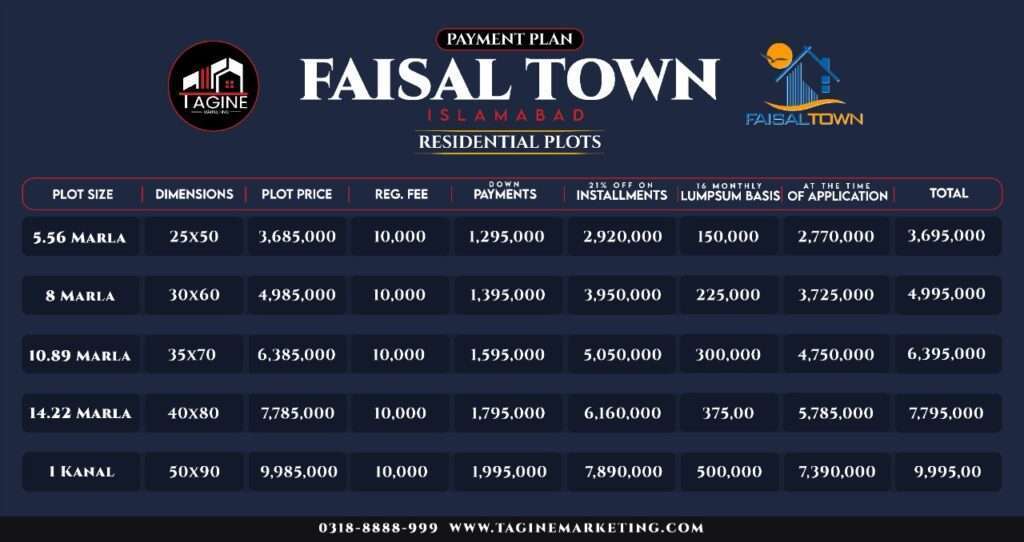 Note: These Prices are Launching Prices which are now Increased.
Features and Amenities
Like all great housing societies, Faisal town also has to offer several facilities and amenities to its residents. All these features are introduced into society after careful planning. These will ensure that each citizen is satisfied with the facilities and can carry out their daily activities without any hesitation or disturbance.
A Secure Community:
To make society secure and safe, the owners and developers have installed a network of security cameras that covers every part of society. CCTV cameras provide a sensation of safety to the residents and they carry out their daily activities in a secure and trustable environment. In addition to this, the community is heavily guarded by society's personal guards. They are present to make sure that law and order never go out of balance.
Boundary Walls:
The society is guarded on all four sides by a boundary wall that separates the community from any outside threat or disturbance. Faisal Town is a gated community and adds to the safety of the residents. Nowadays a gated community covered from all four sides is the basic most necessary ingredient in making a successful housing project and Faisal Town has done so.
Educational Institutions:
Education is the key to the success of a country. Faisal Town aims to produce leaders of tomorrow. The main plan to accomplish this goal is by the set up of state-of-the-art schools. These schools will impart modern education and work on the character building of the children so that they can become the leaders of the future.
Medical Center:
To make sure that each citizen remains healthy, a state-of-the-art hospital, laced with the latest technologies and distinguished doctors, is under construction. Moreover, small medical centers will also be available for the citizens. These centers will tend to the necessities of the people regarding health.
Wide Paved Roads:
An increase in the society's population would mean an increase in the number of vehicles within the community. The developers have taken care of the issue ahead of time and have laid down a network of wide paved roads. These will ensure a steady flow of traffic throughout the society. The following network of roads was laid down in the first phase of the society.
Shopping Malls:
A new trend of brands and shopping has swept people off their feet. To fulfill the basic as well as other needs of the residents a branded shopping mall with all modern facilities will be built. It will surely be one of the busiest shopping malls.
Water, Electricity, and Gas:
Water, electricity, and gas are the necessities of life. Faisal Town will hand out all such necessities so that the residents enjoy a comfortable lifestyle. A series of underground electrical connections will provide the people with electricity 24/7. In addition to this gas and water will be available at all times.
Mosques:
As Muslims, it is our duty to return to our lord 5 times a day. The owners and developers have made it easier to establish a connection between man and god by the construction of mosques all around society. All these mosques will have enough space to accommodate hundreds of people and will also give religious education.
Faisal Town has many perks over its competitors. It has an ideal location, beautiful, breathtaking surroundings and scenery, and a trusted owner and developer. The investors have heavily backed up this society and that is one of the reasons it is progressing very quickly. The prices have almost doubled from when the project started and that is a huge payday for the investors.
Conclusion
Faisal Town has its perks over all other societies. It has one of the best infrastructure and extremely fast development and cheap prices which gives it an edge over others. By choosing to invest in Faisal Town you will get the best of both worlds and so much more.