The officially approved housing society known as Nova City Islamabad is built by the Nova Group and is located next to the Islamabad International Airport on the M-14 Motorway. The project is being built, planned, and constructed to provide the best housing options at reasonable prices. Investors have confidence in the well-known real estate developer The Nova Group.
It has already been established that Nova City Islamabad is the best home development for both living and investing. The housing society not only represents luxurious living at affordable prices but also a safe place to live. The residential community of Nova City is ideal for accommodating your housing needs.
Nova City Islamabad Developers & Owners:
The Nova Group built Nova City in accordance with all applicable international infrastructure development requirements. The proprietor of Nova City wanted this community to be Pakistan's top housing development. The project is currently one of Islamabad's best housing developments. The best housing society in Islamabad for investments according to investors is Nova City.
The chairman and owner of the Nova Group are Mr. Chaudhry Junaid Afzal. He is a renowned property developer in Pakistan's real estate market. His main goal is to provide the best living options at reasonable prices to all parts of society. He continues to take into account the rising cost of living in order to maintain the project affordable for investors. The Nova Group's ability to complete real estate projects on the deadline is one of its strengths.
To complete the projects within the allotted time, a highly qualified team of architects, town planners, engineers, and other specialized personnel work on them day and night. The team was deliberately chosen since its members have years of national and international expertise in property development and hold the highest levels of qualification. The Nova City is just one more illustration of their devotion to and attention to their job yielding excellent results.
Projects of Nova Group Pvt. Ltd. are as follows:
Nova One Lahore
Nova City Islamabad
Nova City Peshawar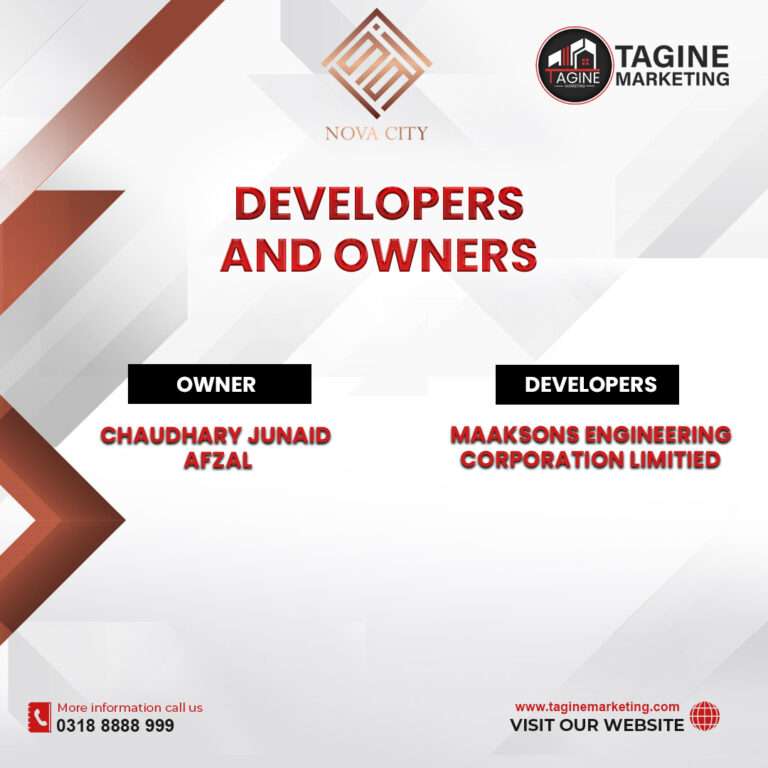 According to letter No. PHATA/W-I/PHS/2021/690, the Tehsil Municipal Administration (TMA) Fateh Jhang and Punjab Housing and Town Planning Agency (PHATA) have accepted the No Objection Certificate (NOC) for Nova City. The prospects of development and investment are higher for projects that have been approved and made legal.
Tagine Marketing advises obtaining the official NOC before making any investments in Nova City. We will not be held liable if any incorrect information about its NOC is spread.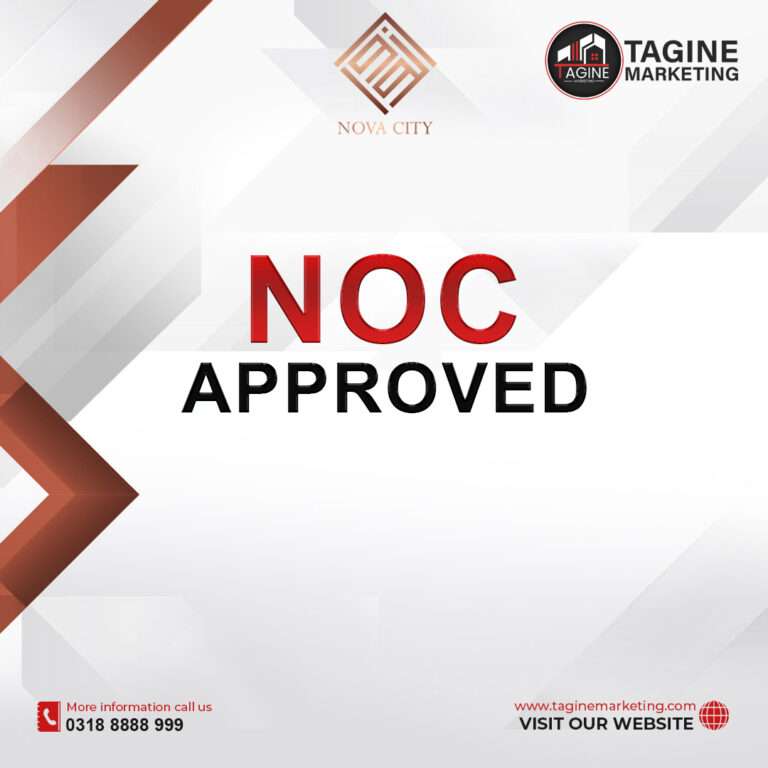 Nova City Islamabad Location:
The M-14 Motorway is where Nova City is situated, close to the Islamabad International Airport. The finest real estate investment in Islamabad for investors is Nova City due to its excellent location. Because it is situated in one of the nicest areas of the twin cities, Nova City map is simple to navigate. Additionally, the Rawalpindi Ring Road and the CPEC route are nearby (RRR). Because there are many ways to approach the ideal society, it is in fact ideal in every aspect.
Additionally, it takes only a few minutes to get to New Islamabad International Airport. For frequent travelers, the airport's proximity makes it quite profitable. Businessmen that want to be close to transportation and communication hubs will benefit from Nova City.
The Rama Dam, Sapiala Dam, and Kasana Dam are three dams that are close to Nova City due to their geographic location. Another aspect of its setting is the lovely Kheri Moorat National Park, which spans over 8600 acres. These characteristics collectively heighten the significance of the residential society.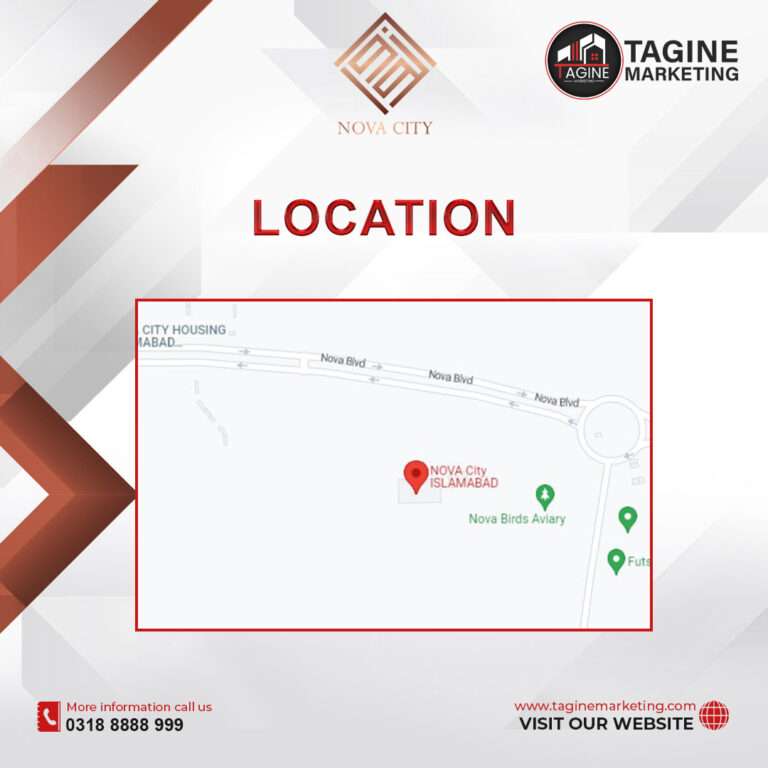 Nova City Islamabad Accessibilities:
Nova City is quite an accessible project. Nova City is accessible in the following ways:
Right next to the CPEC route

Right next to the Rawalpindi Ring Road

Right next to the CPEC-Ring Road Interchange

Almost 4 min drive away from Kanial

Almost 7 min drive away from Bango

Almost 11 min drive away from Dhok Korak

Almost 9 min drive away from N-80, Qutbal

Almost 26 min drive away from M-2 Motorway

Almost 27 min drive away from Islamabad

Almost 32 min drive away from Rawalpindi

Almost 22 min drive away from Islamabad International Airport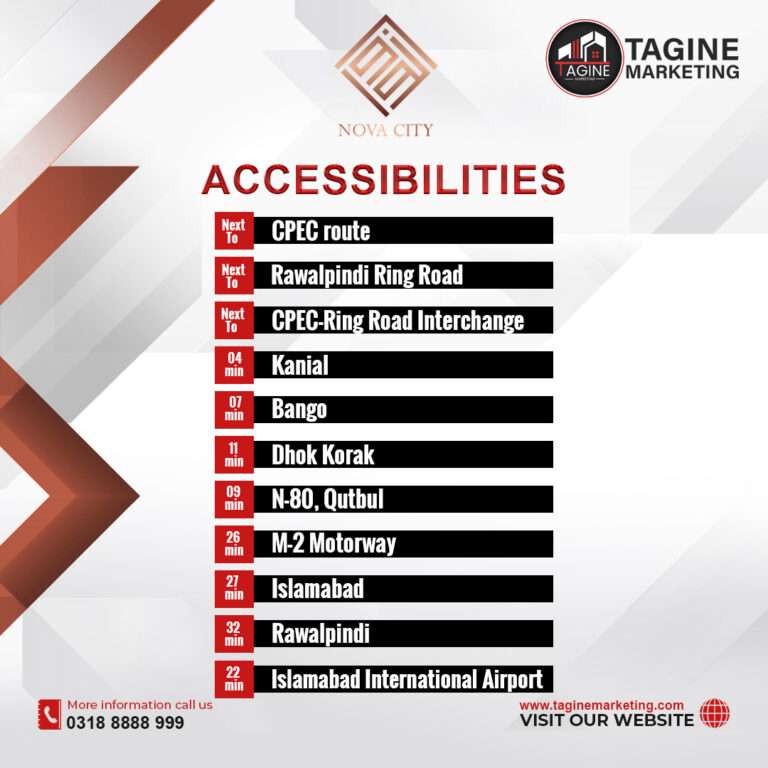 Nova City Islamabad Nearby Landmarks & Places:
Following are the landmarks and places near Nova City that make it one of the most prime locations for housing society as follows:
Attock

N-80

Top City-1

Rawalpindi

Islamabad

Fateh Jhang

CPEC route

M2 Motorway

Mumtaz City

Capital Smart City

Rawalpindi Ring Road

CPEC-Ring Road Interchange

Islamabad International Airport
Nova City Prime Block Residential Plots Payment Plan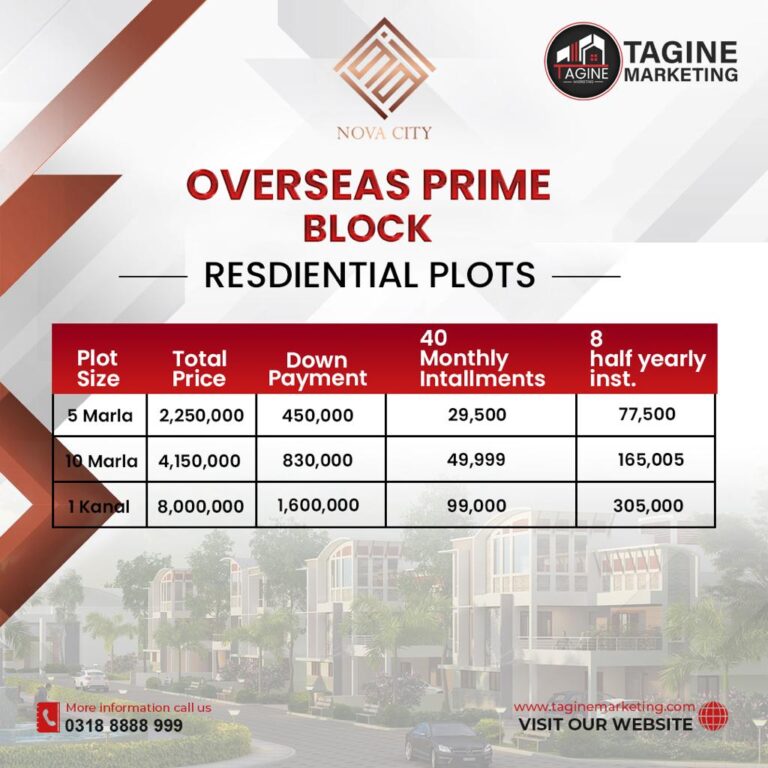 Nova City Islamabad Balloting:
The balloting plays a crucial role in the development of a housing scheme and customer satisfaction. It is indeed a big milestone achieved by the developers and owners of the project. The balloting of plots in Nova City was held in two phases, as follows:
Nova City Islamabad 1st Balloting:
On March 23, 2022, the management of Nova City Islamabad conducted the first balloting.
Nova City Islamabad 2nd Balloting:
The 2nd balloting of Nova City will soon be held.
Nova City Islamabad Master Plan:
Nova City master plan includes a variety of amenities and facilities. Given that the project will be developed in accordance with international standards, the society is ideal for habitation. It is the greatest area to reside in Islamabad due to the amenities like affordability, ideal location, security, eco-friendliness, and tranquil environment.
Due to previously completed projects that satisfied all the criteria and were developed by the developers, investors have a high level of trust in them. Visit the official website of Nova City if you have any questions about the residential plots there. Reviews of Nova City are favorable because the developers did everything possible to make it a successful housing project.
The proprietor of Nova City has changed the community from a desolate plot of land into a gorgeous and cutting-edge housing community that is ready to support a modern way of life in a matter of months. Residents and guests are greeted with the 400-foot central boulevard in all its splendor. The 35 miles of trails and over 500 Kanal central park are ideal for leading a healthy lifestyle. The eco-friendly characteristics are ideal for a contemporary way of living.
Nova City Islamabad Residential Plots:
The Nova City is offering a range of residential plots for investment in different sizes as follows:
3.5 Marla

5 Marla

8 Marla

10 Marla

14 Marla

1 Kanal

2 Kanal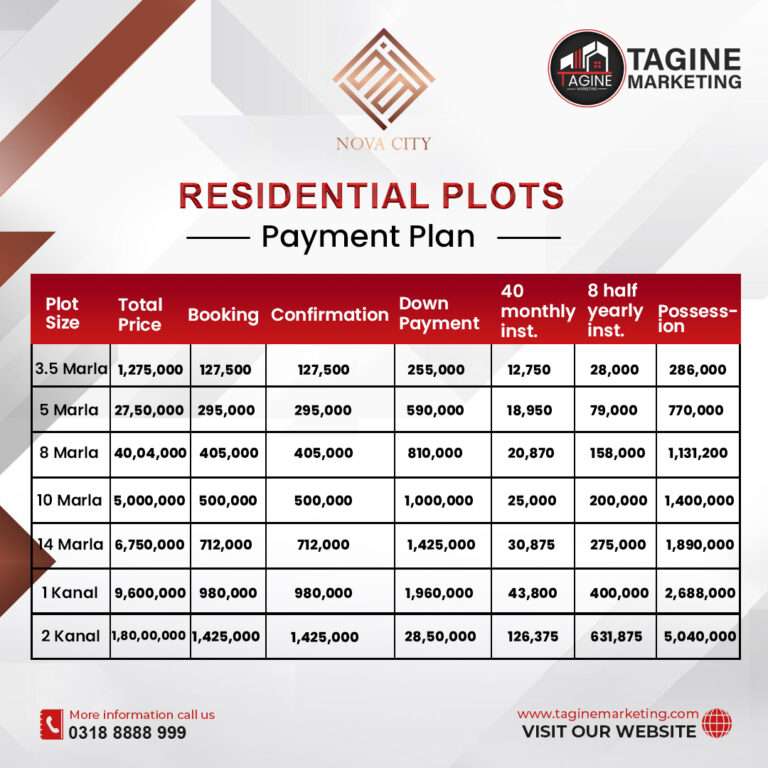 Nova City Islamabad Commercial Plots: (Non-Possession)

Nova City is offering a range of commercial plots for investment in different sizes as follows: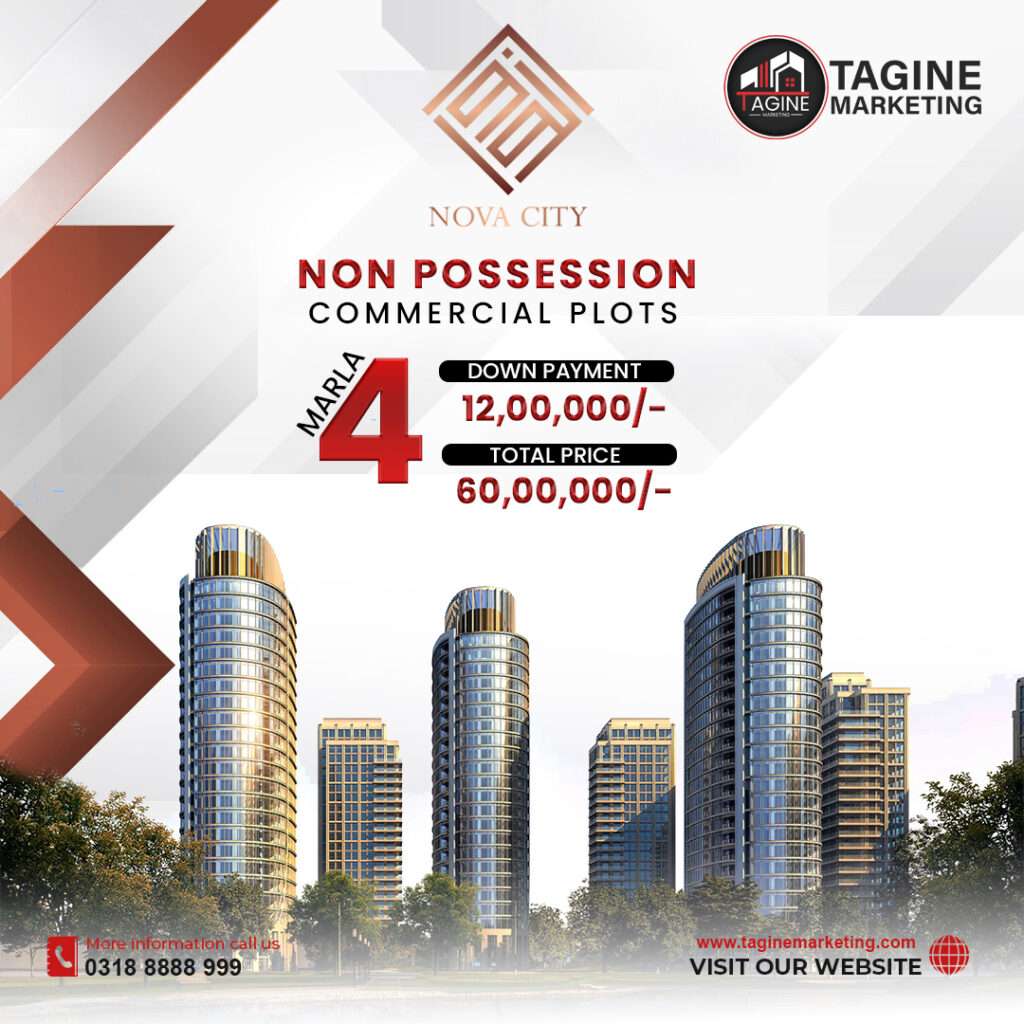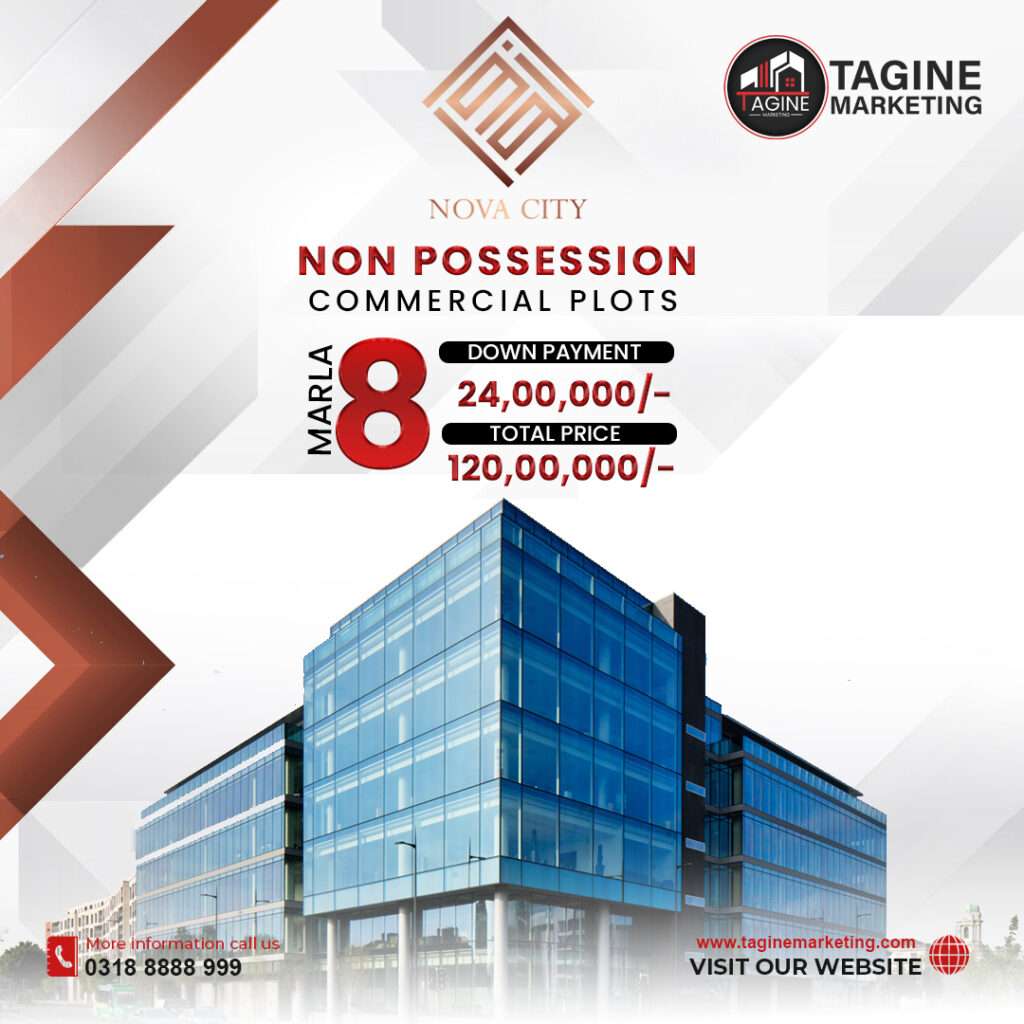 Nova City Islamabad E-Sports Block:
Nova City Esports Block prioritizes safety and health standards, and that is why it has launched the health-oriented E-sports Block.
It has all the sports facilities required to protect the locals against illnesses and other conditions that could develop from a lack of physical exercise. The following sizes of residential plots are also available for purchase on this block: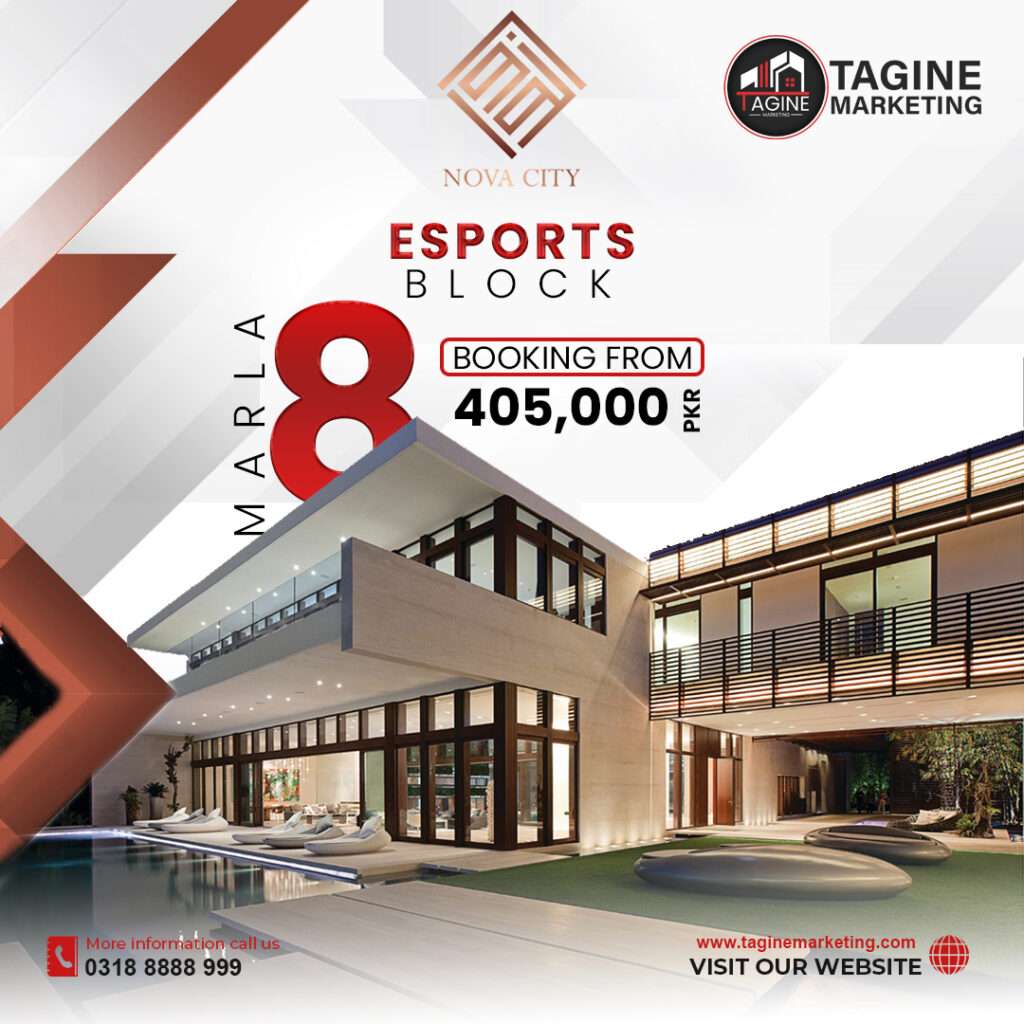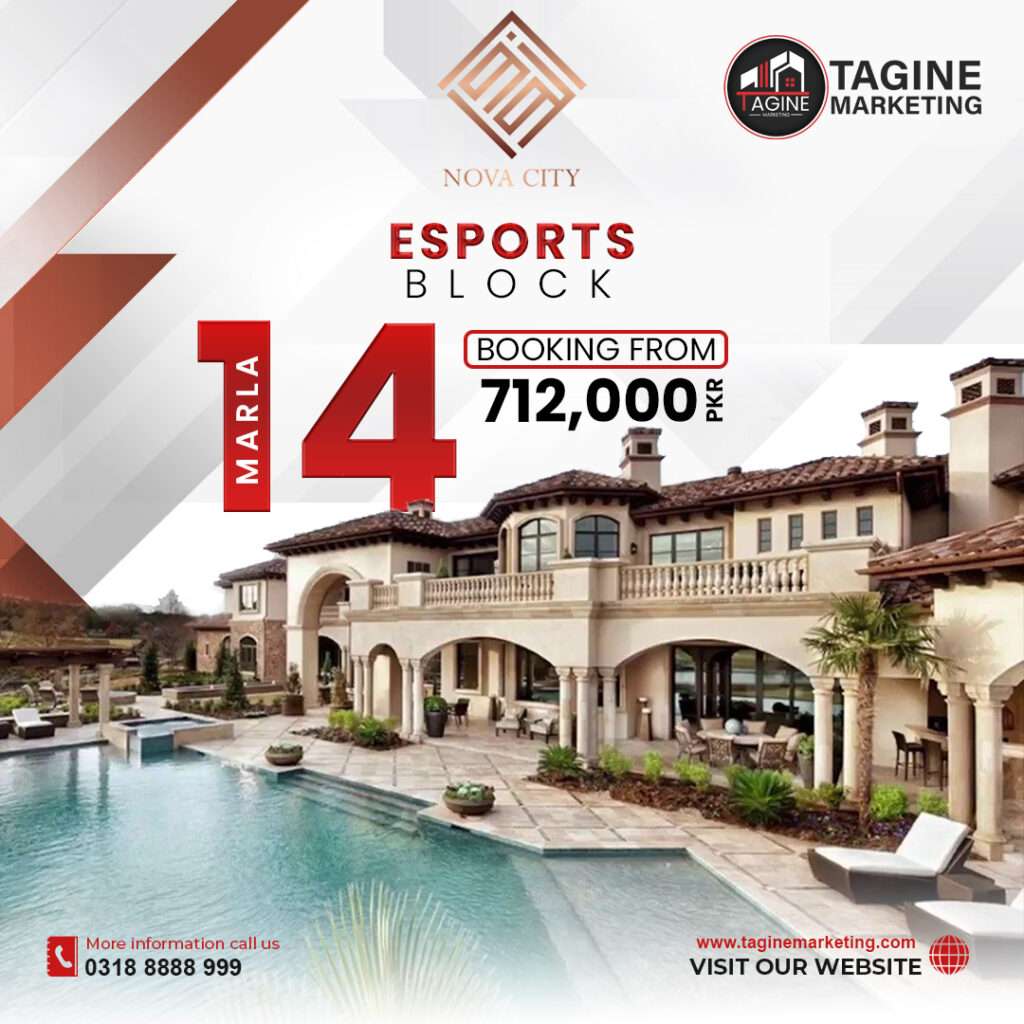 Nova City Islamabad Pueblo Block:
Another residential building created with a specific purpose in mind to provide one-of-a-kind amenities in a variety of ways is The Pueblo Block in Nova City.
A range of residential plots offered in Pueblo Block are available in different sizes as follows: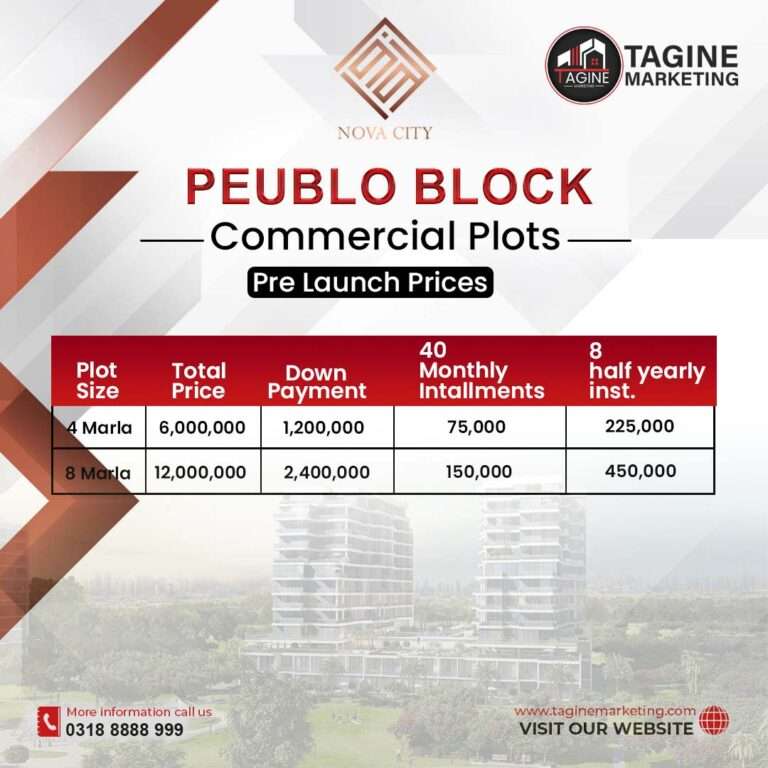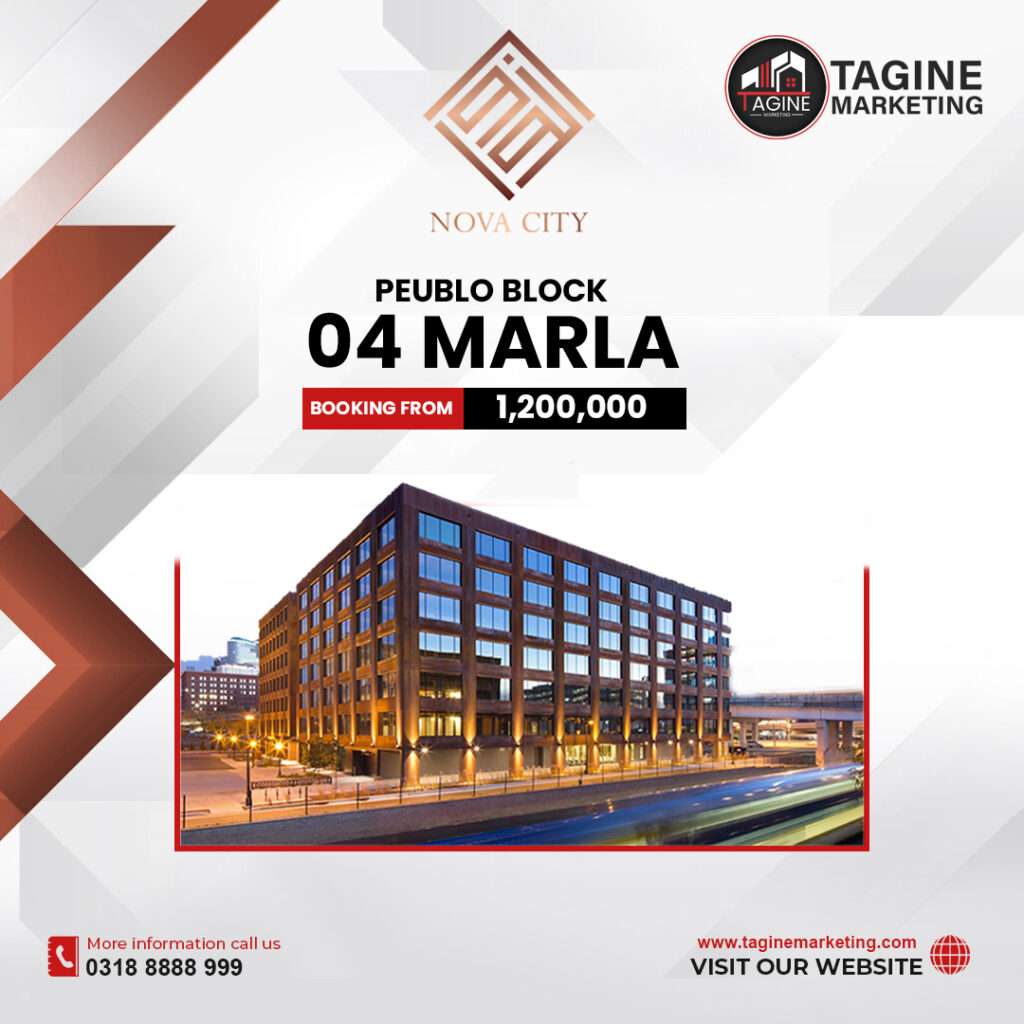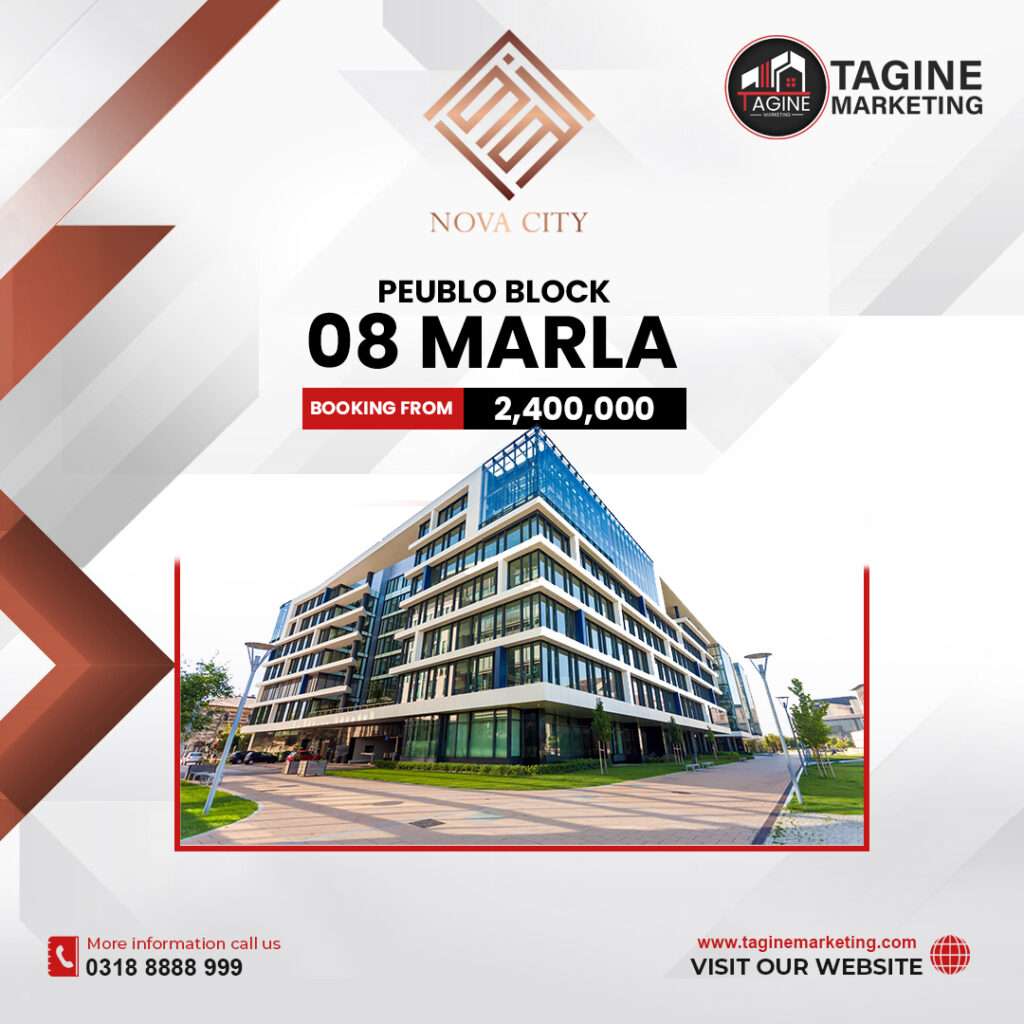 Nova City Islamabad Pueblo Residential Block: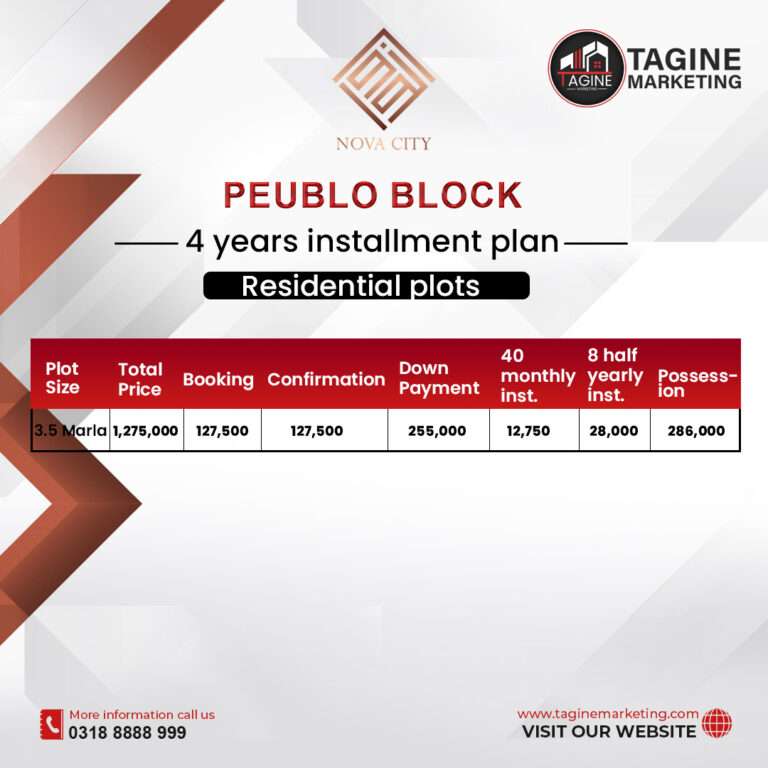 Nova City Islamabad Overseas Block:
The society has introduced a new block to meet the needs of the overseas clients. It is ideal for people who live abroad because it offers the same level of amenities at reasonable prices.
A limited number of residential plots offered in Overseas Block Nova City are available in different sizes as follows:
5 Marla (125 square yards)

10 Marla (250 square yards)

1 Kanal (500 square yards)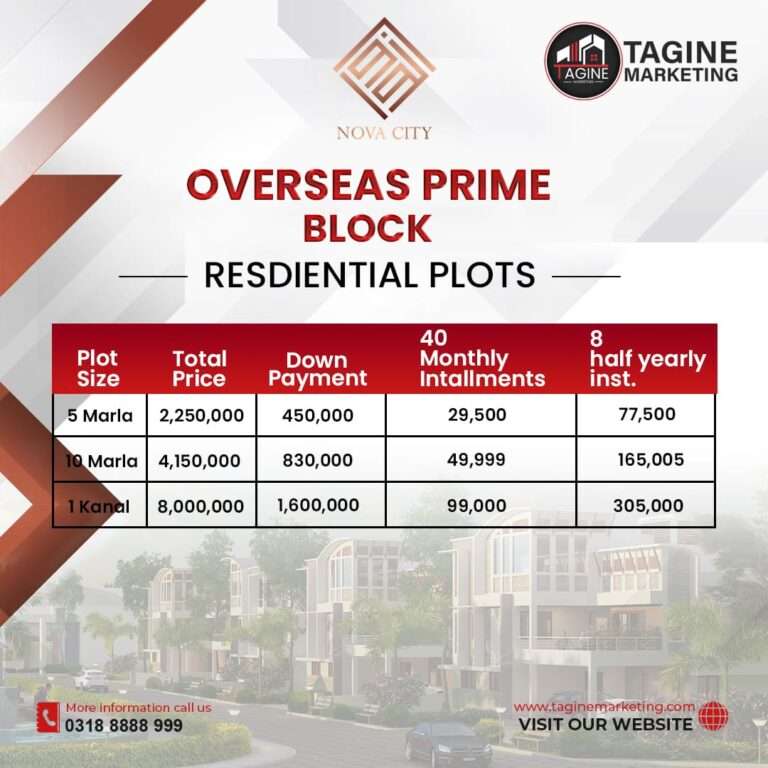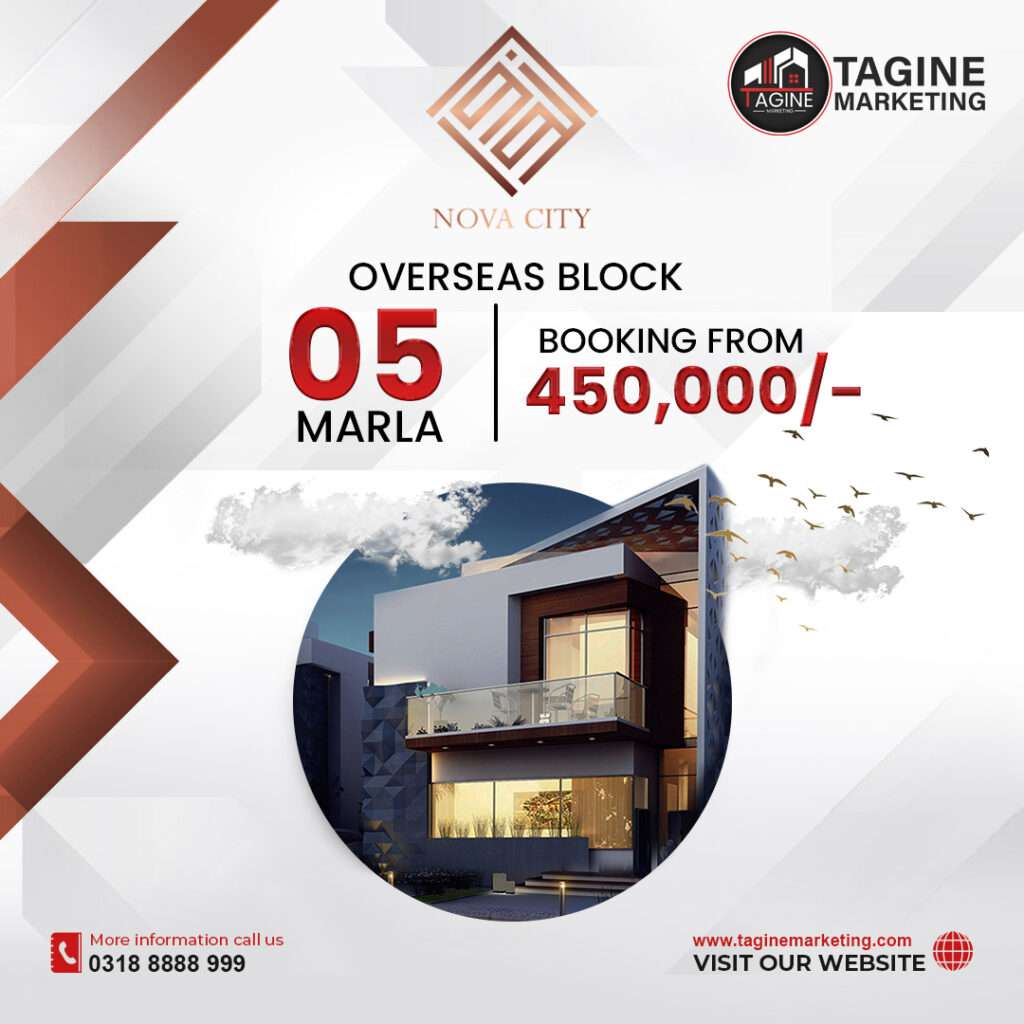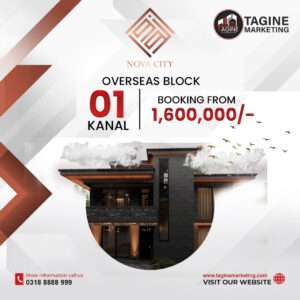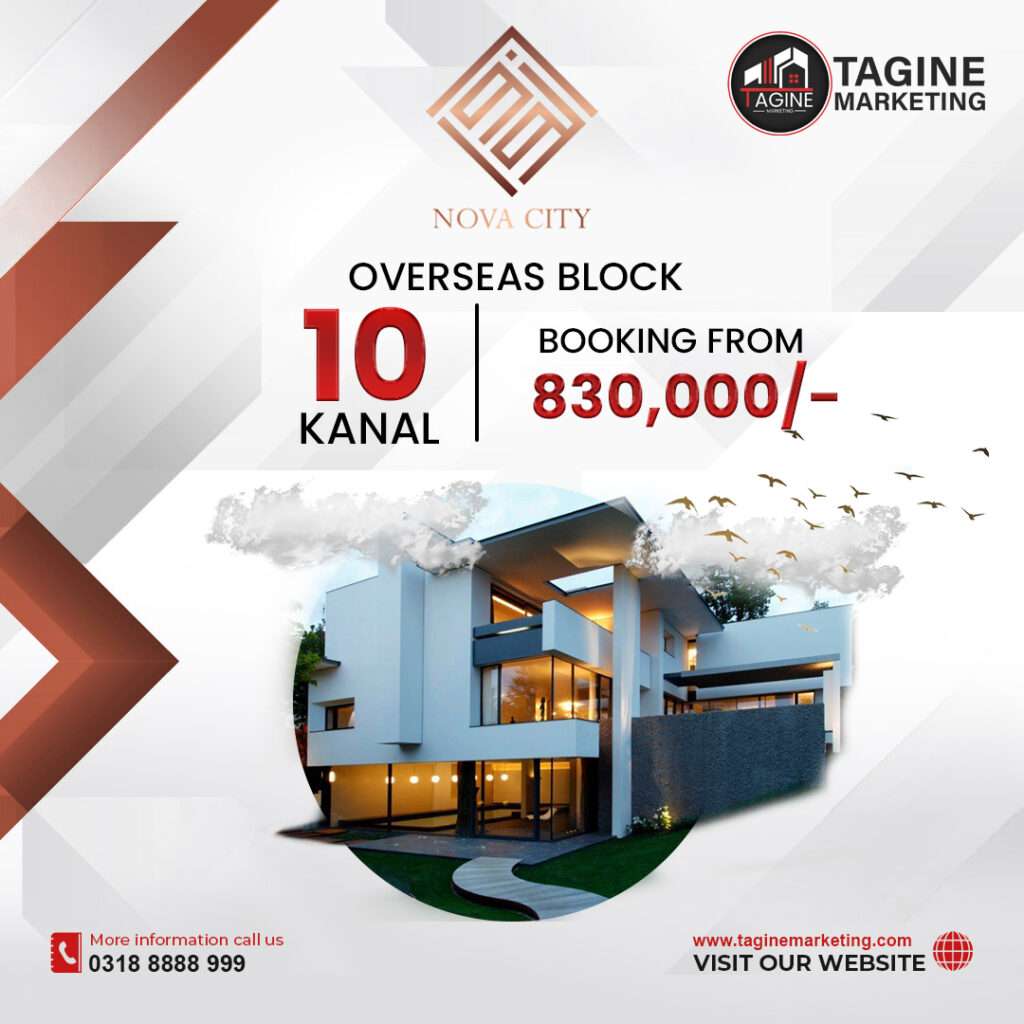 Nova City Islamabad Farmhouses:
Unlike any other part of the residential society, the farmhouses in Islamabad's Nova City housing development are created, planned, and built to provide a close-to-nature living experience. The available plot sizes range as follows:
Nova City Islamabad Villas:
The Villas in Islamabad's Nova City housing society were created with a unique focus on smart living that sets them apart from other parts of the residential community. The available villa sizes come in a variety of arrangements, including:
Nova City is soon going to launch their General Block. Map and Balloting of General block will be revealed on 20th of November the location of General block will be the Center of Nova City Islamabad. 1st Balloting Criteria of Nova city is that, who have paid their Installment of 2 Years from 2021 to 2022 their name will be on Balloting. The available villa sizes come in a variety of arrangements, including
5 Marla (Booking Closed)
10 Marla
1 Kanal
2 Kanal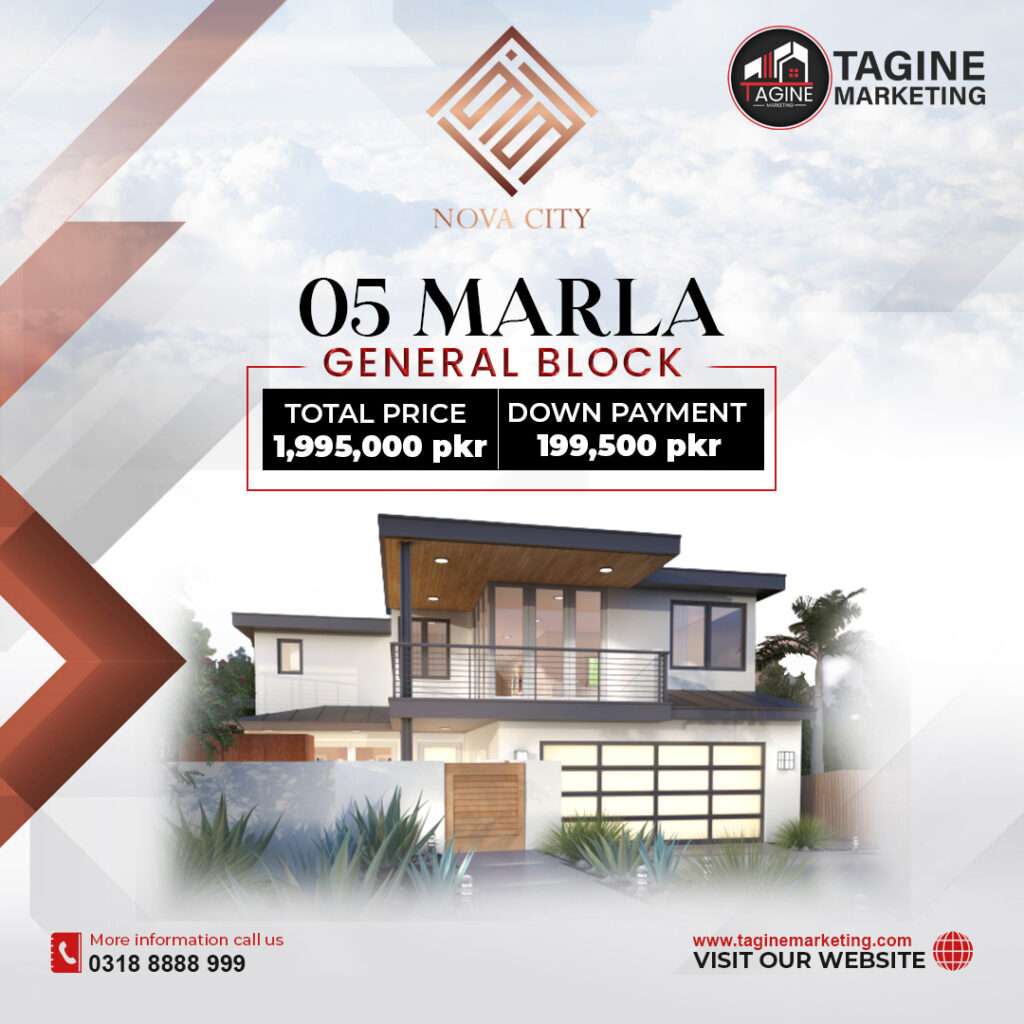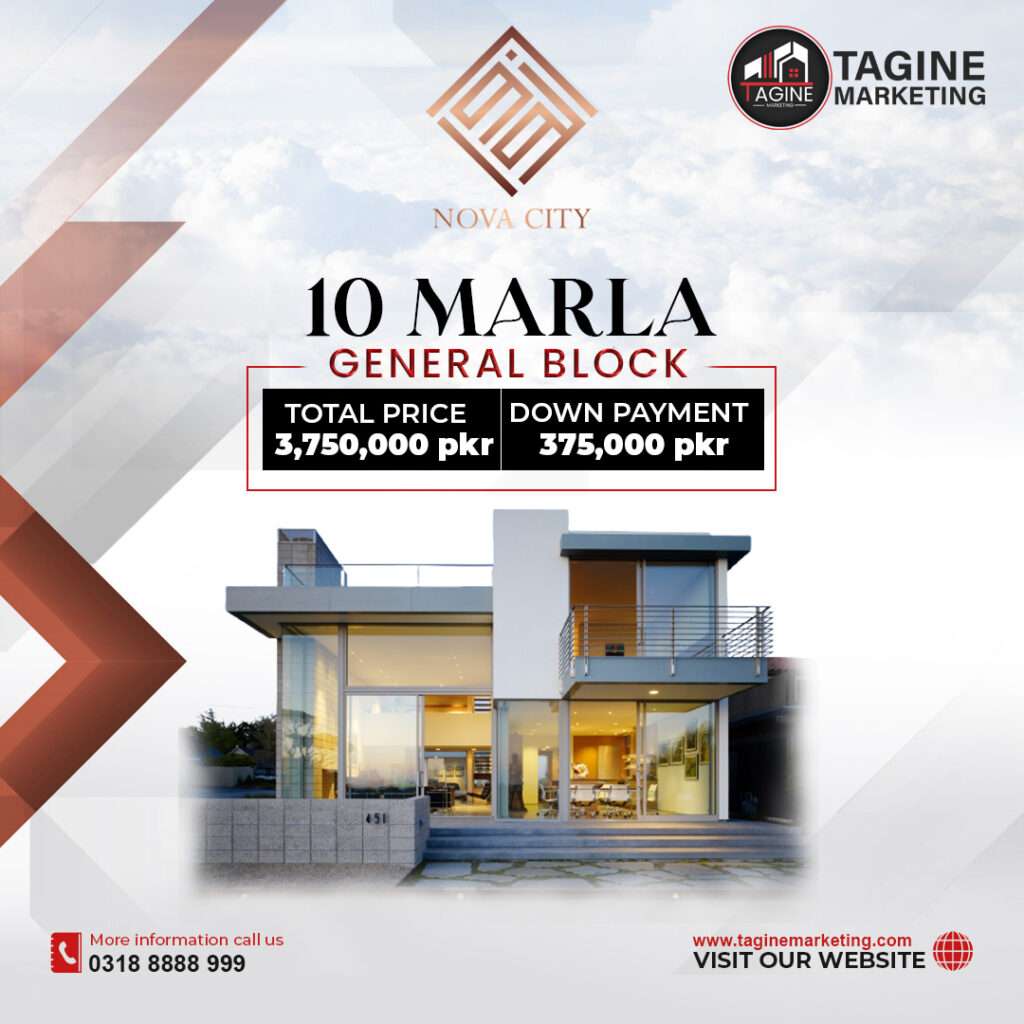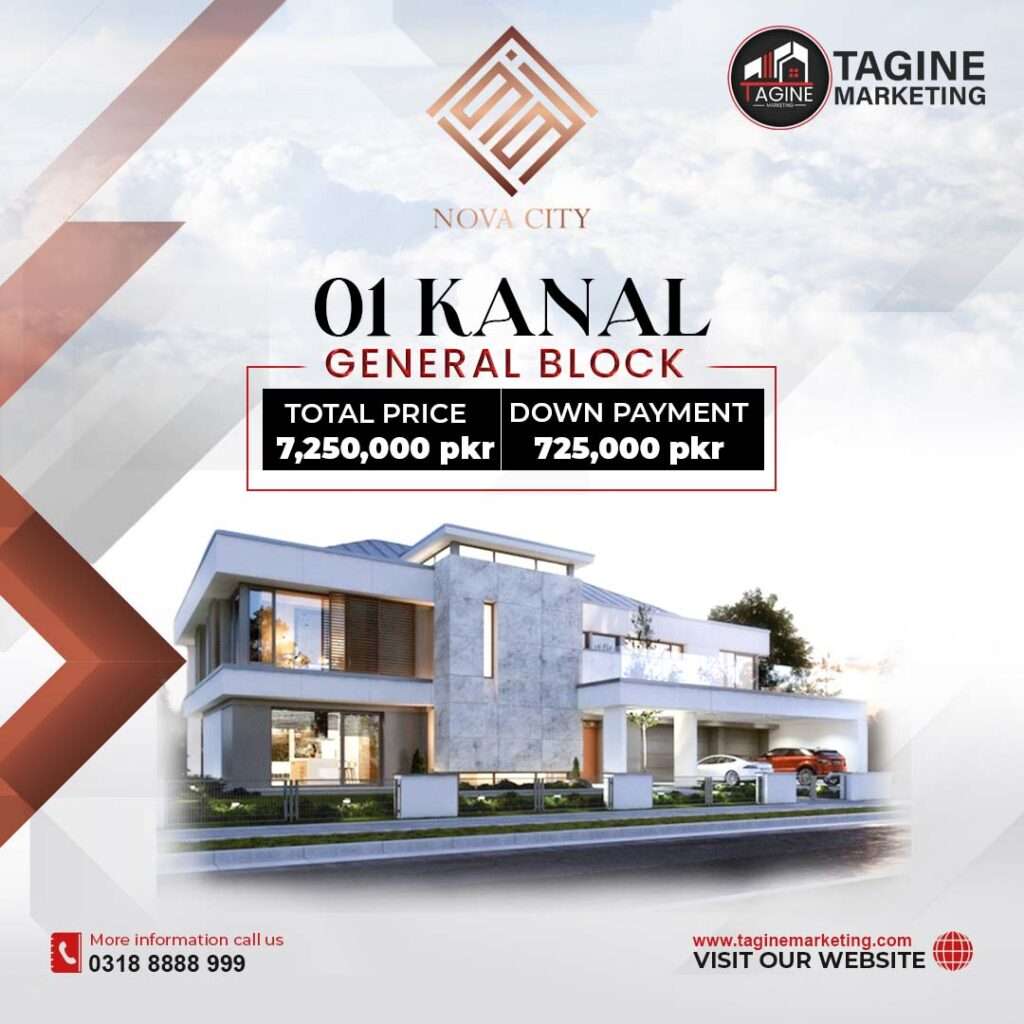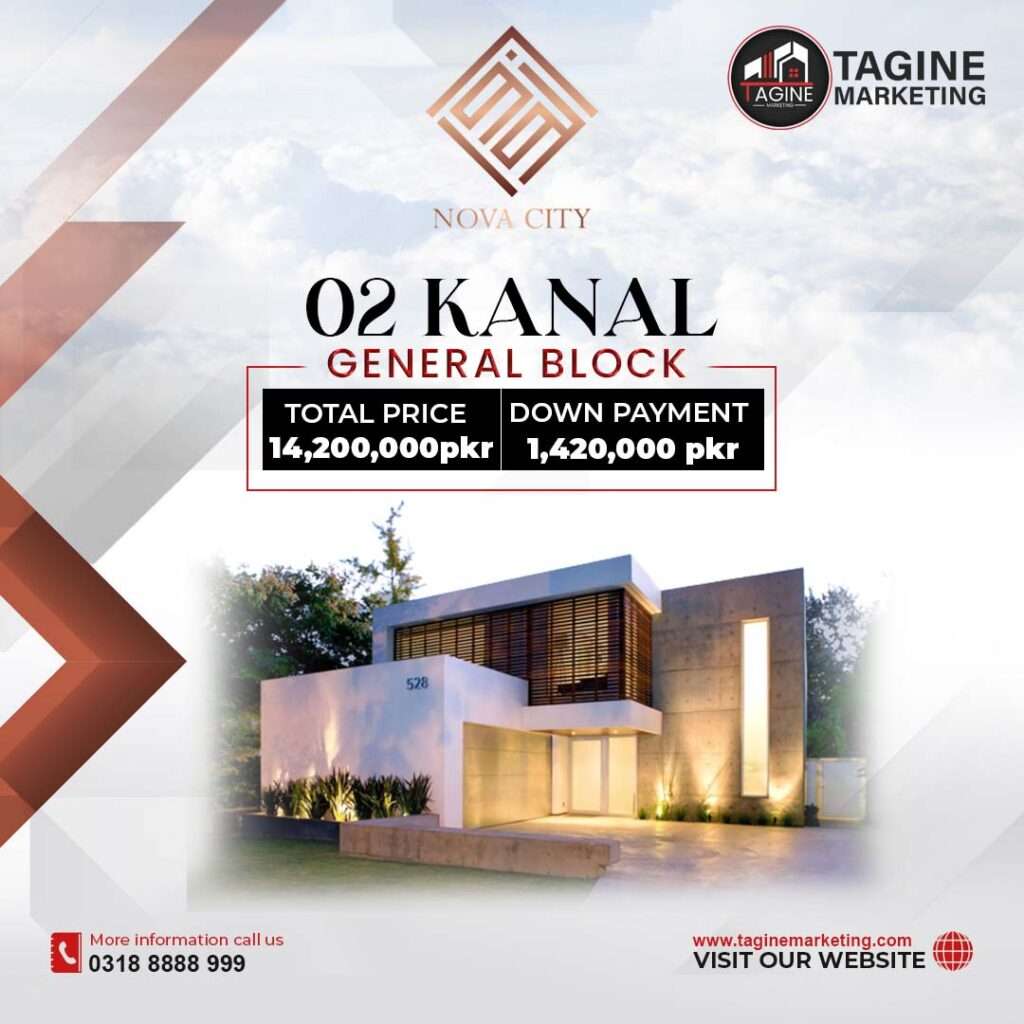 Nova City Islamabad Payment Plan:
With simple monthly schedules, Nova City payment plans are fairly inexpensive. When compared to the opulent facilities, the plots for sale in Nova City are more affordable. To provide investors with a simple investment opportunity in Islamabad, the management and developers have worked hard to keep the prices as low as possible.
Nova City Islamabad Commercial Plots Payment Plan: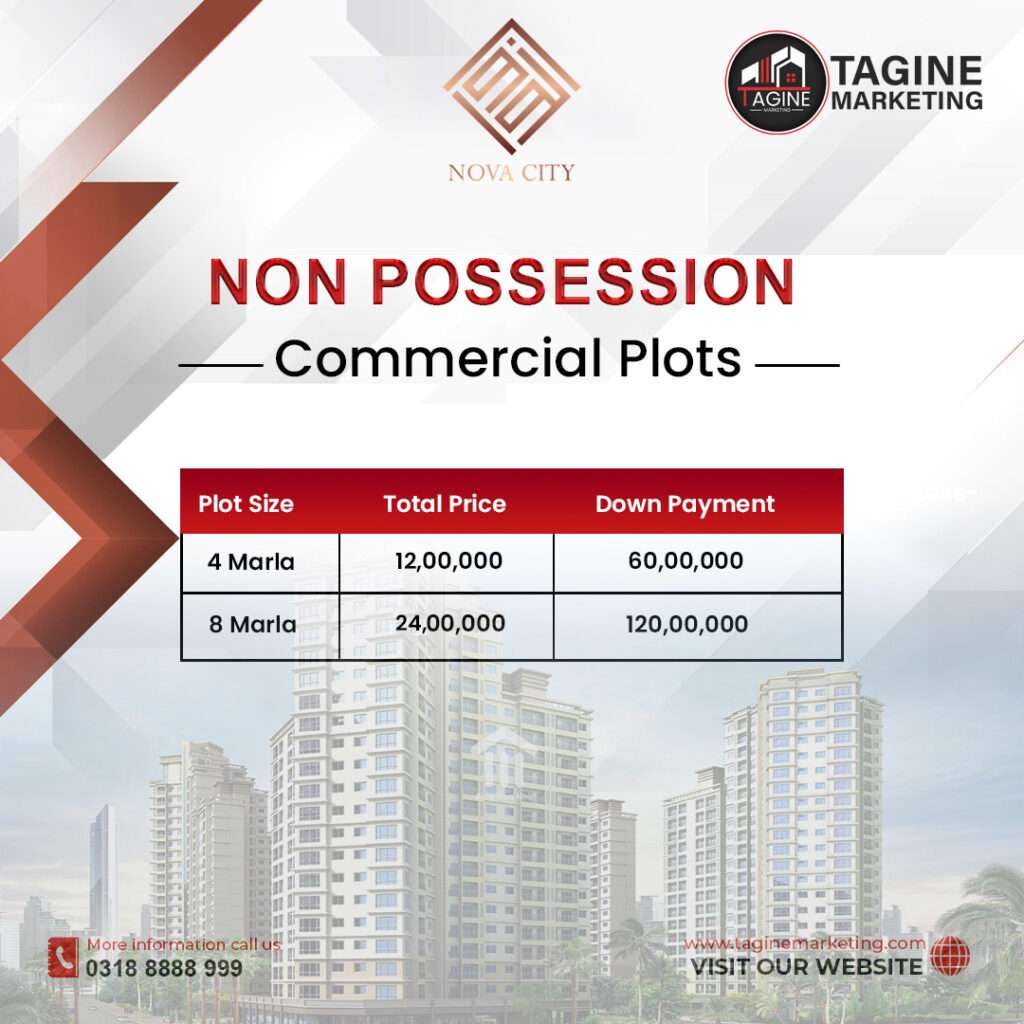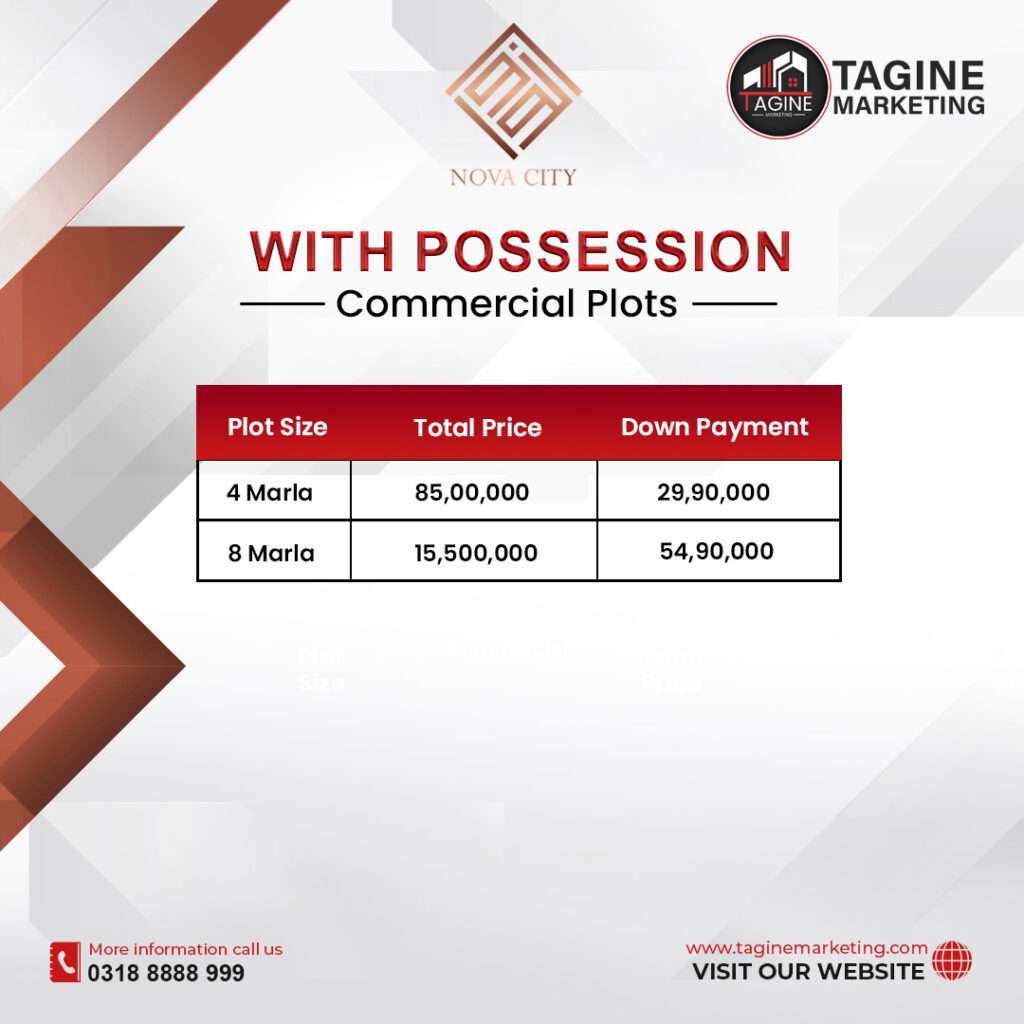 Nova City Possession Charges:
Nova City Possession Charges:
The possession charges for plots are included in the payment plans of Nova City.
Nova City Islamabad Application Form:
From the official website or management, you can submit an application for Nova City.
However, you would need to submit the following paperwork along with your application.:
Passport size photographs

Copy of CNIC or passport

Copy of NICOP

Copy of payment receipt

Screenshot of online payment slip
Nova City Islamabad Membership Form:
Contact the management to acquire a membership form of Nova City.
Nova City Islamabad Registration Form:
Contact the management to acquire the registration form for Nova City.
Nova City Islamabad Allotment Certificate:
The official management of Nova City could be contacted for the allotment certificate.
Nova City Transfer Process:
The administration of Nova City can be contacted to find out more about the plot transfer procedure.
Nova City Islamabad Payment Modes:
Visit the official website of Nova City to learn more about the plots' payment options.
Nova City Islamabad E-Tracking:
You must get in touch with Nova City official management if you wish to track your reservation.
Facilities & Amenities:
At reasonable prices, Nova City offers contemporary conveniences and features. Any opulent modern multipurpose project, which might be referred to as a whole real estate project, includes the facilities.
The facilities in Nova City Islamabad are as follows:
Eco-Friendly:
With all the modern conveniences, the project will offer an environmentally sustainable, close-to-nature lifestyle. The intimate proximity to nature will offer a singular experience that is unmatched in Pakistan.
Water Resources:
The project has considered the water requirements of the locals. To do this, enormous amounts of water will be stored in water reservoirs that the residents can utilize for daily tasks.
Business & Commercial Hub:
The builders have taken care of all the commercial and economic requirements. The project will offer a comprehensive business space as a result. The inhabitants can satisfy all of the project's business needs from these locations.
Secure Project:
A project requires a sense of security. People are given complete security by a security system that has carefully placed 24/7 CCTV cameras and other surveillance equipment. In order to guarantee a high level of safety, the project will also be enclosed by a boundary wall with a failsafe system.
Nova City Islamabad Salient Features:
The following are the salient features of Nova City Islamabad:
Shops

Affordability

Accessibility

24/7 Security

Maintenance

Water Resources

Eco-Community

Beautiful Entrance

Quality Development

Water, Gas, Electricity

Sewerage and Waste Disposal System

World-Class Infrastructure Development
Why Invest in Nova City Islamabad?
Numerous benefits exist for investing in Nova City. The best investment opportunity in Islamabad is Nova City for any investor wishing to put money into a successful project. The following are some of the primary justifications for investing in Nova City:
Eco-friendly

Affordable

Prime location

Spacious properties

Luxurious amenities

Well-known developers

International infrastructure development
Guidelines to Follow While Purchasing/Sale of Plots:
Following are the guidelines to follow:
Document Verification:
To prevent any misunderstandings or miscommunication, please carefully double-check all documents to your total satisfaction. Make sure to ask the authorities about the NOC and approved paperwork before engaging in any real estate purchase or transaction. Your paperwork will be legitimate in this way if there are any other ways to satisfy the customer.
Financial Security:
Before the conclusion of any sale or purchase of the property, please ensure that your funds align with your purchase plan. In this way, your purchase or sale will be made without any issues.
Property Visits:
Visit the location to make sure the written documents are in compliance with the plot parameters after making sure the documents are valid and before making any purchases.
Documentation Requirement for Booking:
Tagine Marketing encourages consumers to inquire about the most recent paperwork needs before making a reservation since we value our relationship of transparency and trust with them. Additionally, you can reserve residential and business plots in other Islamabad-based developments including Faisal Town Phase 2, New City Paradise, MCPHS Multi Gardens Phase 2 and Nova City.
The following documents are required to buy property in Nova City Islamabad:
Two passport-size pictures

NICOP for overseas clients

Two copies of your National Identity Card

Two copies of the I.D. card of your next kin
Benefits of Real Estate Investment:
Among other companies, real estate investing is one of the most lucrative ones. This is due to its tremendous potential for investment return. But it's important to remember that it will only be successful if done correctly. Investing in the real estate sector can lead to a variety of advantages. The following are some of the primary advantages:
Financial Security:
The real estate industry is, in fact, the industry that can keep the value of an investment high and prevent it from depreciating if a person has some spare money or some assets and wants to maintain the high of such assets.
Stable Income:
Quickly generating a solid income through real estate investment is possible. One could purchase a property, develop it, or purchase a developed property, then rent it out on a monthly or yearly basis. Additionally, the rent goes up by a certain amount each year, so it is fair to claim that it is improving rather than remaining stable.
Manageable:
An investment doesn't require constant maintenance once it's finished; it's not like a living creature. The most you will have to do is occasionally check on your land to make sure encroachers don't take possession of it.
Passive Income:
Rent could be a source of passive income once someone has invested in real estate. Investors purchase built real estate or develop undeveloped land and then rent it out to generate income continuously throughout the year.
Non-depreciable Asset:
When done properly, real estate investing is a type of business that never loses value. Every year, the value of real estate rises. Additionally, if a sizable public or private project is launched nearby, the value may rise dramatically.
Booking Procedure for Nova City Islamabad:
Tagine Marketing always urges our esteemed clients to clear up any communication before asking management about the most recent booking procedure. The booking process is as straightforward as it can be.
All you have to do is follow the steps mentioned below:
Fill out your booking application form with full attention

Attach the CNIC copies of the applicant

Pay down payment via cheque or pay the order in favor of "Nova City Islamabad," but confirm the management process in case of new changes

Cash payments are also accepted after confirmation by the management

Submit all the required documents and payment and get the receipt
Conclusion:
A world-class, opulent lifestyle for the residents is the only goal of Nova City , a premium residential and commercial development. The key characteristics of this property are its luxurious amenities, reasonable price, and excellent location. Contact with Tagine Marketing will make it simple for you to purchase a plot in Nova City.