Blue World City Islamabad
The top-ranked housing community in Islamabad is called Blue World City Islamabad. The Blue Group of Companies (BGC) is building it in collaboration with the renowned Shan Jian Municipal Engineering Company, and it is situated directly near the Chakri Interchange and the recently proposed Rawalpindi Ring Road.
It is currently one of the most reasonably priced property developments in the region and is very well-liked by investors. This is the best choice for people wishing to invest in a residential project with a high rate of return.
Additionally, Blue World City offers online services including Blue World City Verification, Online Installment, Certificate of Registration Online Verification, and Application Status.
Blue World is separated into a number of Blocks, such as the General Block, Overseas Block, Blue Hills Country Farms, Awami Villas, Blue World Economic Zone, Orbital Apartments, and low-cost Awami Residential Complex.
Blue World City Islamabad Developers & Owners: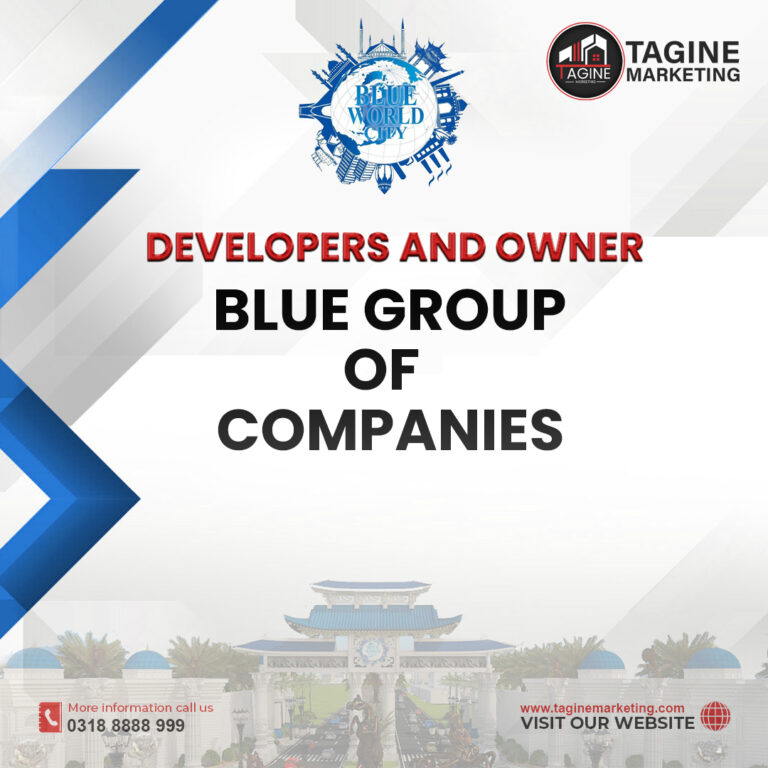 Blue Group of Companies is the owner and developer of (BWC). Saad Nazir, the son of the late Deputy Commissioner of Lahore Chaudhry Nazeer, is the owner of this society.
Tagine Marketing is happy to announce that Blue Group of Companies has signed a Memorandum of Understanding (MOU) with the highly regarded Shan Jian Municipal Engineering Company, which is situated in China, in order to ensure and carry out the promise of first-rate development.
About Blue Group of Companies (BGC):
The Blue Group of Companies was founded in Lahore in 1989. The business initially offered services like architectural design and construction.
By attracting customers and respected investors in the market, the company is rapidly able to establish a solid reputation as a reliable and professional organization. The business is currently ranked among the top five internationally renowned real estate development enterprises in Pakistan.
Since then, the business has worked to establish itself as a one-stop shop for a variety of services, including marketing, architectural design, construction, IT support, and commercial printing.
One of the most varied corporations in Pakistan, the Blue Group of Companies employs over 300 devoted professionals who perform their jobs in a variety of positions.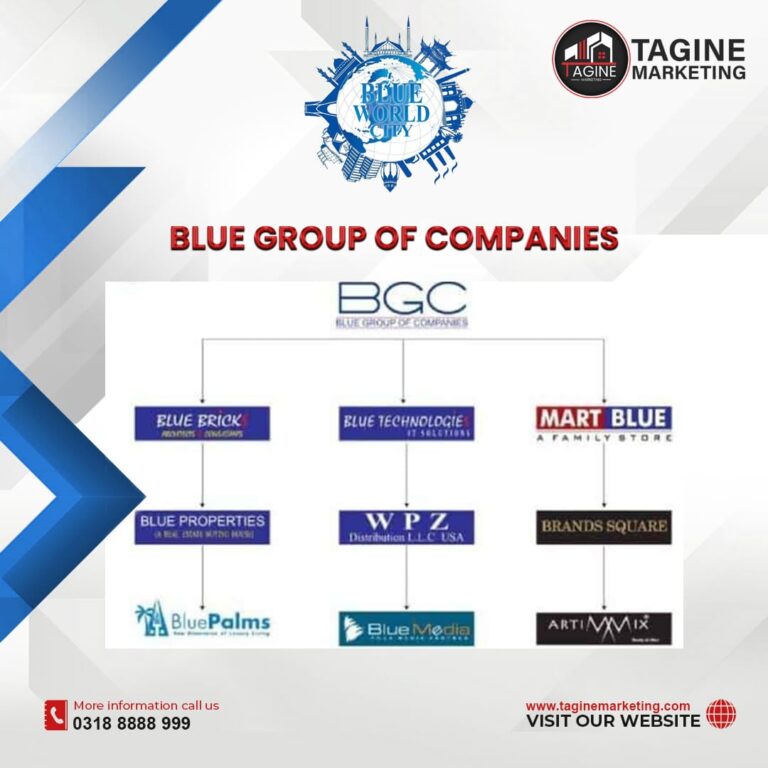 The following corporations are part of the very diverse Blue Group of Companies:
Blue Bricks

Blue Properties

Blue Palms

Blue Technologies

WPZ

Blue Media

Mart Blue

Brands Square

Artimmix
Previous Property Projects by BGC:
Earlier, Saad Nazir finished housing projects such as  PIA Cooperative Society, Center Park Lahore, Blue Town Sapphire, Blue Mart, and Blue Technologies, among other enterprises and housing initiatives. The most recent cutting-edge residential development by BGC is Blue World City society Islamabad.
Blue World City Islamabad NOC:
The Blue World City Islamabad received a planning permit from the Rawalpindi Development Authority (RDA) in defiance of Vide Letter No.532/10/DC Dated: 07-08-2018. In the beginning, Preliminary Planning Permission for around 427 Kanal of land was granted to the society.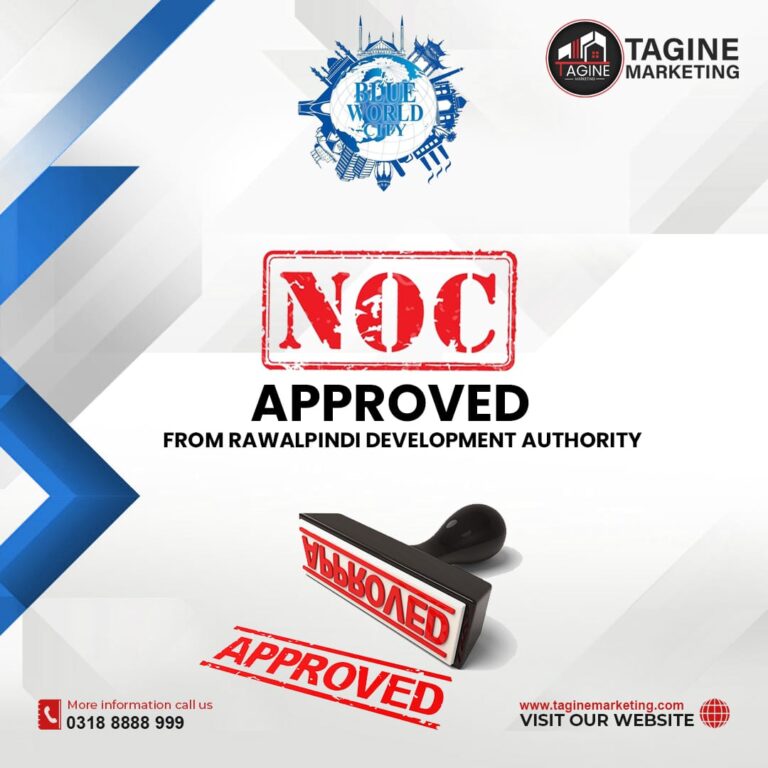 Blue World City Islamabad Payment Plans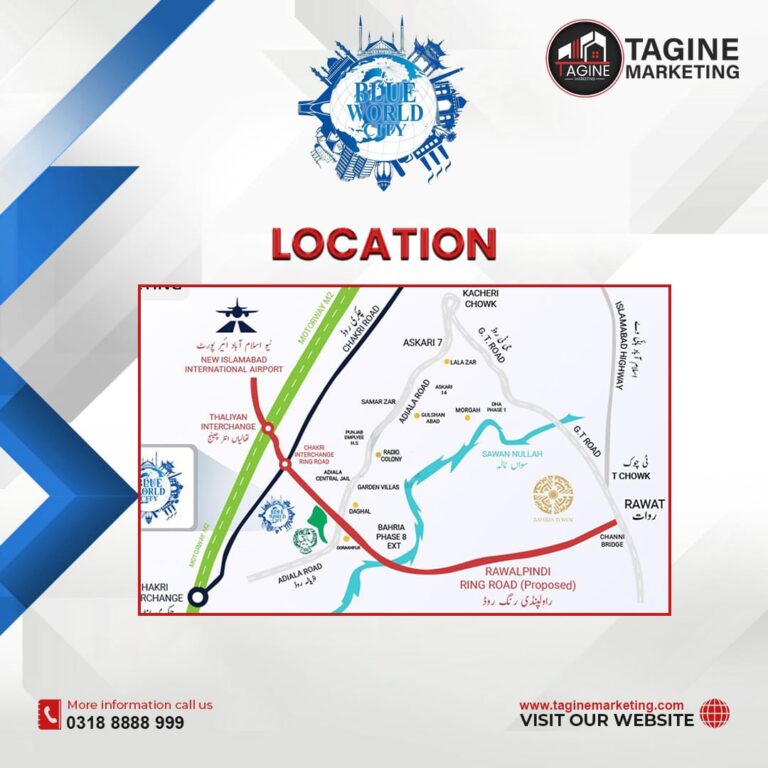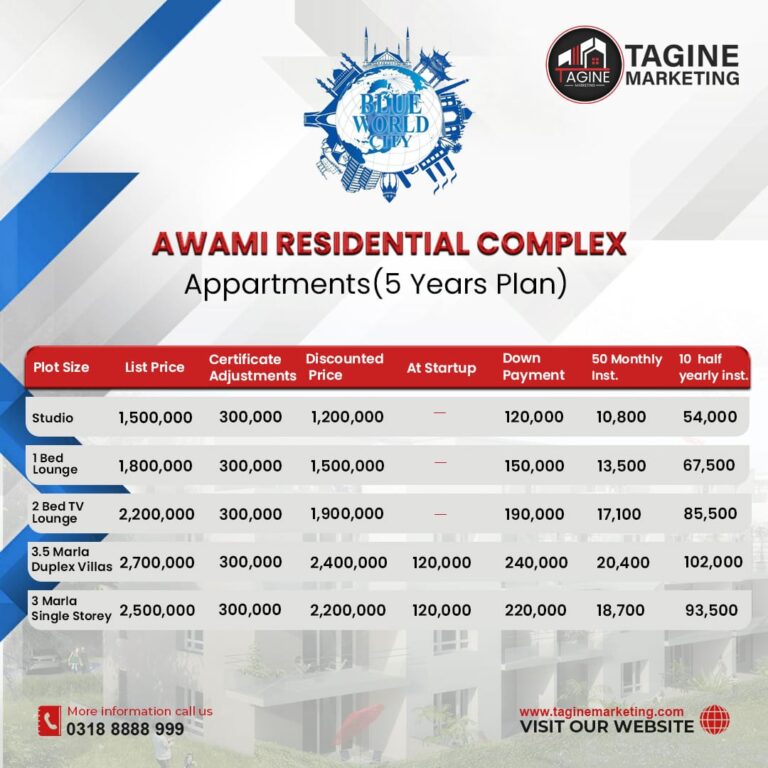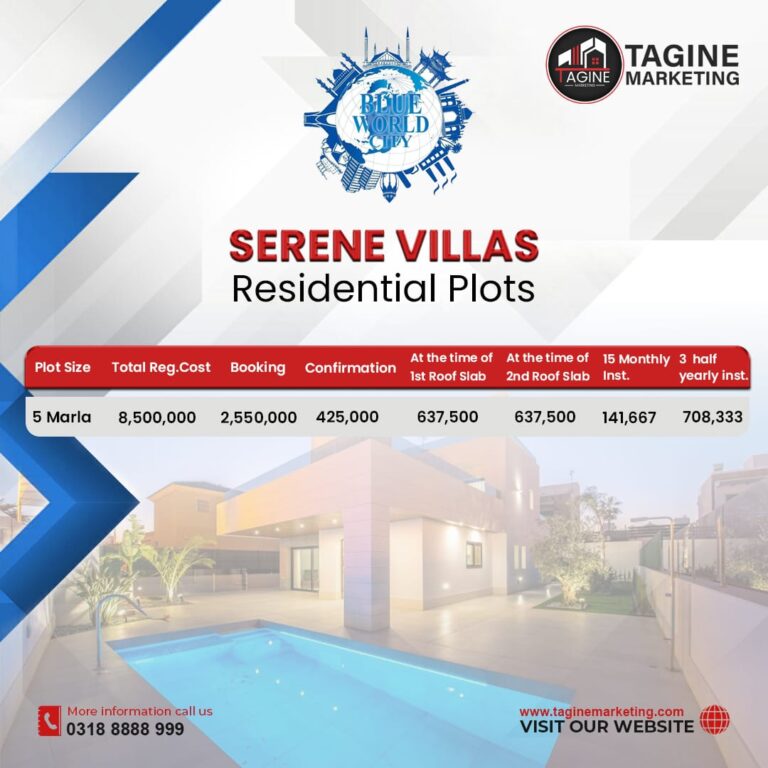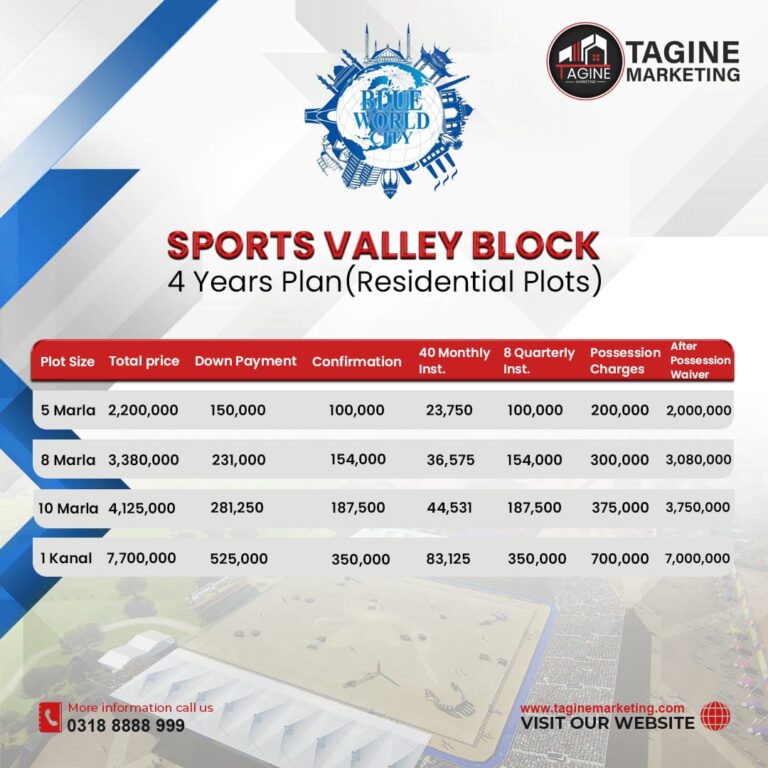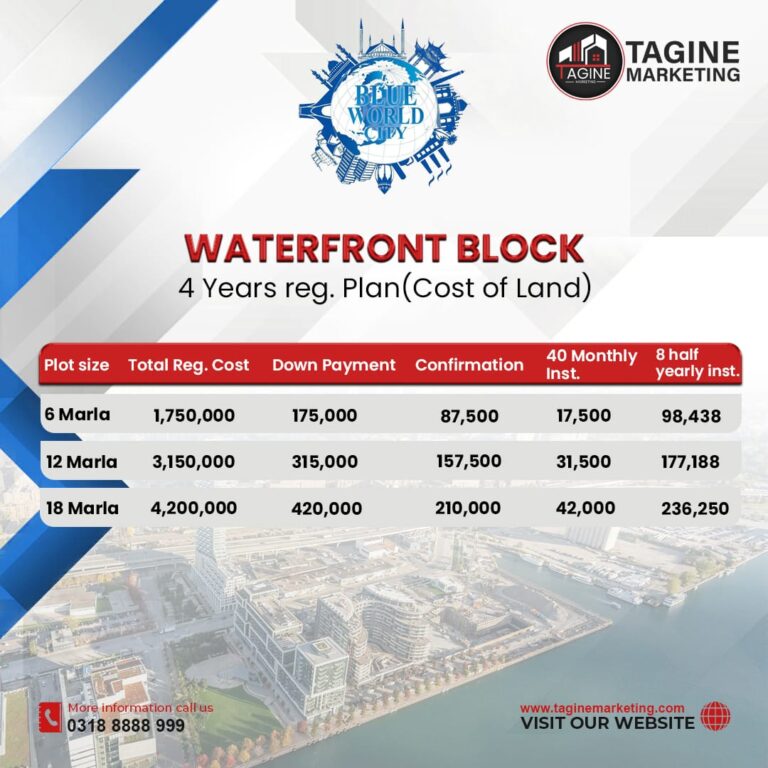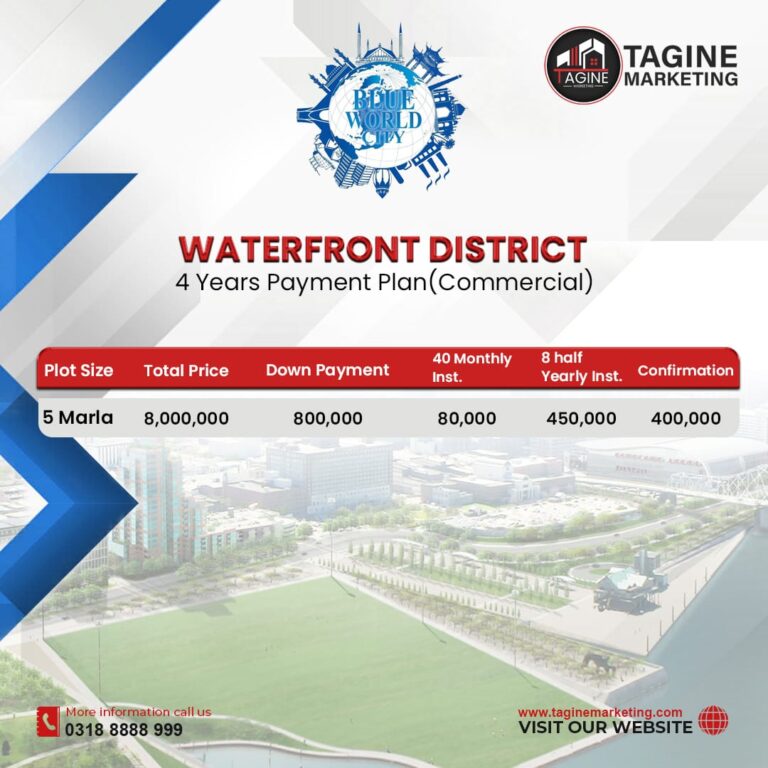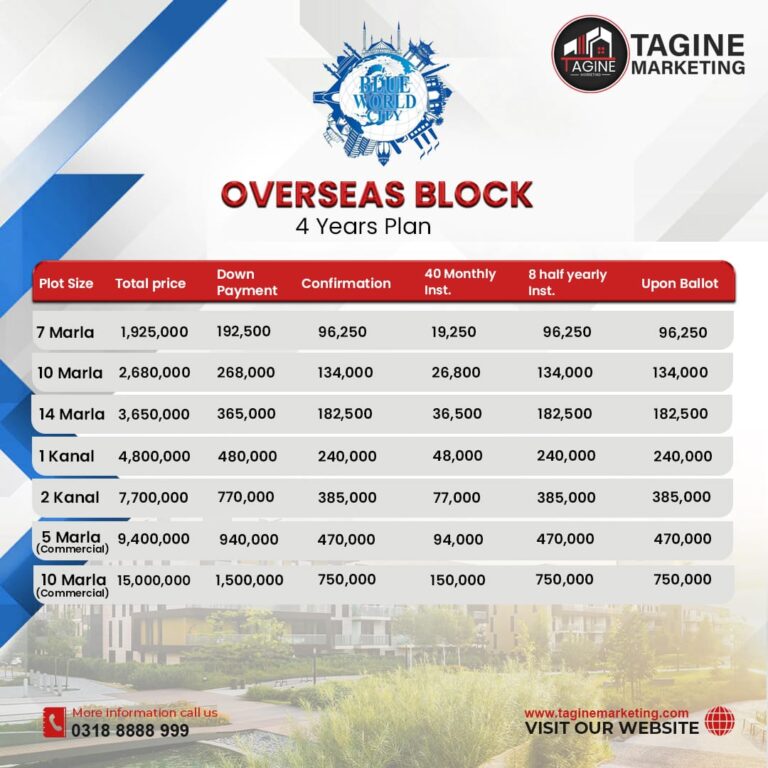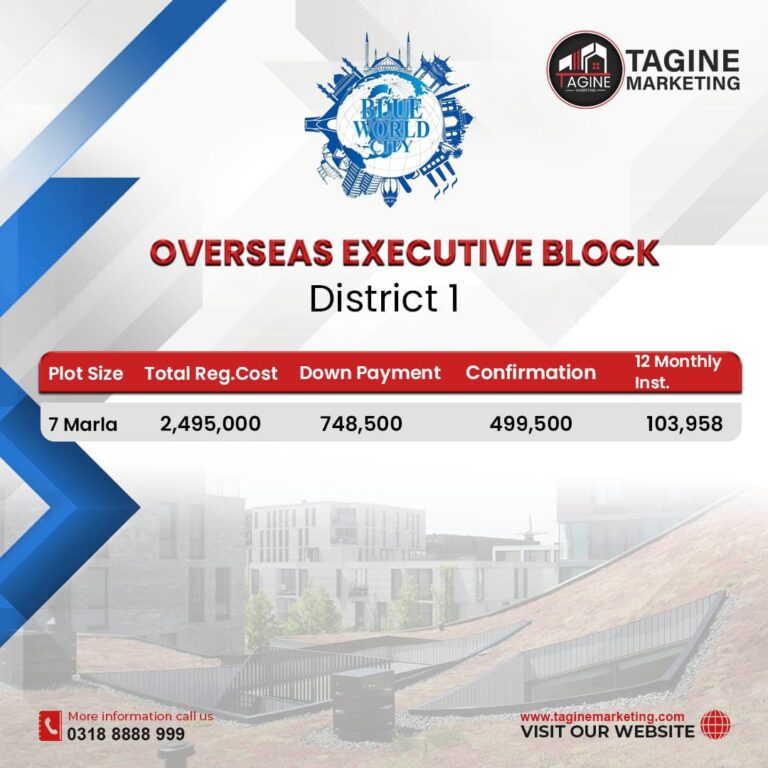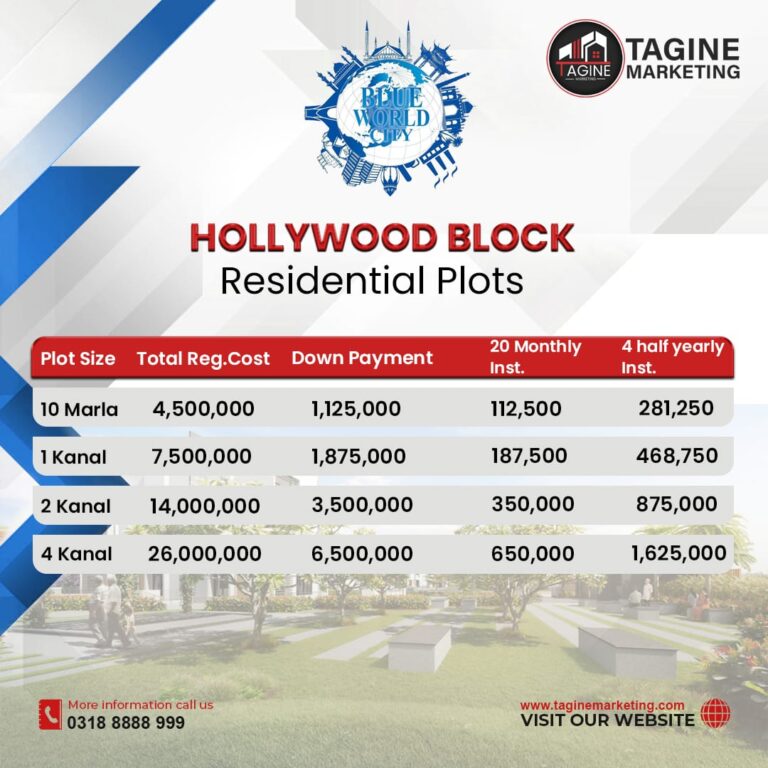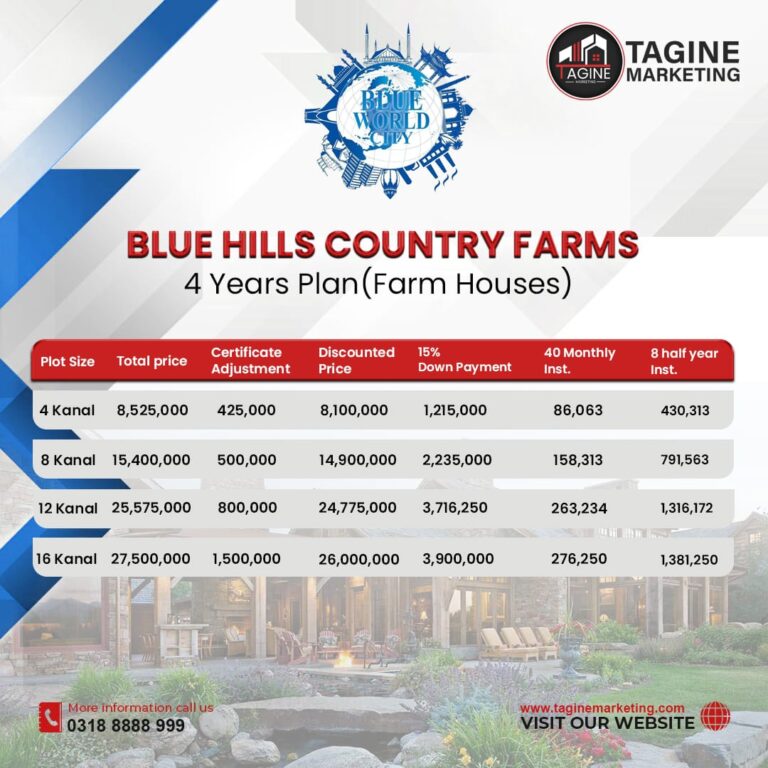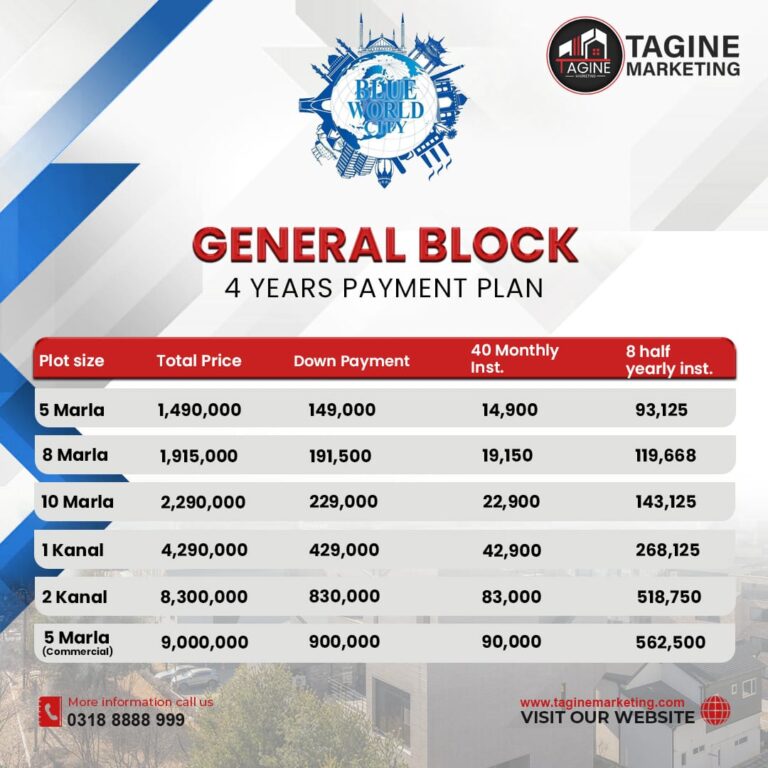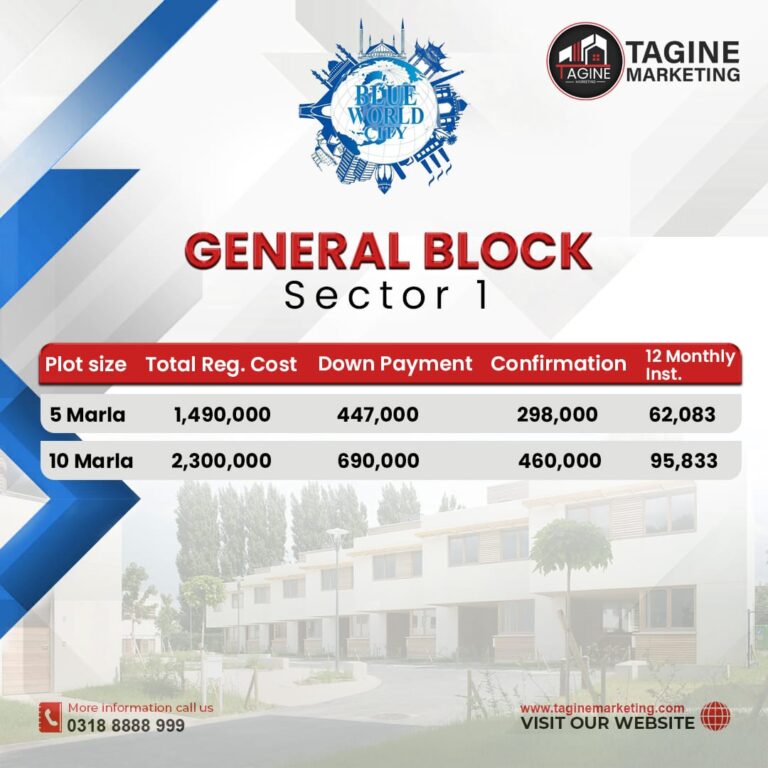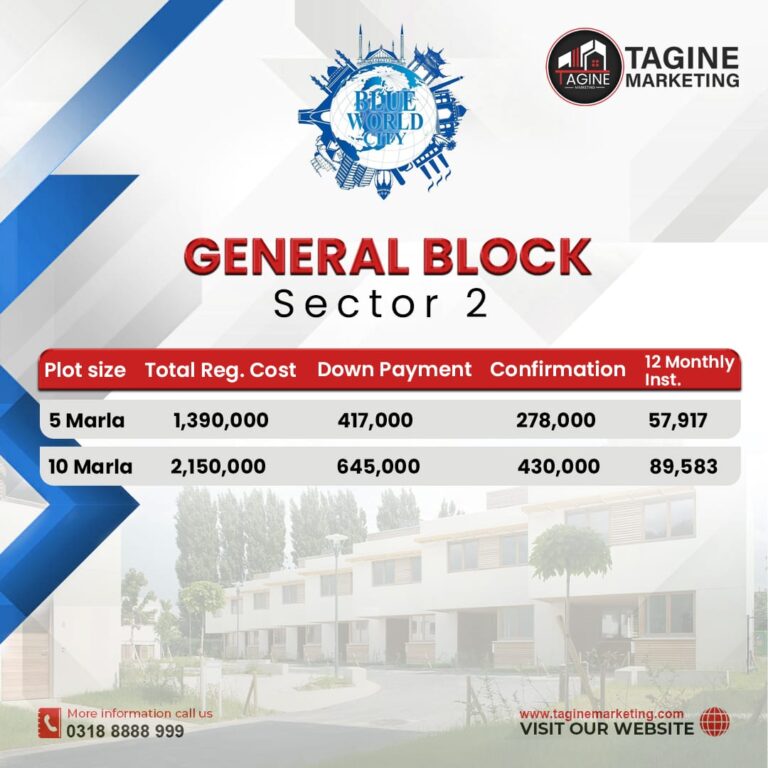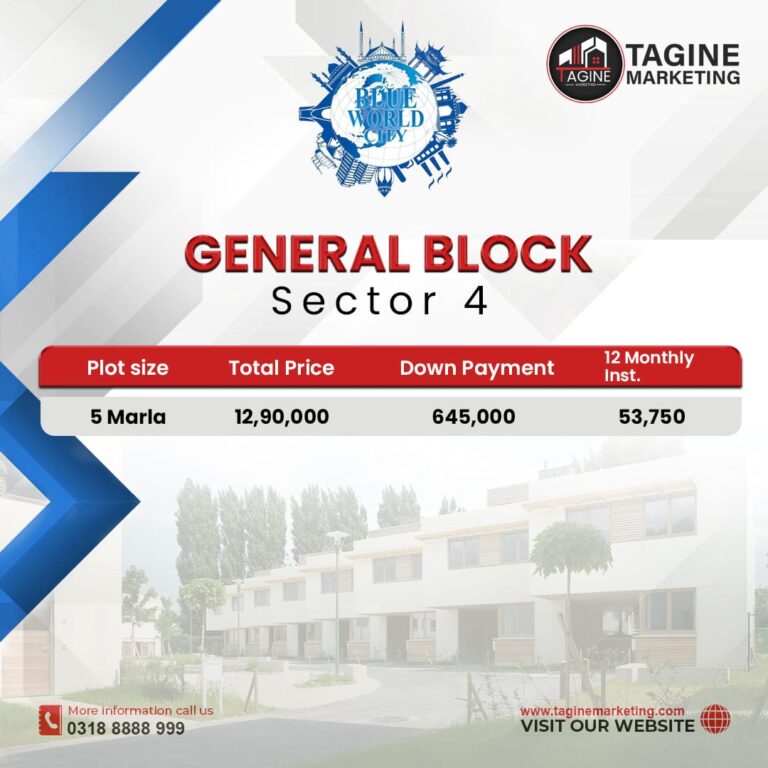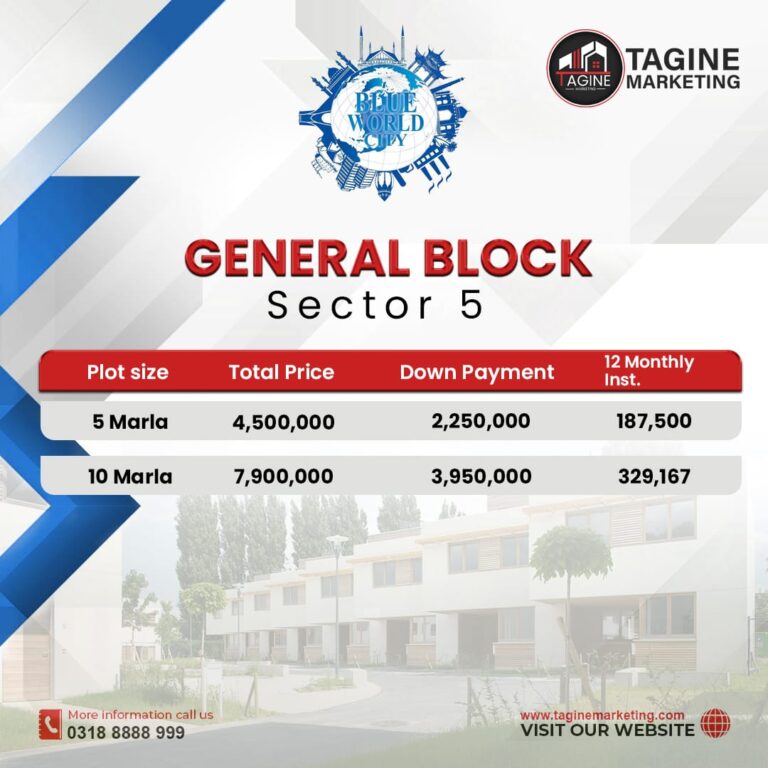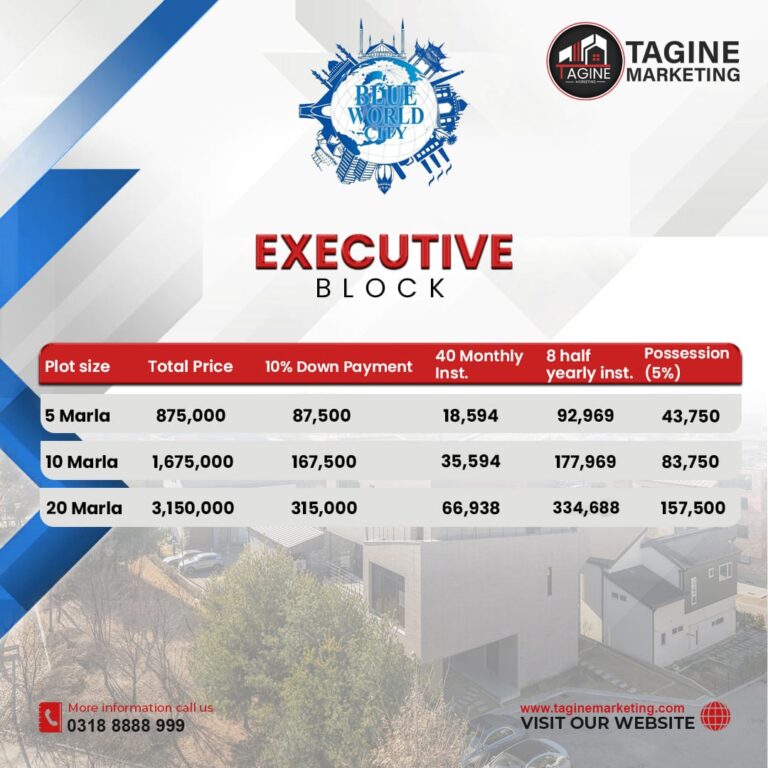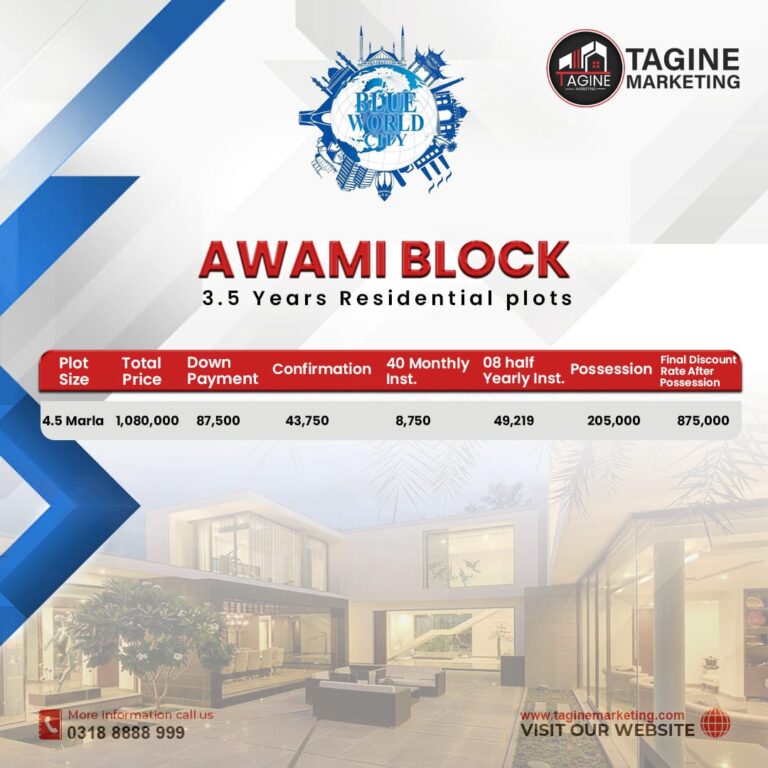 NOC December 2021 Update:
Blue World City's NOC is the subject of a letter from the District Council with the number 532/10/DC dated 07-08-2018. When Governor Punjab signed the 2021 Local Bodies Ordinance, the Government addressed the legal dispute between the District and the Rawalpindi Development Authority (RDA). The District Council must approve all residential housing societies in accordance with this Ordinance. Following all of these discussions, Blue World City received the proper approval, which will result in a rise in plot costs.
For More update visit our blog regarding Blue World City Islamabad.
Blue World City Islamabad Location
The location of Blue World City Islamabad is situated on the main Chakri Road near Chakri Interchange having direct access from M-2 Lahore-Islamabad Motorway. It is also one of those housing societies that are near Islamabad and Rawalpindi as well as the new International Islamabad Airport.
Blue World City Master Plan:
The master plan for Blue World City Islamabad was thoughtfully developed with the assistance of local, national, and international professionals using the most recent urban town planning guidelines.
Residential and Commercial Plot Sizes:
Blue World City Islamabad has purchased 5000 kanals, and the entire territory will be divided into blocks and plots.
The sizes of plots of residential, farmhouses, and commercial are as follows:
05 Marla

08 Marla

10 Marla

1 Kanal

2 Kanal

Blue World City Farmhouses plots are as follows
Blue World City Overseas plots are as follows:
7 Marla

10 Marla

14 Marla

1 Kanal

2 Kanal
World-Famous Replicas & Unique Infrastructure:
Blue World City is constructing replicas of famous landmarks, including the following:
Blue Mosque Replica:
The Blue World City will construct a precise copy of Turkey's iconic Blue Mosque. This will be a major accomplishment for the project and a standout feature of the BWC. The builders have committed to creating the replica precisely and with nearly identical amenities.
Thinking About Buying a Plot in GFC 7 Wonders City Islamabad?