GFS 7 Wonder City Islamabad
7 Wonders City The GFS Builders & Developers-built housing society Islamabad is close to the M-14 Hakla D.I. Khan Motorway and will shortly receive approval. The society is the second similar project that the GFS developers have undertaken in Karachi.
The difference between this housing society and the others in Islamabad and Rawalpindi is affordability and a luxurious living. In the Twin Cities, one of the most anticipated investment opportunities is in the social sector.
Seven Wonders City Islamabad Developers & Owners:
Global Financial Solutions (GFS) Builders & Developers are the Seven Wonders City Islamabad's owners and developers. The business is well-known for developing real estate in Pakistan. For the past 15 years, the company has been creating real estate developments in several Pakistani cities.
The project's master design includes a variety of opulent amenities that are available for reasonable rates. For the benefit of investors, this society is being made possible by a highly qualified team of engineers and architects.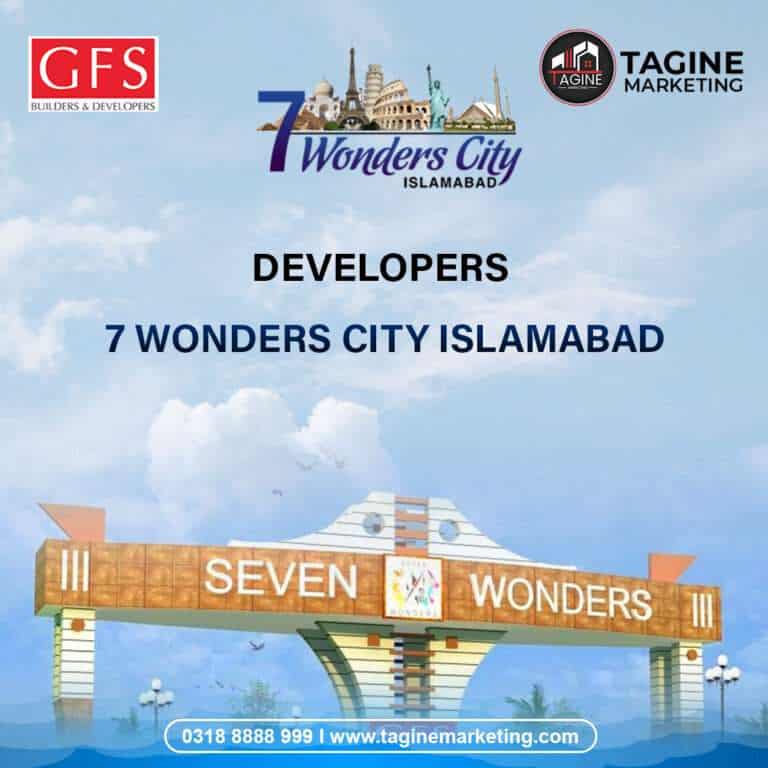 Property Projects by GFS Builders:
Several projects are made possible accomplished on the given deadline as follows:
Clifton Luxuria
7 Wonders City
Roshan Tours
North Town Residency
Seven Wonders City Islamabad
Seven Wonders City Islamabad NOC:
Seven Wonders City Islamabad will shortly be approved by the relevant development authorities. According to rumours, the owners have already requested the No Objection Certificate (NOC). As soon as the responsible authorities give all necessary NOCs, the residential project will be considered a legitimate one.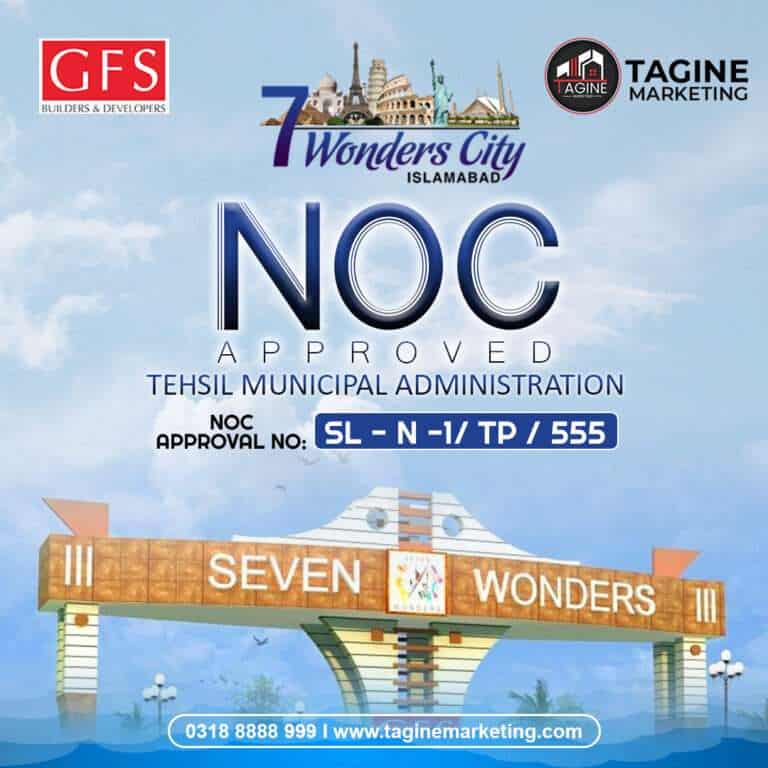 Seven Wonders City Islamabad
Location:
The M-14 Hakla D.I. Khan Motorway is just adjacent to Seven Wonders City Islamabad's location.
Seven Wonders City Islamabad map is easily reachable.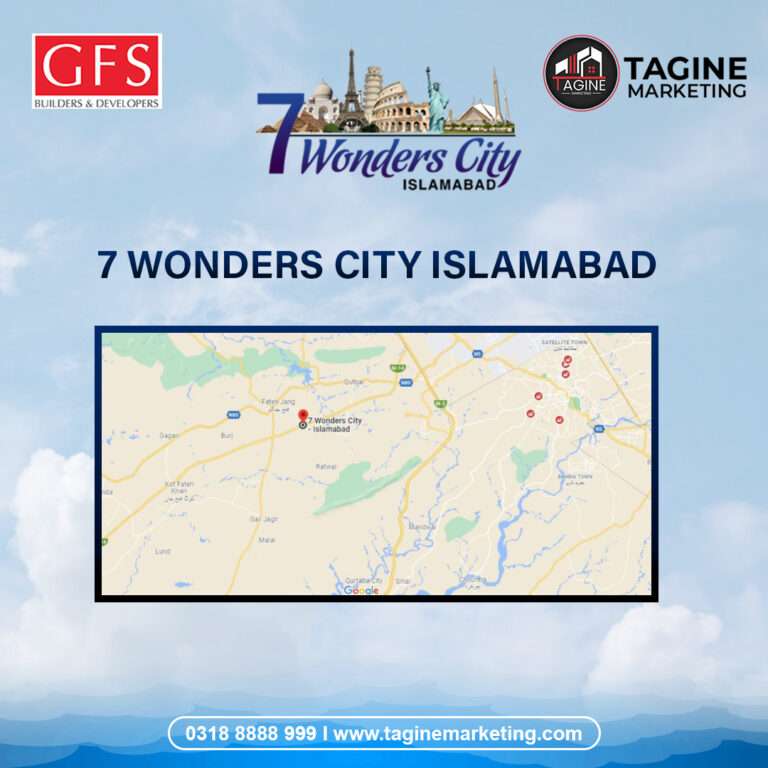 Seven Wonders City Accessibility:
7 Wonders City Islamabad is a highly accessible residential project in Islamabad.
7 Wonders City Islamabad is accessible in the following ways:
Located at M-14 Hakla D.I. Khan Motorway
7 min drive away from Talagang-Fateh Jhang Road
25 min drive away from N-80
21 min drive away from Rawalpindi-Kohat Road
25 min drive away from Srinagar Highway
35 min drive away from New Islamabad International Airport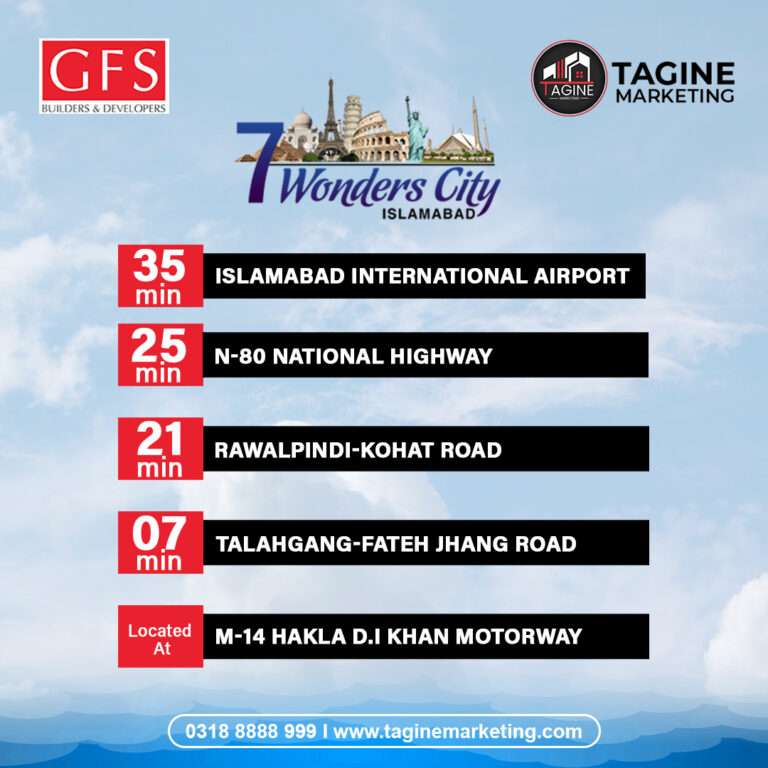 Seven Wonders City Nearby Landmarks & Places:
7 Wonders City is surrounded by several nearby landmarks and places:
Nova City Islamabad

Capital Smart City

Blue World City

Khanial Homes

Discovery Gardens Islamabad
Seven Wonders City Islamabad Master Plan:
The Seven Wonders City Islamabad master plan provides all the opulent amenities and facilities at reasonable costs. The society's ability to offer the creation of copies of the seven wonders within the housing society makes it special. This is a newly established housing society, and additional information will be released gradually.
The seven wonders replicas include:
Egyptian Pyramid
The Statue of Liberty
The Taj Mahal
The Stonehenge
The Eiffel Tower
The Roman Colosseum
The Great Wall of China
Seven Wonders City Residential Plots:
The Seven Wonders City in Islamabad offers a range of cost-effective residential plots as follows:
Seven Wonders City Commercial Plots:
Following are the sizes of the commercial plots:
Seven Wonders City Farmhouses: 
Following are the sizes of the Farmhouses:
Seven Wonders City Villas:
Following are the sizes of the 7 Wonder City Villas:
Seven Wonders City Resort Homes
Following are the sizes of the 7 Wonder City Resort Homes:
2 Kanal
4 Kanal
6 Kanal
8 Kanal
Seven Wonders City Overseas Executive Block:
Following are the sizes of the plots in the Overseas Executive Block of Severn Wonders City:
Seven Wonders City Islamabad Payment Plan:
The Seven Wonders City Islamabad offers inexpensive payment plans with simple payment schedules. You can get in touch with us at Tagine Marketing Islamabad to make a reservation for one of the plots for sale in Seven Wonders City Islamabad.
Seven Wonders City Islamabad Pre-Launch Prices: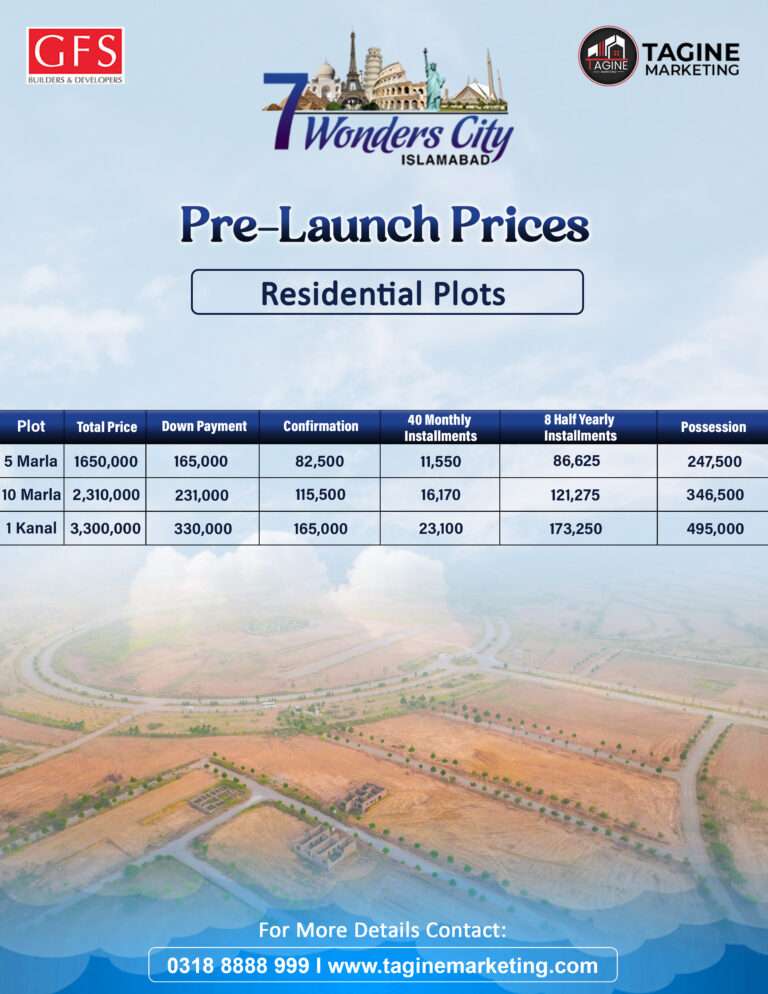 Seven Wonders City Islamabad New Launched Prices: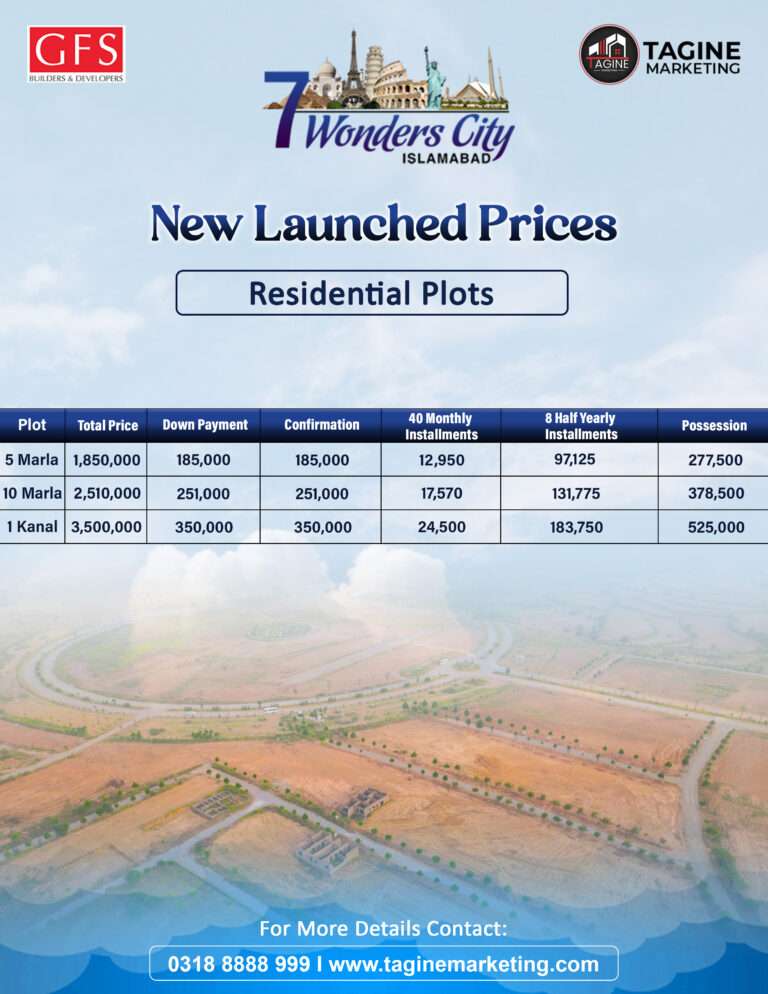 Seven Wonders City Resort Homes Payment Plan: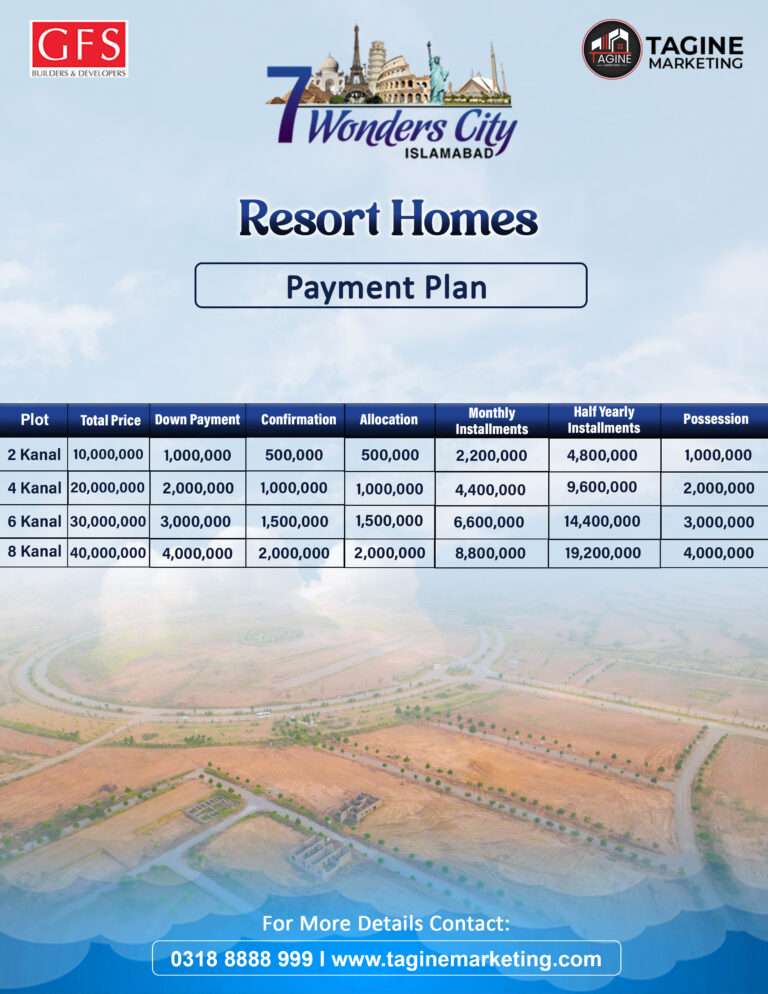 Facilities & Amenities:
The Seven Wonders City in Islamabad provides modern amenities and features at reasonable costs. Any contemporary, wealthy civilization that could be described as having a comprehensive residential program would include luxuries.
The Seven Wonders City residential complex in Islamabad has the following features:
Eco-Friendly:
An environmentally sustainable, close-to-nature lifestyle with all the modern conveniences will be offered by the 7 Wonders City. The intimate proximity to nature will offer a singular experience that is unavailable in Pakistan's housing communities.
Water Resources:
The society has considered the water requirements of the citizens. To do this, enormous amounts of water will be stored in reservoirs that the residents can consume for daily tasks. In order to guarantee pure drinking water, filter plants will also be a part of civilization.
Health Facilities:
The developers have given the society's medical facilities special consideration. The creators of 7 Wonders City will build cutting-edge international hospitals and clinics for this reason. The emergency room will be open round-the-clock, and personnel and doctors will be on call.
Business & Commercial Hub:
The authors paid particular attention to the society's health amenities. For this reason, the architects of 7 Wonders City will construct cutting-edge, international hospitals and clinics. The emergency room will be available 24 hours a day, 7 days a week, with staff members and medical professionals on call.
Secure Community:
People need to feel safe in a society with dwellings. It is safe because it is a private residence. A security system with 24/7 CCTV cameras and other strategically placed spy cameras provides people with total security. In order to provide a high level of security, a boundary wall with a watertight system would enclose the civilization.
High-quality Road Infrastructure:
Roads and other infrastructure are constructed using advanced knowledge and tools to guarantee the best development. The main boulevard and the streets that surround it are spacious and broad enough to give off a wonderful appearance.
The Question Now is, What Are You Waiting for?
Salient Features:
The citizens of the Seven Wonders City will have access to all contemporary conveniences.
The following are the key characteristics of Islamabad's Seven Wonders City:
Beautiful entrance gate

Affordability

Grand Mosque

Water Resources

Eco-community

Education Complex

Accessibility

Club House

Retail Area

Modern Spa

24/7 security

Maintenance

Boundary Wall

Gated community

Quality Development

Water, Gas, Electricity

Underground electrification

Sewerage and waste disposal system

World-class infrastructure development

Sports complex with indoor and outdoor facilities

Medical Facilities offered by Hospitals, dispensaries, and clinics
Guidelines to follow while Purchasing/Sale of Plots:
Following are the guidelines to follow before booking a plot in 7 Wonders City:
Document Verification:
To avoid any misunderstandings or confusion, please always make sure to thoroughly check all the paperwork. Make sure to ask about the NOC and approval document provided by the developers that has been properly approved by the authorities before engaging in any property acquisition or sale. Your paperwork will be legitimate in this way if there are any other ways to satisfy the customer.
Financial Security:
Please make sure that your finances match your purchase plan before concluding any sale or purchase of the property. Your purchase or sell will be completed successfully in this way.
Property Visits:
Visit the location to confirm that the written documents are in compliance with the plot parameters before making any purchases and after being certain of the documents' validity.
Documentation Requirement for Booking:
Tagine Marketing suggests asking about the most recent documentation requirements for booking because we value our customers' confidence and transparency. Residential and commercial plots are also available for reservation in other housing societies like Blue World City, Discovery Gardens, and Eighteen Islamabad.
Following documentation is required to buy property in Seven Wonders City Islamabad:
Two passport size Pictures

NICOP for overseas clients

Two copies of your National Identity Card

Two copies of the I.D. card of your next of kin
Benefits of Real Estate Investment:
Among other companies, real estate investing is one of the most lucrative ones. This is due to its tremendous potential for investment return. But it's important to remember that it will only be successful if done correctly. Investing in the real estate sector can lead to a variety of advantages. The following are some of the primary advantages:
1. Financial Security:
The real estate industry is, in fact, the industry that can maintain an investment's worth at a high level and prevent it from declining if a person has some spare money or some property and wants to keep the value of that property high.
2. Stable Income:
A person can generate a stable income with an investment in real estate quickly. For example, one can buy a property, develop it, then buy a developed property and rent it monthly or yearly. Not just this, but the rent increases every year by some percentage, so it would not be wrong to say that it gets better than stable.
3.Manageable:
An investment is not a living entity that needs daily care once it is completed. The most you will have to do is occasionally check on your land to make sure encroachers don't take possession of it.
4. Passive Income:
Rent could be a source of passive income once someone has invested in real estate. Investors purchase built real estate or develop undeveloped land, then rent it out to generate income continuously throughout the year.
5. Non-depreciable Asset:
When done properly, real estate investing is a type of business that never loses value. Every year, the value of real estate rises. Additionally, if a sizable public or private project is launched nearby, the value may rise dramatically.
Booking Procedure for Seven Wonders City, Islamabad:
Tagine Marketing consistently urges our esteemed clients to clear up any communication before asking management about the most recent booking procedure. The booking process is as straightforward as it can be. For Blue Town Sapphire Lahore, you can use the same process. All you need to do is adhere to the instructions listed below:
Fill out your booking application form with full attention.

Attach the CNIC Copies of Applicant

Pay Down Payment via Cheque or Pay order in favour of "Seven Wonders City Islamabad," but confirm the management process in case of new changes

Cash Payments are also accepted after confirmation by the management

Submit all the required documents, Payment, and Get the receipt.
Thinking About Buying a Plot in GFC 7 Wonders City Islamabad?