7 Wonders City Islamabad housing society is near M-14 Hakla D.I Khan Motorway. Seven wonders city is the second similar project by GFS developers in Islamabad. The biggest difference between 7 Wonders City Islamabad and the others is affordability. It is one of the most anticipated investment opportunities in the twin cities.
7 Wonders City Islamabad Developers & Owners:
GFS (Global Financial Solutions) are the builder & Developer of 7 Wonders City. 7 Wonders City Islamabad is well-known for delivering to societies all over Pakistan. It has been more than 15 years since the GFS has been creating real estate developments in Pakistan. The master design of this project includes opulent amenities available at reasonable prices. The qualified team of engineers and architects of GFS made this possible.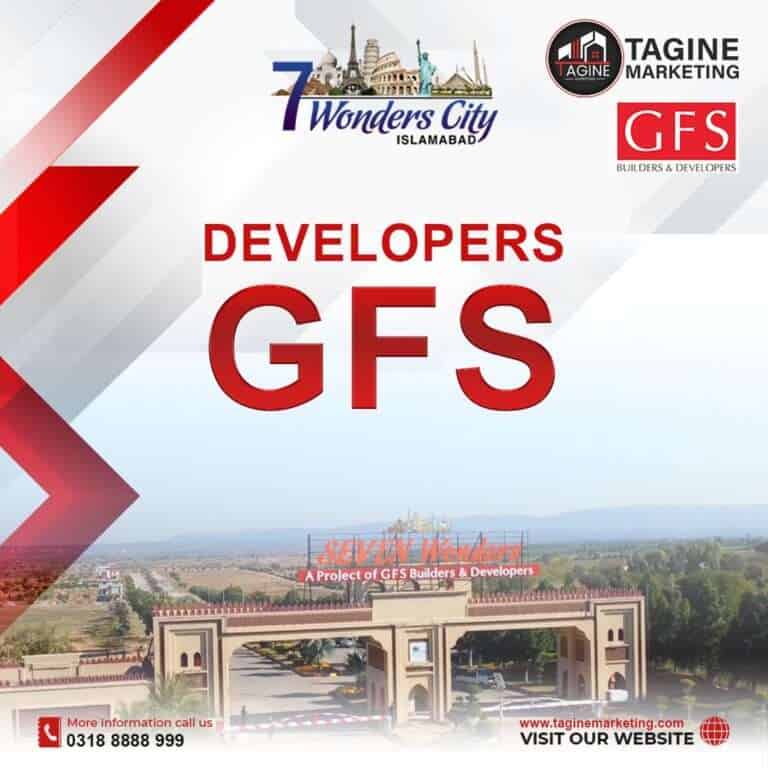 Property Projects by GFS Builders:
Many projects by GFS accomplished before the given deadline:
Clifton Luxuria

7 Wonders City

Roshan Tours

North Town Residency

7 Wonders City Islamabad
7 Wonders City Islamabad NOC:
7 Wonders City Islamabad approved their NOC by the relevant development authorities (RDA). According to rumors, the socity has already got the No Objection Certificate (NOC).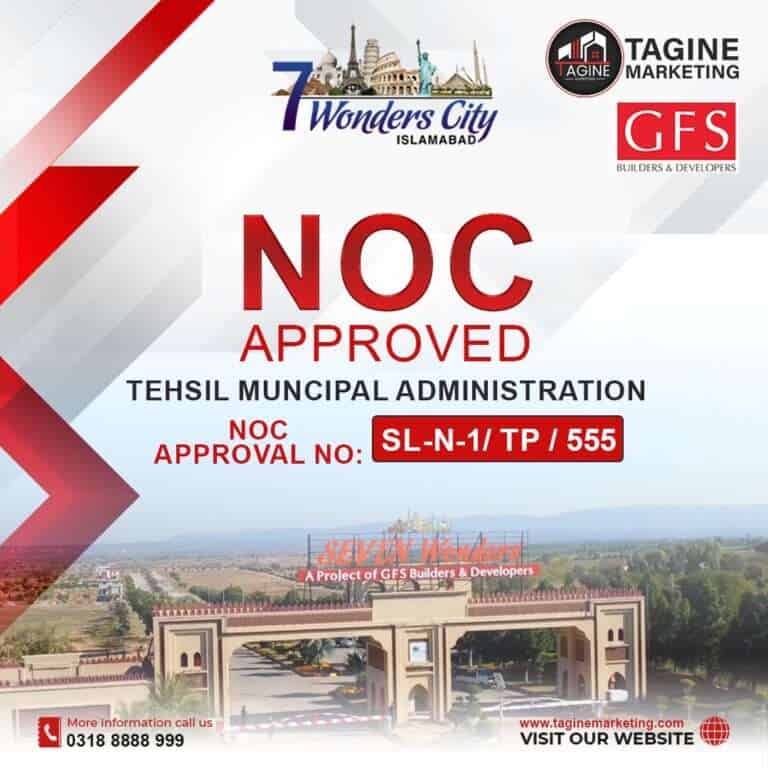 7 Wonders City Islamabad Location:​
7 Wonders City Islamabad location is adjacent to M-14 Hakla D.I Khan Motorway.
Gold Community Payment Plan By GFS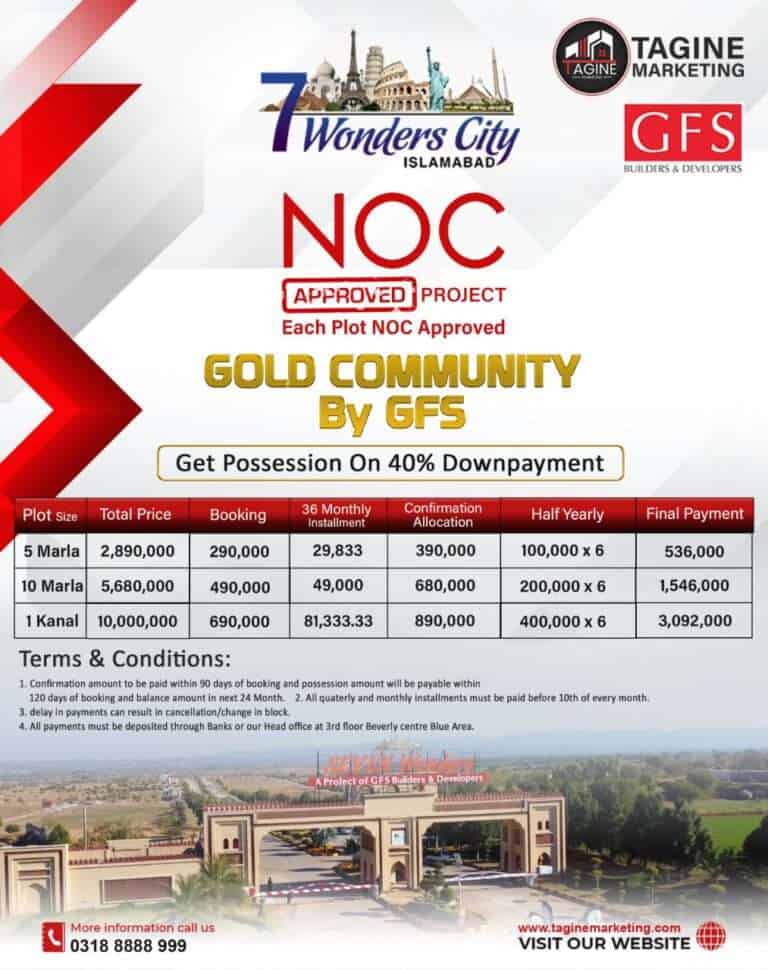 5 Marla Gold Community Payment Plan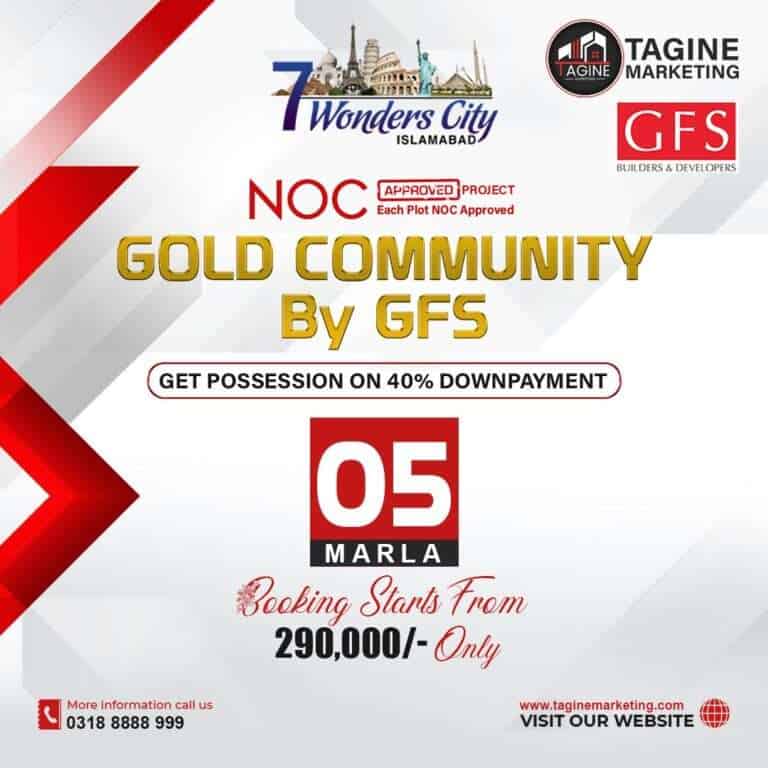 10 Marla Gold Community Payment Plan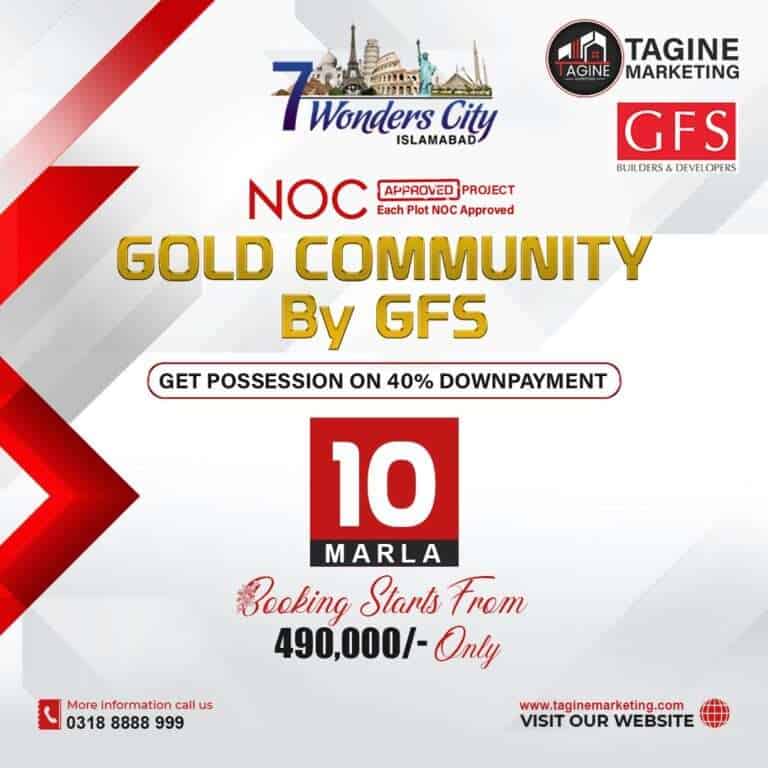 1 Kanal Gold Community Payment Plan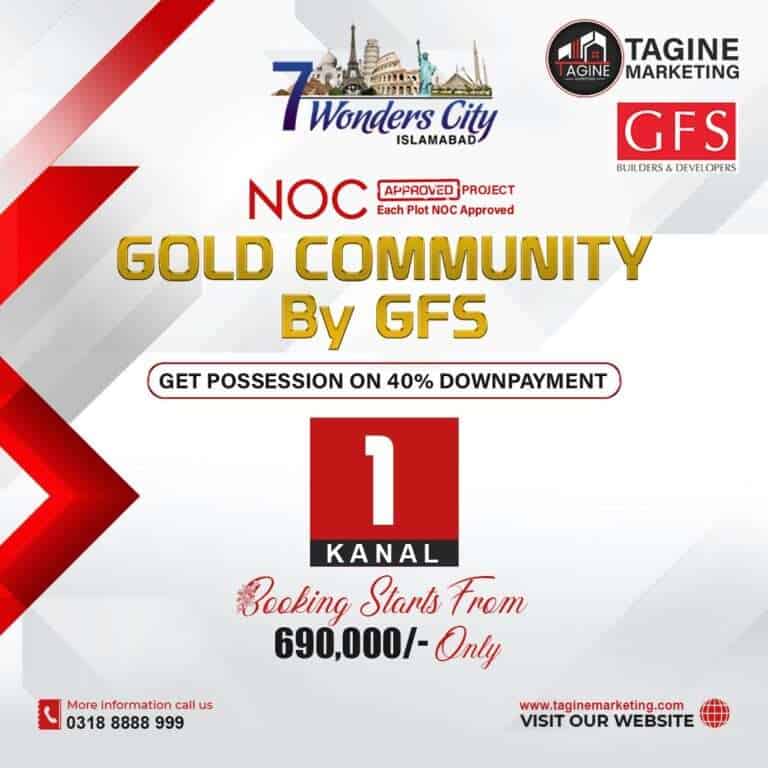 Seven Wonders City Nearby Landmarks & Places:
7 Wonders City is surrounded by several nearby landmarks and places:
Capital Smart City

I.C.H.S

Discovery Gardens Islamabad
Seven Wonders City Islamabad Master Plan:
7 Wonders City Islamabad is able to offer a unique feature. This society offers a construction replica of a 7 wonders city within society in each block. Seven Wonders City Islamabad is a recently proposed housing society. More information will update soon in the Tagine Marketing Blog section.
The seven wonders replicas include:
Egyptian Pyramid

The Statue of Liberty

The Taj Mahal

The Stonehenge

The Eiffel Tower

The Roman Colosseum

The Great Wall of China
Seven Wonders City Residential Plots:
7 Wonders City Islamabad offers a range of cost-effective residential plots as follows:
Seven Wonders City Commercial Plots:
Following are the sizes of the commercial plots:
Seven Wonders City Farmhouses: 
Following are the sizes of the Farmhouses:
Seven Wonders City Villas:
Following are the sizes of the 7 Wonder City Villas:
Seven Wonders City Resort Homes:
Following are the sizes of the 7 Wonder City Resort Homes:
Seven Wonders City Overseas Executive Block:
Following are the sizes of the plots in the Overseas Executive Block of Severn Wonders City:
Seven Wonders City Islamabad Payment Plan:
The 7 Wonders City Islamabad offers inexpensive payment plans with easy payment schedules. If you are looking for a plot in seven wonders city Islamabad contact us now.
Facilities & Amenities:
Seven Wonders City Islamabad provides modern amenities and features at reasonable costs. Facilities are an important part of any luxurious society known as residential society.
The Seven Wonders City residential complex in Islamabad has the following features:
Eco-Friendly:
Seven Wonders City Islamabad provides an eco-close-to-the-natural lifestyle with all the associated amenities. This environment couldn't be found in most of Pakistan's societies.
Water Resources:
7 wonders city Islamabad has taken the water needs of the residents. Water storage will be made to reserve a large amount of water to be used by the resident for daily chores. Filter plants are also decided to be a part of society to ensure clean drinking water.
Health Facilities:
Developers have given special attention to the health facilities in the society. For this consideration developers of 7 Wonders City will develop international hospitals. Whereas emergency will be open 24/7,  Doctors will be available all the time.
Business & Commercial Hub:
Developers & Owners of 7 Wonders City Islamabad have taken care of all the needs of the residents. Due to this, society will provide an all-in-one commercial area. The residents may fulfil all the commercial needs from within the society.
Secure Community:
The safety of residents is necessary for all housing society. we at 7 Wonders City Islamabad ensure the safety of our residents. 24/7 CCTV-installed security cameras and other surveillance. Seven Wonders City provides all-inclusive security to the people. The society is surrounded by a boundary wall with a foolproof system to provide a high safety level.
High-quality Road Infrastructure:
The roads and other infrastructure are developed by professionals to ensure perfect development. The streets of the main boulevard are wide and Vast enough to give away a beautiful look.
The Question Now is, What Are You Waiting for?
Salient Features:
7 Wonders City provides all basic and modern necessities to the residents.
Here are the some salient features of the Seven Wonders City Islamabad:
Underground electrification.
Sewerage and waste disposal system.
World-class infrastructure development.
Sports complex with indoor and outdoor facilities.
Medical Facilities offered by Hospitals, dispensaries, and clinics.
Guidelines to follow while Purchasing/Selling of Plots:
Following are the guidelines to follow before booking a plot in 7 Wonders City:
Document Verification:
To avoid any misunderstandings or confusion, make sure to check all the paperwork. Make sure to ask about the NOC and approval document provided by the developers. That has been properly approved by the authorities before engaging in any property. Your documentation will be valid by all means that offer customer satisfaction.
Financial Security:
Make sure that your finances match your purchase plan before, concluding any Buy or Sale. Your buy or sell will be completed in this way.
Property Visits:
Visit the site to confirm that the documents are in compliance with the plot parameters. before, making any purchases and after being certain of the document's validity go green.
Documentation Required for Booking:
Tagine Marketing suggests asking about the most recent documentation requirements for booking. We value our customers' confidence and transparency. Residential and commercial plots are also available for reservation in other housing societies. like: Blue World City, Discovery Gardens, and Eighteen Islamabad.
The following documentation is required to buy property in Seven Wonders City Islamabad:
Two passport-size Pictures
NICOP for overseas clients
Two copies of your National Identity Card
Two copies of the I.D. card of your next of kin
Benefits of Real Estate Investment:
Real estate investment is an essential business among others. This is because it has excellent investment return on investment (ROI). The point to keep in mind is that it will only be profitable when organized correctly. One can gain several kinds of benefits from investment in the real estate industry. Some of the main benefits are as follows:
1. Financial Security:
If a person has some spare money or any property and wants to keep the value of that property high. The real estate sector maintains an investment at a high level and prevents it from dimish.
2. Stable Income:
A person can generate a stable income with an investment in real estate. One can buy a property, develop it, then sell the developed property or rent it monthly or yearly. The rent increases every year by some percentage, so it would not be wrong to say that it gets better than stable.
3. Manageable:
An investment is not a living entity that needs daily care once it is completed. The most you will have to do is occasionally check on your land to make sure encroachers don't take possession of it.
4. Passive Income:
Once someone has invested in real estate rent could be a source of passive income. Investors buy a developed property or develop an open land, then rent it out to generate income.
5. Non-depreciable Asset:
When done properly, real estate investing is a type of business that never loses value. Every year, the value of real estate rises. The value may rise dramatically. If a sizable public or private project is launched nearby.
Booking Procedure for Seven Wonders City Islamabad:
Tagine Marketing encourages our respected customers that inquire about the latest booking procedure from management to clear out any communication. The booking process is as straightforward as it can be. For Blue Town Sapphire Lahore, you can use the same process. All you need to do is adhere to the instructions listed below:
Fill out your booking application form with full attention.

Attach the CNIC Copies of the Applicant

Pay Down Payment via Cheque or Pay order in favor of "Seven Wonders City Islamabad,". but confirm the management process in case of new changes

Cash Payments are also accepted after confirmation by the management

Submit all the required documents, Payment, and Get the receipt.
One of the best societies to invest in, with the ever-growing population of Pakistan investing in real estate, is the best.
Thinking About Buying a Plot in GFC 7 Wonders City Islamabad?