New City Paradise is a 4,256 Kanal PHATA-approved housing society that is launched by the developers of New City Wah and is located at the 330-feet GT Road. It is next to the CPEC Route and Burhan Interchange, as well as the M-1 Motorway.
Tagine Marketing is New City Paradise proud sales partner and marketer. On a first-come, first-served basis, we are glad to provide this incredible opportunity for financial growth to our valued customer at the most competitive interest rates available in the residential real estate market6
The developers of New City have moved to develop New City Phase 3, which will be called New City Paradise. This comes after the successful delivery of New City Phase 1 and 2. The location of New City Phase 3 is close to Burhan Interchange as well as Wah City.
It is necessary to point out to valuable customers that while plots are being sold at high prices in other societies, New City Paradise is currently offering the lowest pricing as compare to other societies. For an instance, the cost of 5 Marla plots in other societies are sold above 60 Lacs, whereas the price of 5 Marla plots in New City Paradise is 18 Lacs. If you reserve your plot immediately now, we can assure that you will have a substantial profit margin within the next two to three months. 
Recent Project with the Collaboration of Tagine Marketing
Nova City, Faisal Town Phase 2, New Metro City, Capital Valley Islamabad, and many more.
Developers and Owners of New City Paradise:
New City  Paradise is owned by  CH. Saad and CH. Qamar Zaman and their developers by New City Wah. The project has received approval from the NOC as a housing development. During the first stage of development, the project will encompass around 18000–20000 Kanals.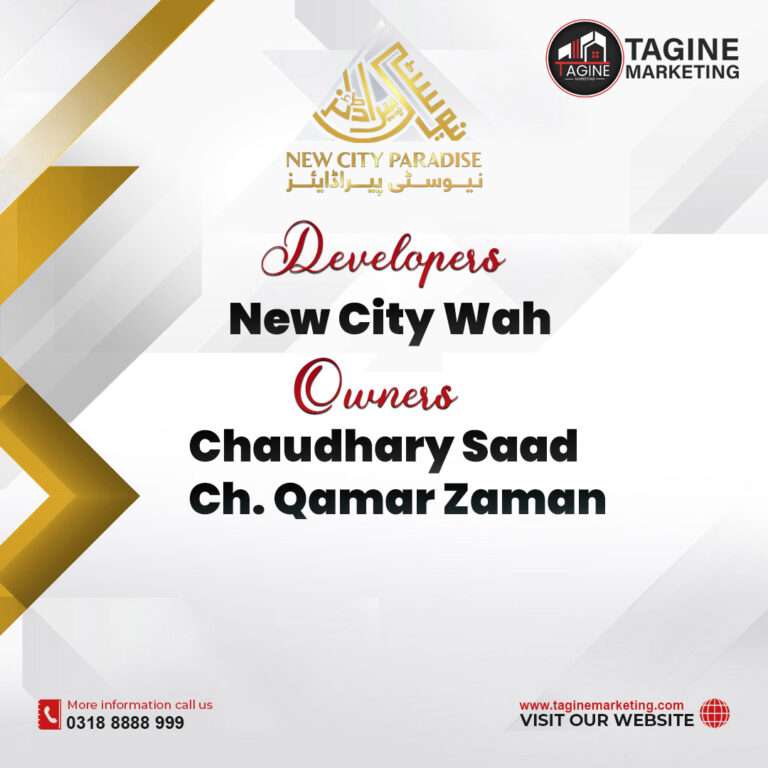 New City Paradise NOC: (Approval)
The No Objection Certificate (NOC) of New City Paradise is allegedly approved by the Punjab Housing and Town Planning Agency (PHATA). The management and developers are striving to meet all the requirements to acquire other relevant NOCS from the complement authorities. This is almost 20,000 Kanal housing society, and 4256 Kanal is already approved.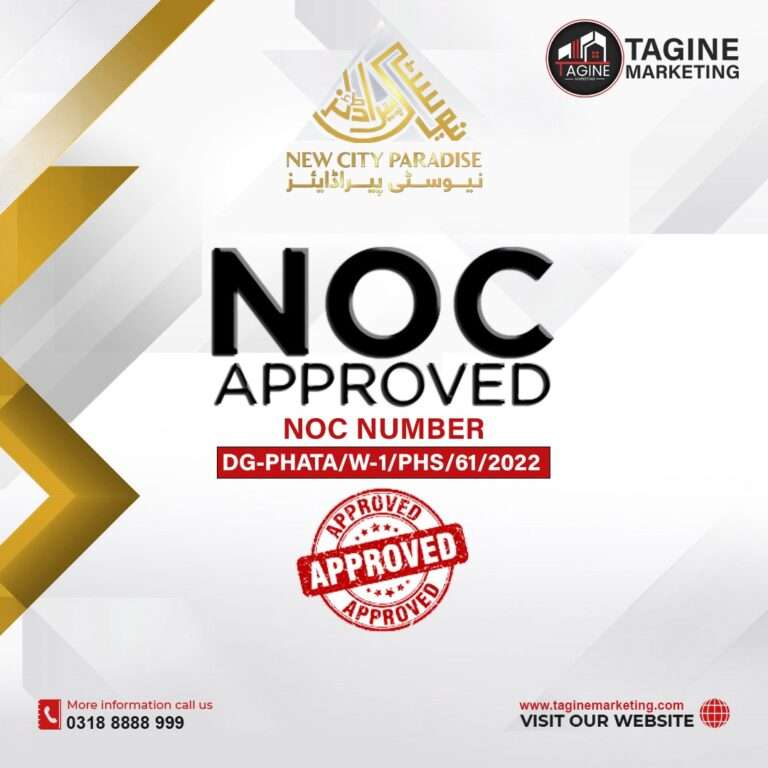 New City Paradise Location: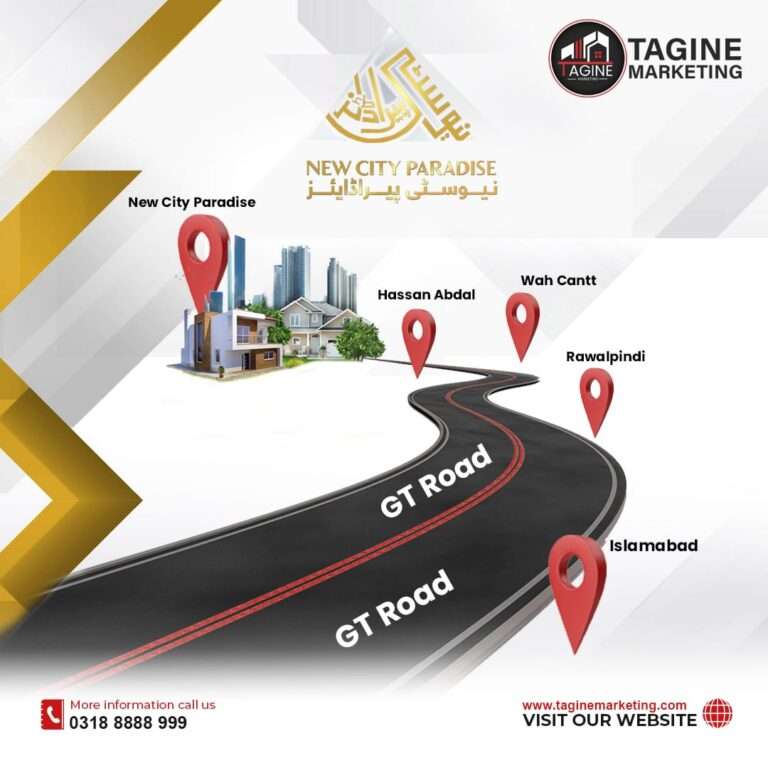 The location is quite ideal as it is located at a 330-feet GT Road, adjacent to the CPEC Route and Burhan Interchange, and M-1 Motorway. The main boulevard is fifty-five hundred feet wide, which makes accessing the area quick and simple.
New City Paradise Residential Payment Plan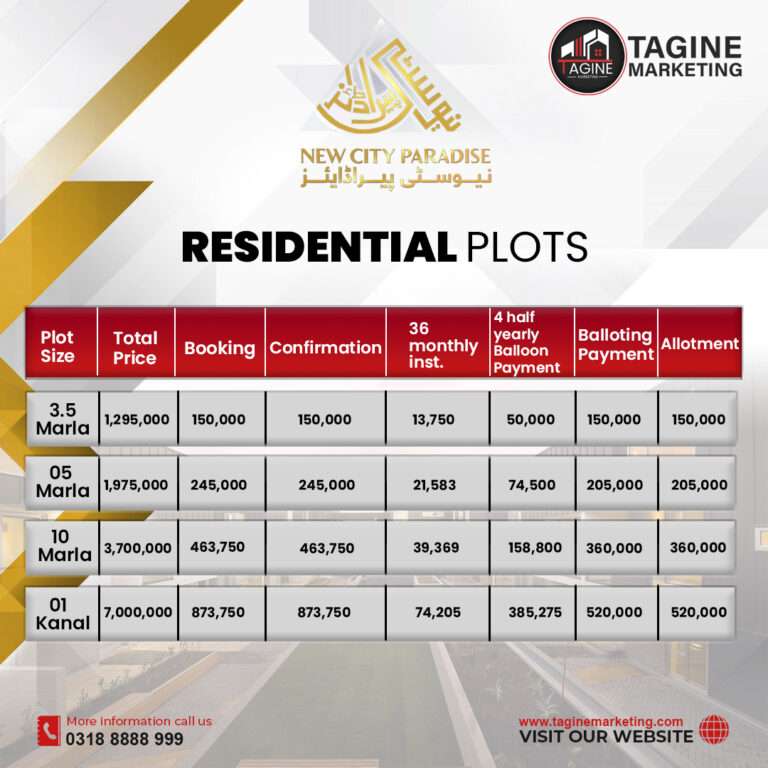 New City Paradise 3.5 Marla Payment Plan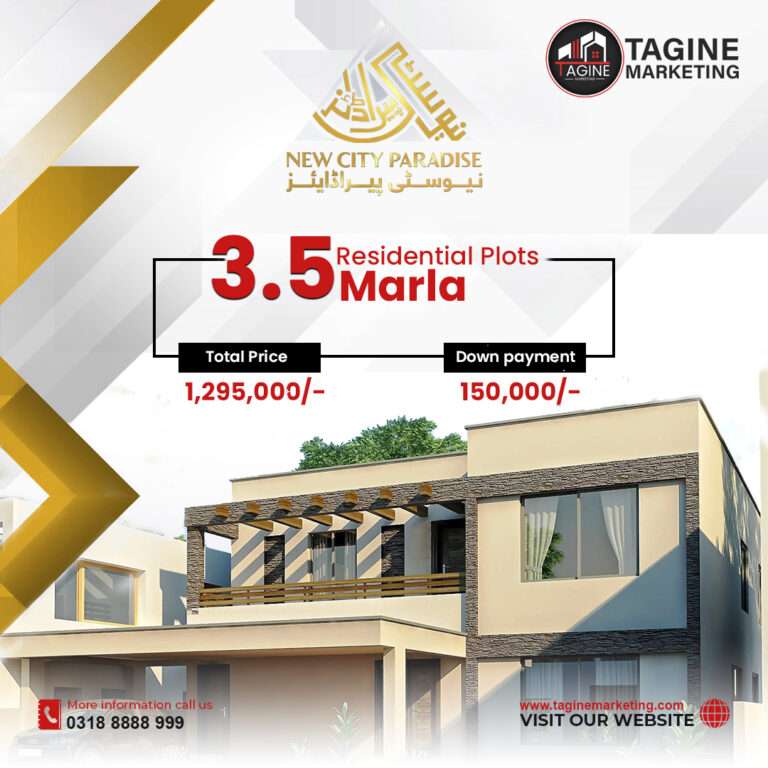 New City Paradise (Pre-Launch) Payment Plans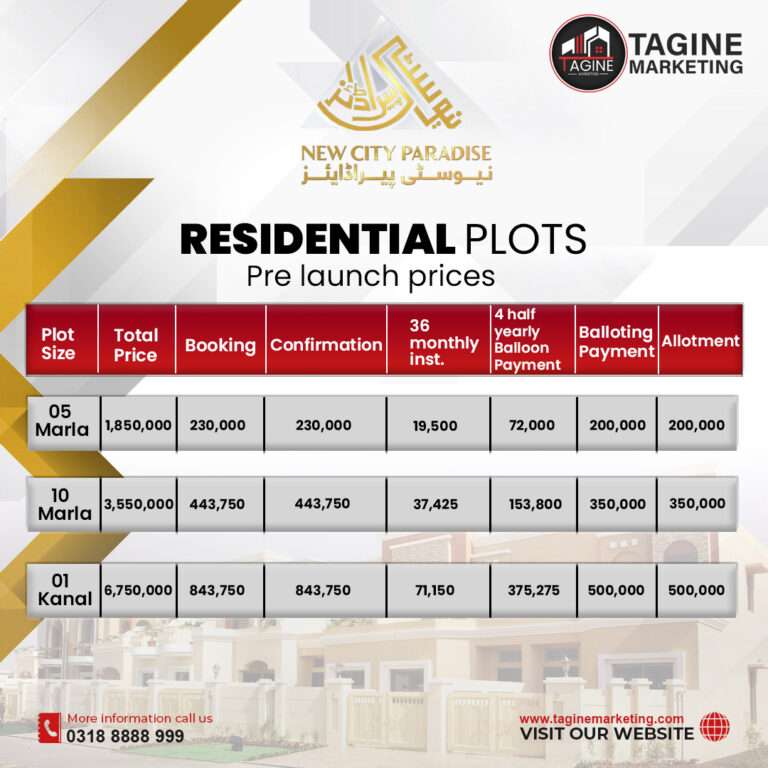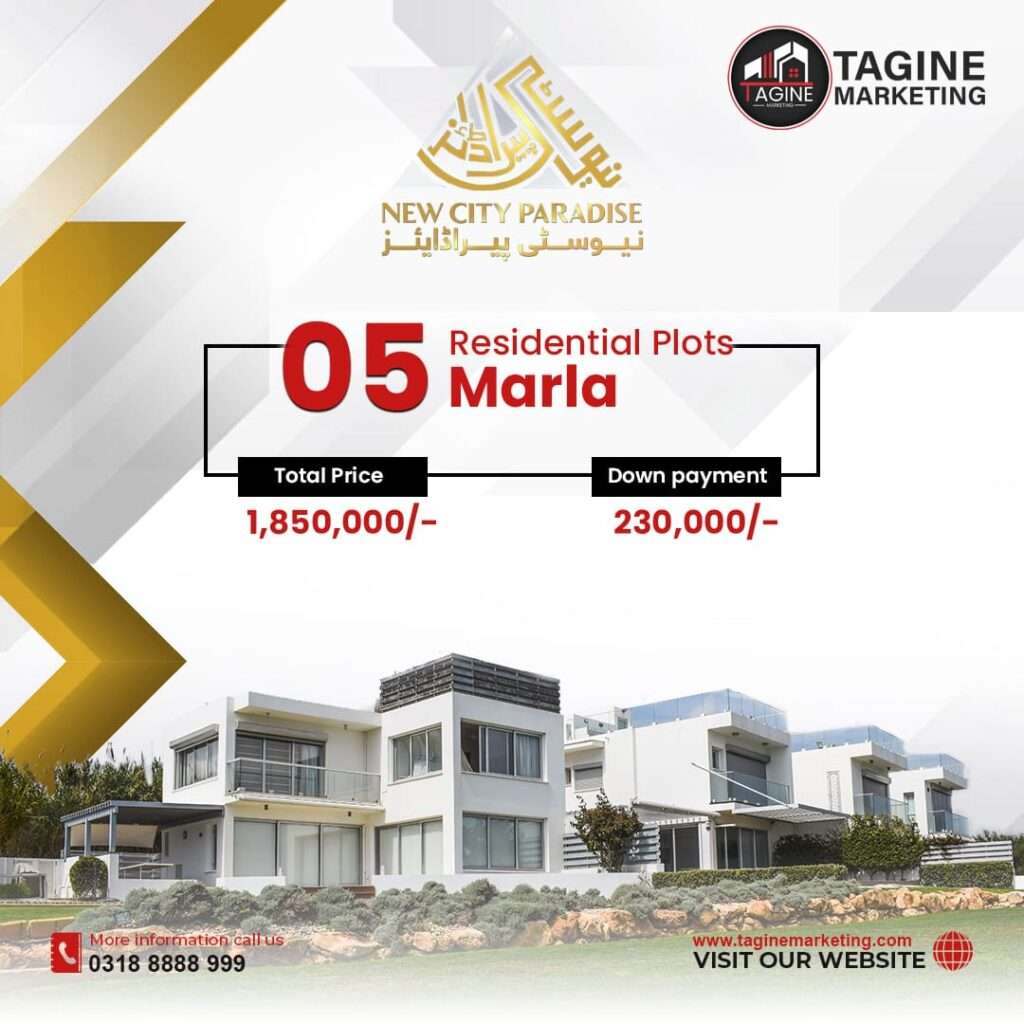 Plot Size: 5 Marla (25×50)
Residential Plots are Available for a Total Cost of 1,850,000 PKR
Booking (PKR): 230,000
230,000 PKR has been confirmed as the amount.
19,500 PKR Broken Down Into 36 Monthly Installments
72,000 Pakistani Rupees (4 Half-Yearly Installments)
Balloting Payment (PKR): 200,000
Allotment (PKR): 200,000
Plot Size: 5 Marla 25×50()
New City Paradise 10 Marla:
10 Marla Plots are Available for a Total Cost of 3,550,000 PKR
Booking (PKR): 443,750
443,750 PKR has been confirmed as the amount.
37,425 PKR Broken Down Into 36 Monthly Installments
153,800 Pakistani Rupees (4 Half-Yearly Installments)
Balloting Payment (PKR): 350,000
Allotment (PKR): 350,000
Plot Size: 10 Marla 35×70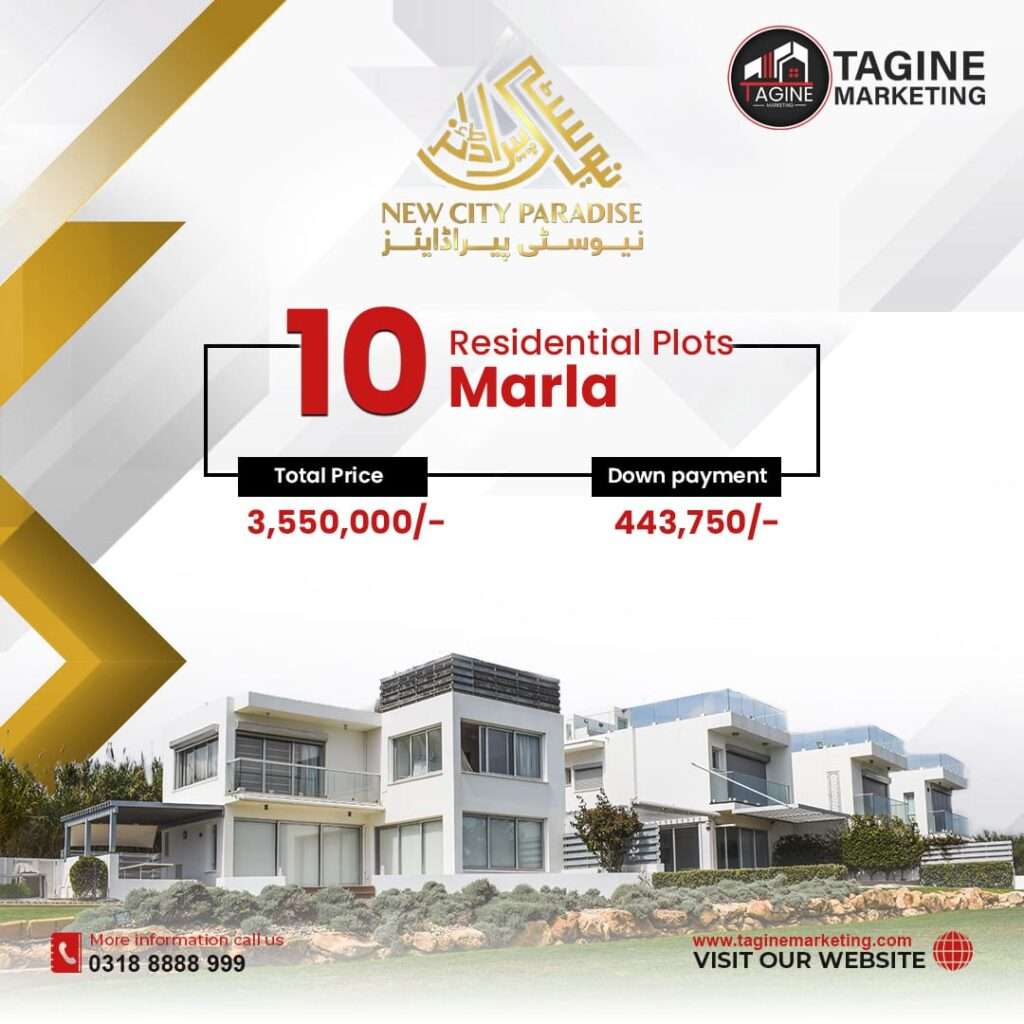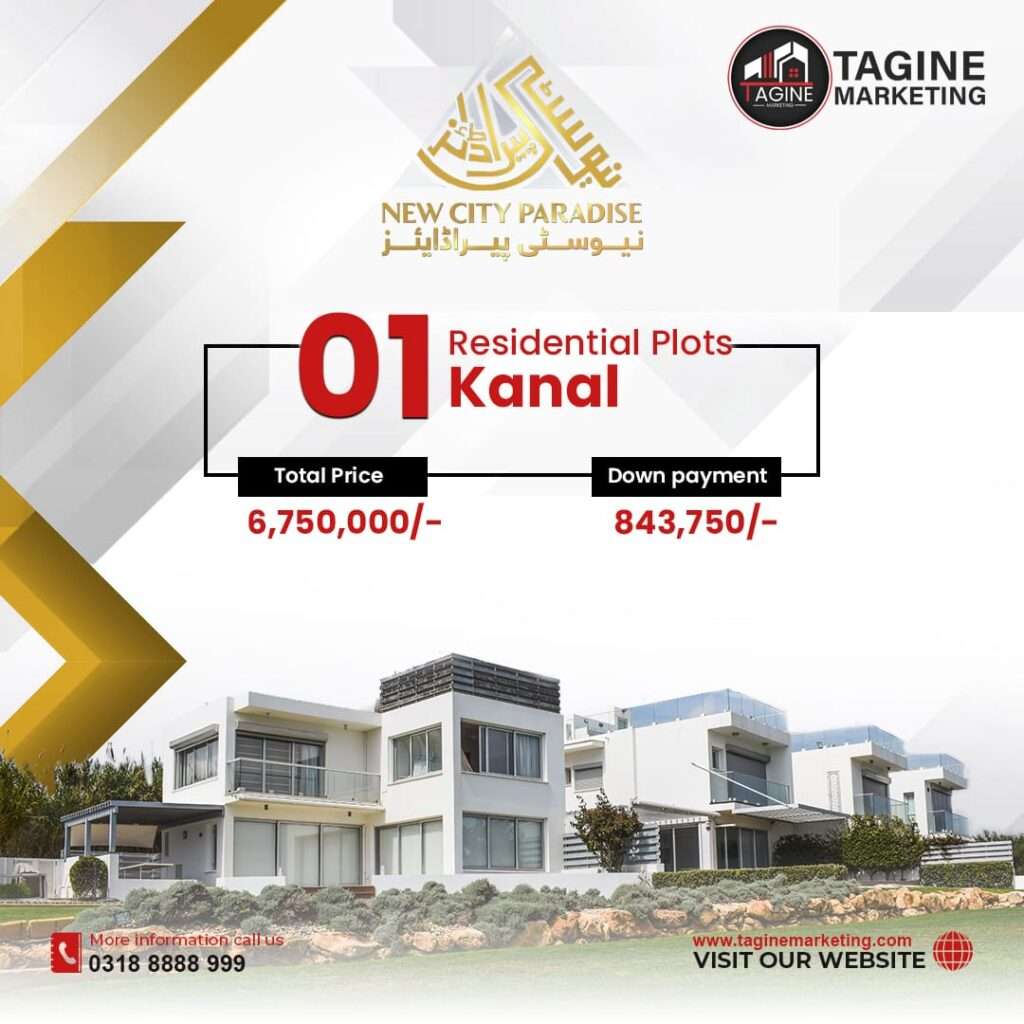 New City Paradise 1 Kanal:
The total price is offered at Rs. 6,750,000
The booking is offered at Rs. 843,750
The confirmation amount is offered at Rs. 843,750
36 monthly installments are offered at Rs. 71,150
4 half-yearly balloon payments are offered at Rs. 375,275
Balloting payment is offered at Rs. 500,000
The allotment price is offered at Rs. 500,000
The Question Now is, What Are You Waiting for?
CALL US RIGHT AWAY to book your plots so that you can make large earnings in the future. You may also make reservations for several plots in the platter offer by getting in touch with Tagine Marketing sales agents. The celebration marking the beginning of operations will take place in the fourth quarter of 2022. Because plot reservations are already being taken, all of the customers, both domestic and Overseas, are strongly encouraged to take part in the ceremony and make their purchases as soon as possible. Soon, more payment plans for Paradise City 2023 will be disclosed.
Where exactly may one find the New City Paradise?
The property is situated at an excellent location in Burhan Interchange, in close proximity to Faisal Hills, Wah Model Town, and Khyber City. Within a few minutes of driving time, residents of any neighborhood, Rawalpindi or Islamabad may reach the location of the project without any difficulty. Within a short amount of time, you will also have access to the Brahma Jhang Bahtar Interchange, G.T. Road, and the Islamabad to Peshawar Motorway.
New City Paradise is accessible in the following ways:
Located at GT Road or 0 kilometers from M-1 Motorway
Nearly 19 min drive away from New City Wah
Nearly 5 min drive away from M-1 Motorway
Nearly 27 min drive away from Quaid Avenue
Nearly 34 min drive away from M-2 Motorway
Nearly 10 min drive away from Hazara Motorway
Nearly 3 min drive away from Burhan Interchange
Nearly 26 min drive away from Jhang Bahtar Road
Nearly 41 min drive away from Thalian Interchange
Nearly 49 min drive away from Islamabad International Airport
Nearly 24 min drive away from Brahma Jhang Bahtar Interchange
Nearly 35 min drive away from Islamabad-Rawalpindi Interchange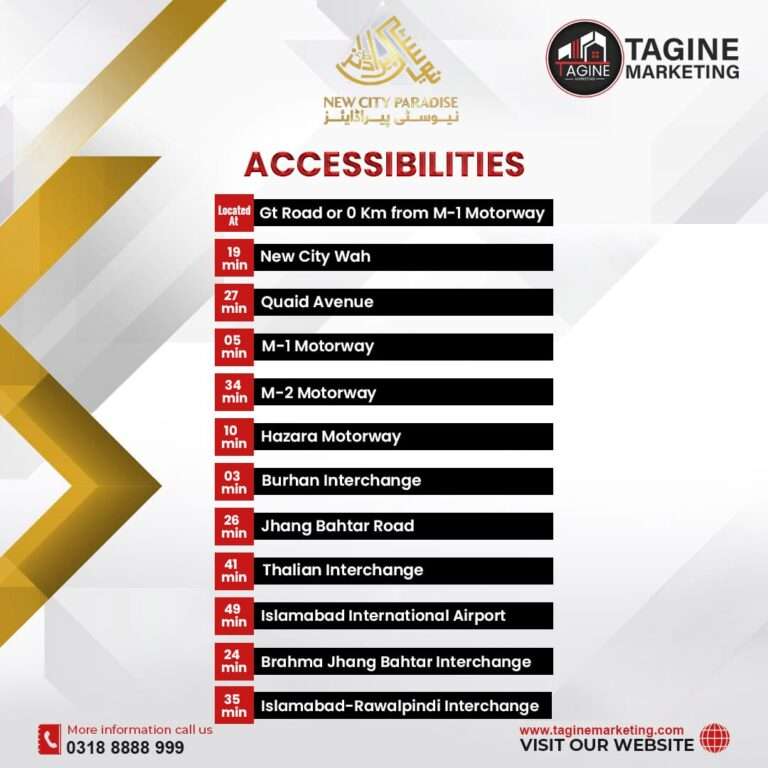 New City Paradise Nearby Landmarks & Places:
It is surrounded by several nearby landmarks & places:
New Wah City
Islamabad
Rawalpindi
Kamra City
Wah City
Taxila City
Wah Cantt
POF Golf Club
Hassan Abdal
Wah Gardens
M-1 Motorway
M-2 Motorway
New City Arcade
Wah Model Town
Burhan Interchange
UET University Wah
HITECH University Taxila
Pakistan Ordinance Factory (POF), Wah
Plots Available In The New City Paradise:
As the project isn't yet started, plot sizes aren't verified. However, in accordance with the information provided by our real estate specialists, it is anticipated that the project will have both residential and commercial photographs of varying sizes as part of a payment plan that is reasonable.
The residential site sizes anticipated is 5 Marla, 10 Marla, and 1 Kanal, while the commercial plot sizes anticipated are 2 Marla, 4 Marla, and 8 Marla.
Note: Once the project is launched, we'll update plot sizes and payment plans.
Schedule of Payments:
We will update the official payment plan of the project as soon as the project is officially released, which is why the official New City Paradise Payment plan is not currently accessible on the market: the project has not yet been officially launched.
The preliminary research indicates that the overall cost of a 5-marla plot in new city paradise is Rs. 200,0000.
Facilities & Amenities of New city Paradise:
The builders intend to give the occupants of the project access to every amenity possible. In previous initiatives, they have kept their word and provided what they promised. It is expected that New City Phase 3 will also have high-quality amenities.
Prime Location in a Gated Community
Environment That Is Friendly to the Earth
Wide, Carpeted Roads, Electricity, Gas, and Water Connections
Schools, Colleges, Hospitals, and Health Care Facilities
Centers for the Community
Shopping Malls
Banks Internationally Recognized as Standard Infrastructure
Parks, Gyms, and Restaurants
Grand Mosque
Graveyard
Allotment of New City Paradise:
The possession policies that have been declared for the plots are continually updated, and this information is then shared with our esteemed clients who have full awareness.
The Transfer Policy for the New Paradise City:
The following are the stages that make up the procedure for the anticipated transfer:
A transfer request is to be submitted with a No Demand Certificate (NDC)
Original membership letter
CNIC copies
Next of kin
Passport size photographs
Membership/Associate form of the purchaser
Affidavit of the purchaser & seller
Undertaking by the purchaser
General Power of Attorney (GPA)
Are there any particular justifications for making an investment in New City Paradise?
Putting your money into New City Paradise is a smart move for a number of different reasons. One of the most widespread explanations is that it is a wonderful chance for financial backers who are looking for a guaranteed thing. You may have peace of mind knowing that your money will be secure because property prices have been consistently rising, and there is no sign that this pattern will reverse any time in the near future. The following is a list of some of the benefits that can be obtained:
Eco-friendly
Prices that are affordable and not excessive
Development of infrastructure on a global scale
Distinguished programmers and software designers
Luxurious amenities
Prime location
Reservation requirements:
The following are examples of documents that are needed in order to make a reservation:
Two photos in passport size each
NICOP for international customers
You're National Identity Card, in both hard and soft copy.
Two copies of the identification card of your closest relative
Guidelines for Buying/Selling a Plot:
You must follow and obey the following real estate guidelines while making investments.
Verification of Documents:
Document Verification: Make sure to ask the authorities about the NOC before you buy or sell a property. Before finalizing the agreement, it is important to perform careful checks on all of the documentation in order to prevent any issues or objections. As a direct consequence of this, all of the requirements and expectations of the client will be satisfied by your documents.
Visits to the Property:
After reading the relevant legal documents and ensuring that the information provided on the property specifics is correct, you should travel to the location in question to personally conduct an inspection. It is recommended that you look for yourself before making any kind of transaction.
Advantages of Investing in Real Estate:
The benefits of investing in real estate include the fact that it is, among other things, one of the most profitable kinds of enterprise. This is due to the fact that it offers tremendous potential for high returns on investments. However, you need to bear in mind that in order for it to be lucrative, it must first be carried out in the appropriate manner. Investing in the real estate sector can result in the acquisition of a variety of advantageous outcomes for the investor.
The following is a list of the most important advantages:
Financial Stability: If a person has some extra amount of money or someone has some asset, and he wants to keep the value of that asset high, then the real estate sector is indeed the sector that can keep the value of investment high and not depreciate. This is because real estate prices tend to rise over time.
Consistent Income: It is possible for a person to swiftly acquire a stable income through investment in real estate. For instance, one may purchase real estate, develop it, purchase the produced property, and then rent it out on a monthly or annual basis. In addition to this, the rent rises on an annual basis by a certain amount; therefore, it is fair to argue that it becomes more stable with time.
Manageable: Once an investment has been completed, it is not like some living creature that requires daily attention and care from the investor. The most that will be required of you is to pay a visit to your land at regular intervals in order to guarantee that intruders do not take possession of it illegally.
After making an initial investment in a piece of real estate, a person may be eligible to receive passive income in the form of rent from the property. Investors will first purchase an already constructed home or create an empty plot of land before renting it out to tenants. This will provide a constant stream of income throughout the year with no interruptions.
Non-depreciable Asset: 
 The value of real estate almost invariably rises year after year. And if any important project, either public or private, is begun in the area, then the value may grow by a factor of several.
Question and Answers (FAQs):
The following is a list of frequently asked questions regarding New City Paradise:

Q1-What is New City Paradise and how is it unique?
Answer: New City Paradise is a multi-purpose project that is intended and built to provide people with a one-of-a-kind living experience at costs that are reasonable to them. It has been developed with the entire efforts of a group of staff members who have years of expertise, including engineers, architects, and other staff members.
Q2-Is the New City Paradise project authorized and legitimate?
Answer-The PHATA has given its stamp of approval to New City Paradise's NOC.
Q3-Is it true that New City Paradise will be an inexpensive housing development?
Answer-Because of the convenient New City Paradise payment options, the answer is unquestionable yes to this question. The management has been instrumental in striking the right balance between luxury and reasonable pricing.
Q4- What steps need to be taken in order to transfer ownership of a plot in New City Paradise?
Answer-Simply by simply going to the headquarters of the society, you will be able to transfer ownership of your plot. After the application and the fees for the transfer have been turned in, the process is straightforward and carried out in an open and honest manner.
Thinking About Buying a Plot in New City Paradise?