Faisal Town Phase 2 is started and founded on the hopes and aspirations of those who had recently developed confidence and trust in CEO Ch. Abdul Majeed vision. The location of Faisal Town Phase 2 is between Chakri and Thalian interchange in Rawalpindi. Faisal Town is a development that has been approved by the RDA and completed with all required legal requirements.

The major entrance gates for Faisal Town are 110 feet wide each of the two gates. These gates exhibit an exceptional fusion of Mughal architectural styles with Gandharan rituals. We put a priority on meeting the architectural needs and aspirations of our customers.
Faisal Town Phase 2 By Chaudhary Abdul Majeed:
Zedem International, a renowned and well-known real estate development company, has proposed Faisal Town Phase 2. The developers will reveal that they are giving great projects again. Faisal Town Phase 2 will soon progress as fast as Zedem's other initiatives have in the past.
Location: 
The residents of Faisal Town Phase 2 will enjoy a lovely and sophisticated quality of life. This project location will be between Chakri and Thalian Interchange region, which is regarded as Pakistan's biggest industrial zone, and you may now have a lovely and excellent residence within the city of opportunity. This housing society is a well-thought-out development that offers amazing views that are peaceful and clean while being surrounded by natural beauty.
Owner & Developers:
Zedem International and its partners plan to build a distinctive affordable housing complex as part of Faisal Town Phase 2. This housing society was developed and built by the builders with the assistance of a group of highly skilled business professionals. The chairman of Zedem International, Ch. Abdul Majeed has unique knowledge of real estate development and team management.
Tagine Marketing is the Marketing Partner of Faisal Town Phase 2, Nova City Islamabad, Citi Housing Kharian, New Metro City
NOC  OF This Faisal Town Phase 2
The authorized development authorities will shortly approve the Faisal Town Phase 2 No Objection Certificate (NOC). The approval of a housing project opens the door to the project's quick completion and expansion.
The District Organizational Plan is still being reviewed, but the Rawalpindi Development Authority (RDA) has given its approval stamp.
Price Plan:
The Price of a 5-Marla Plot will be Approximately 24 to 26 lacs and the Down Payment will be 5.2 Lac.
The owner (Ch. Abdul Majeed)
Developers (Zedem)
Location (Between Chakri and Thalian)
NOC (Will be Approved as previous Projects)
Price 5-Marla (24 to 26 lac)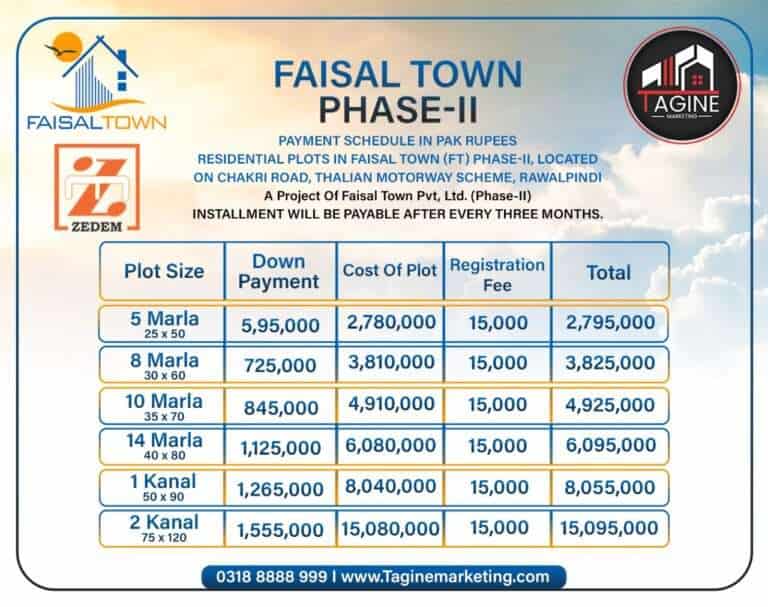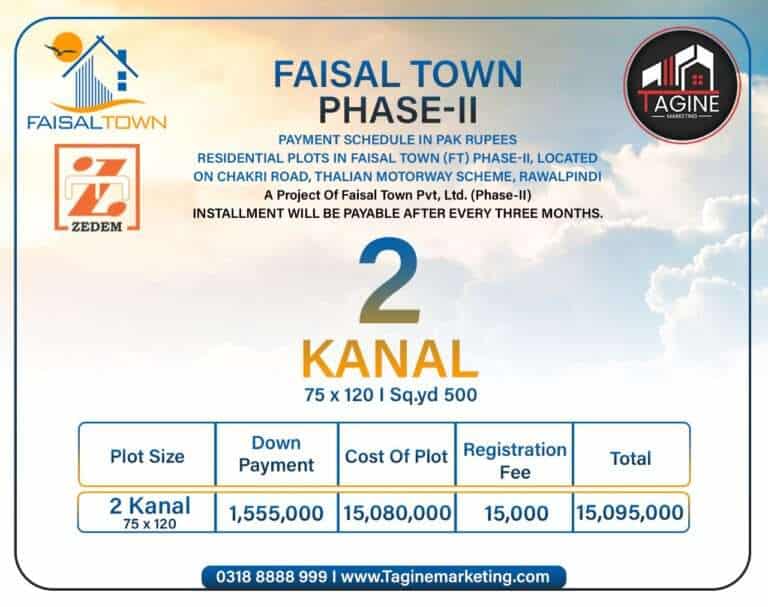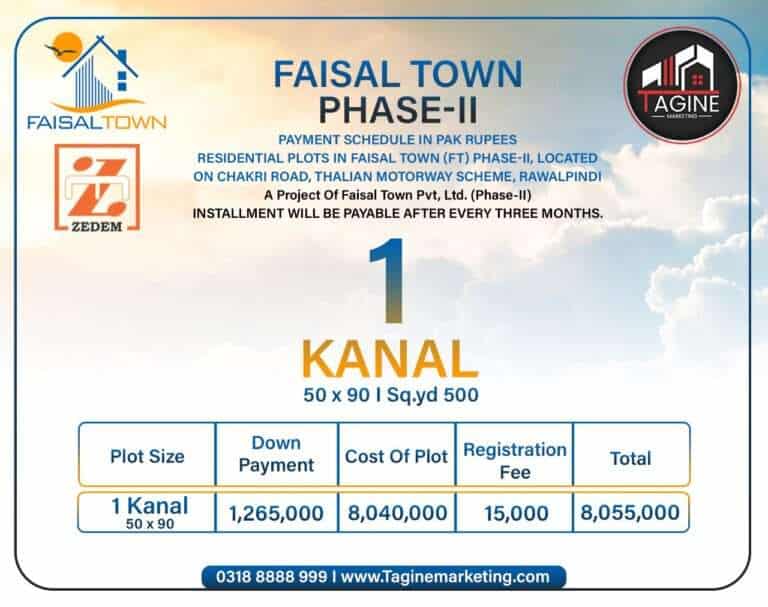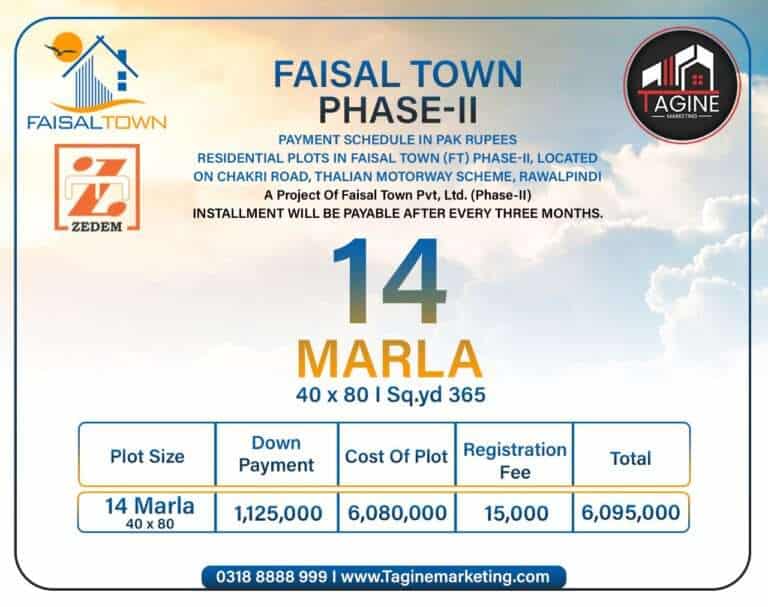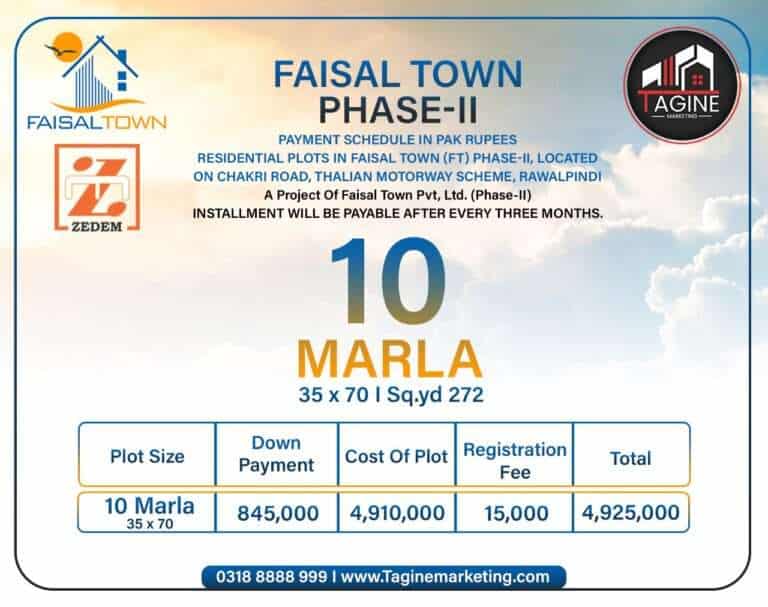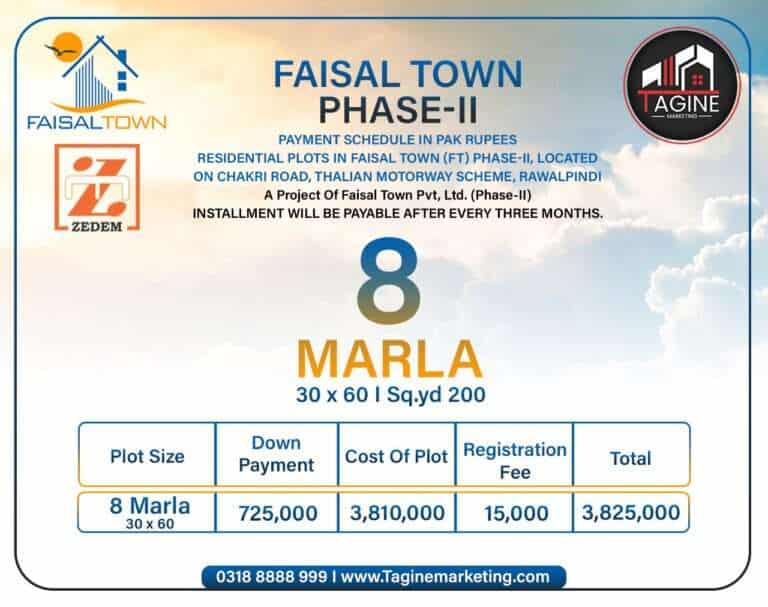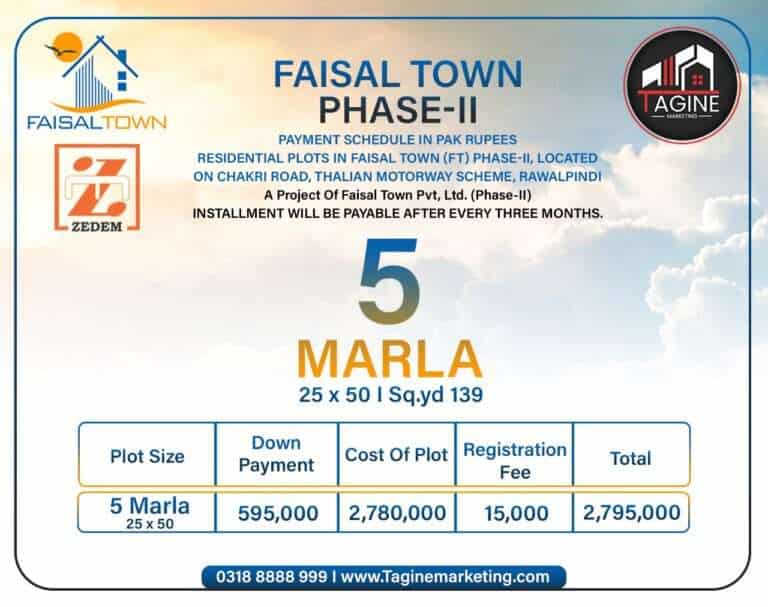 The Question Now is, What Are You Waiting for?
Projects Delivered By CH. Abdul Majeed
A wonder of a project, "Faisal Town," is situated next to the main Fateh Jung interchange on the M-1 motorway on the Fateh Jung route. It is a housing development with exquisite designs and architecture. The housing society's surrounds are incredibly opulent and unmistakably conjure images of natural beauty.
Faisal Town – Block A:
All of the plots in Block "A" have been developed, and most of them are now privately owned. There are currently a considerable number of individuals living in society, and home construction is developing quickly. Numerous residential and commercial properties, including flats, shopping centers, and villas, are being constructed in the city of Faisal by renowned construction companies including Red Sun Associates, Gillani Associates, Win Win Associates, and Tanveer Associates.
Faisal town Islamabad is unquestionably the following most prosperous dwelling project in Islamabad, making F-18 a recently constructed first-rate residential society. And for this reason, you ought to invest in Faisal Town.
Location:
It is located on the Fateh Jung road next to the Fateh Jung interchange, which connects it to the highway and the Kashmir expressway. The housing society is also close to the brand-new international airport. The University town, Eighteen Housing Society, and The Top City-1 are all close by.
About Faisal Town:
The majority of housing schemes cover a considerable area of land with numerous sectors, blocks, and plots. Faisal Town Islamabad, on the other hand, consists of three main blocks, A, B, and C, and is a comparatively modest residential development. Despite the modest size of the entire community, residents are guaranteed the highest standard of living.
The project plan includes all necessary amenities and high-quality commercial areas.
Development:
Within three years, Faisal Town Islamabad's development was totally finished, and the society was effectively delivered. This benefit is one justification for making an investment in Faisal town. Due to the town's value has doubled over the years, those who made investments in the early stages are now profiting twice as much.
Anyone can observe the growth of Faisal Town Islamabad because of its advantageous location in comparison to other communities in Islamabad, and the greatest thing is that it is easily reachable from the Srinagar Highway. Block C is completely developed, just as the town's commercial and residential sections are, and a number of high-rise and other small businesses are also sprouting up there.
Faisal Town – Block B:
Many people have already started building homes in Block B, which is prominently located and borders the M1. It is at the 100% delivery stage of possession. We've always encouraged our clients to buy their properties right away and start creating the homes of their dreams.
Faisal Town – Block C:
Block C has attracted the interest of investors and stakeholders alike because of its unique location and superb road infrastructure.
Future connecting plans with the Kashmir highway and the New Islamabad International Airport would significantly boost the value of this land. The prominence of the C block and the entire Faisal Town will increase with the construction of a contemporary cricket stadium on a plot of land measuring 60 kanals, which has increased investor interest.
Faisal Hills, a brand-new residential development by Zedem International, is now available close to Margalla Avenue in the Taxila area of Islamabad. Faisal Hills is a project of Faisal Town Islamabad that is receiving positive feedback due to its exceptional lifestyle, which will expose you to the adventures of a dream living for the rest of your life.
Faisal Hills created lots of various sizes for its resident. Plot sizes range from:
5 Marlas

7 Marlas

10 Marlas

1 Kanal

2 Kanal
There are two ways to purchase a plot: either paying in full and taking ownership straight away or paying in installments and taking possession over time. The initial fee for registration is 10,000 rupees.
Location:
Faisal Hills is Located near Margalla Avenue Islamabad, Taxila is a well-known industrial center, yet there aren't many places to live there. The project leaders considered developing a housing plan to give Pakistanis the opportunity to settle in an area where they can work and live a comfortable lifestyle at the same time.
As was previously noted, the housing society is located on land close to Margalla Avenue in the Taxila area along the G.T. road. This is also close to Islamabad's MPCHS sector. Residents in the community can relax on their balconies and take in the stunning views of the Margalla Hills because of the land's location. The best thing about this architectural design is how reasonably priced everything is!
The Rawalpindi Development Authority, or RDA, has given its approval to the area. The LOP, however, has not yet been released. It is currently being distributed. In any case, the society is offering a variety of plots, but you must act quickly to reserve one because the initiative offers a first come, first served basis.
Incredibly Futuristic:
An ideal place to live that makes the most of the beautiful Margalla Hills and the beauty of the surrounding area. Faisal Hills offers full ownership and luxury living close to Islamabad, one of the most stunning capital cities in the world and the most coveted city in Pakistan. As in heart of the ancient Gandhara Civilization, in a secure gated community, a distinctive combination of modern culture and lavish amenities.
Our team is dedicated to creating structures and projects that demonstrate forward-thinking vision and design, strong construction, excellent project management skills, and have a favorable, long-lasting impact on communities and organizations.
Facilities:
The Faisal Hills provide a wide range of amenities, some of which are listed below:
In order to ensure an appropriate boundary for the prestigious and highly secured housing society, the community is gated and walled.

The society has its own electricity and sui gas infrastructure because Pakistan has historically experienced significant sui gas shortages and harsh load shedding.

The mechanism for producing safe drinking water

Children's play areas and parks

Athletic facility and running trails

Stalls, classrooms, and mosques

Community facility
Blocks:
Three executive blocks—A, B, C, and D—were initially available, but an additional, exclusive block—Block E—has since been added. "E" stands for the executive block. It is located near the entrance to the housing society's G.T. road development project. The costs are not yet final.
Executive Block
This block is a luxury residential neighborhood close to Margalla Hills and is accessible from the main GT Road. This block is close to Taxila City, the nearby museums, and the environs. In addition, Executive Block includes sizable high-rise developments with residences, businesses, shopping centers, and schools.
Block A
Faisal Town Pvt. Ltd created a lively layout that is distinct and defined for the various property sizes while yet being coherent and intimate. A Block offers a number of exciting characteristics to offer residents and investors despite being totally sold out, including the main commercial hub of the community and a 225″-feet roadway.
Most notably, this block was designed and built in compliance with the standards for modern development. Streets in and around this area must be at least 40 feet wide and up to 110 feet wide to allow for easy access to all amenities.
Block B
Beautiful, lush green parks and grounds make up Block B and provide residents with a place for social events. Additionally, it offers a garden with stunning views of the neighboring Margalla Hills.
Block C
Block C is now the most sought-after luxury residential address in the area, according to the principal residential real estate market. Luxury homes with stunning views of the neighboring Margalla Hills are proposed as a future entry point to the CPEC route through the M-1 Motorways.
Faisal Margalla City (FMC)
Zedem International is the owner of the fully finished and delivered project known as Faisal Margalla City. Chaudhary Abdul Majeed, the owner of numerous successful projects in the twin cities, owns a private construction company.
The society is located in a region that is genuinely natural, bordered by Islamabad's imposing Margalla Hills, and surrounded by stunning scenery and tranquil beauty. The MPCHS sector B-17 Islamabad block A is directly across the street from the society. Zedem International is in charge of the sales and development tasks.
FMC is currently one of the Federal Capital's most coveted and in-demand housing societies. It is also well known for its serene and alluring setting. Surprisingly, the community developed quickly and was able to acquire a special status. Additionally, the society has received approval from the relevant authorities.
Location
Location increases a housing society's value and makes commuting considerably simpler, which increases interest from investors and end users. If we look at where FMC is, we can see that it is situated between sectors A, C, E, and G of the B-17 Multi Gardens in Islamabad. The Margalla Hills are to the society's north.
Faisal Margalla City Access Routes
FMC can be accessed from multiple routes in the twin cities. You may access the society as follows:
G.T Road B-17

M-1 Motorway

B-17 Multi Gardens G Sector Service Road

Multiple accesses to society are one of the factors that many customers are attracted to this project.
Development Status
The society was officially introduced on September 20th, 2018, and development got underway immediately after. The builders finished the project quickly and prepared the community for habitation. Official voting took place at Faisal Margalla City in August 2019, and plots became available for possession in September 2019.
NOC and Legal Status
Faisal Margalla The city had no trouble getting the necessary authority's NOC. The RDA has control over it. Rawalpindi Development Authority has properly approved the society, and the first LOP was given by letter RDA/MP&TE/F-PHS-TAX-07/145, dated February 19, 2019. RDA gave LOP to FMC shortly after that in June 2019
Amplified Amenities
Islamabad's Margalla Hills neighborhood boasts breathtaking scenery and extraordinary beauty. The residents of Project Faisal Margalla City are individuals who genuinely value the environment. It is a protected
Payment Plans
For the convenience of our valued clients, we have developed straightforward payment plans. For our future respected clients, the payments have been created to take a variety of income categories into account.
On the grounds of the Margalla hills is the lovely residential community known as Faisal Residencia. Society distinguishes itself from the competition thanks to its ideal location, respectable neighborhood, and affordable costs. Both investors and end users are interested in Faisal Residencia.
The skill and reputation of the owners and developers are the primary factors in Faisal Residencia Islamabad's appeal. Moreover, this project's worth is influenced by its picturesque setting, contemporary amenities, and affordable costs.
The developer of the community is Zedem International, which is owned by Chaudry Abdul Majeed, who is also the owner of Faisal Hills Taxila and Faisal Town. The project is still in progress, and development is moving fairly slowly.
The society provides commercial and residential plots. It has planning and implementation that adhere to international standards and includes all facilities. Both as an investment and a place to live, it is beneficial.
Location:
CDA Sector E-17 in Islamabad is the perfect location for Faisal Residencia. More specifically, it is located close to the Cabinet Division Housing Scheme in CDA Sector buildings E-17/1 and E-17/4. MPCHS Tele Gardens Housing Society, which is located near Sector F-17 Islamabad, is close to the society's location.
From a number of highways between Rawalpindi and Islamabad, the position offers simple access to society. Additionally, a few alternate routes, including the G.T Road and Fateh Jang Road, also lead to Faisal Residencia Islamabad.
In addition to this, Faisal Residencia and its neighbor Tele Gardens might work together to offer another practical route that would be advantageous for both societies.
Faisal Residencia Accessibility:
As was already mentioned, there are several sites in the twin cities that are extremely accessible from the location of Faisal Residencia Islamabad. In actuality, society has access to both Islamabad and all of Rawalpindi's key areas.
The society's accessibility is as follows:

Away from F-17 Markaz, 11 minutes

Islamabad is 17 minutes away. M-1 Motorway Toll Plaza in Peshawar

Islamabad is 15 minutes from Tarnol.

From Sangjani Toll Plaza, fifteen minutes

Quaid-e-Azam International Hospital is 30 minutes away.

The highway is 50 minutes away from Srinagar.

From Thaliyan Interchange in 28 minutes

New Islamabad International Airport is 25 minutes away.

Rawalpindi City is 45 minutes away.

Islamabad is 45 minutes from E-11.

Faizabad is 45 minutes away.

Jhangi Syedan is 33 minutes away.

From Fateh Jang Road, it takes 21 minutes

Wah Cantt is 43 km away.
Development Status:
The construction of the Faisal Residencia is still proceeding. Roughly speaking, between 30 and 40 percent of society is developed, while the remaining 50 percent or so is growing only slowly. The NOC is now being processed with the Capital Development Authority, which is one of the main causes of the development delay.
Legal Status:
This project's NOC is now being reviewed by CDA, which is mostly the cause of the delayed progress. The management is optimistic, nevertheless, that the NOC will be issued quickly. Faisal Residencia will proceed with construction quickly after receiving approval. Given Zedem International's track record and repute, it is probably going to be approved soon.
Proliferating Investments
A brand-new luxury property is called Faisal Residencia (FR). In Islamabad's CDA Sector E-17, near the famous sector F-17, on the congested Fateh Jang Road (N-80), is the Tele Gardens Housing Scheme (MPCHS).
An expert team of engineers, architects, builders, and real estate professionals is hard at work to provide a top-notch project that is just perfect for living and growing investments.
Zedem International is working on a project called Faisal Residencia. Another housing organization is owned by the same people who control Faisal Town and Faisal Residencia. Along with great economic potential, the property provides a nice environment to live in. The community offers a calm setting, a location that is quite accessible, and all the modern amenities for reasonable pricing and flexible installment options.
Excellence and Elegance
A development that aims to offer its residents a comfortable and opulent lifestyle. Without a question, Faisal Villas is the best location for individuals looking to construct their own homes near prestigious retail and entertainment districts with an emphasis on community and comfort. For the best living experience, it harmoniously combines perfectly maintained exteriors with magnificent interiors.
At Faisal Villas, there are luxurious villas with exquisitely built living rooms, kitchens, and bathrooms. Because of the talented architects who designed them, these homes are extraordinarily luxurious and beautiful. Additionally, the initiative proposes to attempt and reduce monitoring and security technologies. The villas are all earthquake-resistant.
With the name Islamabad Villas Faisal Town, Gillani Estate and Builders will shortly unveil a cutting-edge residential project. The Islamabad Villas will be located in Faisal Town, the best part of the city. The project is an ongoing plan to give those who want to live lovely lives in Islamabad a well-managed, contemporary, and opulent lifestyle.
The biggest group that has previously offered numerous projects is Gillani Builders; one of them is Faisal Square. They consistently provide the unrivaled art of living with a blend of residential, retail, and business developments. The interior and outside of Islamabad Villas are elegantly and comfortably designed.
The project is located in Faisal Town F-18 Islamabad, which is the city's most developed neighborhood, on Main Fateh Jang Road. The Islamabad villas are close to the M1 and M2 highways, and they are only a 5-minute drive from the airport.
The property offers 8 Marla, well-constructed double-story homes with all contemporary conveniences. Each home is built using extremely sophisticated technology and has four bedrooms with attached bathrooms, a modern kitchen, two large dining and living areas, and a separate balcony.
The project's pre-launch booking is available on a first-come, first-served basis. Additionally, you can reserve a villa with just a 15% down payment and pay the balance in convenient monthly or quarterly installments.
Facilities
a car porch for two cars

both an overhead and underground water tank

Foreign fixtures

Cold and Hot Water Fittings

Cable UPS

Most recent Kitchen Designs

Access to gas and electricity

The Jamia Mosque
Thinking About Buying a Plot in Faisal Town Phase 2?