Overview
Blue World City Islamabad is yet another project located right next to the Chakri Interchange and Rawalpindi Ring Road. The owners and developers of Blue World City are Blue Group of Companies and Shan Jian Municipal Engineering Company.
It is one of the most affordable housing societies right now and has already attracted many local and international investments. They provide one of the highest return rates amongst all other societies and not only that but they are also offering online services for everyone.
Owners and Developers
Blue Group of Companies is a very well-known company. Its owner is Saad Nazir, Son of Chaudhary Nazir, Deputy ex-Commissioner of Lahore. BGC has joined hands with Shan Jian Municipal Engineering Company, a China-based company. Both these companies made a promise to deliver an absolute masterpiece in the form of Blue World City Islamabad.
BGC is a renowned company owned by Saad Nazir. It was set up in the year 1998 in Lahore. In just 18 years they have made a strong and loyal client base in all fields of operations. They started by providing architectural and construction service, gradually they have paved their way into the bigger picture by capturing the attention of loyal customers and clients. They have now become one of the Top 5 Real Estate Companies in Pakistan. Their vast range of services includes architecture, marketing, construction, real estate development, IT support, and commercial printing.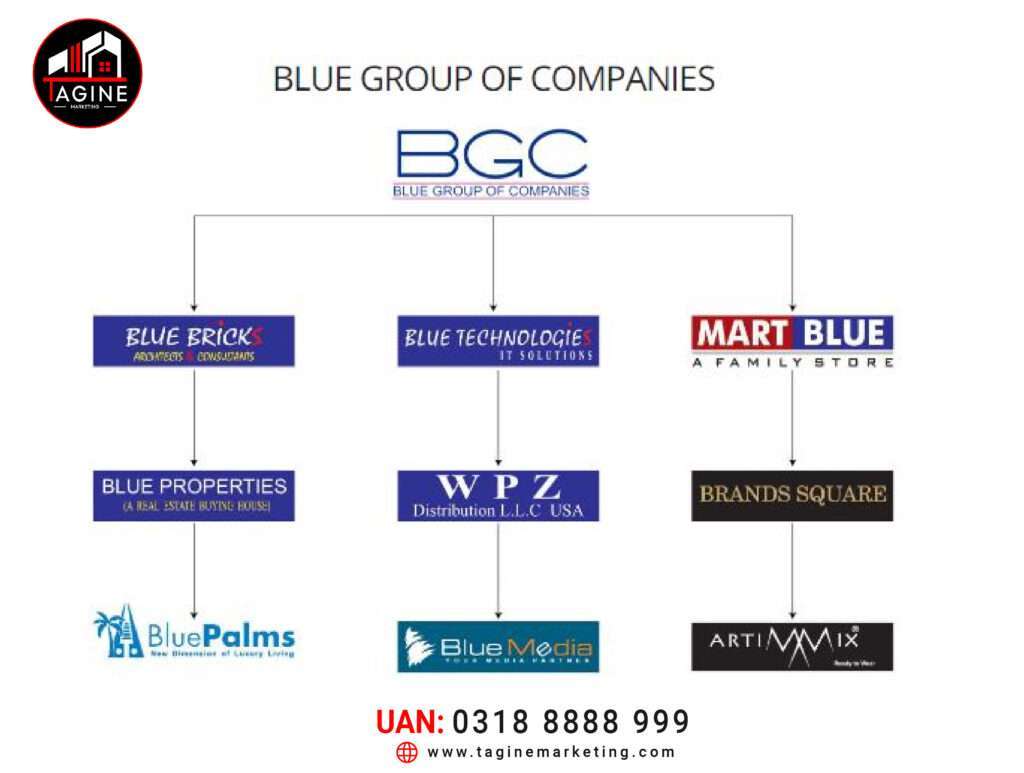 In addition to ruling the real estate market they also have their own clothing brands and other retail businesses such as:
Blue Brick Properties and Consultants
Blue Technologies IT Solution
 Mart Blue
Blue Properties
WPZ
Brands Square
Artimmix
Blue Palms
Blue Media
BGC built its reputation by completing projects such as the PIA Co-operative Housing Society, Blue Mart, Blue Technology, and last but not least Central Park Lahore. Now BGC plans to make Blue World City one of the most top-notch and extraordinary societies in Islamabad.
NOC Status
Recently a rumor was spread that the NOC of Blue World City is fake, but this is NOT TRUE!!!! . The NOC of Blue World City has been approved by the Rawalpindi Development Authority ( RDA). RDA approved their planning permission against the Vide Letter no. RDA/MP&TF/F-PHS-PTR-10/148. Dated: 19-02-2019 d. This is a clear indication that society is totally legal and genuine. At first, only 427 Kanal of land was given to the society but BWC submitted another application and the NOC went under process. The new revised NOC of Blue World City will be handed to them soon and there is much hope that it will become legal in no time.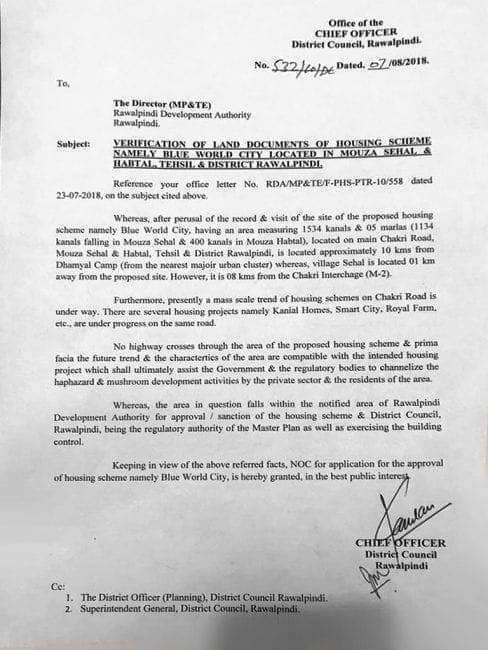 Procured Land Notice by BWC: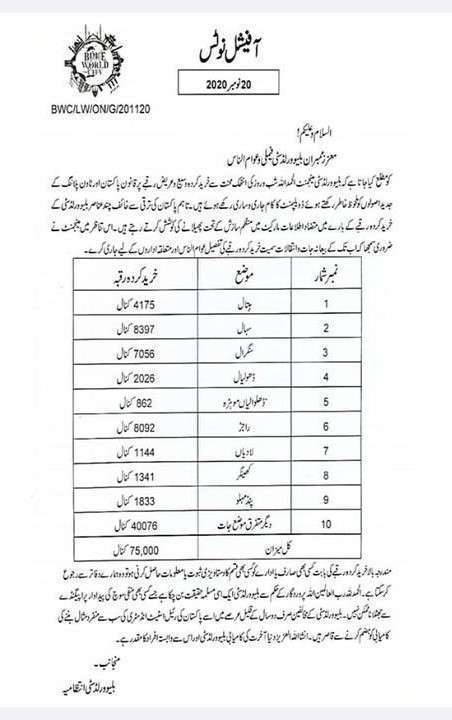 Location
Just like other prestigious and esteemed societies that lie in this region, BWC has also gained a prime location in terms of accessibility. This housing project lies right on the main Chakri Road, next to the Chakri Road Interchange. It also has many access points one of them is the Lahore-Islamabad M-2 Motorway.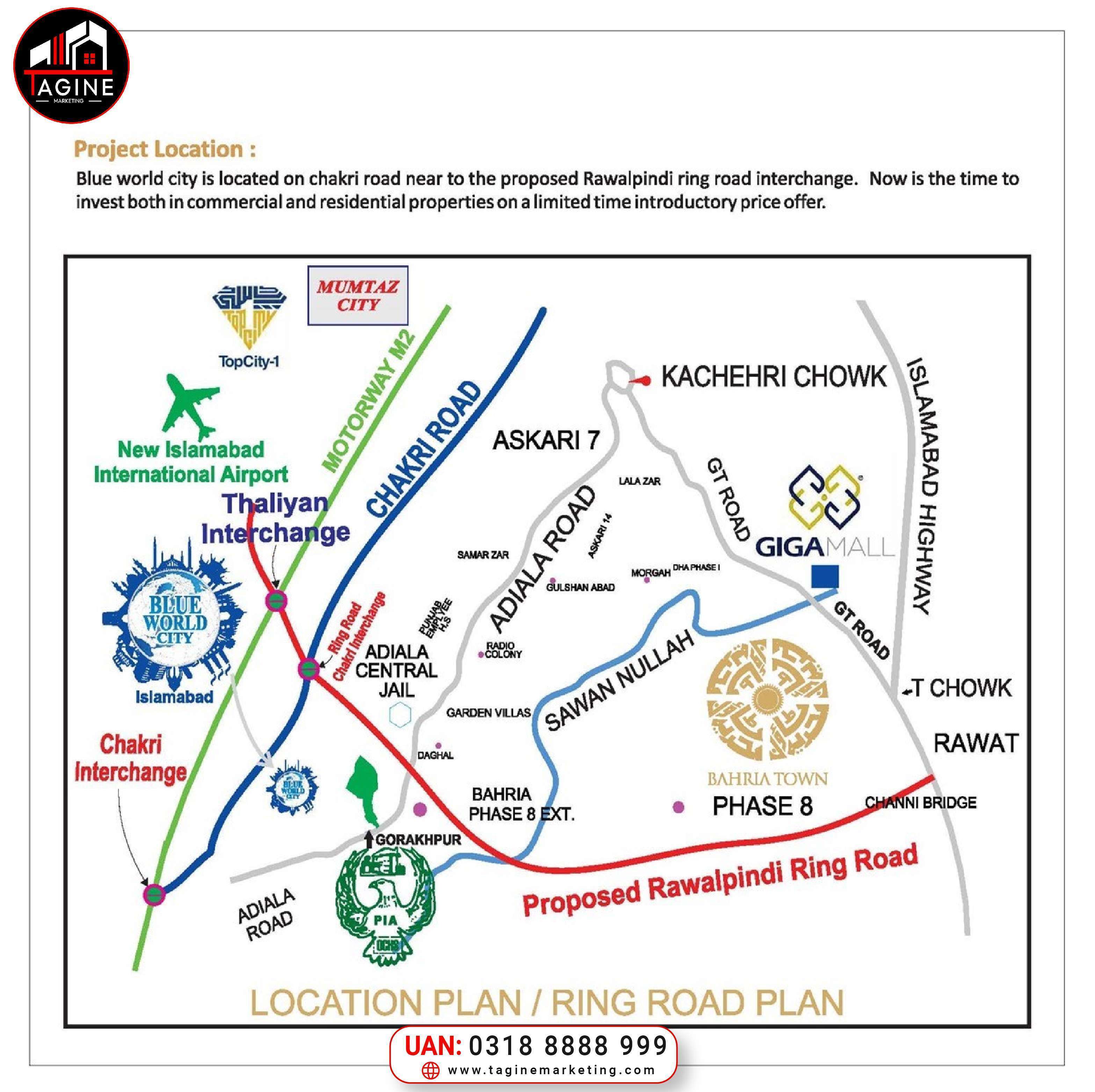 Not only has BWC earned a prime location but what separates it from the rest of the society is its scenic beauty and lush green landscapes. The environment is serene and peaceful. You can enjoy a luxurious lifestyle in one of the locations in Islamabad that could possibly exist. It surely makes BWC unique and extraordinary as compared to the other societies.
Accessible From
13 min drive to Chakri M2 Toll Plaza, M2, Chakri, Rawalpindi, 46000.
13 min drive to Chakri, Rawalpindi, Punjab.
31 min drive to New Islamabad Airport Rd, Islamabad Gandhara International Airport, Islamabad.
 32 min drive from Rawalpindi.
 33 min drive from Islamabad.
33 min drive from Khanial Homes.
48 min drive from N-5 National Highway, Grand Trunk Rd, Rawalpindi.
57 min drive from Defense Housing Authority, Islamabad.
1hr 3 min drive from Bahria Town, Rawalpindi, Punjab, Pakistan.
57 min drive from Rawat, Islamabad.
 1hr 2 min drive from N-80, Fateh Jang, Punjab.
60 min drive from Saddar, Rawalpindi.
21 min drive from Syed Abul A'la Maududi Ave, Qurtaba City, Rawalpindi, Punjab.
03 min drive from Sihal, Chountra Rd, Pind Malhu, Rawalpindi, Punjab.
05 min drive from Sihal, Rawalpindi, Punjab.
13 min drive from Rawalpindi Race Club.
29 min drive from Parial Hunting Club, Rawalpindi, Punjab.
Land Marks Close to BWC
One of the best locations that any society can achieve is what Blue World City has managed to do. It lies amidst the topmost housing societies in Islamabad. This is one of the factors which will ensure that this project will progress by leaps and bounds in the mere future. Moreover, it can be accessed by not just one with numerous points. This will provide an easy way in and an easy way out of society. These are some of the well-known landmarks present in the area nearby:
New International Islamabad Airport
Islamabad
Rawalpindi
Bahria Town Phase, Islamabad
Defense Housing Authority, Islamabad
Capital Smart City
Mumtaz City
University Town
Master Plan
Blue World City's master plan has all the perks of the most modern urban towns in the world. The Mauza of BWC is a village called Sehal. The developers and owners both are making sure that BWC turns out to be one of the best housing societies for years to come. For achieving such a goal they have come up with one of the best master plans out there: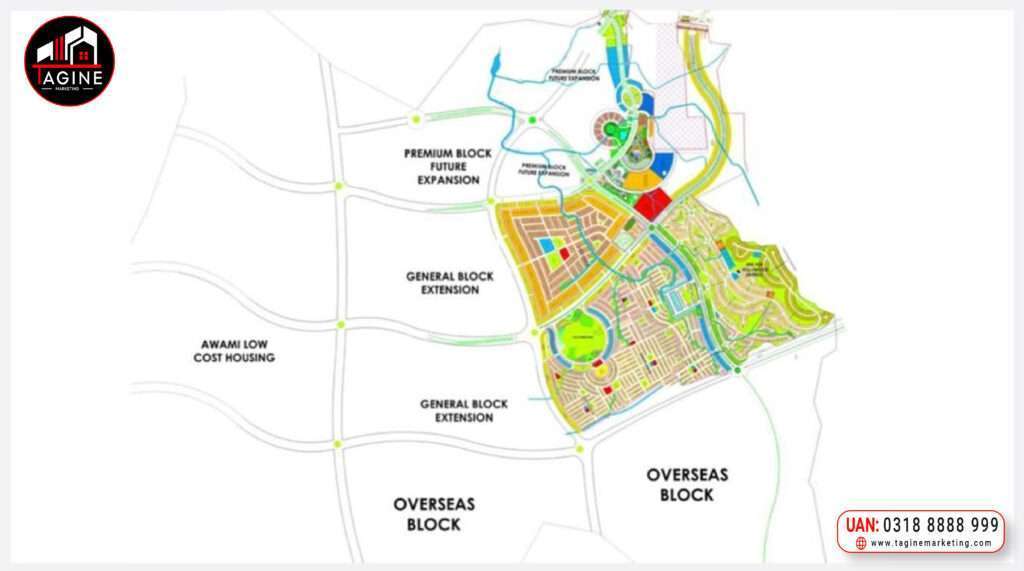 Plot Sizes Both Commercial and Residential:
Around 5000 Kanals is the total area on which Blue Group of Companies has set plans for the future of housing societies in Pakistan.
5 Marla
8 Marla
10 Marla
1 Kanal
2 Kanal
These constitute of both the commercial and residential plots.
Blocks:
Overseas Block:
To get the investment of Overseas Pakistani's, BWC has planned an entire overseas block. Here you can enjoy a lavish and modern lifestyle which is according to international standards. The only problem is that the number of plots here are limited so hurry up and don't let this opportunity go to waste.  One of the most attractive features of the overseas block is that it is affordable and economical.
The size of plots offered are :
7 Marla
10 Marla
14 Marla
1 Kanal
2 Kanal
Location:
 The Overseas Block has an advantage over the other blocks due to its extremely important location. It can be easily accessed by the Main Chakri Road. The Main Gate of the society will provide a way directly into the overseas block. Last but not least Rawalpindi Ring Road and M-2 Motorway will also grant a safe passage into the society.
Blue Hills Country Farms:
Blue Hills Country Farms is another block that aims to provide its residents with a peaceful and relaxed living. To get away from the daily hassle of life and find a moment to refresh yourself, is the main goal of Blue Hills Country Farms.
Location:
This particular block has a different view overall. It is located right next to a calming and soothing water stream. This just adds to the immaculate environment and the beautiful scenery and lush green landscapes that the Hills Country Farms provide.
Orbital Apartments:
Orbital Apartments, Blue World City have everything that you need to live out a premium lifestyle. You can wake up go over to your window and look out to find one of the tallest horse mascots anywhere to be seen.  208 feet wide Orbital Avenue surrounded by lush green parks and a Water Theme Park provides a luxurious apartment experience for you and your loved ones.
Equipped with the ritzy and glitzy details of a plush lifestyle, Orbital Apartments redefine the concepts of luxury and opulence. Following are some of the features:
Multi-story Luxury Apartments
Penthouse Apartments with Dedicated Elevators
Thematic Interiors
High-speed Elevators
Mesmerizing views of greens and monuments
Concierge Service
Atrium
Indoor Swimming Pool, Gym & Spa
24/7 Maintenance
Uninterrupted Power Supply
Awami Complex:
Each block has its unique features and amenities. The Awami Complex comprises independent and duplex units. This block also has all the amenities of a luxurious and exciting lifestyle. Each unit is constructed to perfection with modern infrastructure and immense technology.
Location:
Awami Complex is also situated right next to Chakri Road. Blue Group of Company will ensure high-quality engineering and unrivaled infrastructure for each one of its blocks.
Payment Plan:
Blue World City has made it simple for everyone to invest in their project. They offer 3 different types of payment plans that are:
3 year payment plan
4 year payment plan
5 year payment plan
Blue World City is offering four different categories of land in the form of residential plots, farmhouses, and apartments. They all have varying sizes and payment plans that are given in detail.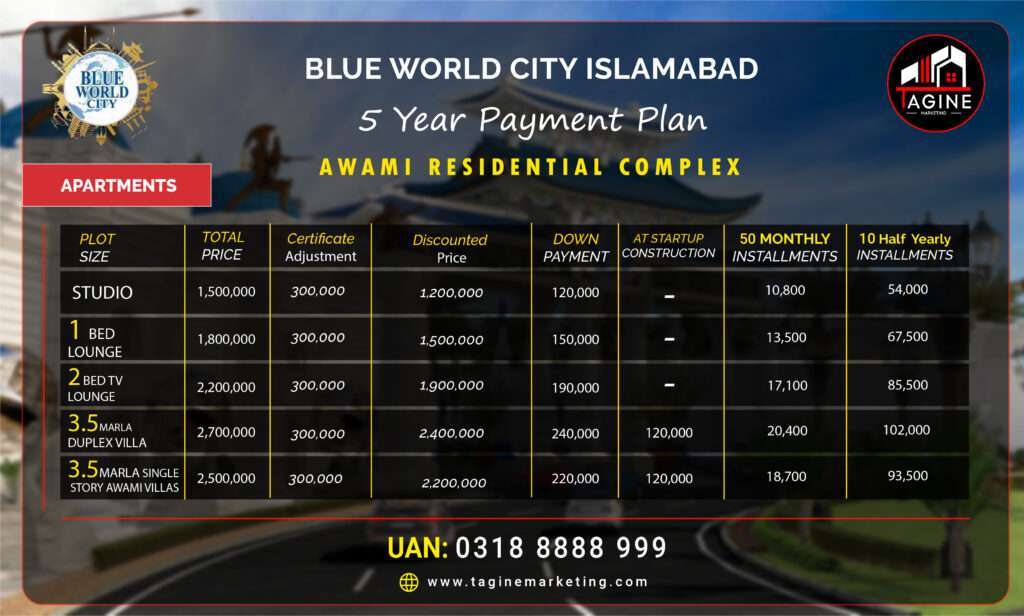 5 marla:
Price: 1,290,000-
Certificate Adjustment: 100,000/-
Discounted Price: 1,190,000/-
10% Down Payment: 119,000/-
40 monthly Installments: 13,388/-
8 half yearly Installments: 66,938/-
8 Marla:
Price:1,600,000/-
Certificate Adjustment: 100,000/-
Discounted Price: 1,500,000/-
10% Down Payment: 150,000/-
40 Monthly Installments: 16,875/-
8 Half Yearly Installments: 84,375/-
10 Marla:
Price:2,000,000/-
Certificate Adjustment: 1,50,000/-
Discounted Price: 1,850,000/-
10% Down Payment: 1,85,000/-
40 Monthly Installments: 20,813/-
8 Half Yearly Installments: 104,063/-
1 Kanal:
Price: 4,000,000/-
Certificate Adjustment: 200,000/-
Discounted Price: 3,800,000/-
10% Down Payment: 380,000/-
40 Monthly Installments: 42,750/-
8 Half Yearly Installments: 213,750/-
2 Kanal:
Price: 6,500,000/-
Certificate Adjustment: 300,000/-
Discounted Price: 6,200,000/-
10% Down Payment: 620,000/-
40 Monthly Installments: 69,750/-
8 Half Yearly Installments: 348,750/-
Payment Plan: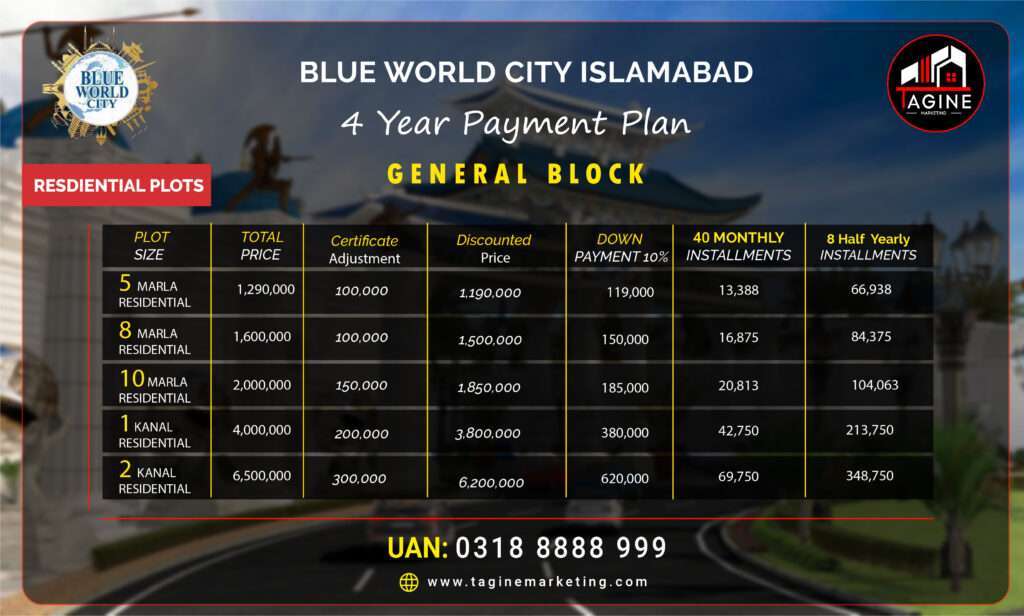 Over Seas Block:
7 Marla:
Price: 1,350,000/-
10% Down Payment: 135,000/-
5% Confirmation: 67,500/-
40 Monthly Installments: 14,344/-
8 Half Yearly Installments: 71,719/-
16 Quarterly Installments: 71,719/-
10 marla:
Price: 1,900,000/-
10% Down Payment: 190,000/-
5% Confirmation: 95,000/-
40 Monthly Installments: 20,188/-
8 Half Yearly Installments: 100,938,
16 Quarterly Installments: 100,938
14 marla:
Price: 2,500,000/-
10% Down Payment: 250,000/-
5% Confirmation: 125,000/-
40 Monthly Installments: 26,563/-
8 Half Yearly Installments: 132,813/-
16 Quarterly Installments: 132,813/-
1 Kanal:
Price: 3,500,000/-
10% Down Payment: 350,000/-
5% Confirmation: 175,000/-
40 Monthly Installments: 37,188/-
8 Half Yearly Installments: 185,938/-
16 Quarterly Installments: 185,938/-
2 Kanal:
Price: 5,660,000/-
10% Down Payment: 560,000/-
5% Confirmation: 280,000/-
40 Monthly Installments: 59,500/-
8 Half Yearly Installments: 297,500/-
16 Quarterly Installments: 297,500/-
Payment Plan: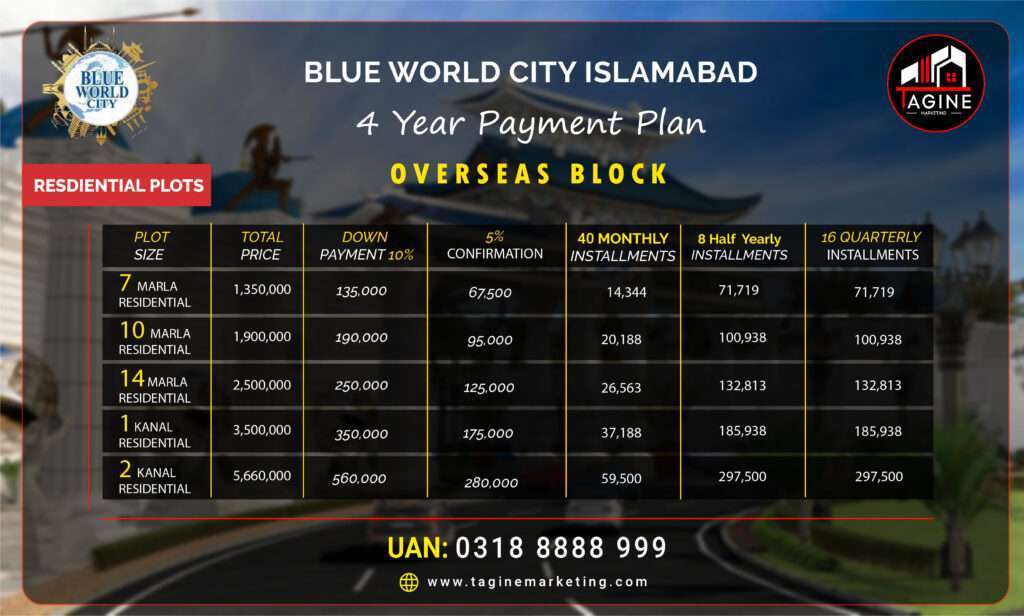 Blue Hill Country Farms: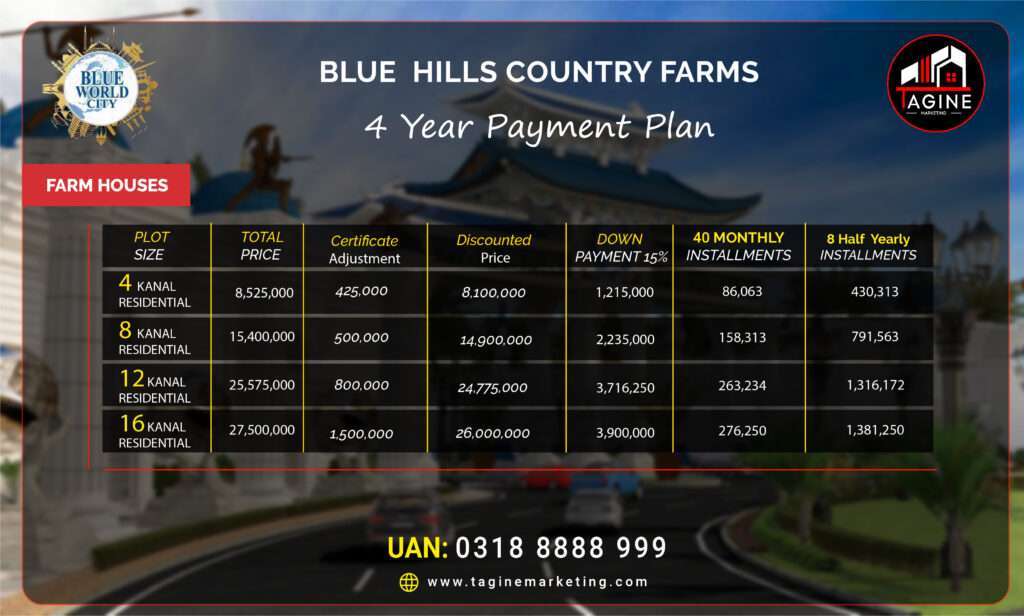 Features:
As big as the name is, Blue World City is aiming to be one of the largest and most efficient societies in Islamabad. To do so they have added numerous features which differentiates them from the rest of the societies:
Jamia Mosque, a replica of Blue Mosque, Turkey
Gigantic water park
International level Infrastructure
Power Plant
Police station for law and order
Well-developed roads
Transportation system
Paved Walkways
All the basic utility available 24/7 such as water, gas, and electricity
Underground utilities
Security system
Boundary wall, gated community
hospitals and pharmacies
Highly qualified doctors and nursing staff
The best educational institutions
Professional teachers
Skilled maintenance and management labor
Affordability
Well-planned drainage and waste disposal system
Modern business hubs
Sophisticated Drainage System
Planned sewerage management & waste disposal system
Beautiful and lush green parks and green areas
A diverse variety of residential and commercial plots
Latest Development in Blue World City:
Society as of yet has not been launched officially but the developmental work has been initiated in the society. The construction of the entrance of the society is underway and is planned to be grandiose. Further, the construction of the main boulevard of the society is also near completion. The infrastructure would follow as quickly as once the project is officially launched.
The land clearing in phase 1 of the society has begun and soon the mapping and leveling of plots will take place. Recently, the CEO of Blue World City Mr. Saad Nazeer was in a meeting with a top Chinese developer, Mr. Chang, who focuses on Multi-Floor Apartments to construct Apartment buildings at Blue World City Islamabad.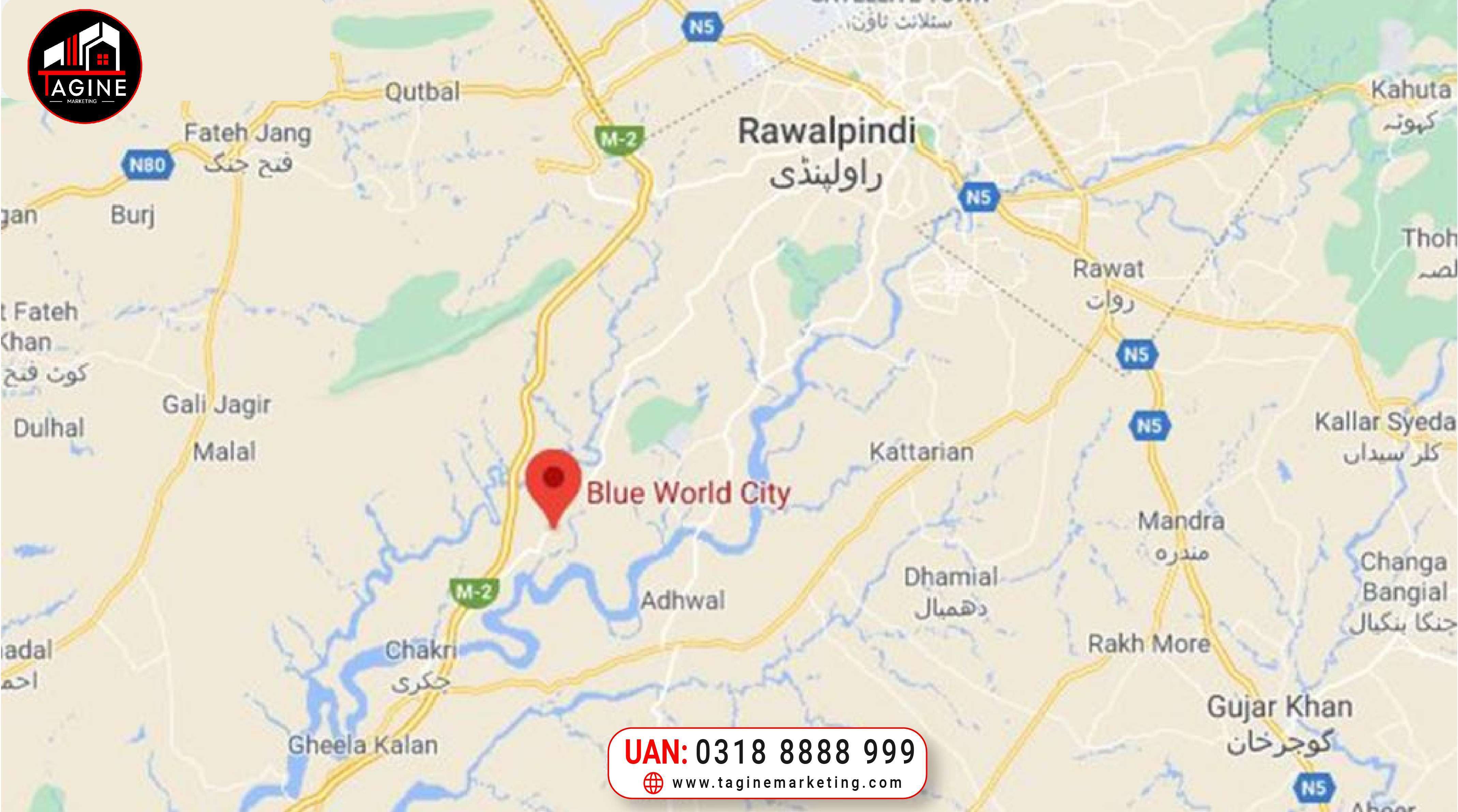 Blue World City Pak-China Friendly City:
The managing authority of the Blue World City housing projects has signed a Memorandum of Understanding (MOU) with the leading development Shan Jian Municipal Engineering Company and a China-based Investment Company for development and investing in this grand housing project, also making it a friendly venture between Pakistan and China.
Some of the reasons for this project to be a remarkable pathway to strengthening the friendship between two countries and will have the honor of being the first Pak-China friendly city.
1. Development of Chinese and Pakistanis:
The housing project is going to be brought into existence using the skills and technology being implemented in Chinese projects with the aid of Pakistani professionals. The standards in maintenance and development will be in accordance with international standards of living.
The society is also equipped with all provisions such as commercial and economic zones, residential areas and sectors designated for education, health and entertainment clubs, which makes the housing project a true Friendly Society between Pakistan and China.
2. Pak-China Investment:
The Shan Jian Municipal Engineering Company has joined forces with the Blue Group of companies to share the financial investment on this memorable housing society making it a joint venture between two companies as well as two countries. A true essence of Pak-China friendly city.
3. CPEC Route Proximity:
The Location of the China Pakistan Economic Corridor is near to the Blue World City Islamabad, it is a joint venture of Pakistan and China to improve the trade situations between the two countries.
Blue World City Islamabad would prove to be a suitable option for accommodation for the foreign workers and professionals that would pouring in from China to work on CPEC.
4. Chinese Architecture and Development:
The infrastructure of the society will be built upon Chinese technology and construction. The master plan and architectural design is an inspiration from the modern cities of China. This being a sole reason of the marvel that is China and Pakistan's friendship.
5. Accommodation for Chinese Residents:
Due to work and progress of CPEC in the upcoming years will bring an influx of Chinese residents and the development of this housing project will also be taken up by Chinese workers which could bring more than ten thousand Chinese workers to come for the project.
There has been a separate block designed and set aside for Chinese residents under conditional ownership.
Blue World City is the first of its kind, joint venture and portrayal of a friendly City to be built in Pakistan that will help both the countries socially as well as economically.
This society is not just a means of bringing the people of China and Pakistan closer to each other. It would bring about endless opportunities both commercial and residential for the occupants as well as enhancing the sense of harmony and peace and increase foreign investment in the country.  
Why Invest in Blue World City?
Blue World City is a low cost housing project that can change the concept of affordable living in Pakistan. People with a low budget can easily invest in the society and provide a comfortable living for their family with luxurious facilities and an excellent location.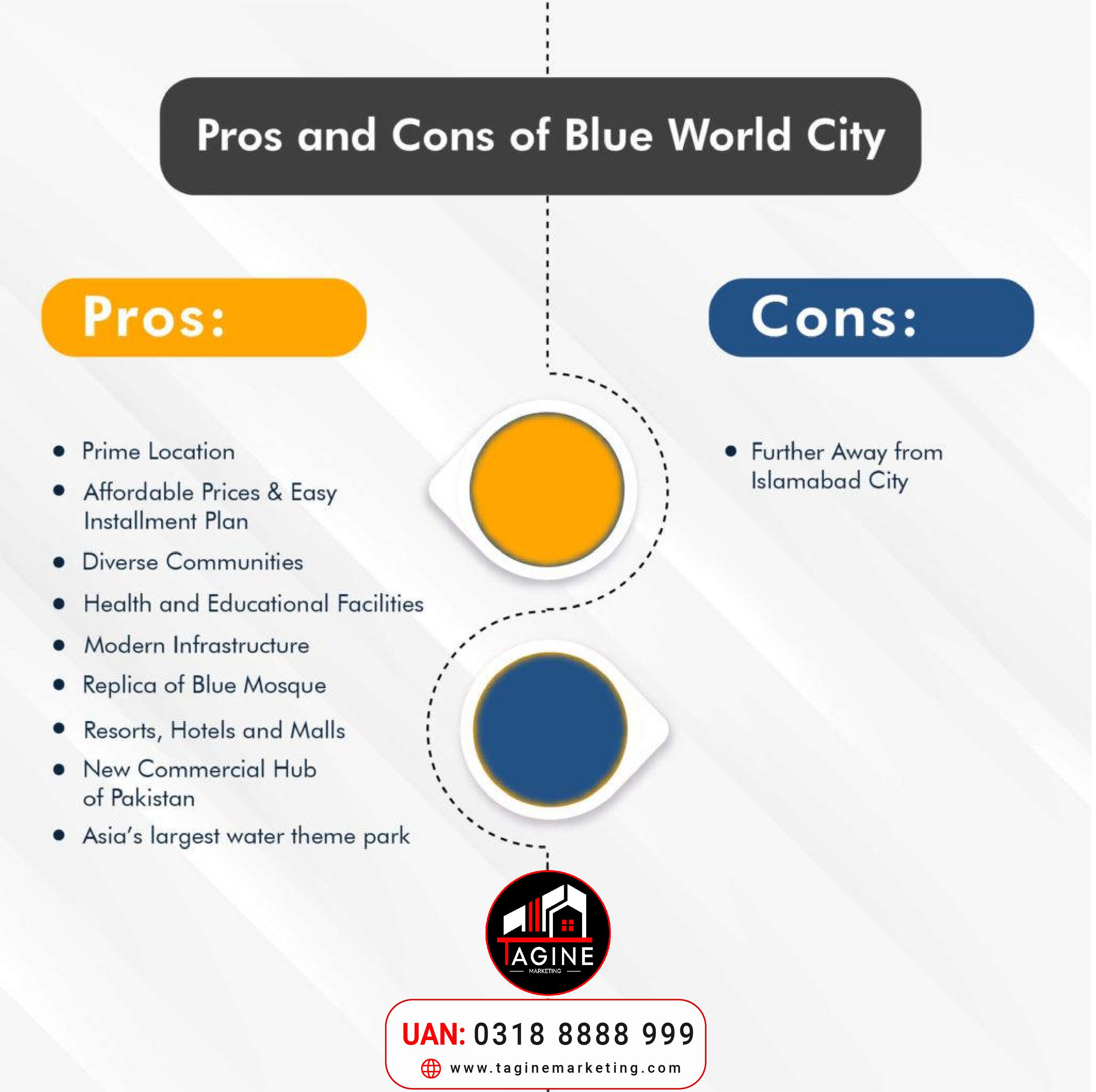 Let us enumerate the many reasons that can sway your decision into booking a plot in Blue World City:
1. Most Affordable & Convenient:
In contrast to other societies of Islamabad and Rawalpindi, Blue World City has much lower rates and prices to enhance affordability and convenience.
The installment plan of the housing society is easy so that it is a possibility for people with low salaries to provide lavish accommodations for their families.
2. Easy Installment Plan:
As all the housing societies in the vicinity such as Gulberg Green and Smart City, Blue World City offers a 3-4 years installment plan for a varying size and types of plots for the ease of the investors who belongto the different classes of society which makes the project a fitting choice for investment.
3. Modern Facilities:
The housing society is embarked with the latest equipment and modern facilities. It will not only provide basic necessities such as clean water, gas, electricity, the society also caters to to the resident's and occupants entertainment through parks, cinemas, shopping centers and exclusive leisure clubs. Investment in this society will guarantee a modern, luxurious and peaceful life.
4. Peaceful and Tranquil Environment:
Blue World city Islamabad will give an experience of a life near to nature that is care free. The society is surrounded by green surroundings and an environment of serenity away from the noise of the city.
It provides an eco-friendly environment for your family that is healthy and natural and free from pollution. It is located in a different zone than those of Park View City but the nature and facilities are both at par.
5. Infinite Commercial Opportunities:
There a number of possibilities of commercial opportunities present in the society, which makes it unique in its own way in the vicinity. The variety of commercial areas and high rising shopping malls and entertainment clubs will ensure sufficient jobs and economic possibilities in the society.
6. Maximum Return on Invest:
The prices offered as of now are the lowest and pre-launch cost prices of the society, posing it an efficient deal to break. Once an official launch and further development has started the rates would to increase and would prove a good profit for the investors.
7. Sense of Belonging:
The society gives a sense of belonging to those residing in the society. The modern facilities and infrastructure the society is bound to attract a load of investors. It promises to not just increase the quality of life but also win hearts of the people with the inventive and strategic plans of development and excellent services.
Facilities and Amenities:
The project will have state-of-the-art infrastructure and modern engineering all directed to making life peaceful and easy in the society. Moreover the owners and developers have foreseen the future and are designing this society in order to accommodate the 2 Million Chinese residents who will move here for the CPEC project.
It will raise the standards of living for every Pakistani! And that is due to the following features:
A Grand Jamia Mosque:
The center of amazement for everyone is this Grand Jamia Mosque that will be a replica of the Blue Mosque in Turkey. Blue Mosque has been a center for our religion from 1609, when it was built. This Grand Jamia Mosque will ensure that the religious needs of people never go unchecked.
Educational Facilities:
The master plan of the society has promised high standards of education with the best schools of the twin city. These schools and highly skilled professionals will create a bright future for your country.
Commercial and Business Hubs:
This society will prove to be a center of attracting major business opportunities and paving a way for the future of not just this society but also Pakistan.
Water Gas and Electricity:
There were times when it was impossible to get water, gas and electricity, and all other such necessities in this area. After a long hard task, the workforce turned their sweat and blood in and out to give everyone the necessities so that everyone can live a tension-free life.
Water Theme Park:
Blue World City will house the biggest water theme park in the country. Modern water slides, wave pools, water rides, water surfing, and pools are divided for each age group.
Boundary Walls and Gated Community:
The community has boundary walls on all four sides to keep in check the safety and security of the people. Face Recognition and Key Cards will be set up in the society to keep maximum security within the four walls.
Safety and Security :
To make sure that every citizen feels safe and at ease, Blue World has appointed highly trained and skilled guards to protect the people.
24/7 CCTV surveillance will also add to the safety features of the society.
Wide Carpeted Roads:
One of the attractive features will be its wide network of carpeted roads connecting all areas of society. Main Boulevard will be 120ft. main roads more than 80ft. and all the streets will be 40ft. wide.
Transportation:
To make it easier for the citizens to move from one place to another and internal transport system will be setup.
Power Plant :
Society will house an in-society power plant. This will make sure that there are no electricity shortages ever and the people enjoy the facilities they paid for.
Underground Electricity:
Wires and cables laying in front of your eyes are both dangerous and a hideous site. They give the entire society a rather filthy look.
BWC has solved this problem by laying a network of cables underground for a smooth, danger free source of electricity.      
Sports Complex:
Sports are within the blood of every human being. To keep the spirit of sport alive, society will have a sports complex that will allow you to practice every type of sport out there without any hesitation.
Hygiene Friendly Society:
This will be a hygiene friendly society due to its excellent resource management and sewerage management systems.
Water Filteration:
 Water Filtration Plan will provide will ensure clean and pure water for everyone. Health is of prime concern for the owners and developers.
Imax Cinemas:
For the sake of entertainment, 3D Imax Cinemas will be set up in the societies. So that you and your loved ones can enjoy your time together in harmony.
Safari Zoo:
Like all great societies in the world BWC will have its own zoo and safari. Here you will be close to nature than you ever have been. These zoos will provide an unimaginable and heavenly experience to everyone.
Hospital:
A 40 Bed Hospital is the goal of the developers. This goal will not only be an architectural beauty but it will also make sure that the health of each citizen remains safe and sound.
Highly skilled and professional doctors will make sure that the patients get the best treatment. Moreover, the nurses will take excellent care of the patients.
Police Station:
The police station will keep in check and maintain law and order in the entire society. They will be responsible for stopping anyone who tries to break the law and will bring him to justice.
Conclusion
Blue World City is a dream come true for every citizen of Pakistan who wants an affordable yet raised standard of living. Society might be in its development stages but it has attracted a lot of investors. Once the prices rise all these investors will get high returns and profits.
With Tagine you can get your desired returns whereas we aim to provide you with the maximum profit because you deserve it.