CAPITAL SMART CITY ISLAMABAD – ASIA'S 4TH SMART CITY
Capital Smart City (an overview):
Capital Smart City is all set to be the 4th smart city of Asia whereas it is listed as the 23rd smart city world wide. Capital Smart City is all set to be located near the new Islamabad International Airport. Approved by the CDA it is going to be one of the most popular housing societies due to its modern development and smart features making it the 1st ever Smart City in Pakistan.
Owners and Developers:
Capital Smart City is a joint project of two of the most well known real estates Future Holdings Developments Ltd. and Habib Rafiq Pvt Ltd. Both these companies are renowned estates of Pakistan having completed many projects country wide.
Future Holdings Developments Ltd ( FHDL ):
FDHL is a Real Estate Developer and Asset Management Company based in Pakistan. Registered under the Companies Ordinance 1984 it is a partners consortium with whom many international and national companies have joined hands. Their projects include the Capital Smart City and M2 Smart Industrial Park.
Habib Rafiq Pvt Ltd:
HRL has been granted ISO9000 certification due to its excellent management process. It is a construction and development company which has undertaken prestigious projects of high engineering, national and international importance involving civil, electrical and mechanical works for the last 60 years such as:
Dewan Salman Acrylic Power Plant
DHA Phase 2
Shaheen Complex Lahore
Multan International Airport
Raw Water Reservoir Khanpur Dam
Kasur Tannery Pollution Control
30,000 Attock Oil Refinery Upgradation.
Development Partner:
The Master Plan of the smart city has been given to a Singapore based business entity known as Surbana Jurong(SJ) and is designed by Norman Foster.
Surbana Jurong:
Surbana Jurong , a Singapore based consultancy firm which has almost 16000 employees globally and more than 120 offices in over 40 countries. The offices comprise of architects, engineers, planners and other specialists all focused on shaping the future into perfection. The firm focuses on making the master plan of Capital Smart City loading it with smart and futuristic features differentiating it from all other such projects.
Master Plan of CSC:
The Master Plan of Capital Smart City includes features and facilities that are nowhere to be seen in Pakistan. It provides a variety of house ranging from Low Density Residential upto High Density Residential.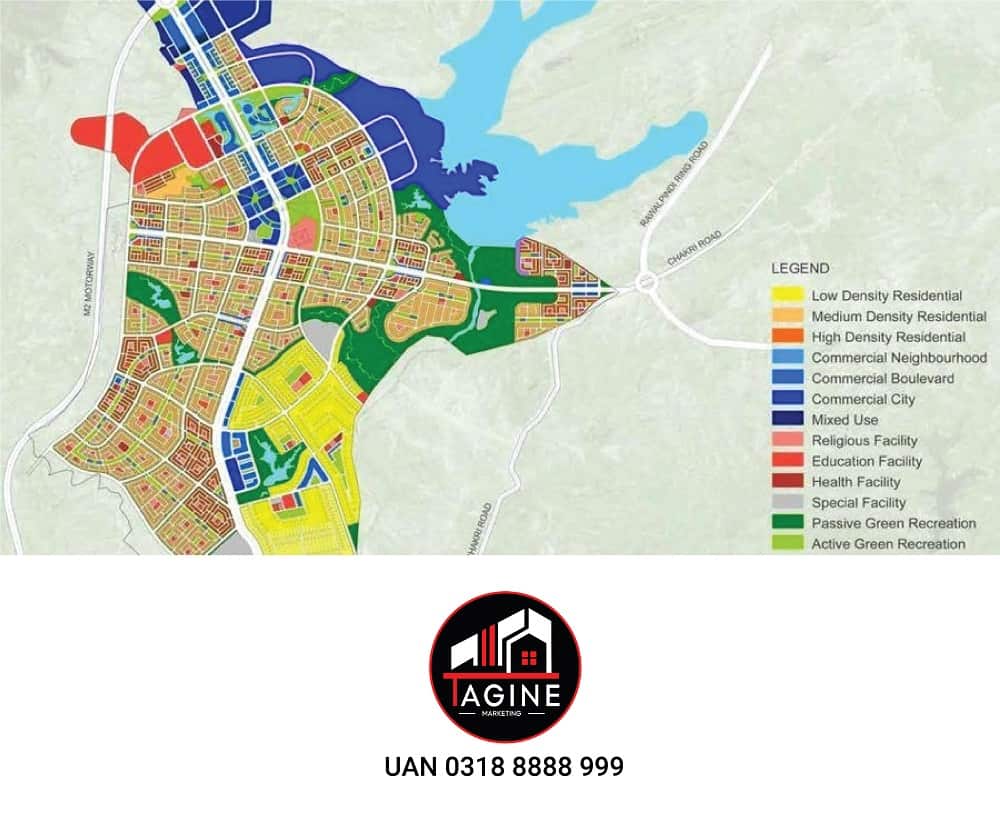 The main focus of the master plan is to provide the city with such features that enhance the infrastructure and differentiate it from others.
The map includes the following:
Panda Village
General Block
Overseas Block
Harmony Park
Aviation Village
Hills Vista
Educational District
Lake-view Terrace
Healthcare District
Education City
Financial Square
Holiday Parks
Key Features:
Smart Security
Smart Building
Smart Transportation
Smart Resource Management
Smart Connectivity
Smart Facilities
Project Location: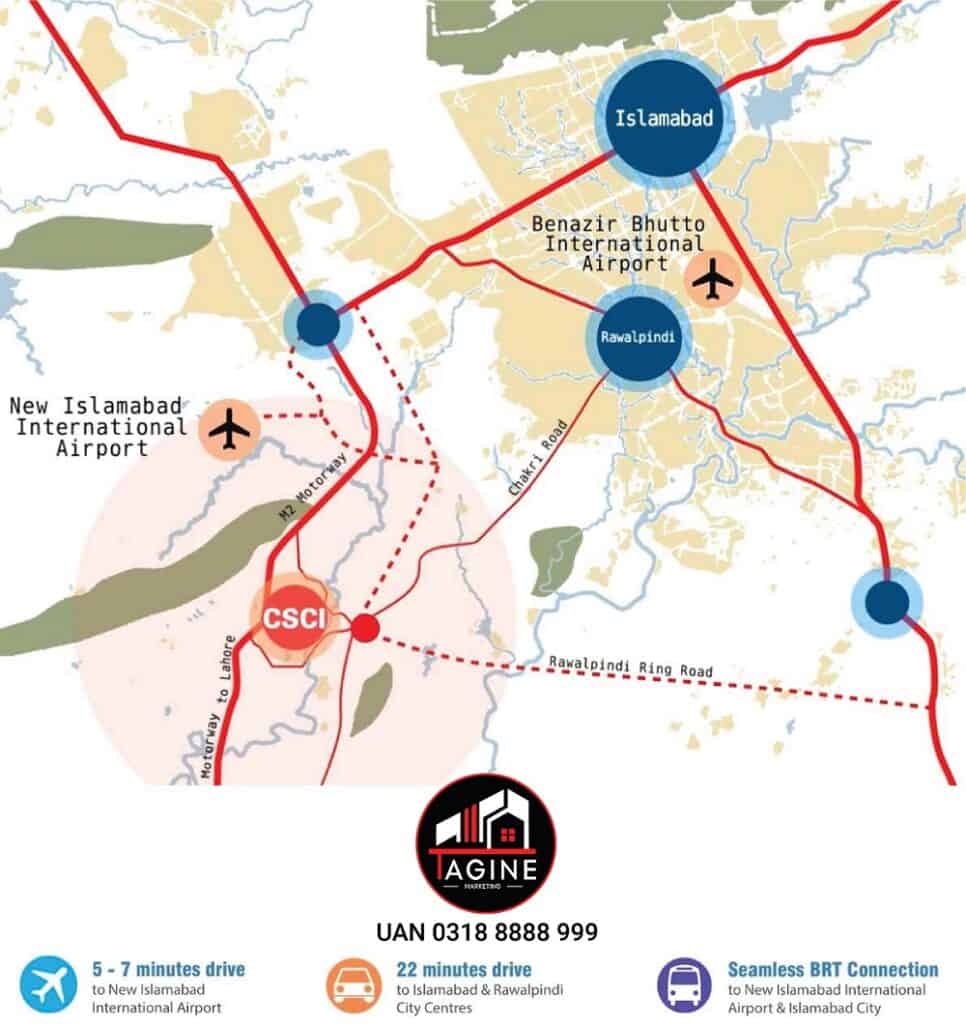 CSCI is located at Lahore-Islamabad Motorway at an approximate distance of 9.2 km from M-2 Toll Plaza near Thalian interchange. Only 5-7 minutes away from the new Islamabad Airport and almost 20-22 minutes away from Islamabad City Centre.
Access Points:
Accessible by the Main Chakri Road via The Ring Road that is all set to be made in the near future. It will be accessible from the M-2 Motorway and will also have its own interchange that has been approved.
NOC and Planning Permission:
Capital Smart City Islamabad's NOC has been approved by the Rawalpindi Development Authority (RDA) and is 100% legal. Due to acquiring extra land its current NOC had to be revised and is expected to be granted soon.
Prominent Features:
Gate Entries
Hospitals
Electric Bikes
Bus and Public Transport
Mosques
Financial Square
Holiday Park
Warehouses
18 -Hole Golf Course
Shopping Mall and Complex
Theme Parks
Bird Parks
Crystal Lake and Floating Village
5 Star Hotels and Restaurants
Load Shedding Free Community
CCTV with Facial and Object Recognition
Water and Sewerage Treatment Plant
Bus and Public Transport
These are just some of the prominent features that the Capital Smart City will have paving a way into the future and opening doors for advancement and technology to take over.
Blocks and Categories:
Total Land:
The total land acquire by Capital Smart City is 65,000 Kanals and is to be expanded upto 80,000 Kanal upon receiving the NOC.
The City comprises of the following residential blocks:
Located between the Golf Course and the River and made for especially those clients which can pay their installments on time.
Inaugurated for Overseas Paksitanis to give them a sense of being overseas due to its excellent facilities and location. It is right next to the Main Boulevard and easily reachable from the interchange.
Situated adjacent to the Executive Block and accessible by the Main  Boulevard and made especially for all classes of people due to affordable economical plots.
It gives a view of the entire Capital Smart City due to its location which is on higher ground than the rest. The evergreen hills add to the scenic beauty. It can be reached via Chakri Road.
It is located next to the Overseas block and is on[MSG1]  of the most oldest one in the city.
 Payment Plan[MSG2] :Overseas Prime[MSG3] Block:
---
 [MSG1]Could be "ONE"
 [MSG2]Please provide all payment plans in "Tagine" branding.
 [MSG3]Please provide payment plan in Tagine branding.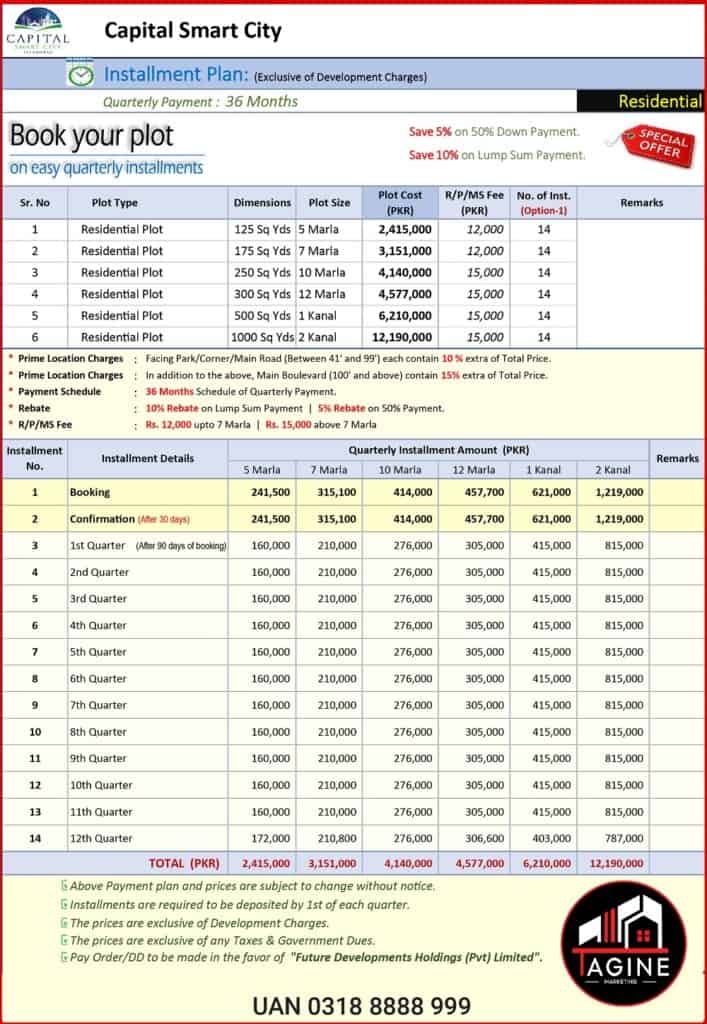 Harmony Park Block: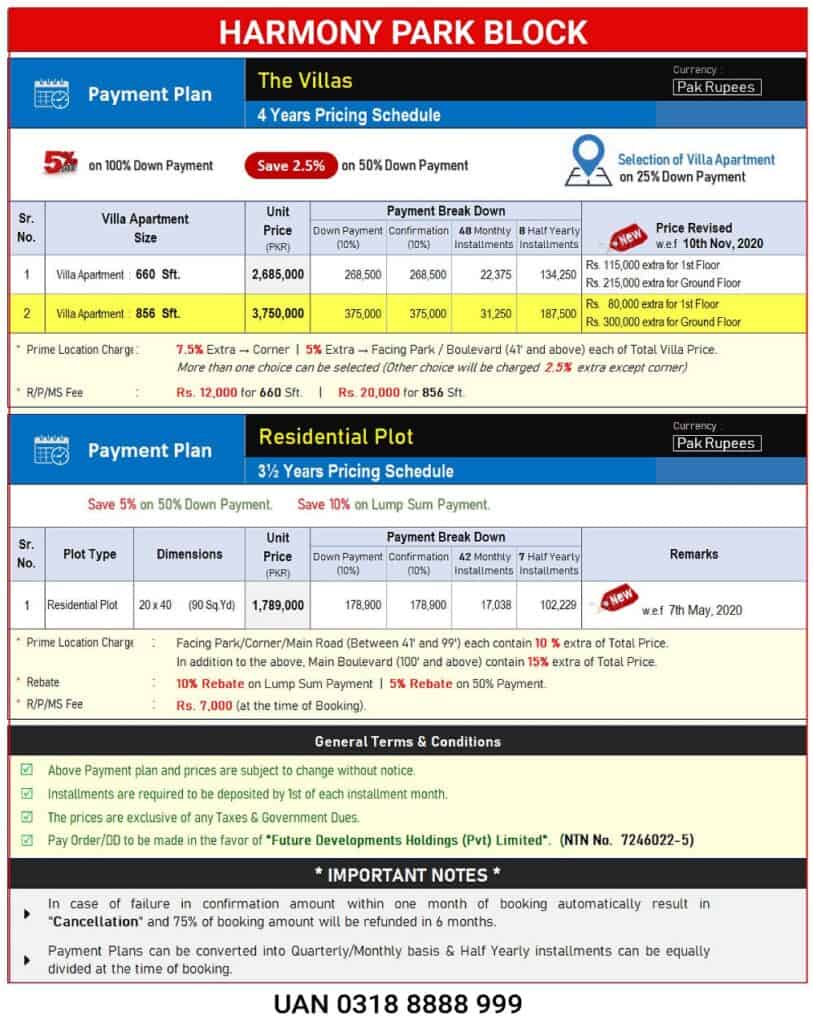 Residential Plots:
| | | | | | |
| --- | --- | --- | --- | --- | --- |
| Size | Measurement | Price | Payment Schedule | Membership                Fee   |   Down Payment |
| 5 Marla | 125 (Sq Yds) | PKR 2,415,000 | 36 Months – Quarterly | PKR 12,000 | 10% |
| 7 Marla | 175 (Sq Yds) | PKR 3,151,000 | 36 Months – Quarterly | PKR 12,000 | 10% |
| 10 Marla | 250 (Sq Yds) | PKR 4,140,000 | 36 Months – Quarterly | PKR 15,000 | 10% |
| 12 Marla | 300 (Sq Yds) | PKR 4,577,000 | 36 Months – Quarterly | PKR 15,000 | 10% |
| 1 Kanal | 500 (Sq Yds) | PKR 6,210,000 | 36 Months – Quarterly | PKR 15,000 | 10% |
| 2 Kanal | 1000 (Sq Yds) | PKR 12,190,000 | 36 Months – Quarterly | PKR 15,000 | 10% |
Residential Plots:
3.5 Marla Residential plots have all been sold out till now .
Commercial Plots:
| | | | | | |
| --- | --- | --- | --- | --- | --- |
| Size | Measurement | Price | Payment Schedule | Membership       Fee | Down Payment |
| 4 Marla | 100 (Sq Yds) | PKR 10,530,000 | 36 Months – Quarterly | PKR 20,000 | 10% |
| 6 Marla | 150 (Sq Yds) | PKR 14,040,000 | 36 Months – Quarterly | PKR 20,000 | 10% |
| 8 Marla | 200 (Sq Yds) | PKR 17,550,000 | 36 Months – Quarterly | PKR 20,000 | 10% |
 Commercial Plots of sizes 10 Marla and 1 Kanal have been sold out.
Smart Villas: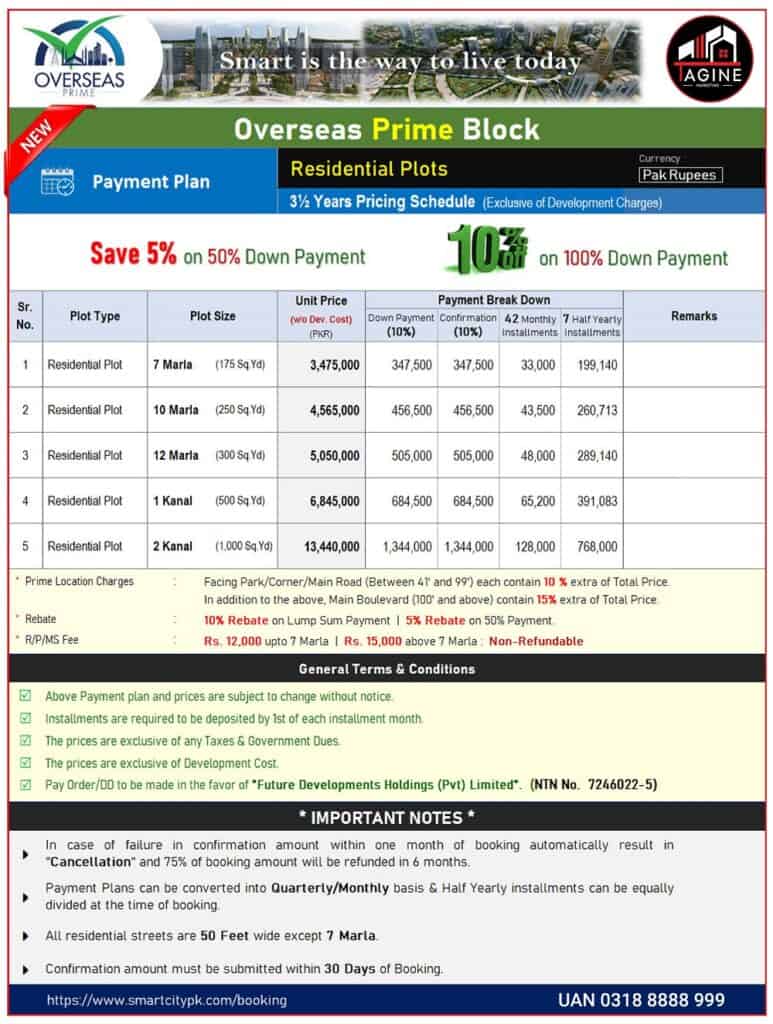 Farmhouses:
| | | | | |
| --- | --- | --- | --- | --- |
| Size | Measurement | Price | Payment    Schedule | Down Payment |
| 4 Kanal | 2420 (Sq Yds) | 29,500,000 |   | 2,950,000 |
| 8 Kanal | 4840 (Sq Yds) | 49,000,000 |   | 4,900,000 |
Booking Your Plot!!!
To book your plot in Capital Smart City you are required to bring the following documents along with you to Tagine:
Passport Size Photograph
Copy of CNIC
Duplicate of your close to family
Booking amount 10% at the time of booking.
Submit your form and documents along with the payment to confirm booking.
You can download the form here___________________________________[MSG1] 
Current Status:
The development of the Capital Smart City is moving rather rapidly and is all set to be completed in the mere future. The current development includes the following:
Harridine Golf: This is going to be one of the largest golf course of Pakistan having and 18-Hole Golf Course. The construction is underway and is all set to be completed by a year or two.
Movenpick Hotel and Resort: A project of Movenpick who currently have a hotel in Karachi and has 2 more under development. It is all set to be completed in 2023.
Operating Batching plot that gives 1 cubic meter material created.
Pre-Cast Factory for on location creation of tuff tile, tuff stones and tuff pavers finished.
Establish Water filtration plant on Chakri Road demonstrating 2000 gallons water/hr.
Developed Offices Complex including showcasing office, conference office and designing office.
Mosque, school and overhead tanks previously began in Overseas square.
Benefits:
First Smart City.

Unique Facilities.

National Defense  University.

Modern Living.

Safe Investment.

Resource Management.

Smart Apps.

Foreign Investment.

Eco-Friendly.

Good return on Investment.
FAQ's
How is Capital Smart City Different from other Projects?
Capital Smart City is different from other projects as it is set to be the 1st  in Pakistan and 4th world wide city which will have futuristic features that no other society can provide you with .It will have smart apps ,will be eco-friendly and will be strategically planned.
What features will Capital Smart City have?
The city will have features like BRT system, free WIFI, traffic control apps, surveillance with facial and object recognition, climate control apps ,appliances control apps and a lot more.
Why is it called Capital Smart City Islamabad and not Capital Smart City Rawalpindi?
The project falls just on the edge of Islamabad and new plans are being revised which may include the project in the city of Islamabad.
Is it legal?
Yes the project is 100% legal as its NOC has already been approved by RDA.
Own a property in CSCI? Call us now +92 318 8888 999.[MSG3] 
Thinking About Buying a Plot in Capital Smart City