Overview
Sardar Group of Companies, a well-known name in the market, is set to introduce you to their latest Taj Residencia project. Taj Residencia is the next most modern and up-to-date society to live in. To prove to you the company's efficiency you can look at their most successful project The Centaurus. The Centaurus Mall is the ultimate definition of luxury and style. The Taj will be just as majestic as Centaurus but is aimed to be even better.
Owners and Developers
Sardar Group of Companies was founded in 1973 to make the world a more modern and a much better place for everyone. The company started with the trade and rent of vehicles and slowly build itself into one of the finest business groups in Pakistan.
They had only 25 employees initially, but as they embedded their roots in various sectors, their workforce exceeded almost 3000 employees as of today.
Sardar Enterprises is enlisted for all three of PBA's panels, i.e. Land and Building, Plant & Machinery, and Current Assets & Commodities, with territorial coverage for all four provinces. Highly qualified teams of professionals comprising civil, electrical, mechanical engineers, and master's degree holders conduct a valuation of movable and immovable assets for customers.
NOC (No Objection Certificate)
The NOC of Taj Residencia is already approved by RDA ( Rawalpindi Development Authority). NOC of any society makes it 100 % legal and without a chance of any type of fraud. Since it is situated near I-14 therefore it lies in the jurisdiction of RDA.
Location
Taj Residencia is situated parallel to the CDA sectors I-14 and I-15. It has 3 entrances
From I-14
From I-16
From Lakhu Road which goes onwards to Thalian Interchange
Access Points
The prestigious project can be reached from the CDA sectors I-14 and I-16. Moreover, it can also be accessed via the Lakhu Road which leads to the Thalian Interchange. The driving distance from some of the most famous landmarks is:
20 Minutes from Centaurus
10 Minutes from Islamabad Airport
5 Minutes from Quaid-e-Azam Hospital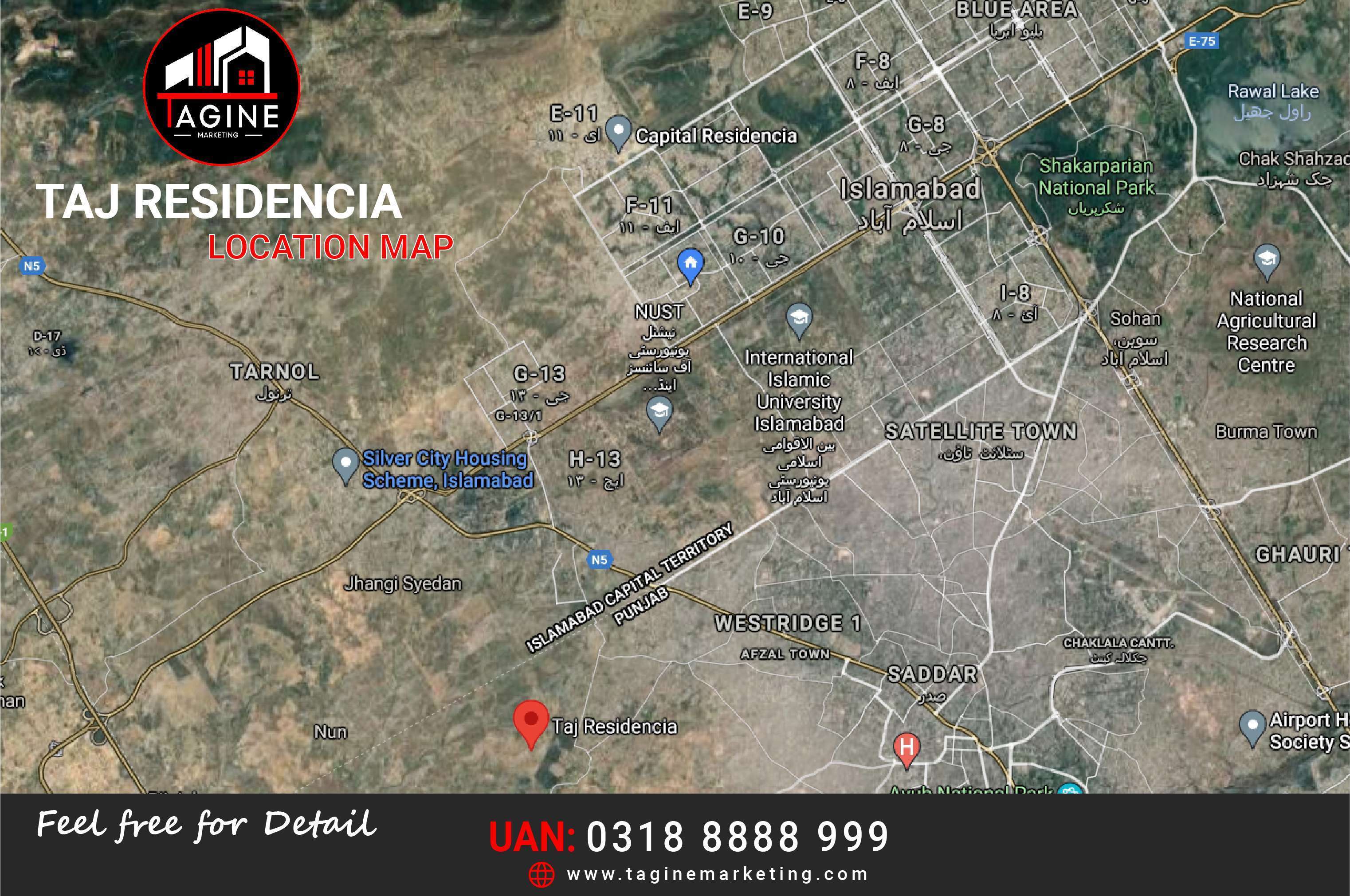 Features and Amenities
The project offers some very unique and impressive features and amenities.
Eye Catching Residential Apartment Towers
State of the Art Eye Park
Exceptional Commercial Hubs
Parks and Play Areas
Royal Club for a Quality Family Entertainment
Safari Parks and Botanical Gardens
Nearby International Standard Hospital
Most Anticipated, The Centaurus Mall 2
Grand Jamia Masjid supporting religious practices
Schools and Colleges for Quality Education
All these ensure that Taj Residencia stands out from the rest of the societies. The owners and developers want to make sure that the residents get the most facilitated and relaxing lifestyle possible.
Total Area
The total land acquired for the project is 10,000 Kanal. This entire land is dedicated to make one of the best housing society ever seen anywhere.
Taj Residencia Villas
Taj Residencia has taken an initiative to provide the people with their dream villas. A place where they can redefine luxury and enjoy an exuberant lifestyle. These villas will show the capability and experience of the owners and developers. The villas include the following:
1 Kanal Villa
1 Kanal Model Villa
14 Marla Villa
10 Marla Villa Mediterranean
10 Marla Villa Eclectic
10 Marla Villa Modern
Payment Plan: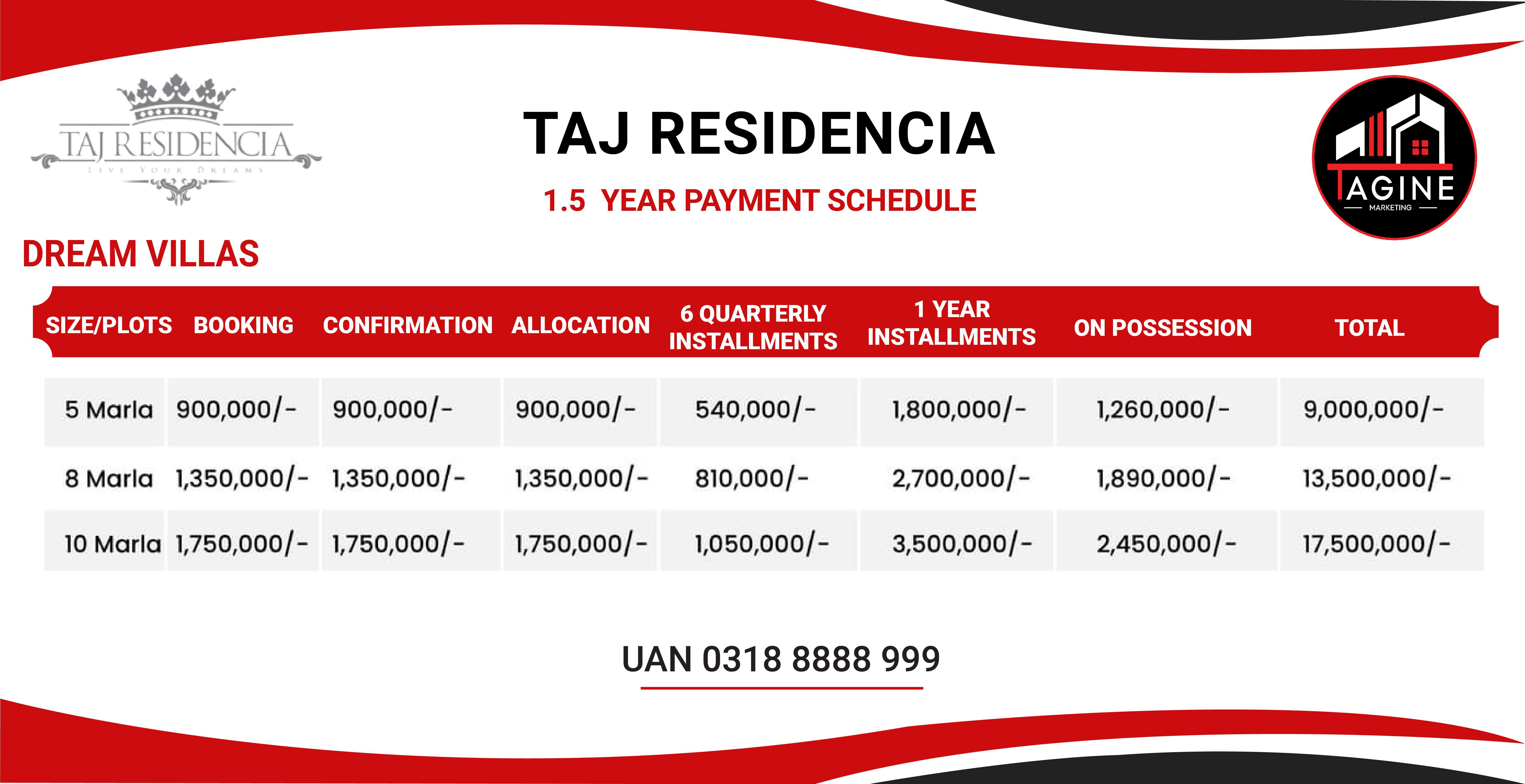 Residential Plots
Payment Plan 1.5 Years: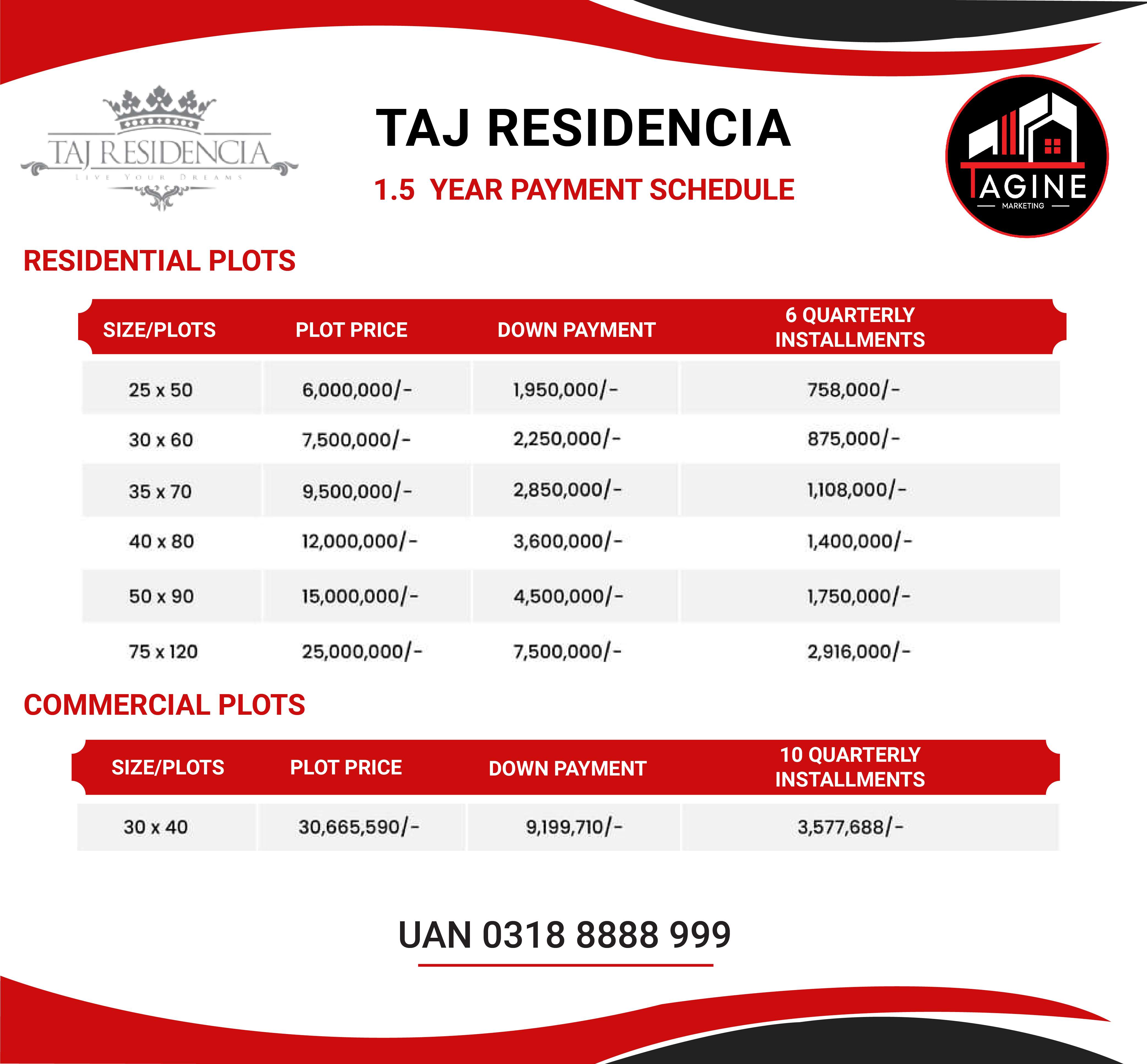 Payment Plan 2.5 Year: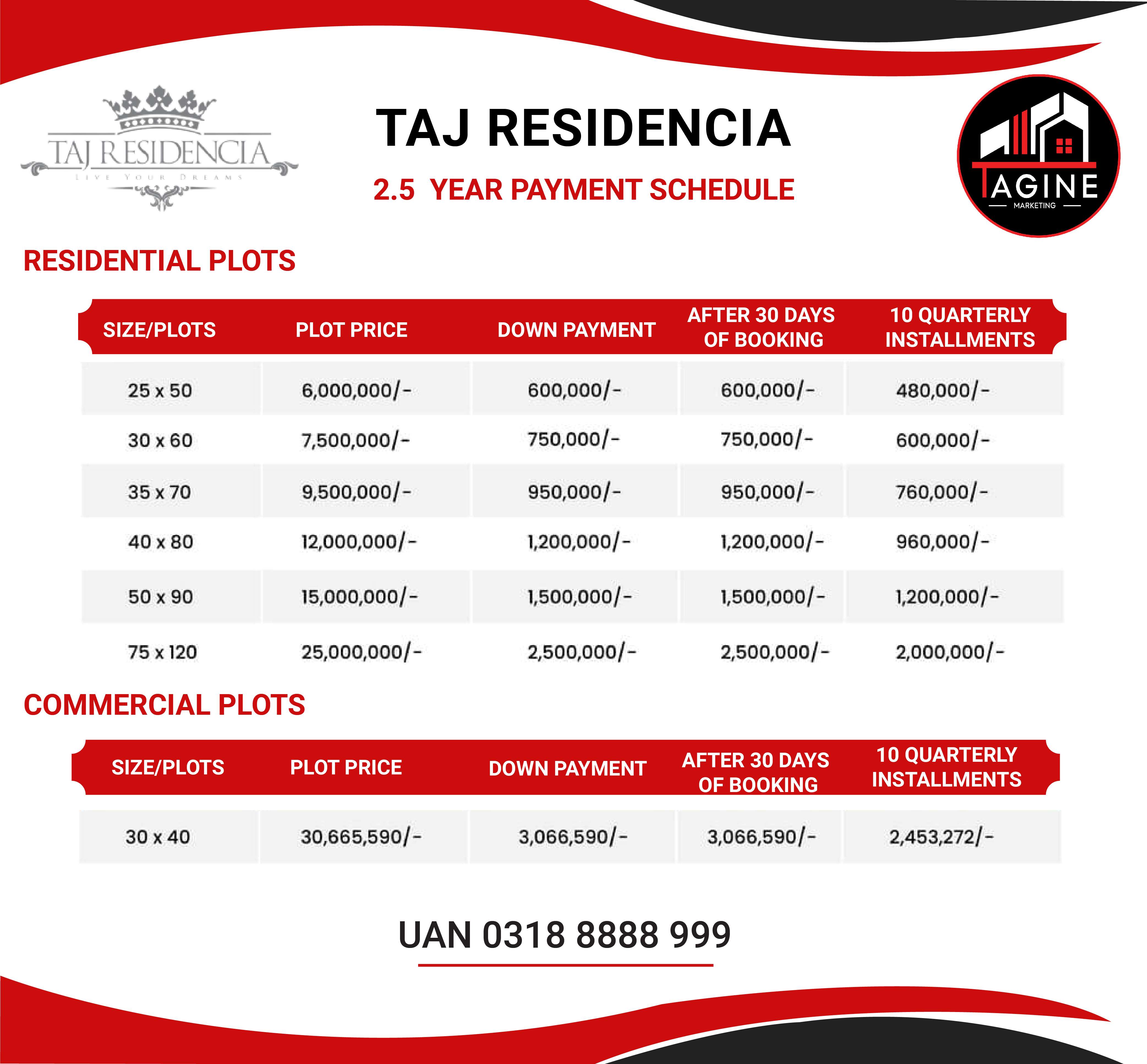 Payment Plan 3.5 Marla:
These 3.5 Marla residential plots were carefully planned and launched for people who have a lower budget but still want to make sure that they have their own house, a place where they feel safe and satisfied.
New Revised Rates of 3.5 Marla Residential :
Downpayment: Rs 460,000
Monthly Installments for 4 years: Rs 42,500/month
Total Price: Rs 2,500,000
Payment Plan 5 Marla Blue Bell:
Recently the owners and developers of Taj Residencia have launched their latest 5 Marla residential plots. The developers aim to create a luxurious lifestyle in one of the best locations possible. They are aiming to expand their society gradually so as many people as possible can benefit from it.

Following is the payment plan of these plots:
Down Payment: Rs 650,000
16 Quarterly Installments: Rs 150,000
Biannual Payment : Rs 50,000
Total Price : Rs 3,500,000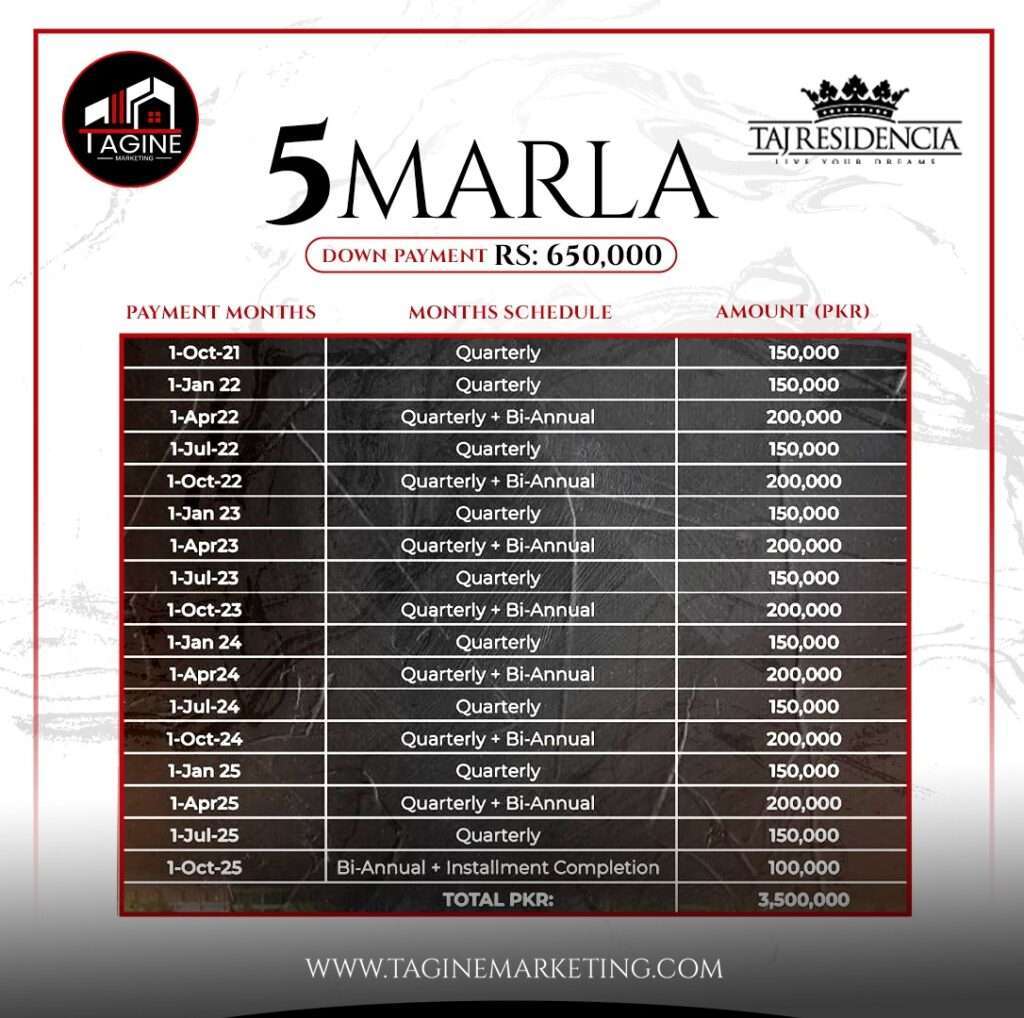 Development
Blocks A, B, C, and D have reached their development stage and it is expected that people will start living in them in a short time span of 1 year. Taj Residencia is expected to become one of the most prestigious and admired housing projects in Islamabad. The owners and developers want to speed up the process and want to complete the project on time. This will show their competence and experience.
Conclusion
Taj Residencia is where your best interests should lie. Proximity to the most famous landmarks in Islamabad and all-important business hubs makes its location very unique and unlike no other. All in all, it is one of the most well-designed and well-structured places where you can build a home for yourself and your family.