About Star Enclave
Star Enclave is the most recent housing project being developed in the vicinity of the New Islamabad International Airport. The area around the New Islamabad International Airport is taken up by a number of societies amongst which Star Enclave was able to make a trademark. It will be elegantly planned with innovativeness and modern architecture. Star Enclave aims to provide people with an affordable yet modern and high standard of living. This society especially targets those Pakistanis who have always thought of building a perfect dream home on a low budget. The total land on which the developers wish to plan the society is almost 2500 Kanals.
About Owners and Developers
This beautiful and affordable housing society is going to be a joint effort by Green Land Developers and Star Marketing. Both these well-known companies have joined hands to make Star Enclave a major success.
Founded on 18th July 1992, Green Land Developers have transformed themselves into one of the most trusted companies in the world. The company itself is China-based and has its headquarters in Shanghai, China. it's business operating income amounted to 402.1 billion yuan, total pre-tax profits 24.2 billion yuan and total assets 478.4 billion yuan at the year-end, of which the real estate business had a pre-sale area of 21.15 million square meters and a sum of 240.8 billion yuan, both winning the global industry champion.
Some of the companies major projects include:
Beijing Greenland Binfen City
Zhengzhou Greenland
Liaoning International Convention Centre
Jiangxi Greenland Qianhu Guesthouse
Shanghai Bund Square
Xuzhou Greenland Crowne Plaza Hotel
They have their hands in many industries in addition to construction and they are:
Real Estate
Commercial and Hotel Operation
Finance Industry
Metro Investment Industry
Energy Industry
Construction Industry
Some of the most impressive international projects of the Greenland Group include:
Metropolis Los Angeles
Spire London
Residential Skyscraper in London Docklands with a height of 235 meters
Greenland Centre Sydney
Atlantic Yards, New York
872 unit condo + 122 room hotel complex, Toronto
is the most popular and well-known marketing agency in Pakistan. They have completed numerous numbers of marketing projects in the country. Star Marketing has created many valued customers and has attracted several investors for each of the projects they run their campaign for. The services that they provide include booking plans, consultancy, advertising, and last but not least marketing for different real estate projects.
NOC
The initial name of this project was Rabia Residency but later on, Star Marketing purchased it and changed its name to Star Enclave. Their NOC ( No Objection Certificate) and planning permission has been given out to them from TMA Potohar. TMA Potohar itself comes under RDA (Rawalpindi Development Authority). It is a 100% legal housing society without any fraud or any other trickery. The NOC gives Star Enclave an edge over the other societies in the same vicinity, who have not yet attained their NOC's.
Location
It is situated at a distance of only 15 minutes from the New International Airport. Whereas, it is accessible by the Rawalpindi Ring Road by a distance of only 3 km. It is situated on the main Chakri Road in Rawalpindi. `
The inauguration of the Rawalpindi Ring Road has already paved new ways of improvement in any society that is accessible by it. As it so happens Star Enclave is one of them. This Ring Road will provide a path for anyone to major parts of the twin cities.
Star Enclave lies in the Mauza Chohan just on the opposite side of Capital Smart City.
It is located at a distance of:
3 km from Rawalpindi Ring Road
5 min drive from Thalian Interchange
10 mins drive from Lahore Islamabad Motorway
15 mins drive from the New International Islamabad Airport
Landmarks Nearby
This esteemed housing project is surrounded by a number of other major projects that are:
Capital Smart City Islamabad
Blue world City Islamabad
Top 1 city
Mumtaz City
Al Mairaj Housing Scheme
Eighteen Islamabad
Qurtaba City
Al-Haram City
Rudn Enclave
Mivida,
Abdullah City
Khanial Homes
Features and Amenities
The owners and developers plan on making Star Enclave affordable for not only the elite but also the working class. While doing so, they do not want to deprive the residents of the best ever facilities in any society. Their plan of creating an affordable but raised standard of living would be complete without the numerous facilities that Star Enclave offers:
Modern Infrastructure and Quality Engineering:
The first and foremost plan that society wants to implement is to provide quality engineering to everyone so that people receive ultimate satisfaction. In addition to this Star Enclave will feature a state-of-the-art transport facility and system. This facility will grant a means of transport for every citizen in the society. Moreover, they also want to make the system such so that pedestrians, cyclists, motorists can roam around without any difficulty.
Top Notch Security Services:
Society has been barricaded on all four sides to ensure that any outside threats or dangers do not find a way into society. 24/7 CCTV surveillance, security guards, and a state-of-the-art monitoring system will make sure that the safety of the citizens is never at risk.
Educational Facilities:
Educational facilities will ensure that every citizen gets a chance to go to school. These institutions will be of the highest level and will become a source of inspiration for every student. Teachers and professors having a certain level of qualification will be hired to pave a way for each student's success.
Medical Centers:
Modern hospitals laced with the latest technology and international standard equipment will keep in check the health of each and every one. Qualified doctors and nurses will be present to take care of the patients and provide them with ultimate care and love.
Lakes and Parks:
To add to the clean green and eco-friendly environment, parks and lakes are in the plans of the developers. This will give the entire society a more fresh and healthy look with beautiful lush green landscapes. It will create an all-natural, organic and refreshing look.
Entertainment Center:
Nowadays an entertainment center is just as much a necessity as an educational or medical complex. After a tough, tiring and boring work routine people often find ways to enjoy and relax. This entertainment center will have a banquet hall, cafeteria, sports complex, and much much more. So that you can go out have fun and enjoy yourself with your loved ones.
Shopping Center:
A shopping center housing both international and local brands will be a huge attraction for people. It will take care of people's need for shopping and having a tension-free purchasing experience. Everything from essential household items to house building materials will be available all under one roof.
Resource Management:
Society is planned such that it has an immaculate resource management system. Waste management, water, and electricity are some of the most basic facilities that Star Enclave promises to deliver 24/7 without and interruption. Moreover, the society is designed in such a way that it increases the natural outlook of the project. Infrastructure and facilities are going to make sure that the project remains as Eco Friendly as possible.
A summary of the features that Star Enclave provides are:
Prime location
Availability of water, sugars, and electricity
Streetlights and green belts
Modern sewerage system
Water filtration plant
Width of streets is minimum 35 feet
A community center and banquet hall
Sports and gym complex
Commercial areas with modern shopping malls
Modern educational facilities
Underground electric wiring
Secured gated community with security guards and 24/7 CCTV monitoring
Number of large open areas for parks and recreational activities
A beautiful lake within the society
Best healthcare services
Payment Plans
The society offers a variety of plot sizes starting from 25×50 and ranging upto 50×90. Each plot is affordable and has one of the most easy monthly and half yearly payment plans.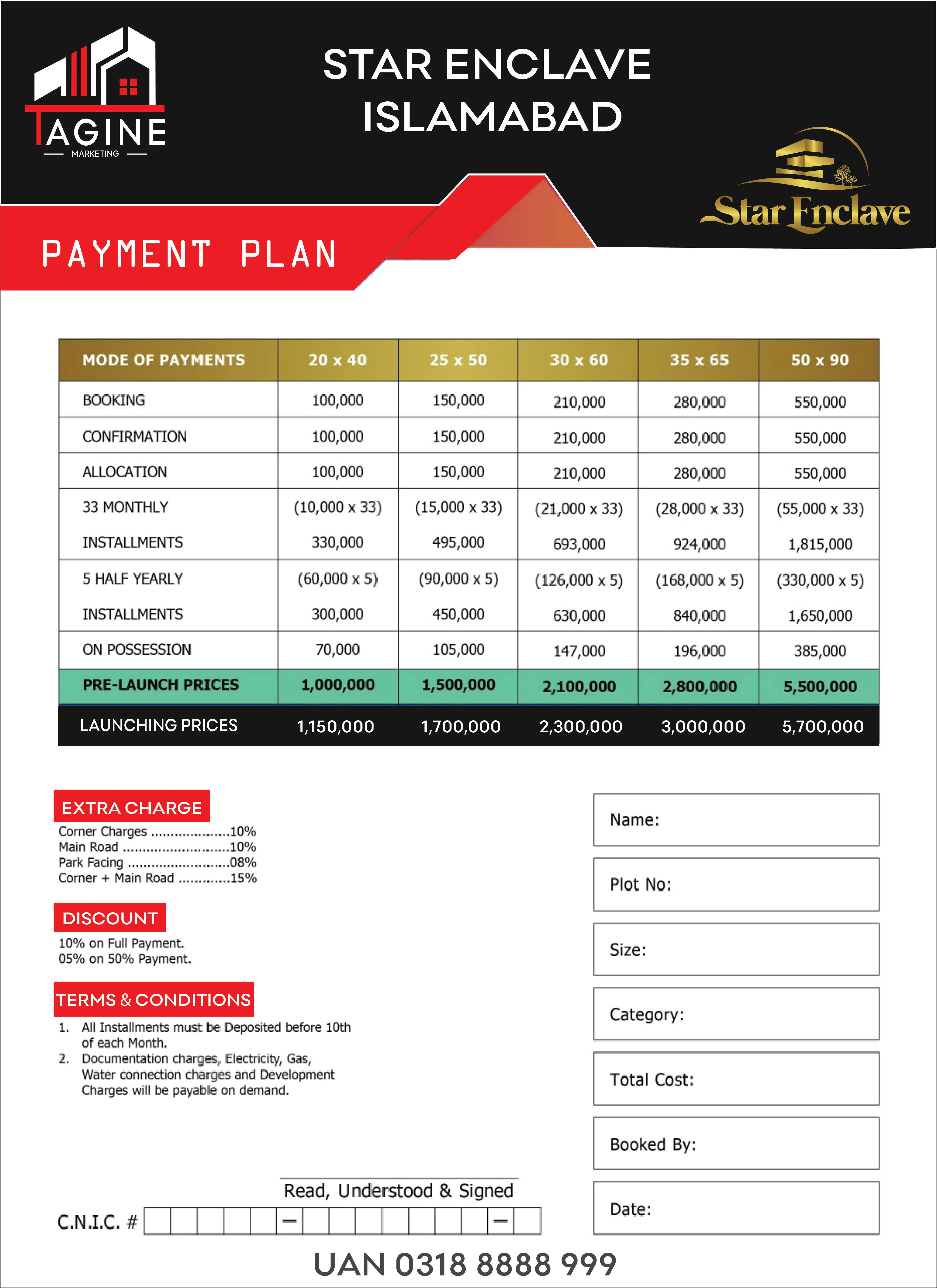 Notes:
Pre-launch prices can be changed without any notice.
There are additional charges which apply to the booking of category plots, for example, plot on the corner, park facing, and main road.
Extra charges for corner plot are10%
Extra-charges for the main road plot are 10%
Extra charges for park facing plot are 10%
Extra charges corner + main road plot are 15%
You can also select plot numbers on the map of the housing society with a 30% upfront payment, which includes the cause of booking + confirmation + allocation. They must be payable at the time of booking.
Development charges are not included in the given cost.
Why Invest In Star Enclave?
Affordable Rates:
Star Enclave has an easy payment plan and is very affordable for people of all classes. They might be the least expensive plot that any society has offered or is offering nowadays. You can build your dreams to perfection and carry out the rest of your lives in peace in harmony.
Location:
Star Enclave has a very promising location just opposite the Capital Smart City. Moreover, it lies right next to the New International Islamabad Airport, and in the mere future this area or piece of land will have high demand and the rates will rise accordingly.
Access Points Advantage:
The society has major access points, it can be accessed by the following:
Main Chakri Road
Rawalpindi Ring Road
CPEC
Conclusion
To conclude with Star Enclave is a joint project by two of the most reliable companies. Therefore due to their years of experience, they are fully supported by the investors. Unlike other societies that still have not received their NOC's, Star Enclave has received its NOC which means that it is 100% legal and a safe investment.
You can make all your dreams come true at the lowest possible rates now. This is one of the most attractive features of this housing project in that it is affordable but has outstanding and innovative facilities.
FAQ's
Q. What is different about Star Enclave?
Star Enclave is an Eco-Friendly project with low affordable rates and outstanding facilities.
Q. Is it Legal?
Star Enclave has received its NOC which means that it is 100% legal and a safe investment.
Q. When will the development work start?
Plot numbers have been assigned and the main boulevard is under construction. Work has also started to create the boundary walls of the society.
Q. When will the possession be granted?
Possession of the plots is supposed to be granted by 2022 to all those who have cleared their payments.
Q. Is it a good choice for investment ?
The society is worth investing in because right now it is in its pre-launch phase and its prices will rise by a considerable margin. This will be a source of high profits.