Introduction
Park View City Lahore is another project by the Vision Group similar to Park View City Islamabad which has turned out to be a major success as compared to other projects of the sort. To turn dreams into reality, the Vision Group provides the investors as well as residents with a secure investment to do just that. This prestigious project is located on Multan Road, Lahore.
The land acquired by Park View City Lahore almost accounts for 7000 Kanals with almost 4500 families set to live here. The Vision Group is owned by Aleem Khan, a senior member of PTI. The developers' goal is to create a society with state-of-the-art facilities and give you the sensation of having your own personal heaven on earth.
About Developers of Park View City Lahore
The VISION GROUP is owned by Aleem Khan who is an active member of the Pakistan Tehreek-e-Insaaf (PTI).
The organization was set up in 2012 and in under 10 years they have finished different phenomenal activities. They have made their standing as perhaps the most trust-worthy and dependable real estate company in Pakistan in a brief timeframe.
The organization's point is to make a lavish way of life through their development and scenic projects. The Vision Groups does this by their creative taste and a feeling of innovation. Vision Group has finished undertakings of high regard and unmatched engineering. This is the list of some of their elegant masterpieces:
Abdul Aleem Khan Foundation
PARK View Icon located at I.I.Chundrigar road-Karachi
Park View City in Islamabad
PARK View Corporate Center at Mall road-Lahore
Park View Signature Apartments at Gulberg-Lahore
The National School
Park view villas at Multan road-Lahore
Master Plan of Park View City Lahore
The map below shows the master plan and the vision of the developers.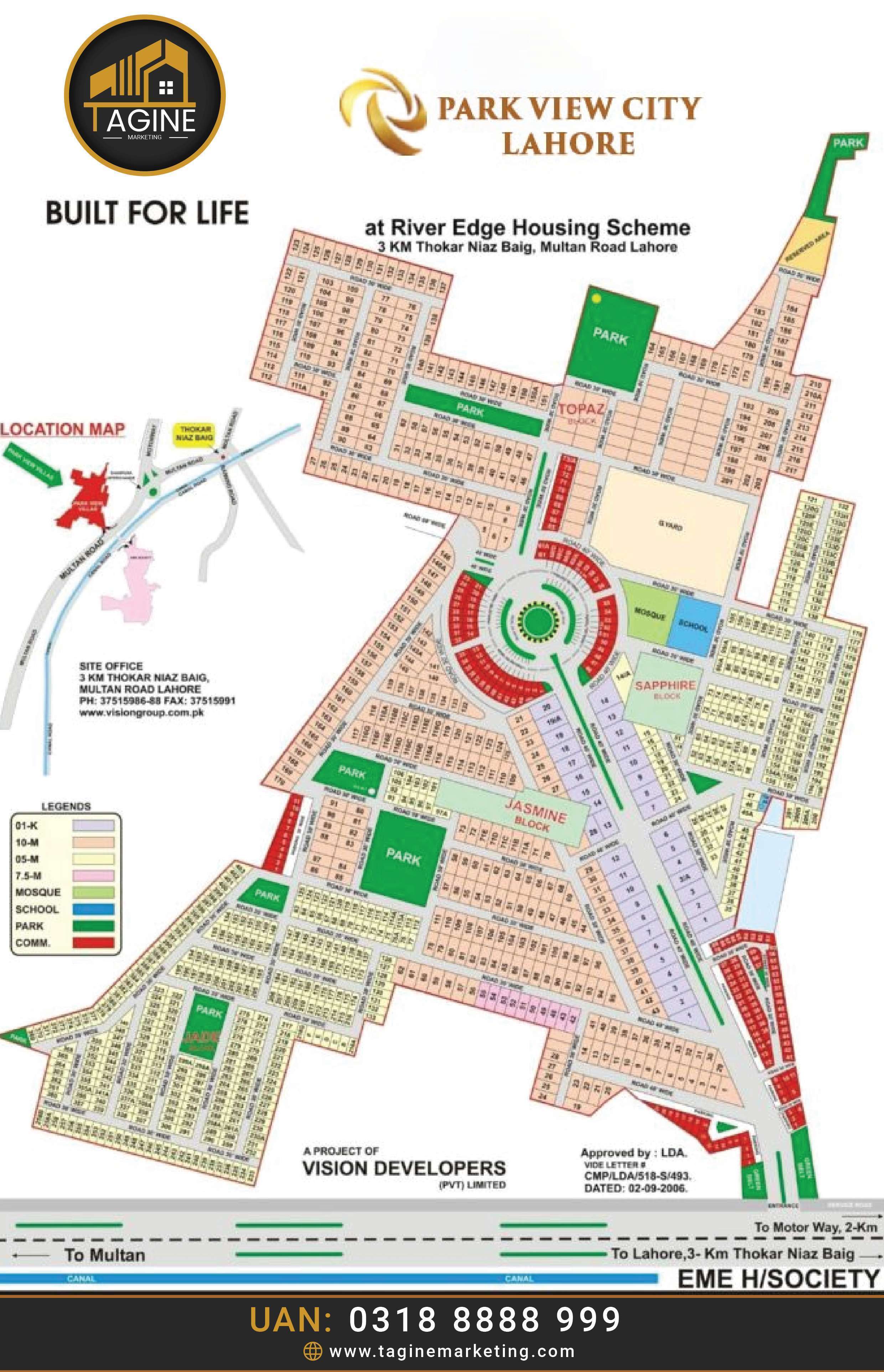 The master plan of the society yields many promises. It will make a luxurious life easy and affordable for its inhabitants. The Park View City Lahore will give everyone a sense of relaxation and peace, with its green belts, lush green parks, gardens, and beautiful landscapes. It occupies a total area of about 7000 Kanals and every bit is being utilized so that the living standards of the people are elevated.
The categories of plots available are 5 Marla, 6 Marla, 10 Marla, 1 Kanal. Not only are these plots stretched out over 7000 Kanals and divided into different blocks but they are also affordable and an easy opportunity for you to turn your dreams into a reality. The Park View City also offers a 3.5 Marla plot.
If you're looking for somewhere to invest in this is the way to go with prices rising now and then it is bound to give you high returns without any chance of loss. Leaving the investment point of view aside, this society is a huge step forward towards advancement due to all the facilities and amenities that it offers. It is planned in such a way so that you can meet your daily requirements easily and if you want to be facilitated in every aspect of your life? Park view city Lahore should be your only option.
Park View City Lahore Location
Situated at a very short distance of 2 km from the Lahore Islamabad Motorway it is present at one of the most ideal locations for a society. The Main Multan Road will give direct access to Park View City Lahore moreover it is just opposite the sector DHA EME. The Canal Road and The Thokar Niaz Flyover are only 3 km away from this magnificent project.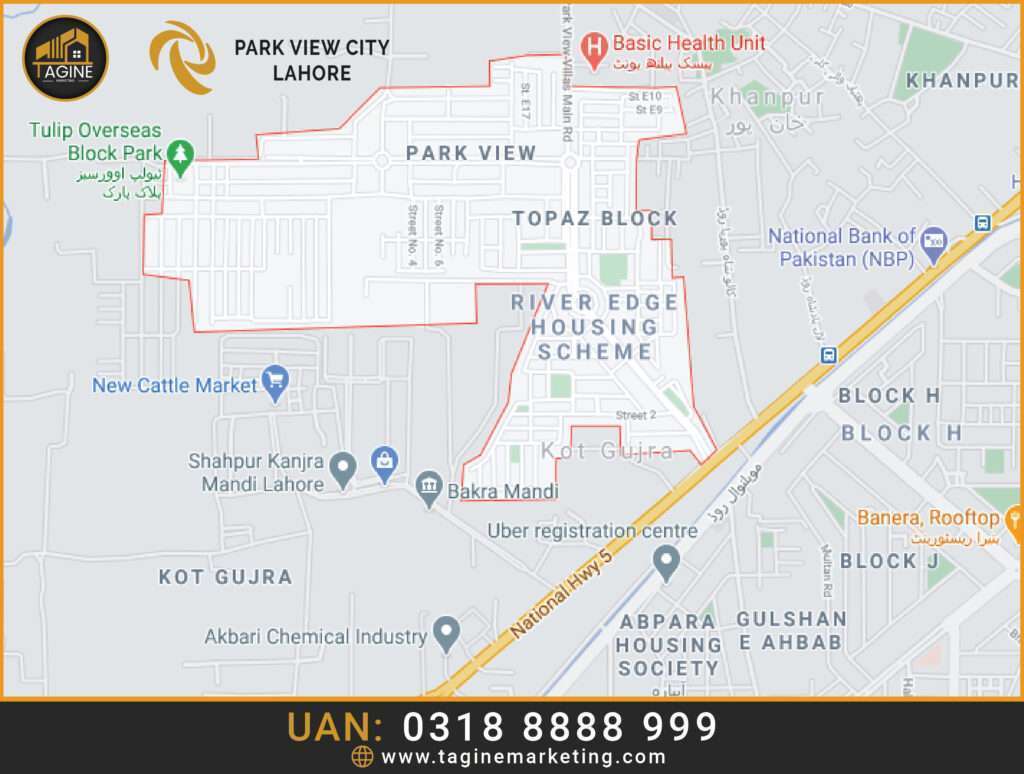 NOC
Park View City Lahore's NOC (No Objection Certificate) has been approved by LDA (Lahore Development Authority which makes it one of the most legal projects out there without any chance of fraud. The master plan has been approved by LDA due to its excellent planning and unmatched infrastructure. So all in all Park View City is a legal society with an approved master plan and unrivaled and innovative facilities that are provided by very few societies.
Facilities and Amenities
Park View City Lahore offers outstanding facilities and amenities all to make life as easier as possible and to ensure that the inhabitants get the most exquisite lifestyle for themselves and their loved ones. The facilities that the Vision Group Provides includes the following
Gated Community:
Park View City Lahore is barricaded on all four sides so the safety of the people can be observed. They want to create a feeling of safety and security among the individuals so they can carry out their daily life activities without any hesitation or fear of any sort.
Security:
The community offers very up-to-date security to its residents. An active network of CCTV cameras with 24/7 surveillance has been set up all around Park View City Lahore to minimize and control crime. Moreover, Guards have been assigned at different regions of the society to make sure that security stays top-notch. With all these measures Park View City Lahore is all set to be a crime-free community where residents feel safe and above all fearless of anything of the sort.
24/7 Electricity:
One of the most frustrating things for us all is the cutbacks and power cuts of electricity, they make life miserable. Park View City Lahore has solved this problem by creating a load shedding-free environment so that people can experience true luxury without any problems or complications. Backup power generators will ensure a smooth and unlimited supply of electricity to every house in the community.
Parks for Healthy Activities:
In this 7000 Kanal project parks have been set up in every block. The parks range from being on 10 marlas up to 2 kanals. 22 Kanal Central Park has been set upright in the middle of Park View City Lahore to boost healthy activities. The families can go to any park they like to spend some quality time together. Swings, slides, jogging tracks, and play areas have been set up in parks so people of all ages can be entertained.
Education:
A total area of 39,600 sq feet which makes almost 8.8 Kanal has been set up for educational facilities that would provide excellent and quality education to everyone. In addition to this many schools of international standard will also be introduced in Park View City Lahore.
Health Centre and Facilities:
The health facilities will include modern technology and state-of-the-art machinery. Experienced doctors and nurses will be present in the health center to ensure the health of everyone within the society. 18 Kanals of land have been proposed for the construction of the health centre.
Commercial District:
Now you might be wondering that a project this prestigious would surely have a shopping centre or a commercial centre? Well then you are right, situated just east of the 83 feet wide Boulevard is the Commercial Zone/Centre to fulfil all your commercial needs. To fulfil your shopping frenzy a shopping mall with both national and international brands is being constructed. IMAX cinemas, a grand atrium, a food court and the word water fountains are some of the attractions that the developers plan to introduce into their mall.
Mosques:
Society is surely very modern and futuristic in terms of facilities and design but one thing that the developers have not compromised on is religion. Mosques with a pleasant and spacious interior as well as an artistic exterior are planned and will be built to fulfill the religious needs of the residents.
Water Supply:
Water is the prime source of life in the whole wide world. Clean drinking water is scarce in Pakistan and a huge problem for everyone. To solve this problem a filtration plant is set up with innovative technology to solve this difficulty and provide everyone with a precious commodity i.e water.
Infrastructure:
The infrastructure is modern and up to mark with underground electricity, sewerage system, and water supply. The houses and the commercial zones are all made up to international standards giving Park View City Lahore an edge over the other societies.
Other facilities include:
Motion sensors
Zoo
Health club
Attractive design
Spacious accommodation
Smart control apps
Excellent quality electricity and plumbing
Creative Development
Park View City Lahore Category/Blocks
Broadway Commercial:
Broadway Commercial is another commercial hub after the remarkable success of The Walk Commercial and Commercial Downtown, under the supervision of the Vision Group. It is all set to be one of the best Commercial Project of Lahore. The Vision Group are known to bring innovativeness and excellence in their projects and they will do so in the Broadway Commercial as well. International brands will play a major part in making this project a success. Moreover they will provide an unimaginably stunning shopping experience to everyone.
The category of plots that Broadway Commercial offers are all of 5 Marla. They are expected to rise by a huge margin and give high returns and profits to the investors. The commercial area is available for an amount of almost 2.5 crore. You can acquire your plot on easy installments or a lump sum payment.
If you are looking for somewhere to invest this should be on the top of your list, as it can give you benefits in a number of ways.
Payment Plan: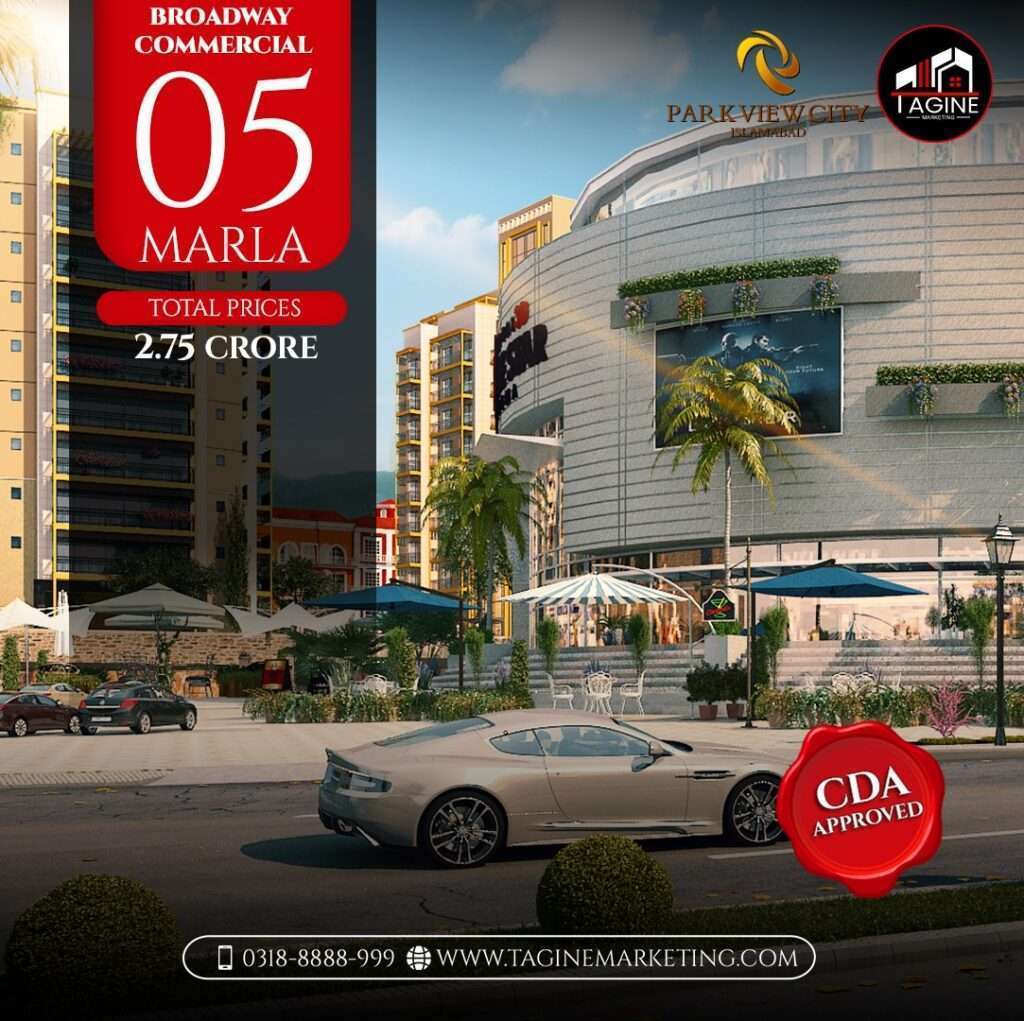 Overseas Block:
The Overseas Block was established with the sole purpose to attract foreign investment. The aim of this block was to provide Overseas Pakistani's with an environment that makes them feel at home. Laced with technology and facilities this district is the perfect option for all such residents looking for a touch of that overseas breeze in their lifestyles. The block offers the following plots :
The payment plan of the following is attached below: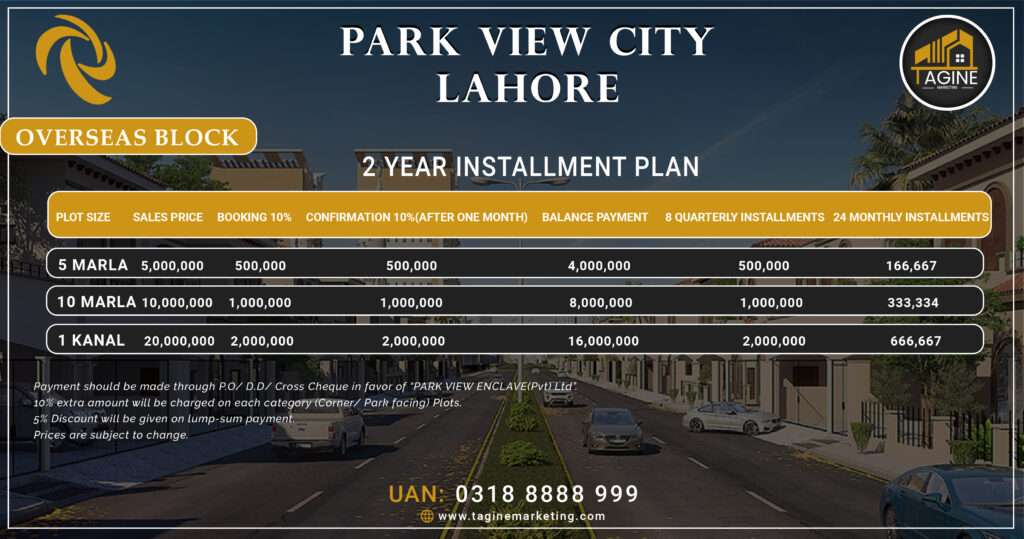 Tulip Overseas Block:
If you're looking for a great investment that will benefit you shortly this is just the block for you. It has a high potential to give you high returns soon. 6 Marla and 10 Marla plots are up for sale in this block with the payment plan as shown below: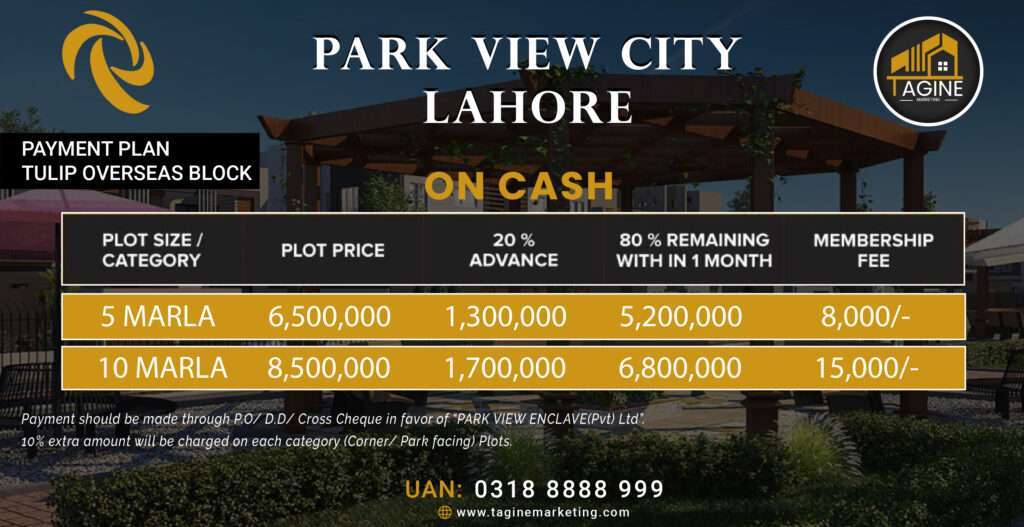 Executive Block:
The payment plan for the executive block is shown below: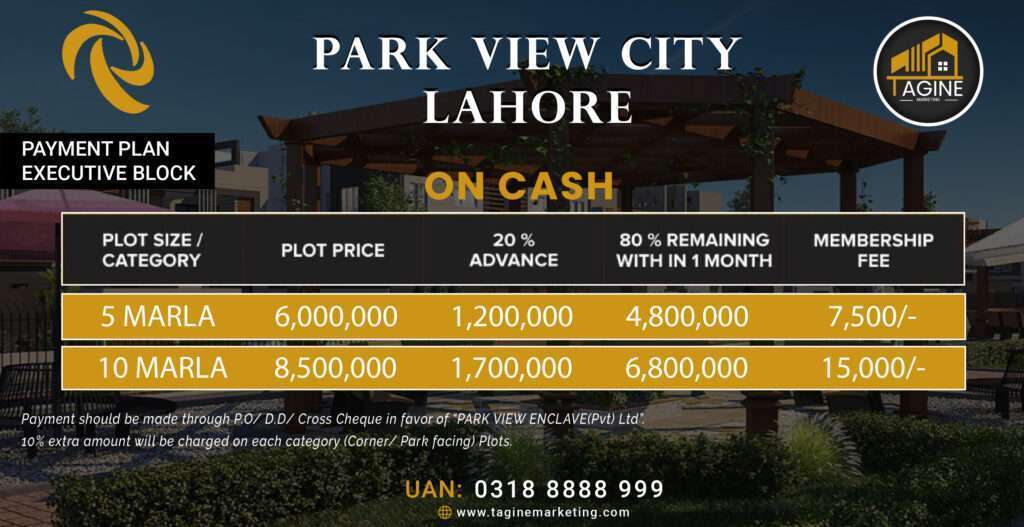 Rose Block:
The Rose Block offers everyone a chance to enjoy the better things in life with absolute ease and tranquility. The payment plan for this block is attached below: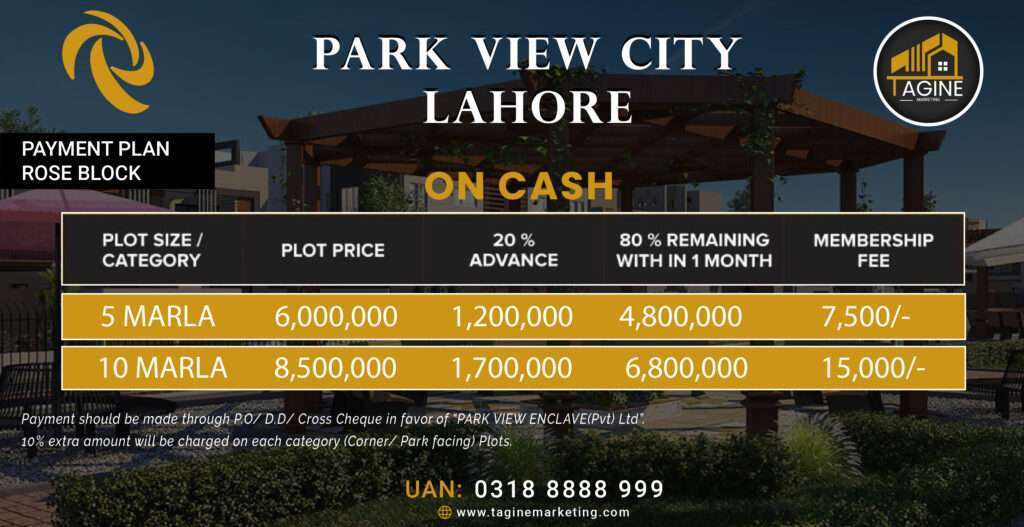 Orchard Block:
The orchard block offers plots as small as 3.5 Marla and the payment plan is shown below: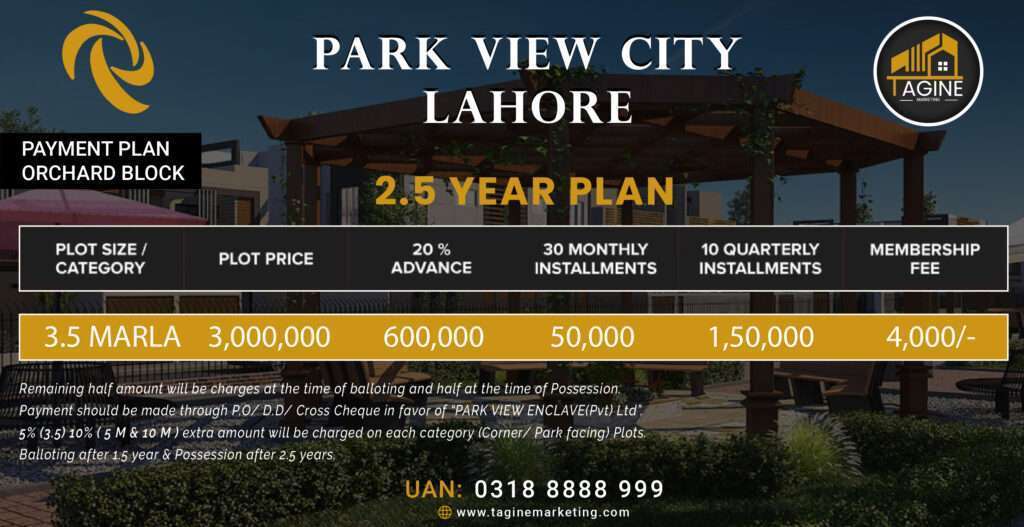 Jade Block:
The payment plan for the jade block is: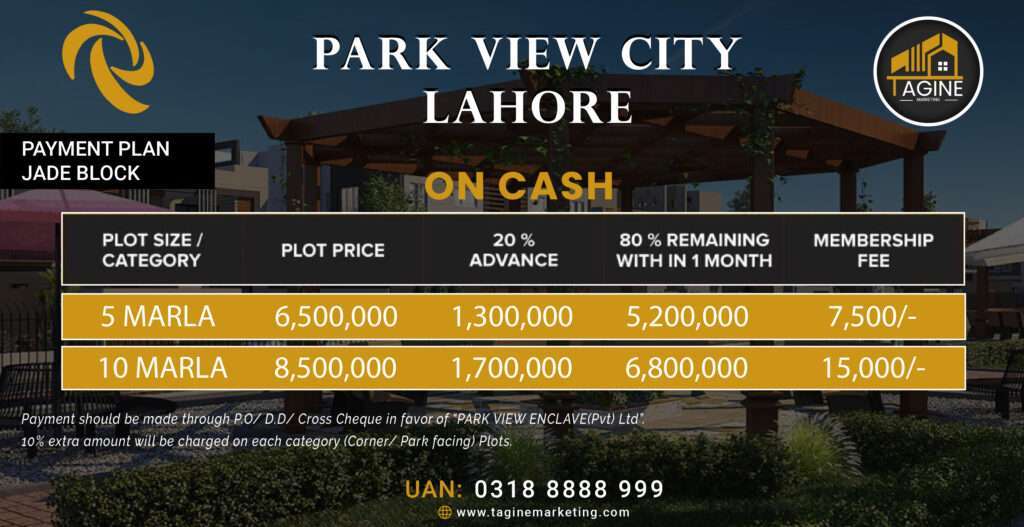 Topaz Block:
This block is very well connected with the rest of the society due to its ideal location. Investment in this block also has bright future prospects and its payment plan is as follows: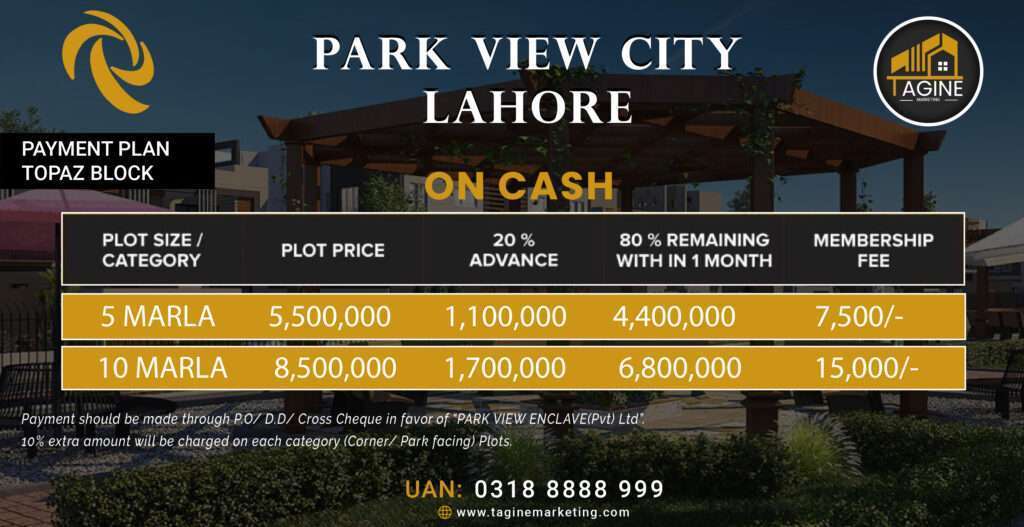 Tulip Block:
Tulip Block just like the Topaz Block is well connected with other parts of the society and is great for investment as well as settling down.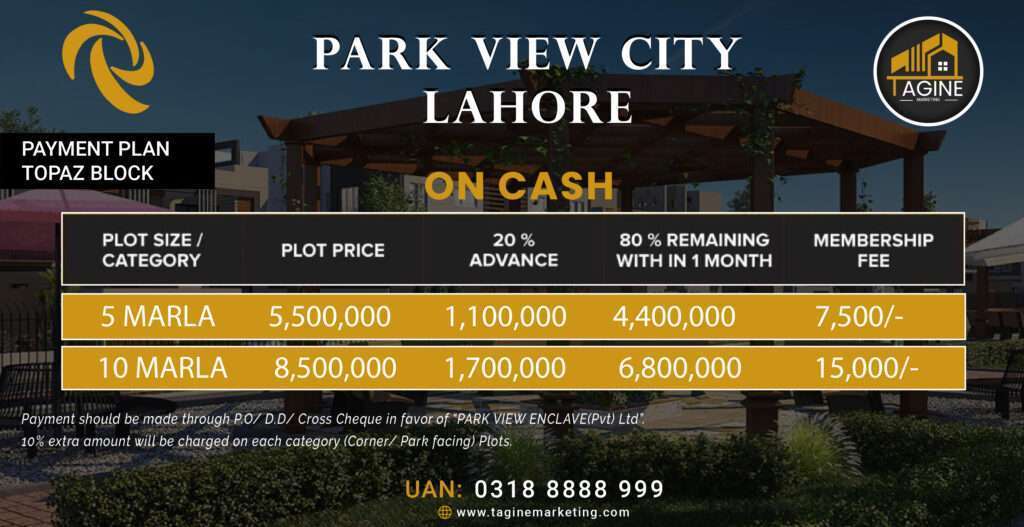 Conclusion
The Park View City Lahore is an excellent choice for people looking to get away from the busy suburban life of Lahore and get into a life of peace and tranquility. The project offers great facilities and amenities and has a plus point in this regard over other societies of the sort. It allows its residents to not only think about their dreams but also gives them a chance to fulfill them according to their will. If we look at it from an investment point of view then investing in this project will always be beneficial as it will bestow with you high returns.