Park View City (An Overview):
Park View City Islamabad is a privately owned housing society located in the footsteps of the lush-green Margalla Hills. Park View City has been granted its No Objection Certificate (NOC) by the Capital Development Authority (CDA). It has a 400ft Main Boulevard which is an entry point into the society via the highway. Moreover, Park View City is also accessible by Kurri Road and Banigala. Park View City is a project of the Vision Group in zone IV of Islamabad. The Vision Group has completed many prestigious projects in major cities of Pakistan, some of there projects are:
Park View Signature Apartments Karachi
Park View Lahore DHA
Park View Villas Lahore
The Park View City has immense importance in terms of investment due to its heavenly landscapes and quality development. Local and overseas investors have shown keen interest in the project.
About Developers:
The VISION GROUP is owned by Aleem Khan who is an active member of the Pakistan Tehreek-e-Insaf (PTI). The company has completed many projects in Pakistan but this is its first project in the capital. Park View City has become one of the most desired housing societies in Islamabad.
The company was established in 2012 and in less than a decade they have completed various extraordinary projects. They have made their reputation as one of the most trustworthy and reliable real estate groups in Pakistan in such a short time.
The company's aim is to create a luxurious lifestyle through its construction and landscape projects. The Vision Groups does this by their artistic taste and a sense of modernism.
Vision Group has completed projects of high esteem and un-matched architecture. This is the list of some of their unrivalled masterpieces:
Abdul Aleem Khan Foundation
PARK View Icon located at I.I.Chundrigar road-Karachi
Park View City in Islamabad
PARK View Corporate Center at Mall road-Lahore
Park View Signature Apartments at Gulberg-Lahore
The National School
Park view villas at Multan road-Lahore
Master Plan of Park View City:
The following map shows the master plan of the city i.e. all the blocks and their location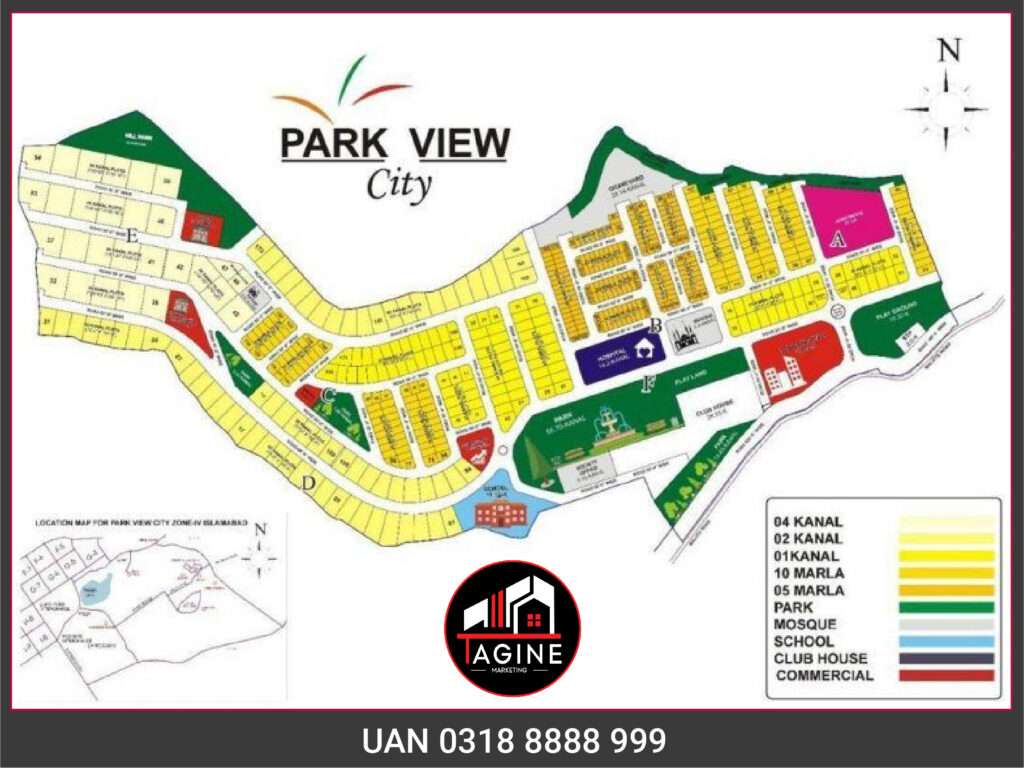 Blocks & Categories:
The Park View City is divided into blocks in an alphabetical manner. The plotting is based upon the type of blocks as shown below:
BLOCKS A, B, F, J, and K consist of mainly 5 Marla plots.
BLOCKS A, B, F, H, and I consist of mainly 10 Marla plots.
Blocks B, C, E, F, N, and M consist of 1 Kanal plots
Blocks D and P offer 2-Kanal plots
Residential Plot Sizes:
5 Marla (26"x 50")
8 Marla (30"x60")
10 Marla (35"x70")
1 Kanal (50"x90")
2 Kanal (75"x120")
Commercial Plot Sizes:
6 Marla (35"x40")
8 Marla (40"x45")
3.5 Marla
All the plots have a 2-year payment plan. A 20% down payment at the time of booking and 8 equal quarterly payments to be paid in about 2 years.
Park View City Location:
Park View City is located near Bahria Enclave and is surrounded by Banigala and its scenic landscape. The main entrance is from Rawal Chowk and another excess is through gate 2 via Bara Kahu. It is situated at a drive of 15 minutes from the main Islamabad City. It is located at Malot Road. Moreover, CDA has approved a 200ft wide road for Park View City.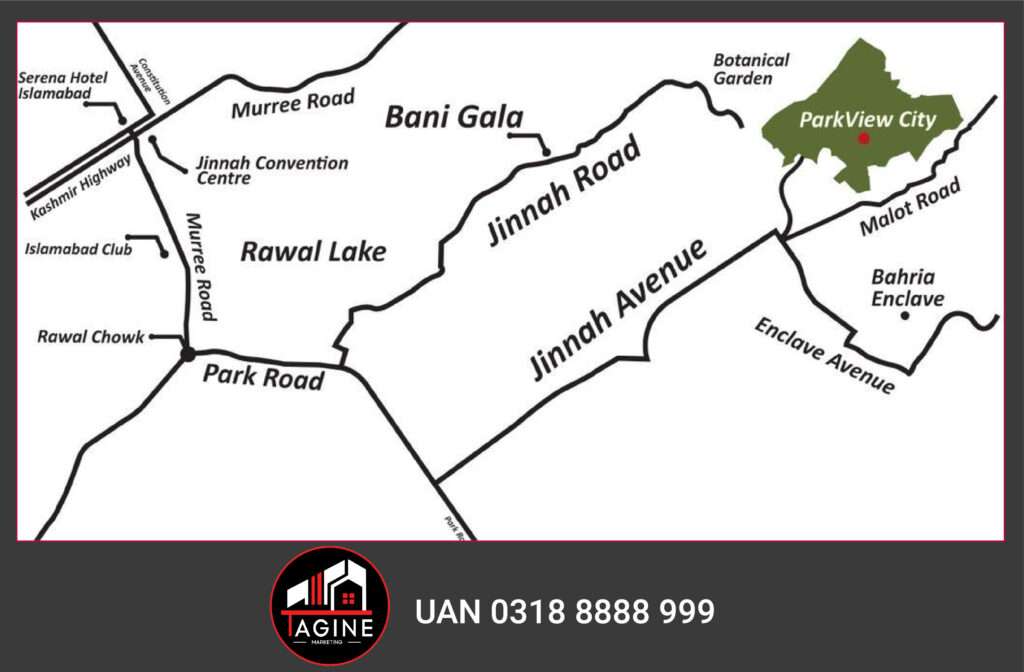 It is Stretched over 7000 Kanals of land and placed right next to the Botanical Garden and opposite to Bahria Enclave. It can be reached in only 15 minutes from Serena Hotel, 5 minutes from Bahria Enclave, and in 1 minute from Botanical Garden.
NOC and Permission:
The NOC of Park View City has been approved by the CDA on 1st June 2018. The complete information of its NOC can be verified by the official site of CDA. Moreover, the following is the layout approved by the CDA:
Features:
Park View City has provided outstanding facilities and amenities to ensure a luxurious living to its residents. Each block is planned strategically and with a unique perspective to ensure a magnificent living standard. The following are the major unmatched features of Park View City
Imax Cinemas:
The very first IMAX Cinema in Islamabad is all set to be constructed in the heart of Park View City. It will be able to give us high definition movies with quality sound and an unimaginable experience. The 3D Technology along with IMAX with provides a surreal cinematic experience.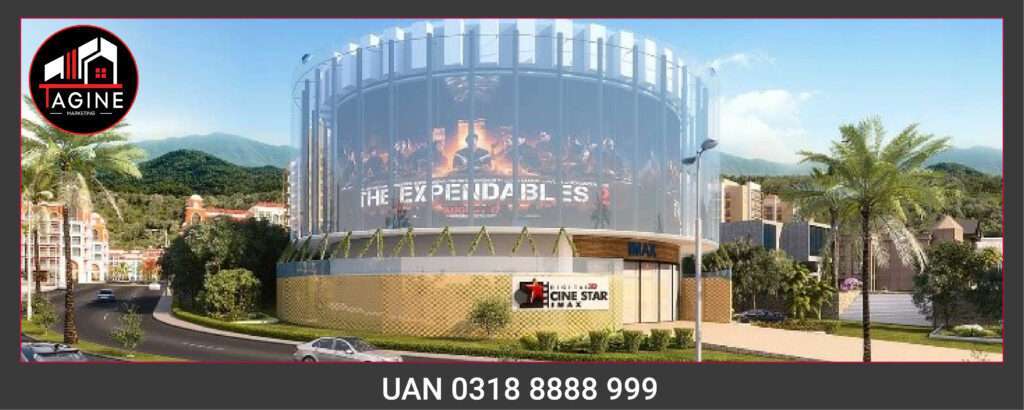 Commercial Walk:
Commercial Zones sustaining all your major and renowned brands will look forward to all your needs and give you an enthralling shopping experience.
Zoo and Parks:
The plan of the society includes both zoos and parks to fulfill the enjoyment and outing needs of children and people of all ages.
Club and Community Centre:
The society also has plans for a club and community centre to support all types of indoor and outdoor sports. It will be a perfect place to hangout, organize events and socialize.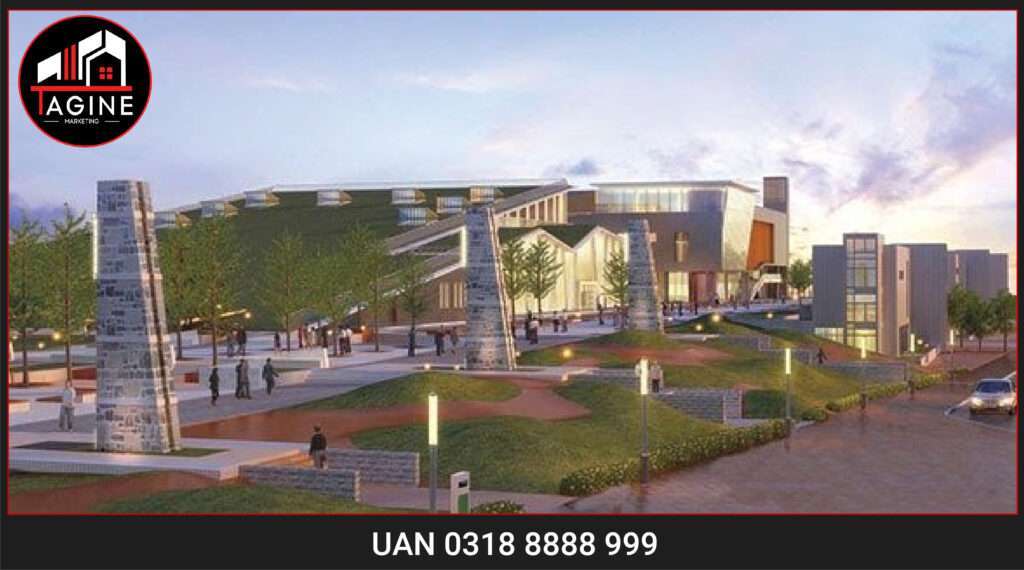 Hospitals:
An enormous upto date hospital laced with modern technology will be built in order to facilitate health issues. It will provide quality healthcare services.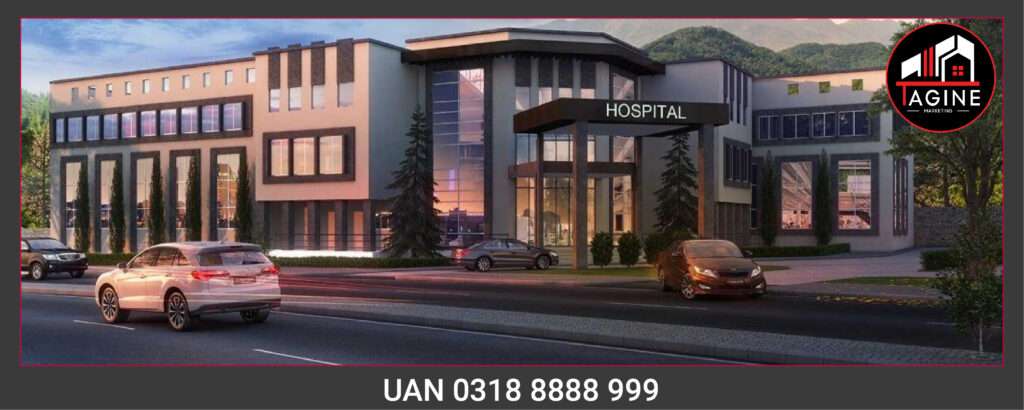 Schools:
Park View City aims to provide society with the best schools and educational institutes. These institutes will be present in close proximity to the blocks so that they are within reach and at a minimum distance.
The National School in Park View City will be established under the Abdul Aleem Khan Foundation under the supervision of the Vision Group.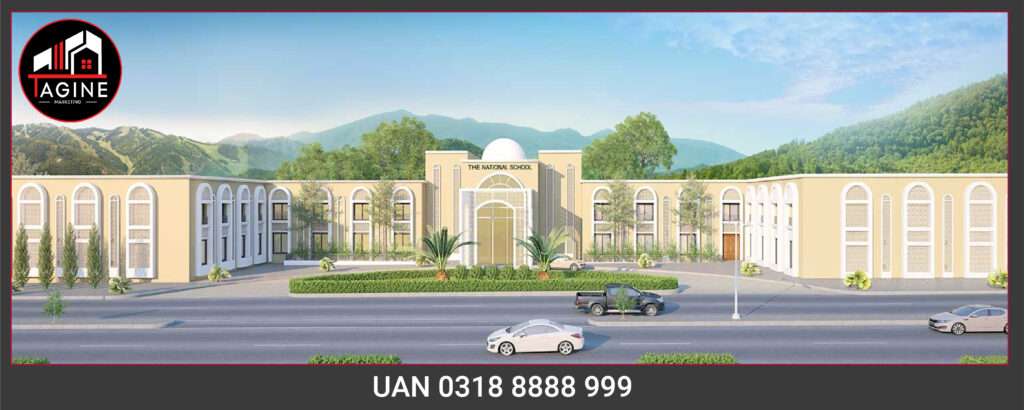 Mosque:
Magnificent and beautiful mosques will be setup in the society to look after the religious values. Park View City will allow you to experience the sensation of the famous Turkish Blue Mosque while offering prayers.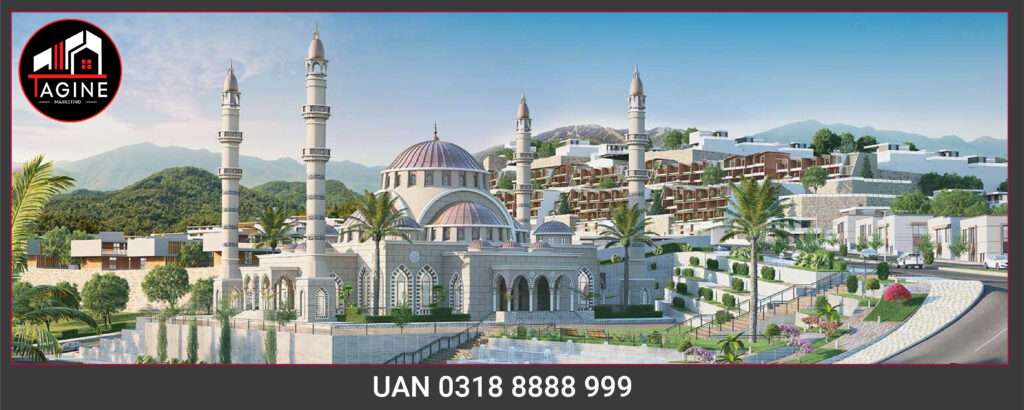 Gated Community:
Safety is one of the prime features that a society should have. To give you the satisfaction and sensation of being protected and secured, Park View City Islamabad offers a Gated Community. Barricaded from all sides it provides safety to the residents so they can carry out their daily activities without any hesitation or worries.
Gas, Electricity and Water:
Park View City has the availability of water, gas and electricity 24/7. The thing that makes Park View City different form other societies is its abundance of natural resources among which water is the most abundant. The society has ample amount of water supply thanks to not only the Gumrah River that passes around the region but also the availability of water underground at only a depth of 50ft. Underground water reservoirs beneath each house and a separate dam for the society is already in the plans of Park View City.
Underground Electricity:
Overhead cables and wires look unappealing and are extremely dangerous. Park View City has managed to solve this problem by laying a network of wires and cables underground. Electricity will be provided to each and every one through this underground network.
24/7 Electricity:
Electricity will be provided 24/7 without and cuts or shortages.
24/7 Surveillance:
In addition to the guarded community Park View City has installed CCTV surveillance all over the project. This is to ensure the security of the people.
Park View City Apartments:
Park View City Apartments will provide a luxurious standard of living and will be equipped with state-of-the-art equipment such as gyms, swimming pools, stores, laundry facilities and a whole lot more.
Botanical Garden:
A Botanical Garden is situated in the middle of Park View City which enhances the scenic beauty of the society and improves the natural characteristics. In addition to this it also improves soil productivity. A system of greenhouses is set up in the Botanical Garden which can be used to grow vegetables, herbs and unusual tropical vegetation. Organic fruits and vegetables will also be available via and organic food market.
Payment Plans:
Payment plans of both commercial and residential plots can be viewed below:
Payment Plan Terrace Apartments: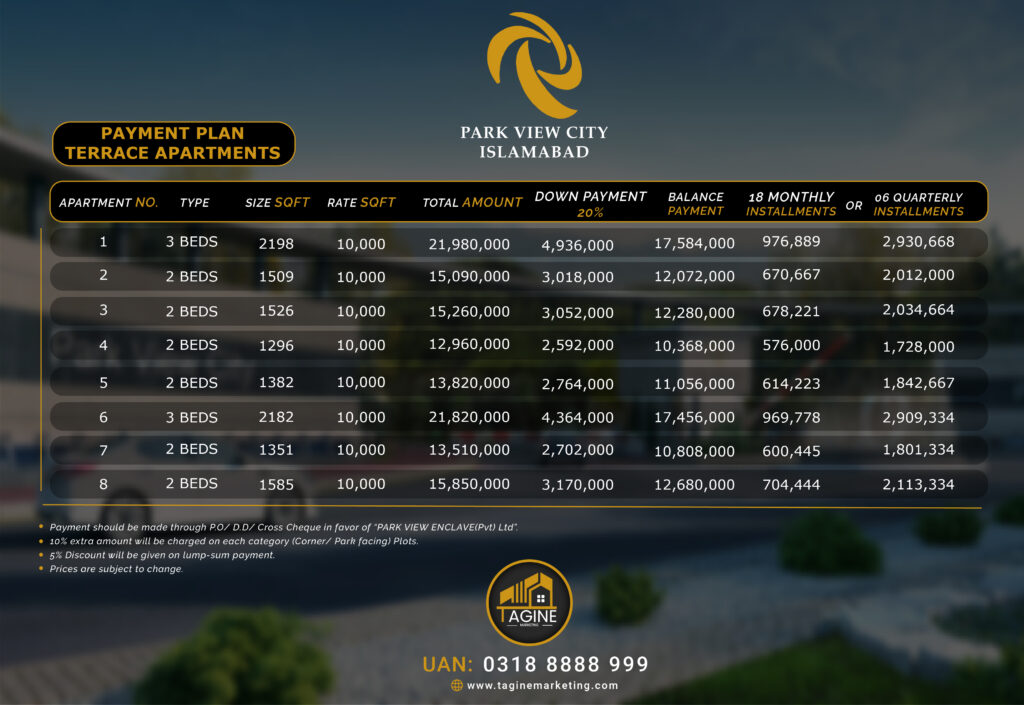 Overseas Block:
The Overseas Block is the newest addition in Park View City. Pakistanis living abroad are mainly attracted to this block because of the immense features that society has to offer. It is a safe and secure investment with prices expected to rise in the future. The block offers international standards of living and gives overseas Pakistanis a sense of living abroad. Pakistani's who are seeking an identity, recognition, and a safe place to invest in Pakistan then this is surely what they need. The block has the most advanced and up-to-date technology all to provide [people with an elegant and graceful living experience.
Location:
The Overseas Block is strategically placed just near the Commercial Downtown which makes it an excellent place to invest in. It can be accessed via Gate 1 of Park View City. This block will have all the features and amenities that were mentioned above.
Payment Plan: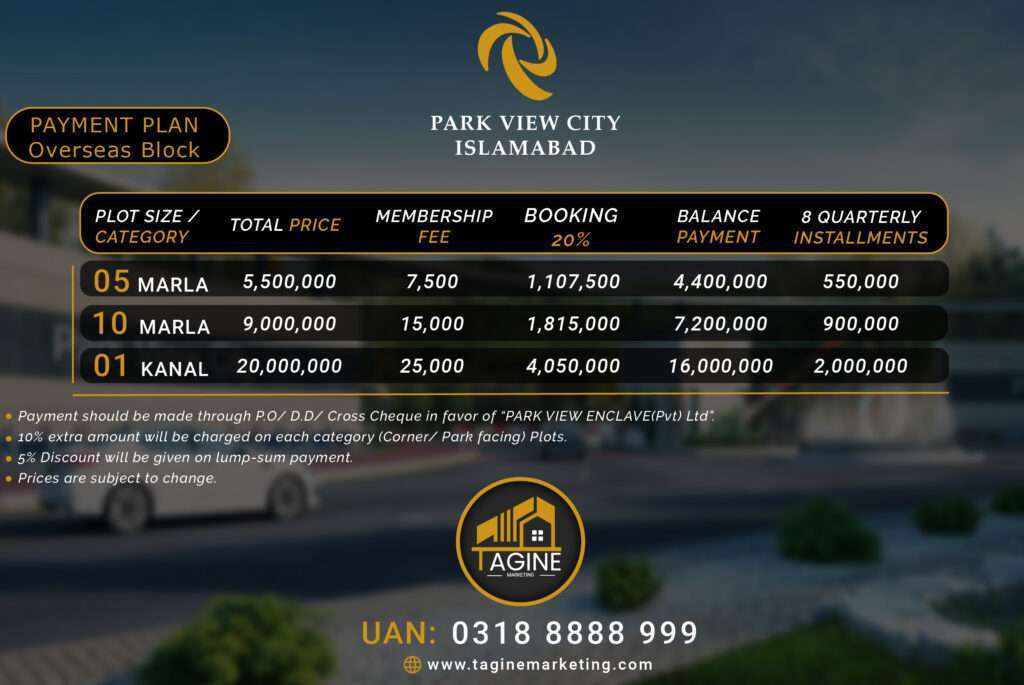 Payment Plan Block A and B: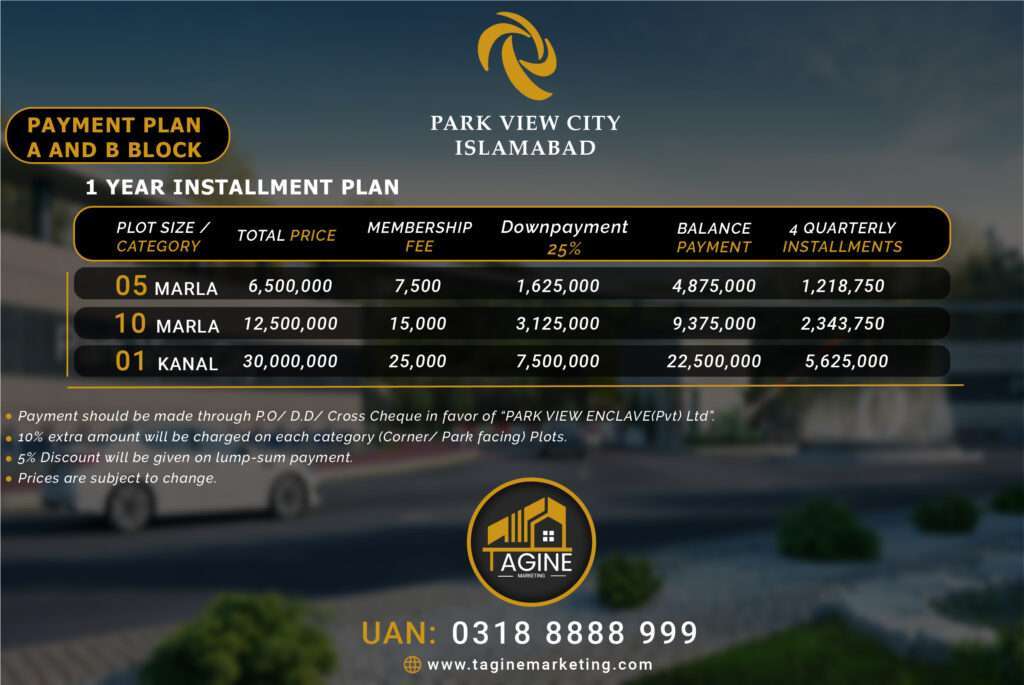 Payment Plan Block C (Terrace Apartments):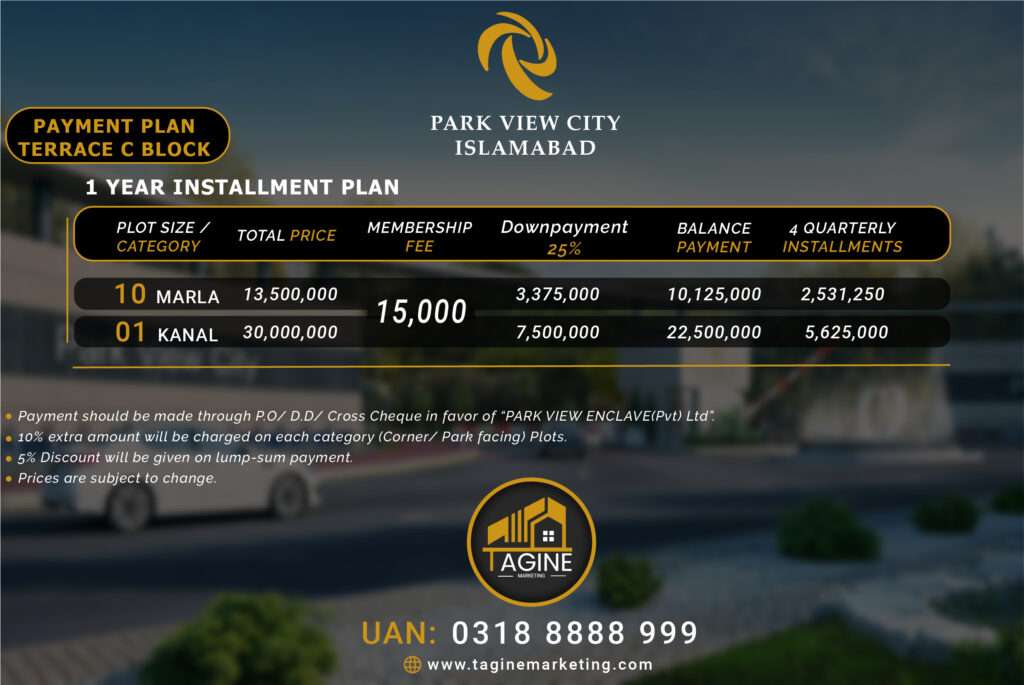 Payment Plan Block D and E: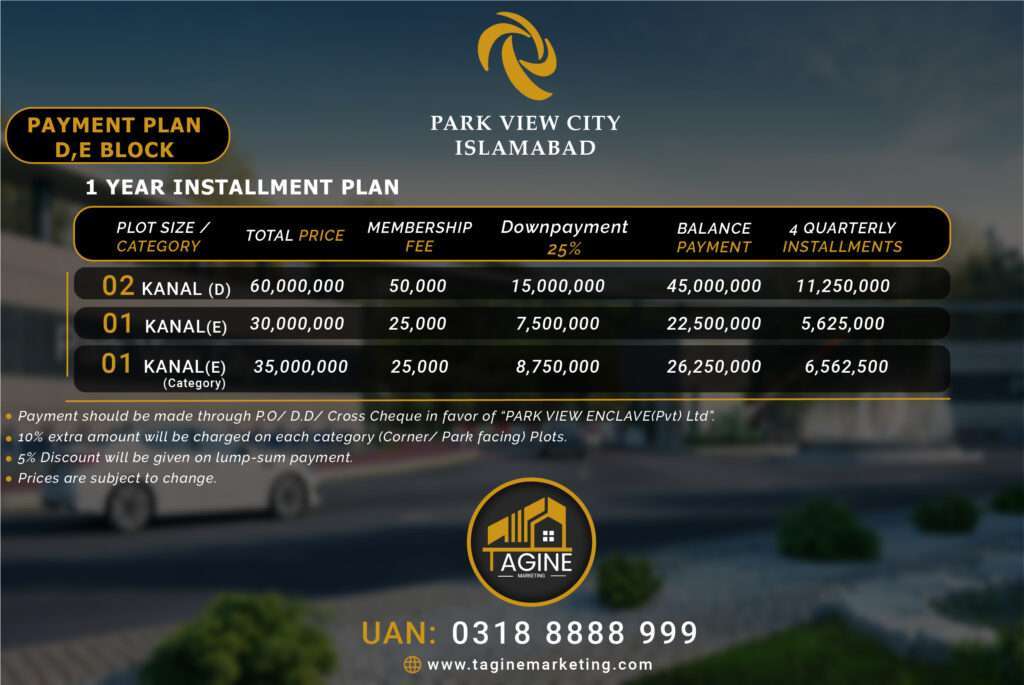 Payment Plan Block F: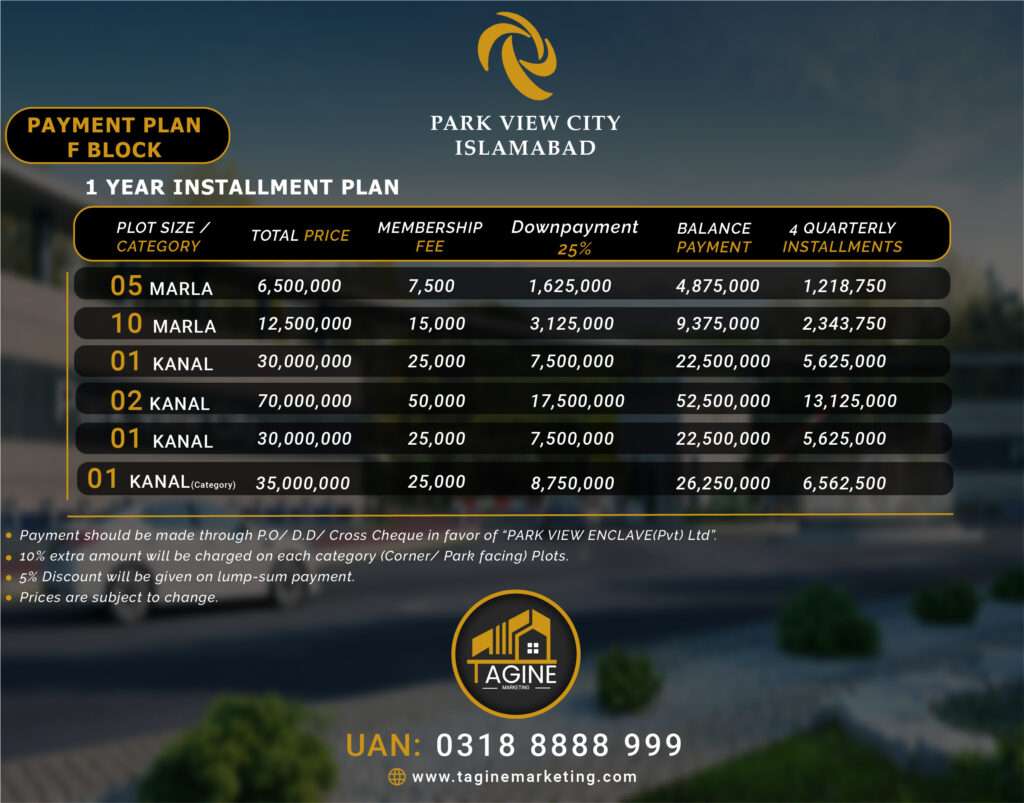 Payment Plan Block H: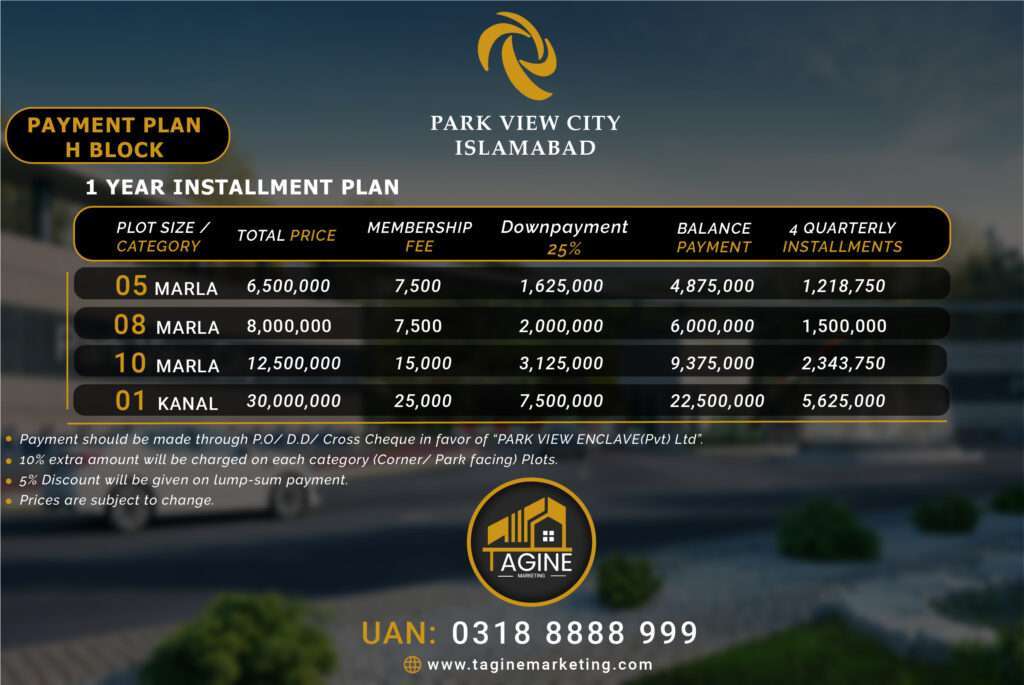 Payment Plan Block J: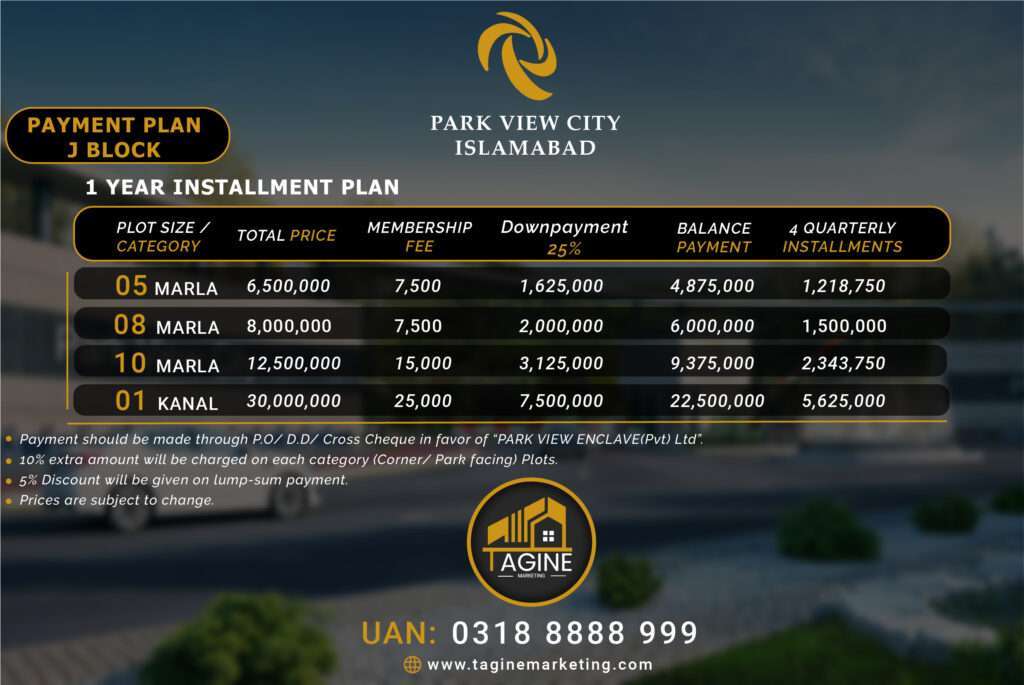 Payment Plan Block K: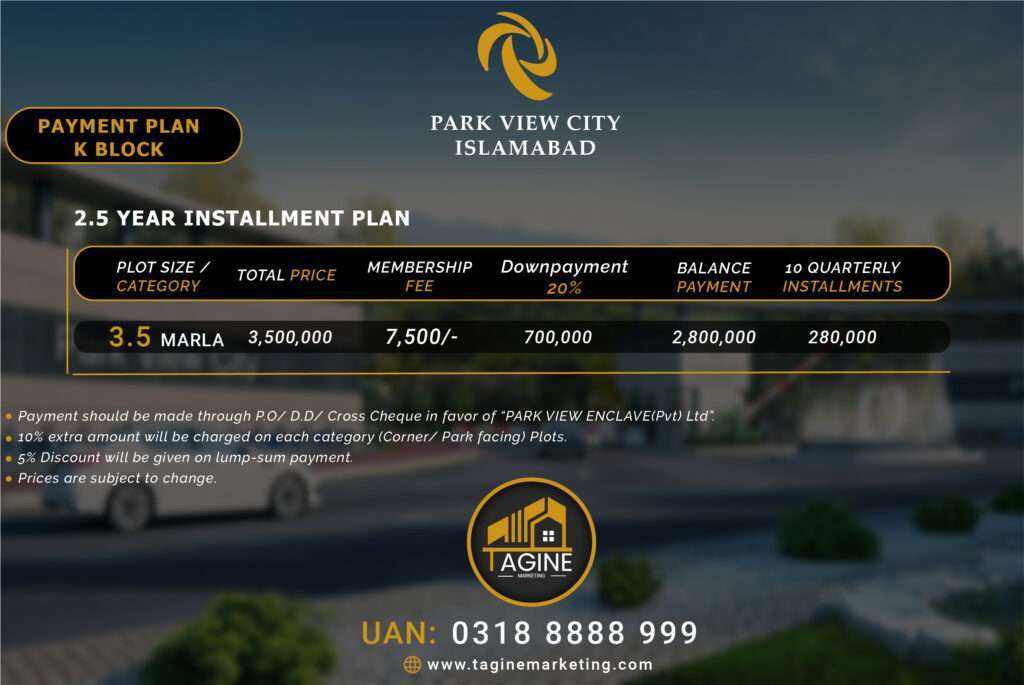 Payment Plan Commercial Downtown: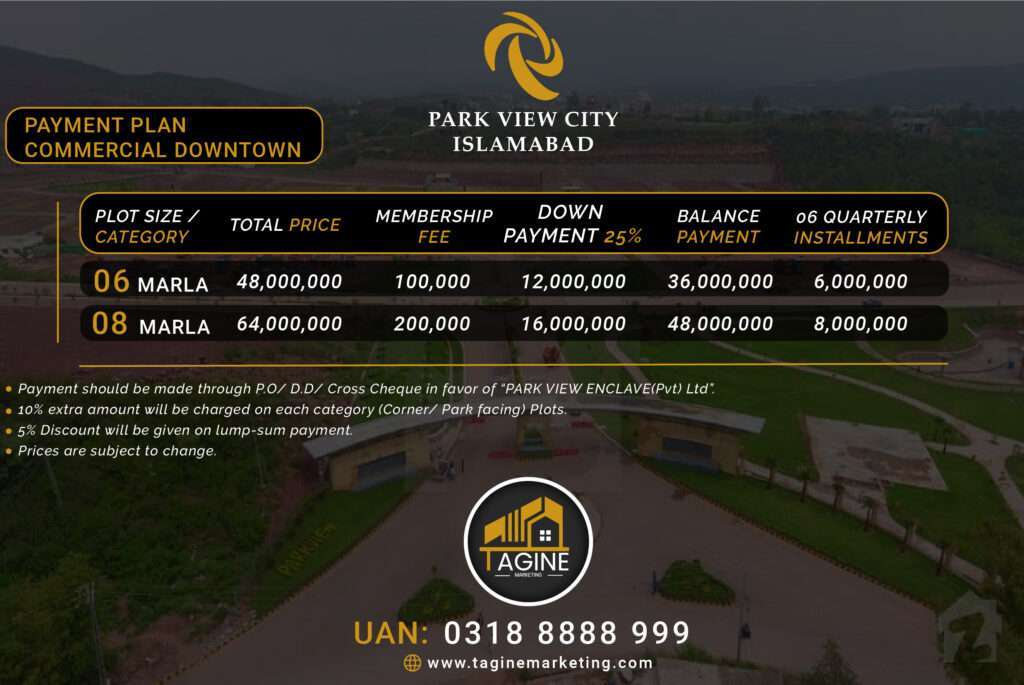 Payment Plan of The Walk: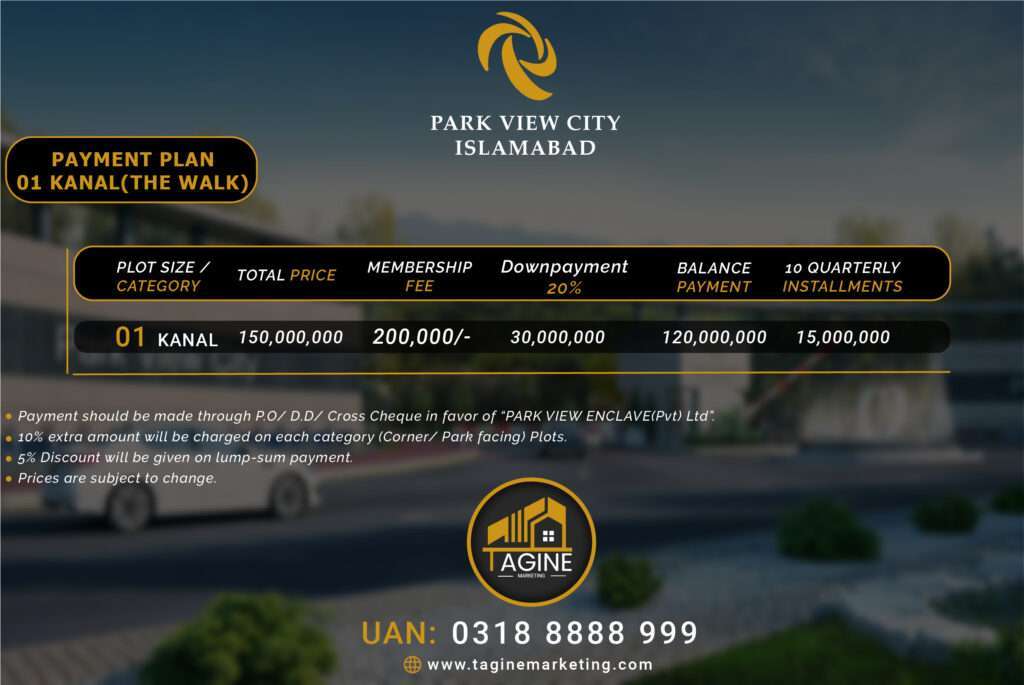 Payment Plan Commercial Plots 3.5 Marla: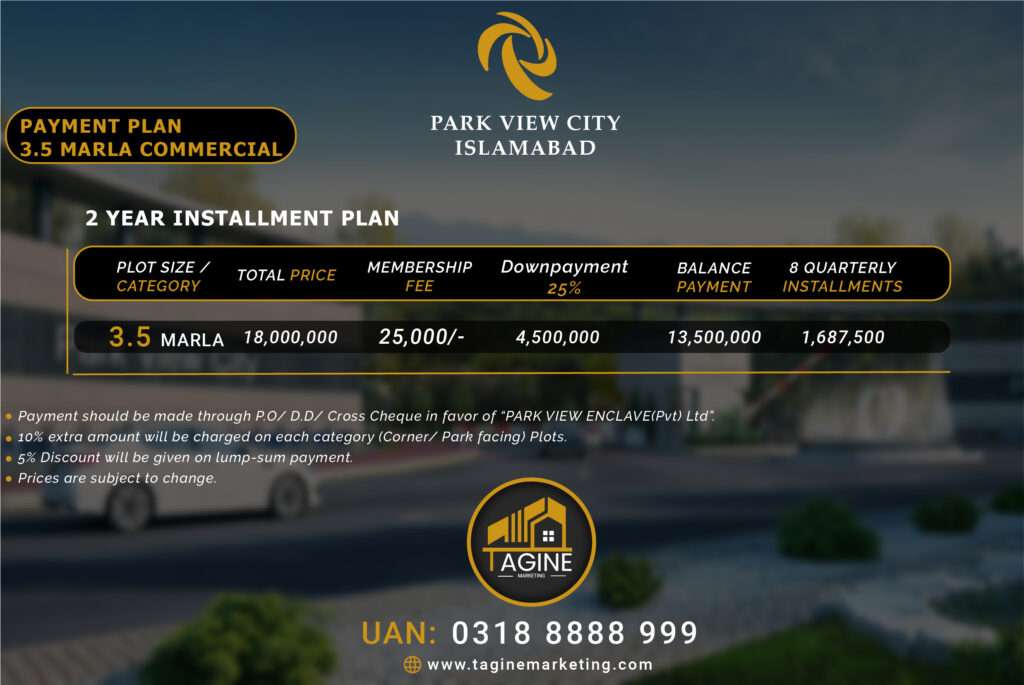 How to Book your Plot:
To book your plot in Park View City you are required to bring the following documents along with you to Tagine's Head office:
Passport Size Photograph
Copy of CNIC
Duplicate of your close to family
Booking amount at the time of booking.
Submit your form and documents along with the payment to confirm the booking.
DEVELOPMENT:
The development of Park View City was slow in the beginning but now they have picked up the pace with the sole purpose of completing the project before its time and delivering it to its investors. Blocks A and B have been completed and work on other blocks has already commenced. The 200ft wide road is now under construction and is expected to be finished in a few months. Whereas the main entrance into the society has already been completed and the society has started to take its shape. After the approval of CDA, a 2 km long road will be built which will grant access to everyone via Kurri Road. As the construction of blocks A and B have been completed a water treatment plant is to be set up to provide everyone with filtered and recycled water.
Park View City has unmatched beautiful greenery and sceneries topped of with rich soil. To gain access to these extraordinary wonders, you will have to enter through a majestic gate and travel on an alluring pathway leading you to this fantastic society.
Advantages of Park View City
Ideal Location
Commercial Area with the grandeur entrance
The fast pace of development work: Possession in A and B block of Park View City
Successful Developer
The Art of Maintaining the Economy
Allowing unsuspecting investors to rotate funds
Larger plot dimensions
No litigation Concerns regarding NOC or permissions
All basic and modern amenities provided
Peaceful Environment
Pollution-free zone
Great return on investment
Water traces are present 50ft under the ground
Society will be a load-shedding free zone with its own power plant
Frequently Asked Questions (FAQs)
Q. Who is the owner of Park View City?
Park View City is a project by The Vision Group. The Vision Group is further owned by Aleem Khan a senior member of PTI .
Q. How does the Park View City Offer larger dimensions?
Another Fantastic thing about Park View City is their Storyline Sizes are bigger than other societies normally. The size of a 5 marla plot is 1300 square feet with dimensions 26′ x 50′. Moreover, the size of a 10 marla plot in Park View City is 2450 square feet with measurements 35′ x 70′. Therefore, 1 marla is equal to 250 sq. ft. Normally That is a whole lot bigger than other comparable societies.
Q. Park View City, is it legal or not?
Park View City is 100% legal and its NOC has been granted by the CDA.
Q. How is Park View City a good place to invest in?
Park View City is an excellent place to invest in as you can get a huge amount of profit or return on your investment in a really short period of time. People who have invested in this society are all now enjoying the fruits that the project bought with itself. The prices and values of properties have risen and are still expected to rise and give the investors a huge return.
Conclusion:
The Park View City, after its completion will be one of the best projects to have been set up in Islamabad. It will give an investment opportunity with high returns to its investors and a luxurious lifestyle to all those who want to be a part of this community.