Lahore Smart City (An Overview):
Lahore Smart City is another project by Future Developments Holdings (Pvt. Ltd.) and Habib Rafiq (Pvt.) after the Capital Smart City Islamabad. The aim of the developers is to launch the first-ever smart city in the busy city of Lahore. Lahore Smart City has been approved by Lahore Development Authority (LDA). Since their NOC has been approved, they are all set to start this magnificent project in no time. Although the project is yet to start, it is still expected to be a much enormous success than the previous one. This is because Lahore is a very cultural and commercial city and is expected to attract a lot of investors for this project.
About Owners
Lahore Smart City is a joint project of two of the most well-known real estate companies Future Holdings Developments Ltd. and Habib Rafiq Pvt Ltd.
FDHL is a Real Estate Developer and Asset Management Company working in Pakistan. It is a partner consortium that is registered under the Companies Ordinance 1984. Capital Smart City and M2 Smart Industrial Park are examples of some of their magnificent projects which shows their innovation, creativity, and experience in the field.
FHDL itself comprises of two other organizations which are:
1. Engineering Dimensions (Pvt) Ltd.
2. China Liaoning International Economic and Technical Cooperation Group Corporation Ltd (CLIC)
FDHL aims to provide the people with the future of houses and cities. They want to revolutionize the living conditions in Pakistan to meet international standards. This means having high-tech facilities, incredible infrastructure, and advanced urban planning.
HRL has been granted ISO9000 certification due to its excellent management process. Habib Rafiq Pvt Ltd has completed many projects which show their capability in construction and development. Following are some of their major projects: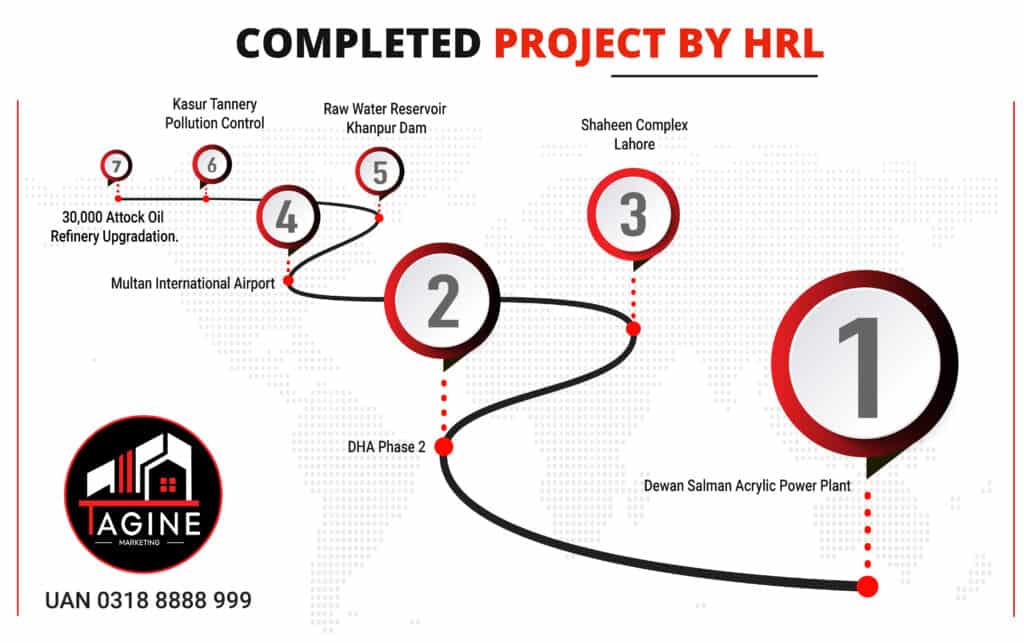 Development Partner
Surbana Jurong, a Singapore-based consultancy firm that has almost 16000 employees globally and more than 120 offices in over 40 countries. Surbana Jurong aims at bringing a revolutionary change in their developments and projects. They have bought the same brilliant and futuristic ideas into their other project Capital Smart City Islamabad.
There are a number of other consultant and development firms who are a part of Lahore Smart City
Master Plan of Lahore Smart City
The Lahore Smart City is expected to have a similar master plan as the Capital Smart City. A proposed master plan by the developers is shown below: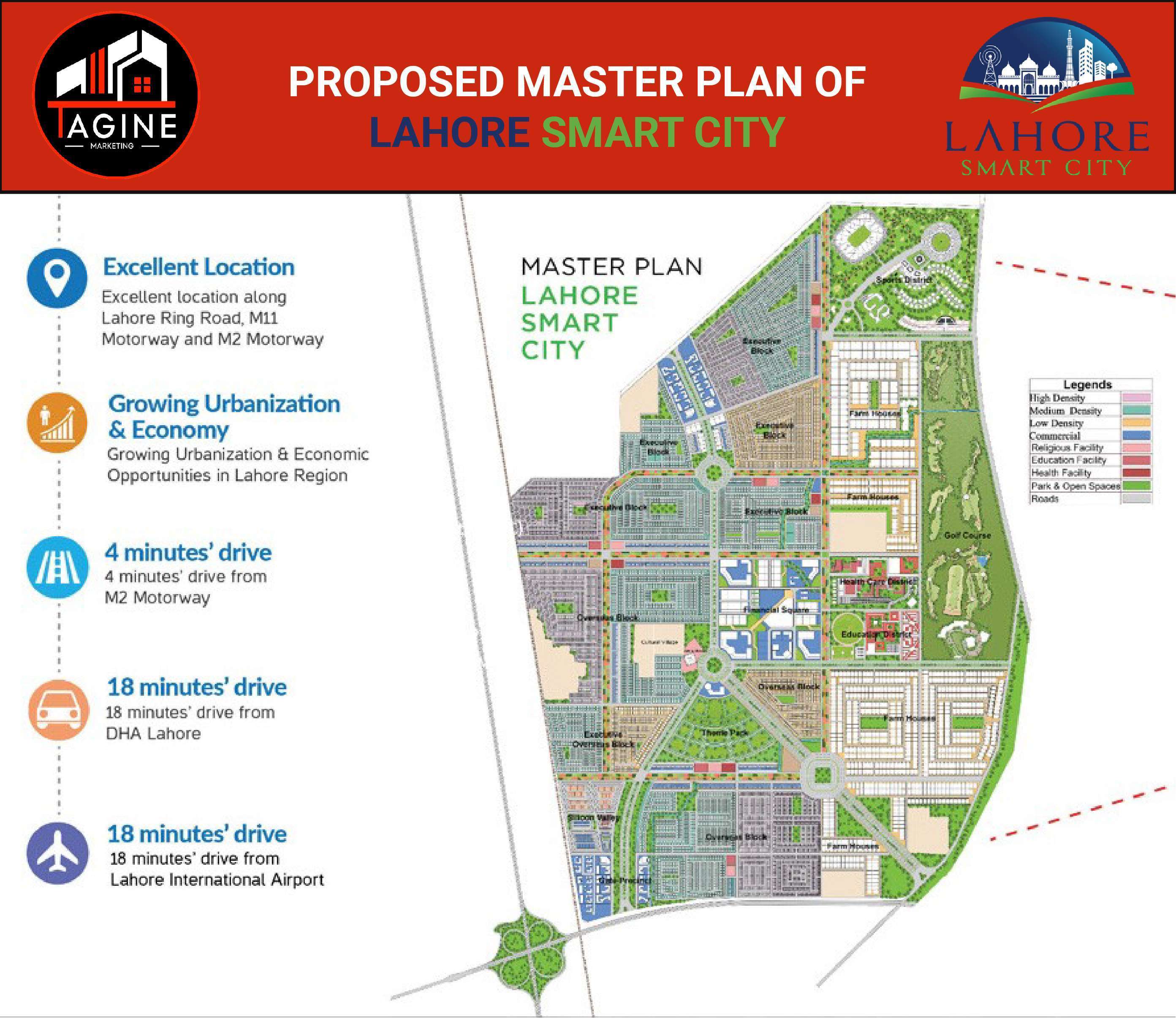 According to some sources the total land acquired is almost 20000 Kanals and is expected to be expanded in the future. The master plan may not be available but Lahore Smart City has introduced pre launching prices for 5 Marla, 10 Marla and 1 Kanal.
The Project's master plan is already approved by LDA.
Location
By the proposed master plan provided by the authorities of Lahore Smart City, the society will be located on the Lahore Bypass near Kala Shah Kaku. It will be accessible by both the Lahore-Sialkot Motorway and G.T Road.
A location is said to good or bad based on how convenient it is for its residents. To everyone's relief, Lahore Smart City is situated at a distance of only 18 minutes from the Lahore International Airport or the Allama Iqbal Lahore Airport. It also takes about and 18 minutes drive from DHA Lahore to get to this magnificent society. UET Lahore has set up a new campus which is exactly 5 minutes away from Lahore Smart City. You might be thinking why Lahore Smart City is not situated somewhere inside Lahore? Well the answer to your question is that Lahore is a very busy and populated city, with the daily hustle of life and the never-ending rush. The pollution that follows due to immense population also makes living conditions very difficult. In order to get a pleasant and peaceful lifestyle, it was much needed to make this society at a considerable distance from the heart of Lahore. The location of this prestigious project was selected carefully as it is within reach of every major commercial area of Lahore. Lastly, it will also be connected via Lahore Ring Road connecting it with the rest of Lahore.
DISTRICTS OF SMART CITY LAHORE
General Block Capital Smart City Lahore:
The general block consists of affordable residential plots with a low cost. This district is a perfect choice for people that are leading middle-class lives with a planned budget and calculated income. This block is equipped to provide all the basic necessities needed by the residents. This area would comprise mostly of residential plots with mosques, general stores as an added facility.
Executive Block Capital Smart City Lahore
:
This block consists of residential plots along with apartment buildings, mosques, and retail shops with playgrounds and jogging tracks that would be a fulfillment for the much-needed requirement of children and adults alike.
Overseas Block Capital Smart City Lahore
:
This district is strictly a residential block of the society, this district offers a variety of residential plots and residential villas for people that reside outside of Pakistan or possess a dual nationality are eligible for applying for plots and villas in this district. The block is designed to be built with all the facilities and infrastructure that people enjoy in foreign countries, the block would also be home to a mosque, hospitals, hotels and restaurants, and shops for the aid of the residents.
Financial Square
:
As the name suggests this particular area of Capital Smart City Lahore would be the nesting home of offices, banks, conference halls, hospitals, 5-star boutique hotels, an exhibition hall built along with retail offices. This art of the society also consists of shops catering to daily life necessities and products. Commercial plots availability would be disclosed soon.
Health Care District Capital Smart City Lahore
:
The name indicative as it is, this district of the society focuses solely on the health care needs of the residents of the society. The pinnacle of this district is its 500 bed, fully facilitated, and state-of-the-art hospital with a team of specialized doctors that belong to various fields of the medical world. This district would still have a small number of residential plots and commercial plots for retail shops.
Education District Capital Smart City Lahore
:
Capital Smart City Lahore is aiming to not only be a place of residence but a center of learning as well. This block will serve the purpose of housing many schools, colleges and universities and would pose as a facility for those residing in the block with learning centers at an arm's distance.
Gate Precinct:
This would be the first bock upon entering the gated society. This would be the block that has the services office of the society along with luxurious 3 and 4 star hotels will be constructed in this block. Residential houses and villas will also be a constituent of this block along with retail shops, marts and grocery stores and a food court is also to be constructed in this block.
Sports District:
The Smart City Lahore will comprise of a Sports district that is built with the purpose of serving the athletic requirements of the people. This would consist of multiple grounds and stadiums designed to pay tribute to the different games. A sports complex along with cricket stadium, football stadium and badminton court are planned to be built. This also consists of residential plots and villas and food corners and cafes with a few retail shops.
Silicon Valley:
This block addresses to the technical and IT needs of the society and would be hosuing many offices and buildings that would serve as corporate offices, software houses, technical operation offices ware houses as well as retail offices and customer care centers. Alongside these corporate offices it also provides residential plots and villas and a mosque with retail shops to deal with daily life products.
Features and Facilities
Lahore Smart City is going to be the 5th smart city in Asia. It aims to make life innovative and easier for the residents. Not only will the society provide the mere basics but so much more. Lahore Smart City will give you a chance to fulfill your dreams. It will allow you to look forward to the future and how the future will revolutionize the current way of living:
Smart economy
:
A smart city expects to supply a unique, manageable turn of events and expert administrations from its own environmental factors. Lahore Smart City has everything that is required for a great and innovative society.
Development Plan:
Lahore Smart city will collect data using various techniques and work on solving the problems of society. Just like their other project Capital Smart City Islamabad, the project will provide 24/7 electricity, water, and gas. They will develop houses at the lowest possible cost so it is easily affordable. Moreover, basic amenities such as jobs, health, and education will be readily available.
Work possibilities:
Capital Smart City Lahore can reason a variety of business and administration industry work risks thus prompting the monetary necessity of Pakistan. The society will facilitate its own tenants by turning into a business place in your local area and carrying worldwide financial backers and organizations to place cash into the sublime homework.
Government Association:
Although the master plan of Capital Smart City Lahore is yet to be approved by LDA, but sill no other society will be able to copy the facilities and amenities that they have to offer.
Exquisite Living Standards:
Lahore Smart City will offer its inhabitants with an up to date and modern society. This will be a place where everyone can enjoy a magnificent and exquisite lifestyle. People can make their dreams come true and take advantage of all the facilities offered for a much better living condition.
Extravagant life:
Neighborhoods will have pathways and cycling tracks for both pedestrians and cyclists so that they can get around however they like with ease. In addition to all this, the public would be able to use public transportation especially set up for the convenience of the people. Advanced and unique ideas such as smart parking, intelligent traffic management, and multi-model transports will be provided in society.
Faster, more liveable areas:
Lahore Smart City specialists will re-grow foolish places, for example, close by ghettos, attempt to procure serene and alluring areas and not hazardous situations. They will make another way of living spaces which will permit countless individuals to live in. Engineers will make and keep up open spaces like parks, jungle gyms, and sporting spaces to work with metropolitan warming impacts and improve the nature of living.
Wellbeing and Security:
To ensure the safety of everyone CCTV cameras is installed everywhere in society. Criminal Activities are always kept in check and the protection of ladies, gents, children, and senior citizen is a top priority here at Lahore Smart City.
Electricity:
Measures are being taken to produce electricity not only from water but also from waste materials. This will diminish pollution and increase the power delivered to society.
Building and framework:
Capital Smart City Lahore is focusing on infrastructure that poses ease for maintenance and favors traveling by car, by cycle, or even on foot along with providing other opportunity requests. The general public will prove to be of assistance in introducing a newer edge to transportation and its foundation while using notable productivity.
Other Features of Lahore Smart City include:
Greenery and cleanliness giving it an environment-friendly surrounding
Advance-level security
Availability of gas, electricity and water at all times
Underground electricity plan
Hotels, resorts, shopping malls, sports clubs and schools
Parks, lakes, mosques
Internet and smart software for weather, electricity and traffic
Modern and lavish housing plans
Overseas block
Recreational activities
Easily accessible from GT road, Motorway and Lahore Ring Road
Payment Plans
Executive Block/Overseas Block:
The price and payment plan of the much-awaited Executive Block/Overseas Block is shown below. It contains equal amounts of 16 quarterly payments so that it is easily affordable: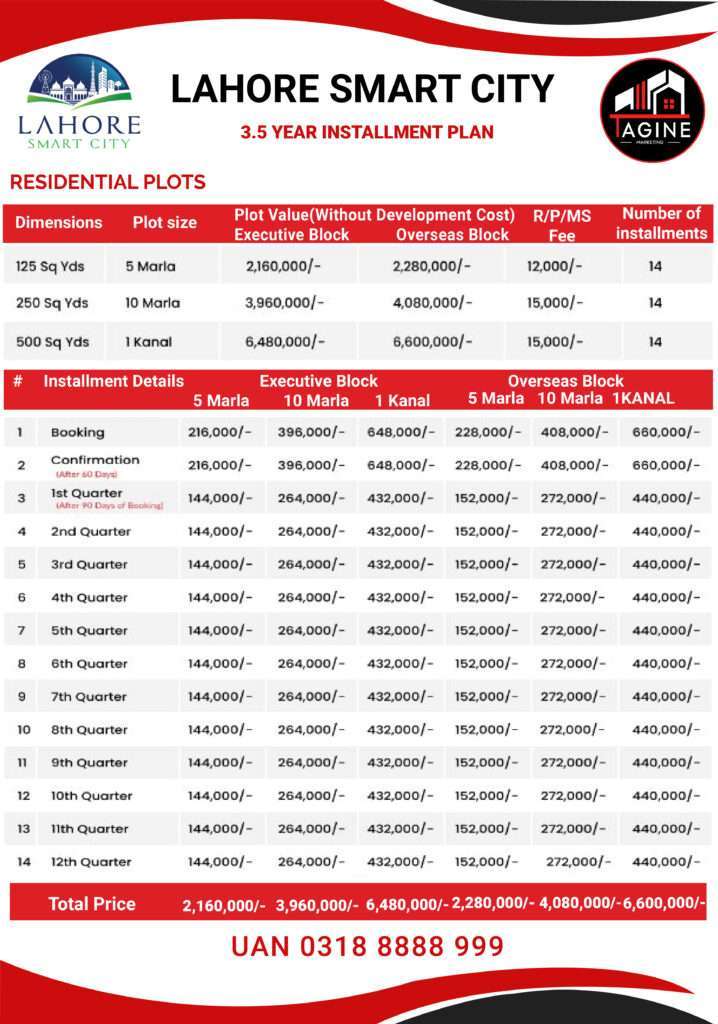 7 and 12 Marla (New Launching)

:
Capital Smart City Lahore recently launched new dimensions of plots in their executive block. These plots have only two sizes i.e., 7 Marla and 12 Marla. Limited in number, these plots already created such a high demand in the market that almost all the plots are about to be booked in just a limited time span of 2 weeks.
The price of both these blocks is given below: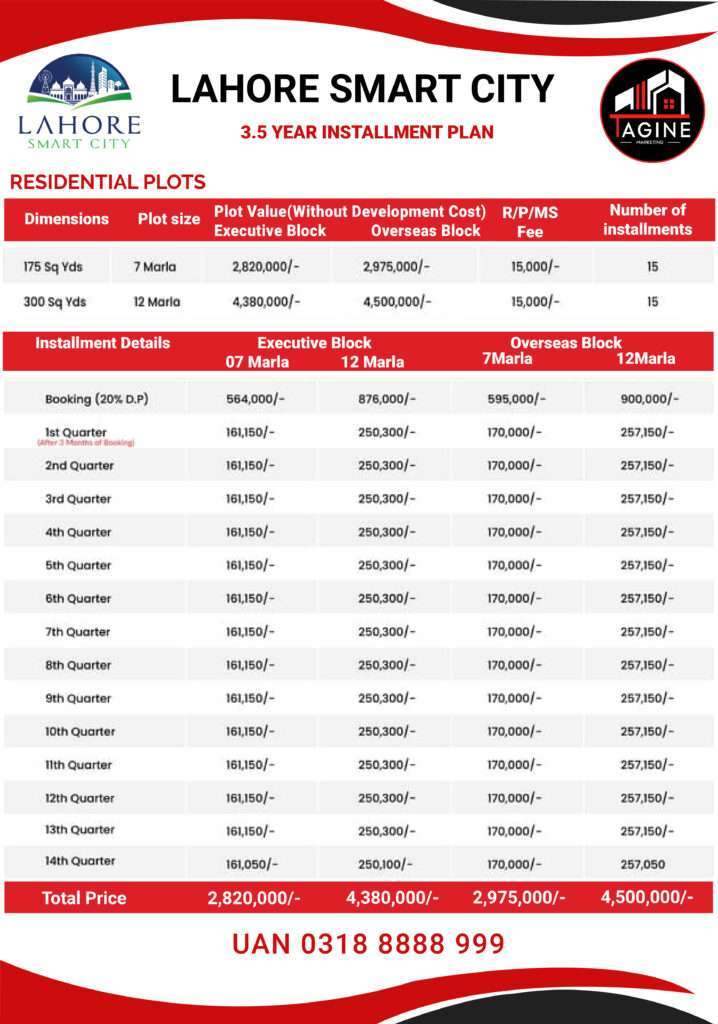 How to Book Your Plot
To book your plot in the residential block you will need to have the following things in order to confirm your booking.
20% Down Payment in the form of a pay order to "Future Developments Holdings (Pvt) Ltd."
Fill the application form provided by us
Attach the required documents and also bring with you your original documents
Once your booking is verified your document will be ready and dispatched to your place within a month.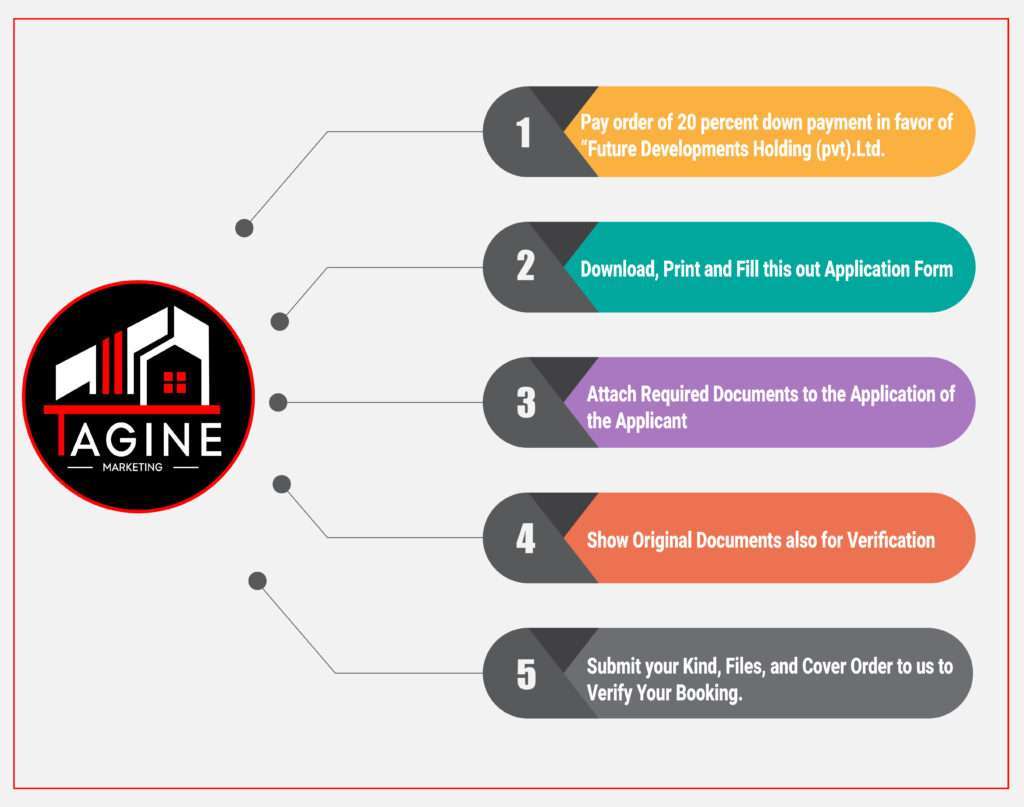 Required Documents:
2 Passport size photographs
2 Photocopies of NIC
2 photocopies of NIC of your next to kin
Booking amount (20%)
Application Form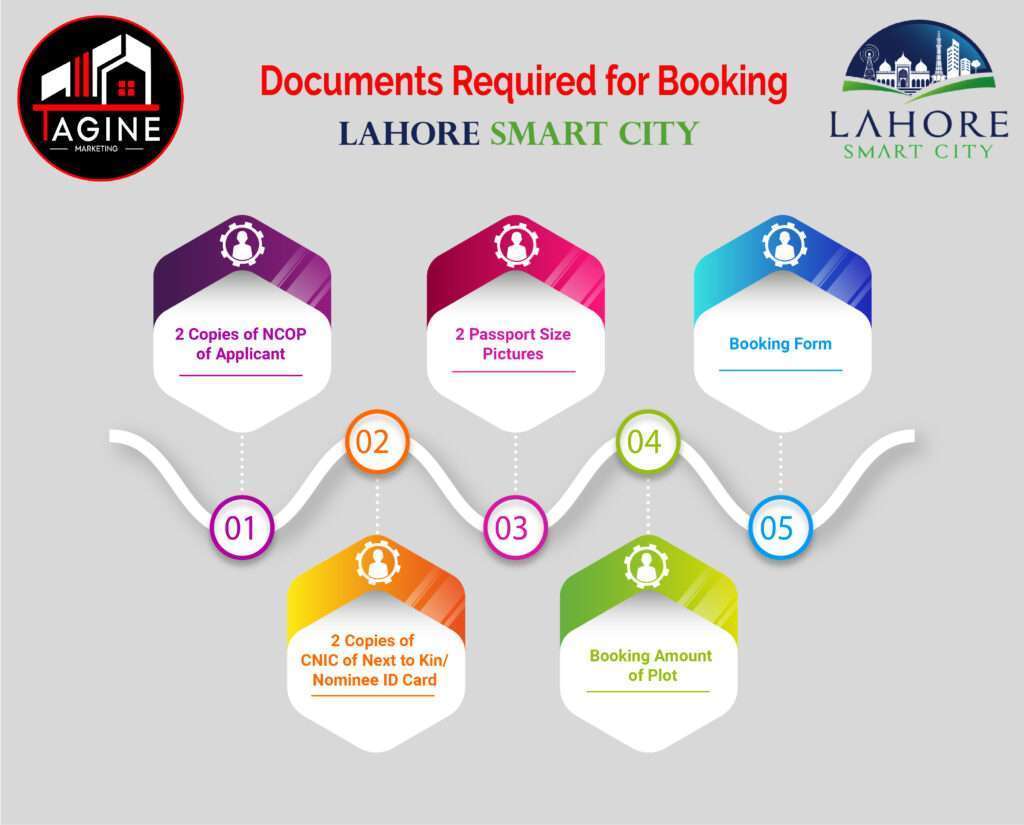 Why you should definitely invest in Lahore Smart City?
You might be thinking what's so different about Lahore Smart City and why should we invest in it? The answer to your question is lies within the infrastructure of this prestigious project itself. The fact that this will be a smart city says everything about its uniqueness. This will be the 5th Smart City in Asia. The reason as already told above is due to its never ending list off facilities.
The reason why you should invest in this society is that the prices of the plots might sound affordable and cheap now but in the mere future, they are expected to elevate by a very huge margin. This makes it an excellent place to invest where you will get high returns and will always be profitable. Now moving on, this society does not just have an investment point of view but it is also going to be one of the finest housing projects to live in. The inhabitants will have no problem whatsoever in Lahore Smart City and will be able to enjoy a luxurious lifestyle just like in Capital Smart City Islamabad.
For more information visit: CAPITAL SMART CITY ISLAMABAD – ASIA'S 4TH SMART CITY
Frequently Asked Questions (FAQ)
Q. How are Lahore Smart City and Capital Smart City Islamabad related?
Lahore Smart City is another project by the developers and owners of Capital Smart City Islamabad. They aim to provide the same features as CSCI but with much more innovations and additions.
Q. What is its exact location?
The housing society is located near Lahore bypass and can be accessed through Lahore Ring Road and also from GT road Lahore.
Q. What is its NOC Status?
Lahore Smart City's NOC has been approved by LDA in the mid of February of 2021.
Q. Is it launched yet?
No Lahore Smart City has not been launched yet. Its launching ceremony is yet to come once it is legalized by LDA.
Thank you.
For more such articles visit our site Tagine Marketing