Overview
Graceland Housing Society is an auspicious project located near Main Fateh Jang Road. It is a legal society to provide everyone a chance to fulfill their dreams. Its distinct features and modern infrastructure makes it an ideal place to build what you want, the way you want it, and have a better lifestyle than ever seen before. The owners and developers of Graceland are Infratech Pakistan and (CONSOL) Concrete Solutions (Pvt) Ltd. Together both these well-known companies will make sure that Graceland becomes a beacon of light for all other societies that have embarked on the journey of modernizing the housing societies of Pakistan.
Owners and Developers
This esteemed project is a joint venture between Infratech Pakistan and (CONSOL) Concrete Solutions (Pvt) Ltd. Both these companies have an excellent reputation. These are the most suitable and well equipped corporations that can take on such a huge task.
Infratech is the subsidiary of Habib Rafiq (Pvt.) Limited (HRL), an ISO 9001 certified International designing and construction Firm with over 40 years of professional experience. Over the years, HRL has established a sound reputation in meeting the unique requirements of each project, achieving top quality, cost-effective results through its knowledge, innovation, and hands-on professionalism. Infratech is a resourceful, responsive, and diverse professional build Firm.
The professionals are experienced and know how to tackle every problem with the best solution possible. The technological department handles all such difficulties quickly and effortlessly. Infratech is known to provide people with the right service at the right time and give them the best service.
The developers of this extraordinary project are CONSOL Concrete Solutions. They were incorporated under the companies ordinance in 1984 and have a total value of more than Rs. 10 billion as of October 2015.
NOC Status:
The NOC of the society has been APPROVED!!! and it is a 100% genuine society. The NOC is approved by TMA Fateh Jang and other concerning authorities. Below is a list of the concerning authorities and the letter numbers issued for Graceland
Location
Graceland Housing Society is located in the Main Fateh Jung Road just near the New Islamabad International Airport. The following are the access points into the society:
Easily accessible through the metro route
6 km away from the Lahore Islamabad Peshawar motorway
6 mins drive to the New Islamabad Airport
20 mins drive from Pakistan Monument
25 mins drive from Centaurus mall
25 mins drive to Faisal Mosque
35mins drive to Rawal lake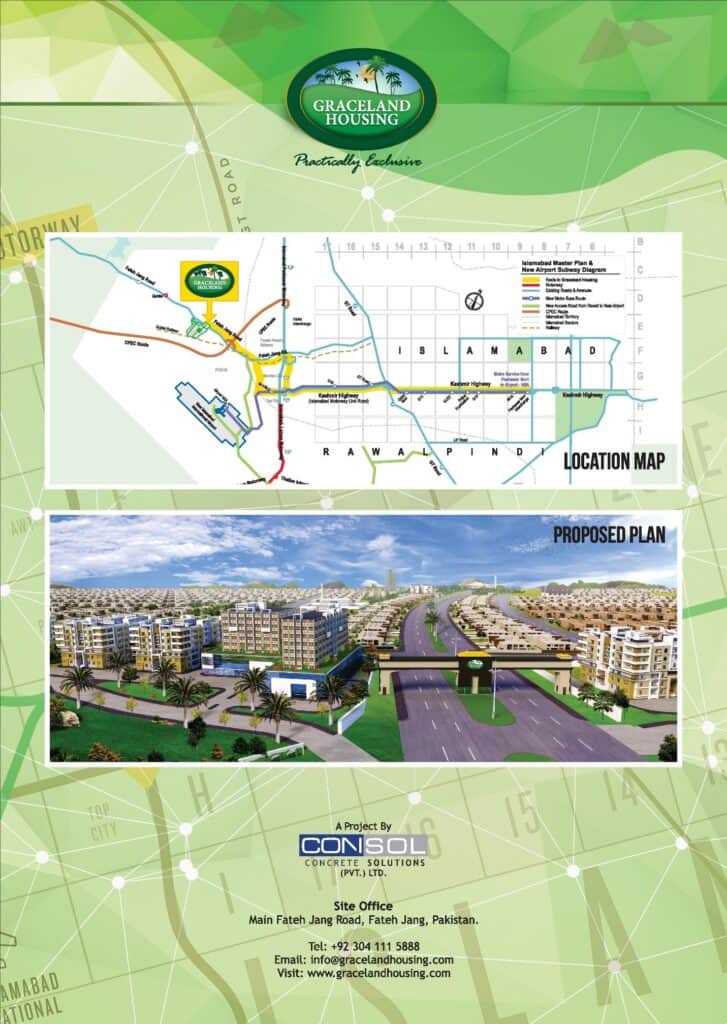 Master plan
The society is laced with facilities and is well designed. The owners and developers have put thought into the overall plan of the project so that they can get the most out of it. Society is divided into 5 sectors: A, B, C, D, and E.
The Plots available in all these sectors vary in sizes :
25×50 : 138 Sq.Yd
30×60 : 200 Sq.Yd
30×70 : 233.33 Sq.Yd
30×75 : 250 Sq.Yd
45×100 : 500 Sq.Yd
60×90 : 600 Sq.Yd
90×100 : 978 Sq.Yd
75×120 : 1000 Sq.Yd
Payment Plan
Different blocks in Graceland have different prices. The society offers an easy and affordable plan to everyone. In this way, the project is looking to the needs and ease of the middle class to cope with the payment plan and have their own dream house in no time.
 Valley Block
The Valley Block offers two sizes 3.5 Marla and 5 Marla :
Size: 3.5 Marla
Price: Rs. 1,395,000
Booking : Rs. 200,000
Confirmation: Rs. 75,000
30 Monthly Installments: Rs. 15000
5 Half Yearly Installments: Rs. 134,000
Size: 5 Marla
Price: Rs. 1,995,000
Booking : Rs. 300,000
Confirmation: Rs. 100,000
30 Monthly Installments: Rs. 25000
5 Half Yearly Installments: Rs. 169,000
Prime Location Charges:
10% Corner Plot
5% Facing Park
15% Corner & Facing Park
Registration Fee: 2500 for 3.5 Marla & RS for 4000 for 5 Marla Plot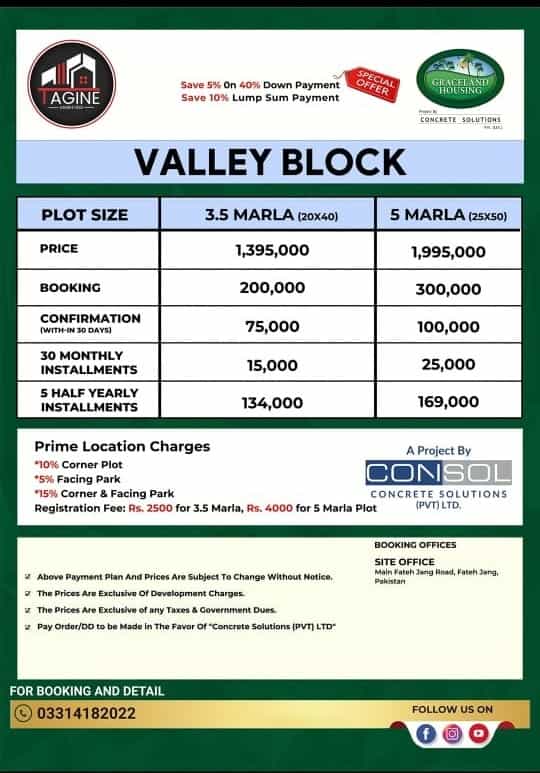 Features and Amenities
This Society Provides International Standard Community Like:
It is the first Smart City that has undergone the entire infrastructure from conception.
This infrastructure will be able to support any kind of technology or gadgets that can be introduced in the future.
Each house will be equipped with Optical Network Terminal.
The streets will be equipped with street cabinets.
Availability of security cameras making it a secure society.
The society would be adjusted with areas that can provide free wifi.
Smart metering is an added feature of this society.
Fault detection enables the project to avoid or be prepared for a catastrophe.
The project has an urbanized design that can be the first of its kind.
The electric supply cables are underground that proves to be a huge safety feat and decreases the risk of electrocution and accidents involving electrical cables.
Wide roads that are fully carpeted and of different sizes such as 120', 110', 100', 80', 60',50' and 40' according to the area being covered.
Along with residence and safety, there will be state of the art playgrounds and parks for recreational purposes.
Services such as a hotel, mosque, sports clubs, hospitals, schools, markets, parks and playgrounds are being provided by the society.
Graceland has a very close relation with nature and can be seen in the green views throughout the society.
The proximity with nature and green scenery provides an environment that is rich in fresh air. The developmental design and strategies will enhance the grandeur of Greenland Housing Islamabad.
 Greenland Housing Society gives the surety of owning a home in a secure and private interface.
The society is set to have an extensive plantation of trees and flowers along the roads and in green belts.
Each block of the society is set to have its own set of gardens, green areas, and pay areas for ease and convenience.
Commercial areas are designed according to international standards to provide maximum benefits and less hassle of parking.
The society is set to have a grand Jamia mosque and other separate mosques for different sects.
Rainwater Harvesting:
The channelized drainage system is employed in the Greenland Housing Society.
Drain pipes are a huge part of the drainage system to ensure proper and organized drainage.
Brick Masonry Drain is also deployed to harvest rainwater.
Big Stone Masonry Drain will also aid rainwater harvesting to conserve the maximum amount of water.
All the collected water will be converted into larger storage in the shape of a lake or reservoir.
The reservoir will be fixed with a filtration plant to pump the reserved water after treatment to the underground tanks in the form of clean water safe and fit for use.
Conclusion
The Graceland Housing society is a well thought and beautifully designed project with newer technologies and a project that allows the use of new and advanced technology and gadgets that can be incorporated into the housing society. The project is the first step towards remarkable housing societies that can change the perception of houses and communities altogether, the project would prove to be of crucial importance for investors. This project is a brilliant investment opportunity as it is a beautiful project with a very green environment and ample entertainment and commercial opportunities along with other facilities. The Graceland Housing Society will be a remarkable living space.