Overview
Discovery Gardens is another project which lies in close vicinity to the New International Islamabad Airport. Many prestigious and esteemed housing societies such as the Capital Smart City, Mumtaz City, Top City, Blue World City, and numerous others have all chosen this specific area to build their projects. The chosen location holds many promising future prospects.
The owners and developers of Discovery Gardens are no other than the famous FalakNaz Group, and All Pakistan Builders Association are their partners in the project. FalakNaz Group has completed over 15 extraordinary projects in the country. They don't only aim to build something innovative and magnificent but they also aim to provide everyone with an affordable way to build their ideal homes.
15000 Kanals is the total amount of land acquired by the FalakNaz Group for the construction of Discovery Gardens. This is expected to expand to a total of 36000 Kanals in the future. What makes this society different than all the others is the Margalla Hills. Surrounded by lush green hills, scenic landscapes, and a peaceful atmosphere, it has an edge over other such projects.
It is one of the biggest and the most awaited projects yet. It will reach its epitome once the Rawalpindi Ring Road is constructed. This will grant direct access to Discovery Gardens via the M-2 Motorway, making it very convenient for everyone.
About Owners and Developers:
Falaknaz Group was established in 1975 and have earned their name as one of the most trusted constructors and developers. They want to improve the quality of life everywhere. They have embarked on a mission to provide ultimate customer satisfaction and become one of the most respectable and preferred groups in Pakistan, which they have already done.
The company is known mostly because of its outstanding international-level infrastructure development. They have completed a total of 52 projects which is enough to show their experience. Some of their outstanding masterpieces are as follows: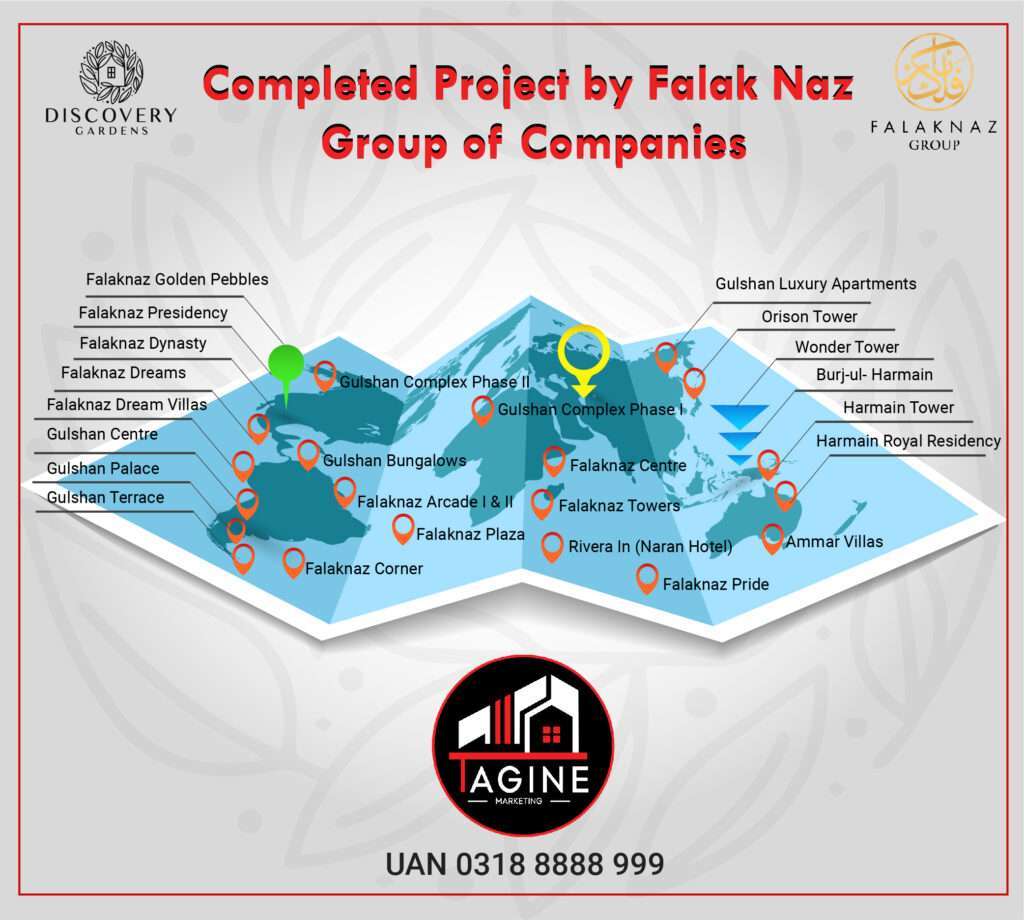 ABAD ( Association of Builders and Developers of Pakistan) is an organization of many builders and developers at a national level. ABAD is also one of the companies registered under the Companies Ordinance, 1984 with the Registration No. KAR NO. 4967 of 1977-78 and licensed under Trade Organization Ordinance, 2007. It was found in the year 1972. The company is also affiliated with the Federation of Pakistan Chamber of Commerce and Industry ( FPCCI).
Aims and Objectives of ABAD:
Unifying builders and developers for their collective good.
Promoting housing industry in the country.
Providing assistance to the Government in formulating its housing policies and plans.
Co-coordinating between ABAD members, the Government, and other agencies.
Dealing with problems faced by its members in the execution of their projects.
Organized research.
Awareness and training program to promote the science and art of building.
Working actively for the eradication of unethical business practices from the housing and development field.
Exploring the prospects of large-scale projects in the public sector and then acting as a consortium of ABAD members to secure and execute the projects.
Some Projects made by ABAD are as follows:
Springfield
Golden Oak
Ikebana
Abad Mayfair
Knights Bridge
West Wood
ABAD Oasis
Silver Dew
Spice Bay
Spice Town
Lotus Lake
Silver Crest
Silver Meadows
Marine Plaza
North Star
This is just a short list of the various impressive masterpieces that ABAD has developed.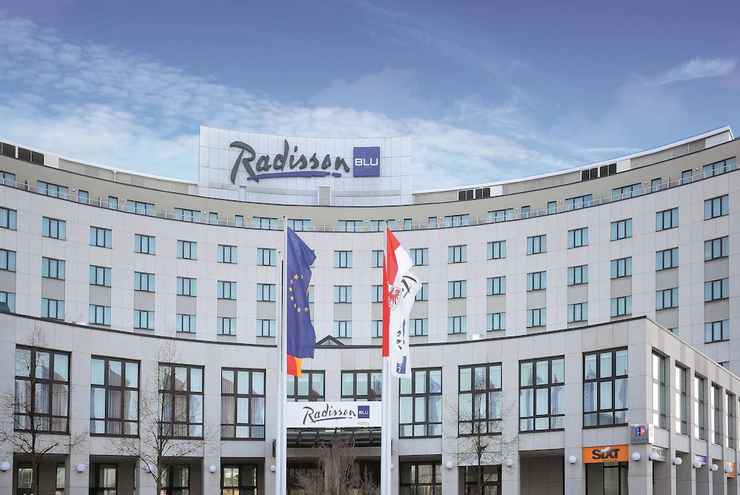 Radisson Blu is a hotel chain that has branches all around the globe. Their motto is to provide a relaxing and fully equipped accommodation to everyone at a price which they can afford. Their chain has more than 1500 operational hotels and resorts worldwide. They provide a 360-degree guest experience empowered by a Yes! I Can service philosophy. They are present in almost 120 countries such as:
Algeria
Chad
Libya Republic of Congo
Ethiopia
Morocco
Sierra Leone
South Africa
Zambia
Kenya
Australia
Bangladesh
India
Japan
Malaysia
Maldives
Fiji
China
Philippines
Thailand
 Austria
Ireland
Italy
Spain
Netherlands
France
United Kingdom
United States of America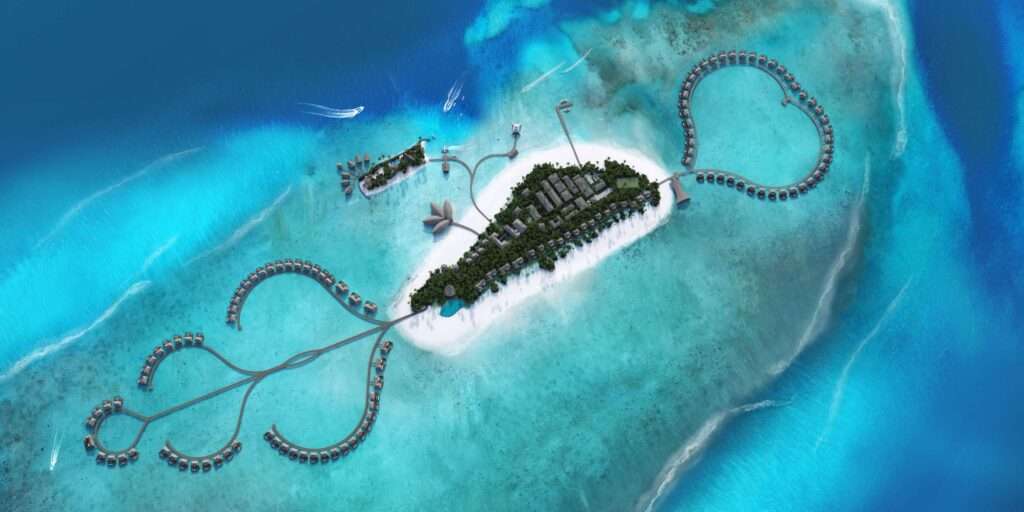 These are just some out of the total number of countries where Radisson provides its excellent service. They have joined hands with Discovery Gardens to construct a number of resorts for an ideal vacation for you and your family.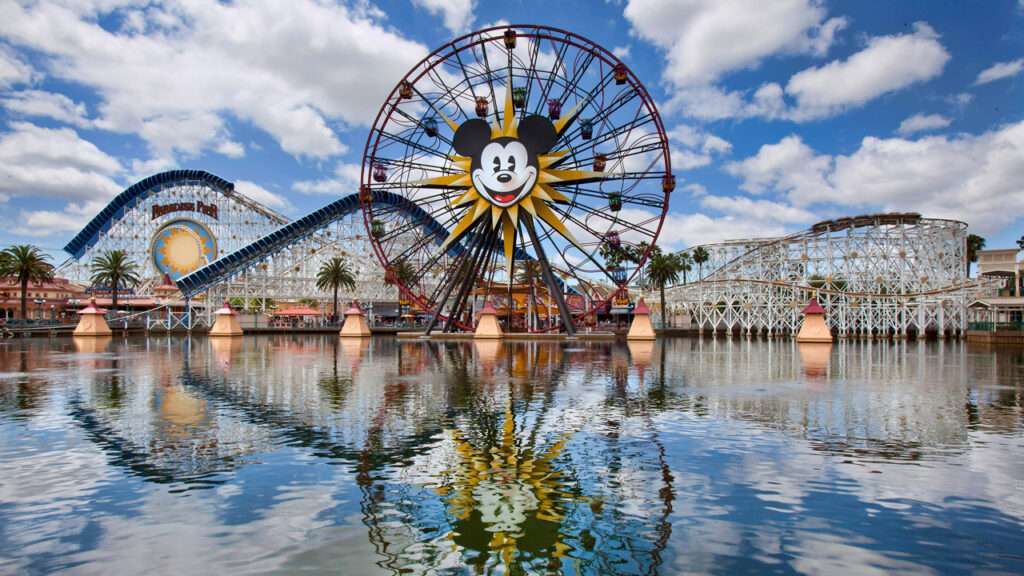 Six Flags is responsible for filling the United State of America with world-class roller coasters. They have almost 27 amusement parks all over the United States. They are also called the sister company of Disney. Carnival City in Discovery Gardens is one of the biggest attractions of the project. Six Flags and the developers of the community have joined hands to give Pakistan the first-ever internationally recognized Carnival City.
Following are some of the states where they are currently providing services:
Arizona
California
Georgia
Illinois
Maryland
Massachusetts
 Missouri
New Jersey
New York
Oklahoma
Texas
Quebec
Mexico
NOC (No Objection Certificate)
The NOC is of immense importance to any society. Luckily Discovery Gardens has submitted the required documents for the NOC along with planning permission. Their NOC will be approved by RDA (Rawalpindi Development Authority). Once it is approved investors will invest and the development will start at full pace.
Location
As you already know the vicinity around the New International Airport Islamabad is the best possible location to build a society. Discovery Garden has done just that by acquiring almost 15000 Kanals of land for their use. The location that they chose is right next to the very famous Capital Smart City Islamabad. It is easily accessible by the M-2 Motorway. The Thalian Interchange on M-2 Motorway will be responsible for allowing access into this innovative housing scheme. CPEC also provides an easy path into society. Moreover, Discovery Gardens is accessible by:
M-2 Lahore-Islamabad Motorway
3 min drive from Thalian interchange Islamabad.
6 min drive from Rawalpindi Ring Road
15 min drive from Islamabad International Airport
Discovery Garden is surrounded by numerous projects. Each project is unique in its own way. Discovery Gardens must compete with all of them and earn its stature. It is surrounded by the following places:
Star Enclave
Qurtaba City
Top City 1 Islamabad
Capital Smart City Islamabad
Mumtaz City
Eighteen Islamabad
Rudn Enclave
Abdullah City
Mivida
Al-Haram City
Khanial Homes
Discovery Gardens Location Map: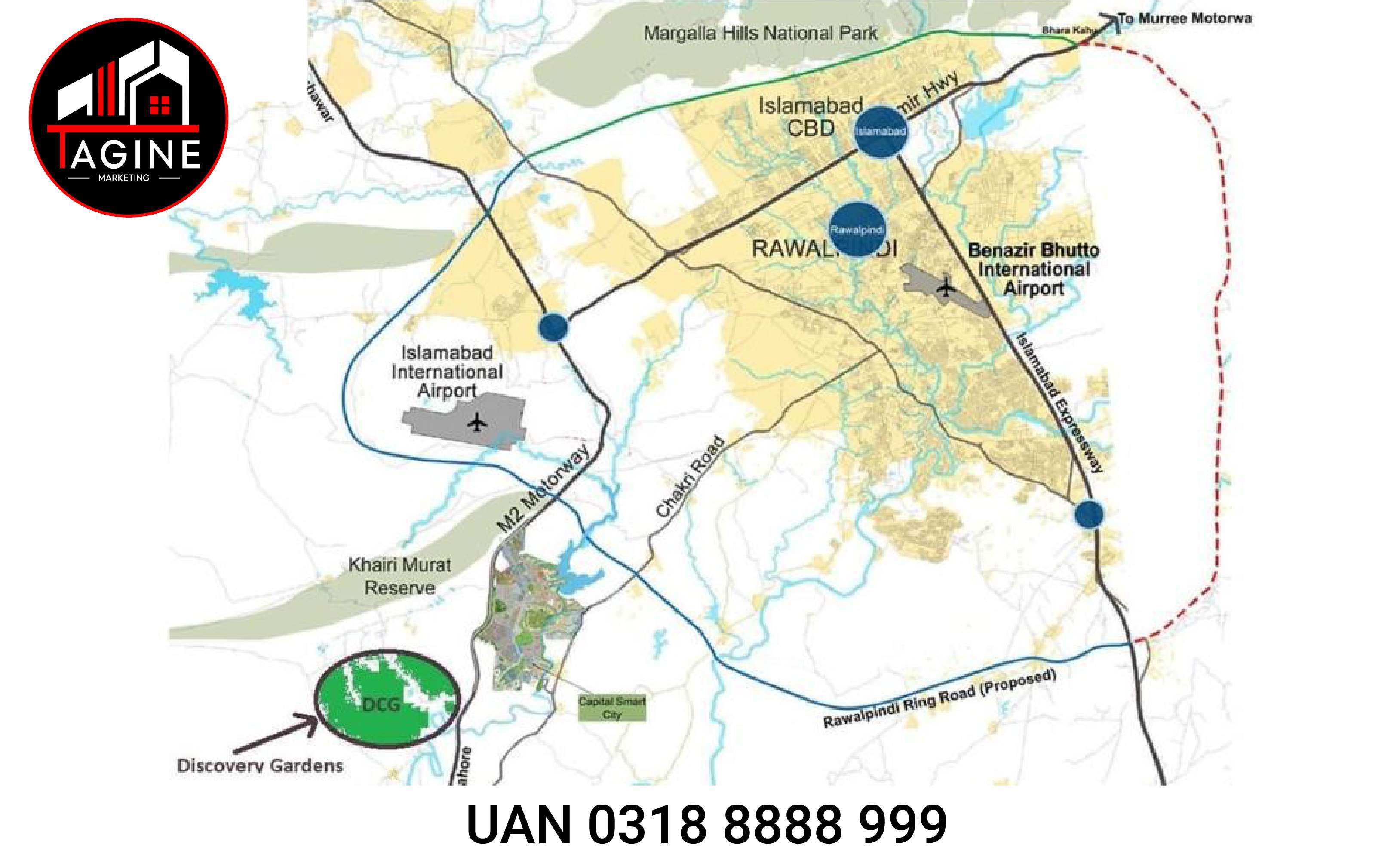 Master Plan of Discovery Gardens
The proposed master plan is only for 15000 Kanals of land but it will be re-planned accordingly for when the expansion takes place. Below you can see the master plan of the entire society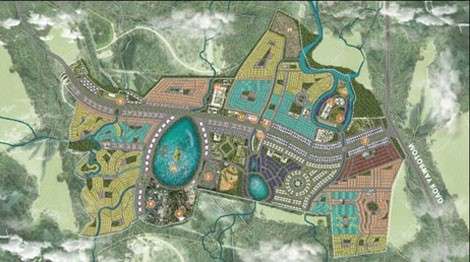 To provide an exquisite yet affordable lifestyle, the developers have made sure to introduce plots of various sizes. They have also ensured that no part of land goes to waste whatsoever. The plots offered by the Discover Gardens are divided into 4 categories:
5 Marla (25 x 50)
8 Marla (30 x 60)
10 Marla (35 x 70)
1 Kanal (50 x 90)
Payment Plan
The payment plans offered by Discovery Gardens are of different categories. You can find monthly, quarterly and yearly payment plans plots of sizes 5 Marla, 8 Marla, 10 Marla and 1 Kanal.
5 Marla
Total Price: Rs 1,800,000 Booking Price: Rs 400,000
Monthly Installments: Rs 15,625
Yearly Intsallments: Rs 125,000
At the time of possession a total amount of Rs 150,000 would have to be submitted.
8 Marla
Total Price: Rs 2,780,000
Booking Price: Rs 600,000
Monthly Installments: Rs 26,875
Yearly Intsallments: Rs 160,000
At the time of possession a total amount of Rs 250,000 would have to be submitted.
10 Marla
Total Price: Rs 3,380,000 Booking Price: Rs 700,000
Monthly Installments: Rs 35,000
Yearly Intsallments: Rs 175,000
At the time of possession a total amount of Rs 300,000 would have to be submitted.
1 Kanal
Total Price: Rs 5,480,000
Booking Price: Rs 1,200,000
Monthly Installments: Rs 53,750
Yearly Intsallments: Rs 300,000
At the time of possession a total amount of Rs 500,000 would have to be submitted.
Payment Plan: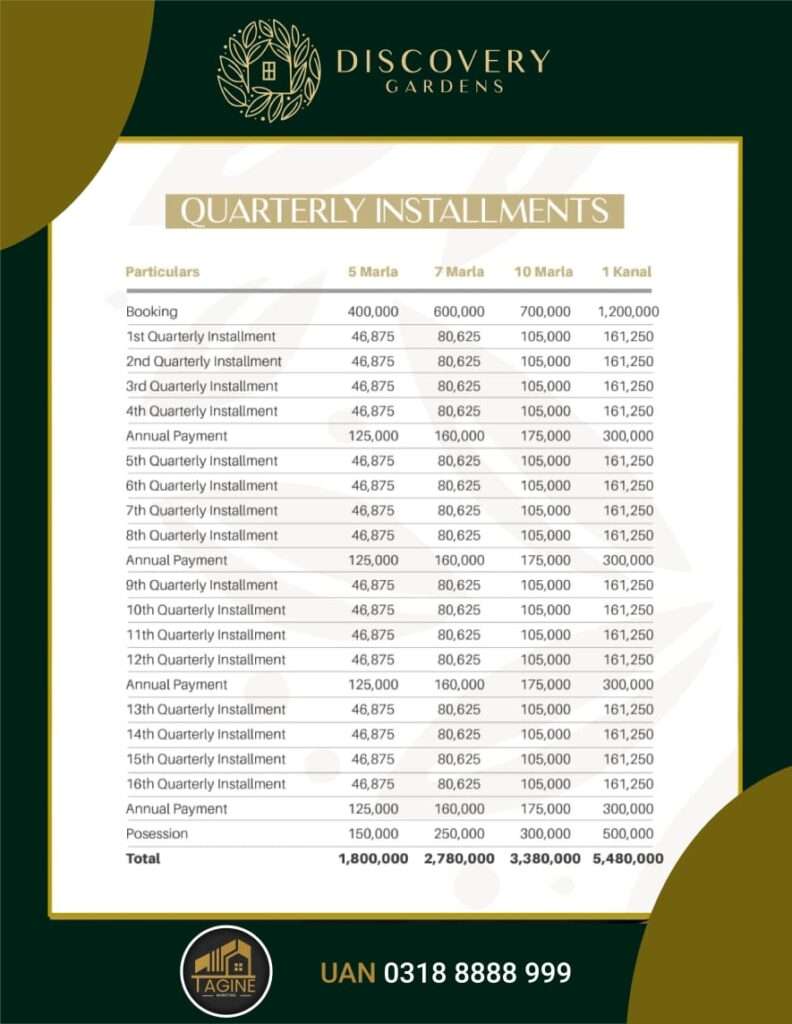 Additional Charges:
Corner plots will be charged an extra 10%.
Plots having a Park View will also be charged 10%.
Main Roads Plots will cost an extra 15%.
Main Road Corner plots will cost an extra 20%.
Facilities and Amenities
ABAD and Falaknaz Group have joined hands to provide state-of-the-art facilities at an affordable rate. You can now have a luxurious and exquisite lifestyle at a very low cost.
The facilities which the Discovery Gardens will provide are listed below:
One of the features which make Discovery Gardens unique is its spacious and well-built roads. The aim is to build roads with utmost perfection. Population increase is a major threat to every society out there as it increases, traffic jams, rush, etc. This will cause unrest and irritation. In order to solve all these problems, Discovery Gardens is building-wide carpeted and spacious roads.
An exclusive 5 Star Hotel is a part of the master plan of the society. This hotel will be built on international standards and will be affordable as well. A lot of thought has gone into planning this society to achieve maximum excellence.
A Grand mosque will also be a part of this grand masterpiece. It will ensure that the religious needs of everyone are satisfied. This mosque will have innovative technology and the most modern architecture. It will have both beauty and elegance.
Hospitals and improved medical facilities will be present in Discovery Gardens. Falaknaz and ABAD will facilitate the residents by developing state-of-the-art hospitals. These Heath care centers will have modern infrastructure and up-to-date technology.
To fulfill the commercial needs of each and everyone, a commercial area will be set up. This would not only bring customers in for commercial and economic purposes but will also prove to be a business opportunity to many.
A safe and sound environment is a necessity in any housing scheme. A gated community promises safety and well-being to everyone. Discovery Gardens made sure to take care of security by installing 24/7 CCTV surveillance and top-notch monitoring gears. The community has walls and barricades on all four sides to minimize criminal activity and maintain peace.
1000 Kanal Carnival City:
Almost 1000 Kanal of land has been reserved to build one of the biggest recreational parks in Pakistan. Inspired by Disney Land and Carnival city, these parks will not only attract residents but also people from all around the country. In addition to recreational facilities and leisure time, these parks will also provide huge revenues to society and investors.
An all-natural and breathtaking Jungle Safari will allow the residents to a unique living experience. This will ensure a much different and distinctive lifestyle.
The master plan includes a Botanical Garden. This Botanical Garden will allow the residents to seek refuge in the arms of nature itself. A natural ambiance, lush green scenery, and ever-lasting beauty are the key features that this garden will provide. Most importantly the daily hustle of a busy city life affects you both mentally and physically and the Botanical Gardens will take care of this problem by providing better health and relaxation.
Water is the basic need of every living thing to survive. The society will facilitate the inhabitants with a 24/7 water supply so that they can carry out their daily activities without hesitation. Filter plants will deliver fresh and clean drinking water to the people.
As discussed before, this society will be unlike any other you have ever seen before. The inhabitants would have the facility of a very own fuel pump right within the community. This will save the people from going to any other location to fill up their vehicles.
Horse riding is a unique and majestic sport. A horse riding club with world-class professional horse trainers and internationally popular horse breeds will be a part of Discovery Gardens.
Schools and colleges will provide international levels of education to the students. Teaching staff will be professional and specialized in their respective fields to give the students the best level of education possible.
In an era of smartphones where social life is dead, the developers have taken an initiative. They plan on setting up a community center to boost social activities within the society. People can enjoy social activities and participate as well.
To boost athleticism, a sports complex has been made part of this prestigious project. All age groups can come here and choose their respective sports, all under one roof.
Discovery Gardens will be different from all other projects and the presence of two beautiful and magical lakes in the community proves this. The lakes will give life to marine habitat and breathtaking views to the residents.
The 1000+ Kanal Carnival City and Disneyland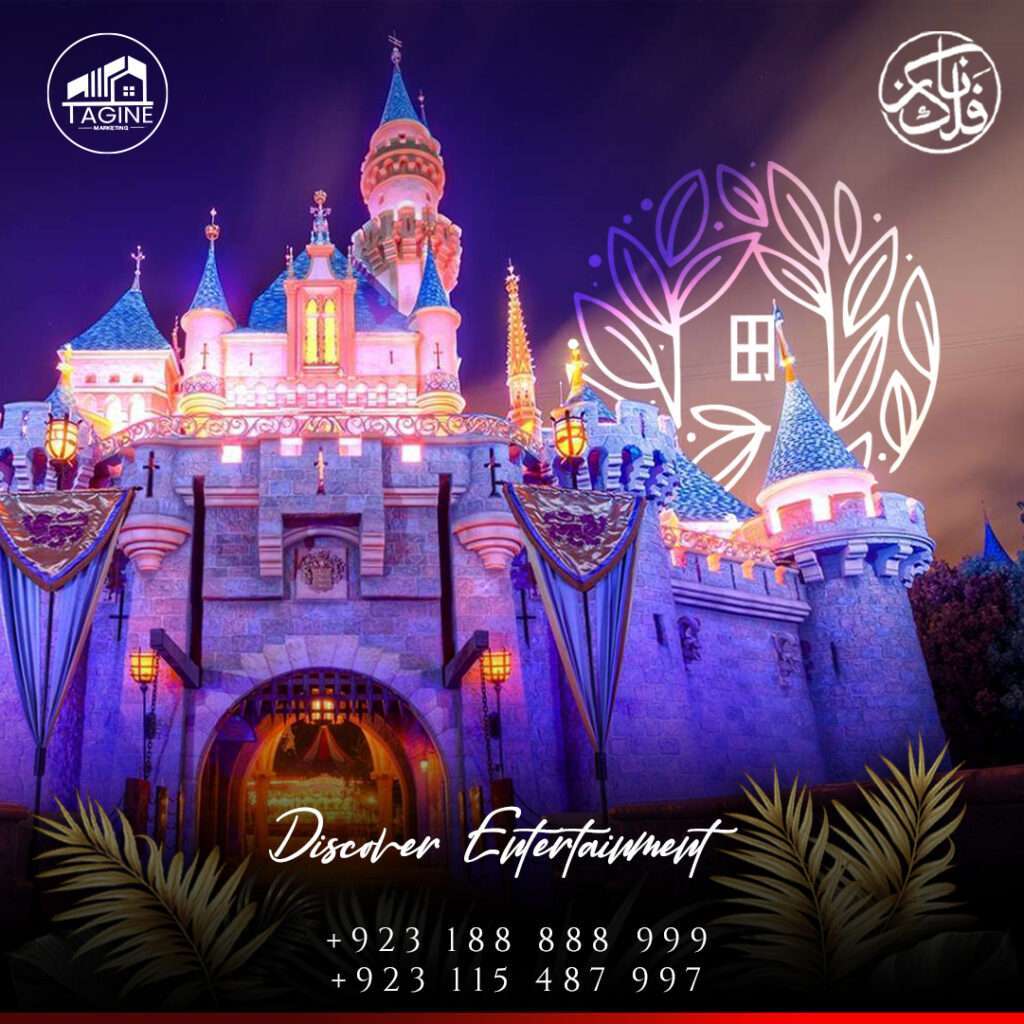 The main attraction of this prestigious project is their plan to build a 1000 Kanal Carnival City and Disneyland. It will the first of its kind and is one of the key facilities that gives Discovery Gardens an edge over the other societies.
Now in order to imitate some of the aspects of Disneyland and major carnival cities around the globe, Discovery Gardens has joined hands with Six Flags. Six Flags will be responsible for building a thrilling and extraordinary international standard roller coaster in its project. It will be a stunning revolution in Pakistan's carnival history. This will act as a means to generate local as well as foreign revenue.
Radisson Blue will be responsible for the construction of holiday resorts. These resorts will have facilities comparable to any other in the entire world. They will be built to utmost perfection and will have exquisite architecture. All these will make sure that Discovery Gardens is your next vacation place to go.
Why Invest in Discovery Gardens
So the question all of you might have in mind is, why should we invest in Discovery Gardens? The answer is pretty obvious, the facilities and amenities that the society offers are second to none. You can get a secure yet lavish lifestyle in a place that brings you closer to nature. Moreover, anyone who invests in this project is sure to receive unimaginably high returns.
These are some of the benefits that the Discovery Gardens will bestow you with:
A Safe place for Investment:
Investing in a plot is one of the wisest decisions someone can make. It is highly unlikely that an investment in some sort of property will cause you any harm. Once the NOC of Discovery Gardens receives its approval, the society is bound to flourish. Prices and rates of each plot will rise by a huge margin. This will ensure high profits to each and every investor, who made an intelligent decision and invested in Discovery Gardens.
Magical Landscape:
One of the reasons that will make Discovery Gardens successful is its unrealistic landscape. Beautiful lakes and a Botanical Garden will elevate the beauty and natural topography of the entire community. It would look as if some scenery described only in books or shown in movies.
You may call it a man-made paradise right next to you.
Serene and Secure Living :
To have a peaceful and serene place to build your dreams is everyone's vision. Here at Discovery  Gardens, you get a secure lifestyle, with 24/7 CCTV surveillance, barricades, and all sorts of high-tech monitoring systems. In addition to this residents will enjoy a relaxing environment where all their worries will vanish.
FAQs
Q. What is Discovery Gardens?
It is an upcoming mega project with an aim to provide a better lifestyle to all.
Q. What is it's NOC status?
The NOC of Discovery Gardens is under process and will be granted soon.
Q. Is Discovery Gardens Affordable?
The payment plans are flexible and quite simple. This makes it affordable to everyone.
Q. Is it a good place to invest in?
Yes, because the payment plans are simple and the society is affordable with high promises of a good profit on your investments.
Conclusion
If you are looking for a place to invest in! You should consider Discovery Gardens and it should be on the top of your list. Not only will it provide a safe investment with high returns but it will also be one of the safest and the most popular societies shortly.
Discovery Gardens Islamabad is an upcoming mega project with only one goal: to provide an elevated standard of living combined with the most advanced facilities so that your dreams can become a reality.