Citi Housing Kharian is a  society built by Citi Private Limited on main GT Road Kharian. It is said to have been approved by the TMA. The project is the best housing society in Kharian. It is part of a chain of residential schemes being built in Pakistan's biggest cities. The project's creators have promised that it will be built to international standards and offer gold-standard living.
Citi Housing Kharian provides a high-end lifestyle with amenities from around the world and at gold standards. It is the best housing society in Kharian because it is new, has better development parameters, is in a great location, plans with the customer in mind, and has a professional team. Golf Residencia was the old name of what is now declared Citi Housing Kharian.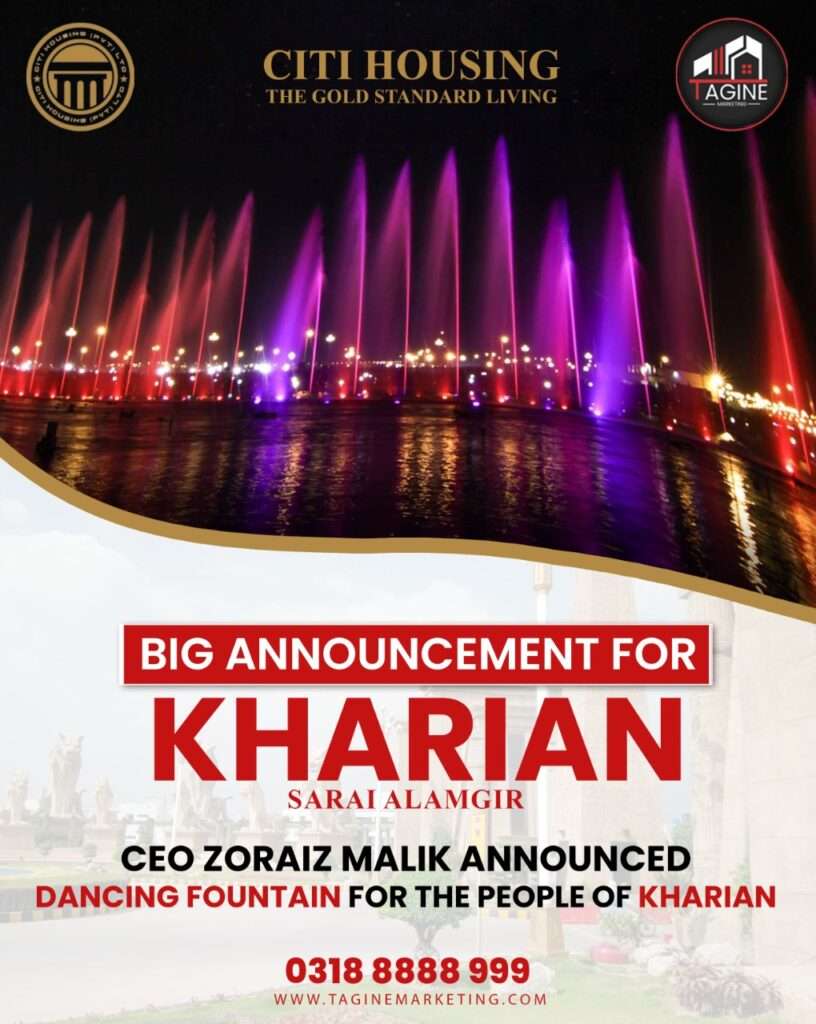 Developers of Citi Housing Kharian​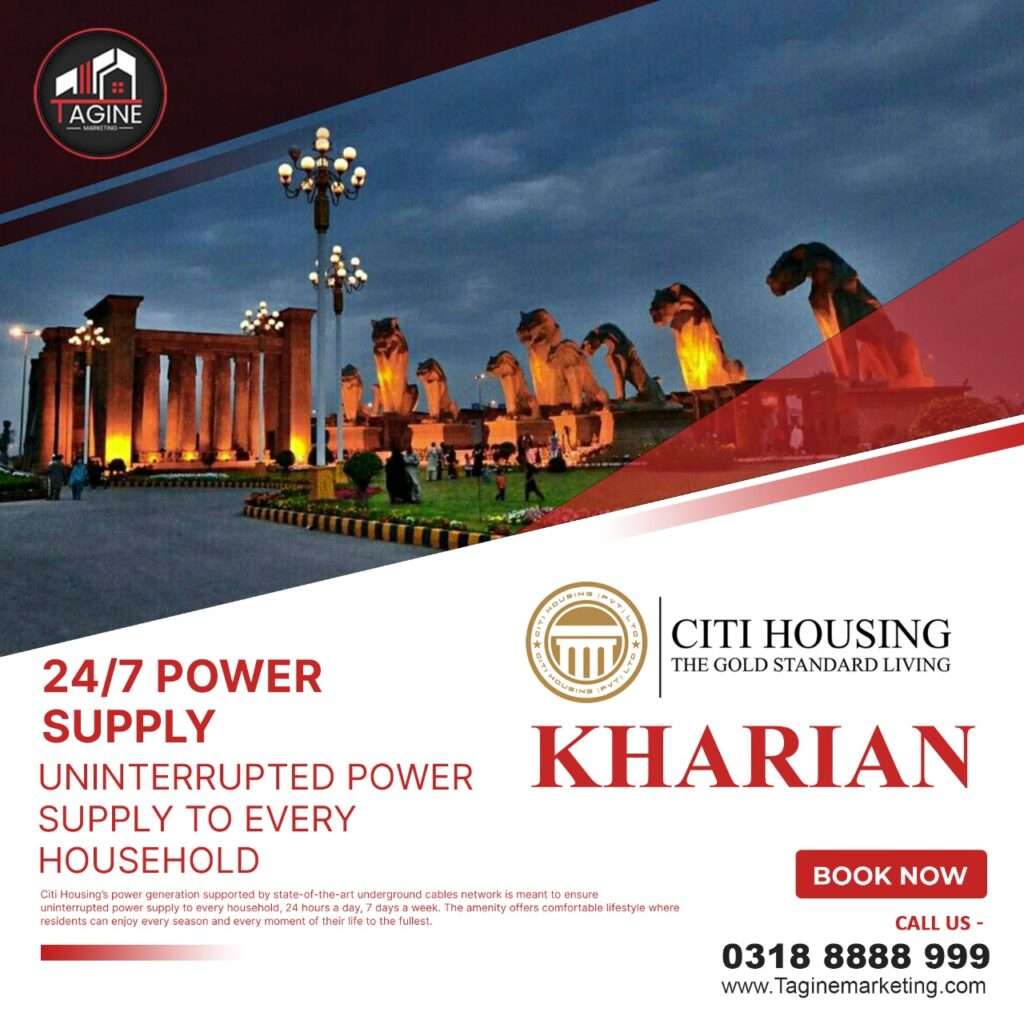 Citi Housing Kharian was built to international standards by Citi Housing Private Limited. Citi Group (Pvt.) Limited is operate by Amer Malikk as Chairman, Zoraiz Malik as CEO, and Rana Zahid Ali as Executive Marketing Director. The developers are known all over Pakistan for building world-class residential schemes in the country's biggest cities, which probably have a satisfaction rate of 100%.
Citi Housing Pvt. Ltd. is a service company that is focused on performance. The company is also known for getting projects done on time and without any problems. The team of professionals is highly qualified and has worked together for years.
Citi Housing is dedicated to developing residential developments of the best quality and helping to the nation's overall progress. It serves to motivate the competitors, which probably resulted in beneficial competition for the people of Pakistan. A culture of quality is developed and supported across all of its undertakings, but particularly within Citi Housing Kharian. This residential development has changed into a leading example of uniqueness, variety, quality, luxury, and accessibility all at the same time. Because of all of this and much more besides, it is now in a position to represent leadership in the real estate business from its front-running position.
Citi Housing Kharian​ NOC: (Approval)
Developers are aware that acquiring the NOC of society is very vital if they want to earn the confidence of investors. In addition, there are a lot of persons that will steal money from investors. As a result, the developers are toiling away at all hours of the day and night in order to get the NOC from the Tehsil Municipal Authority (TMA). In addition to that, the developers have already handed in every document that was requested of them. Additionally, all of the basic conditions related to the quality of the society have been satisfied by them. The establishment of the NOC is the current focus of the developers' efforts. Because of this, it will get authorization from the government very quickly.
Citi Housing Kharian Location: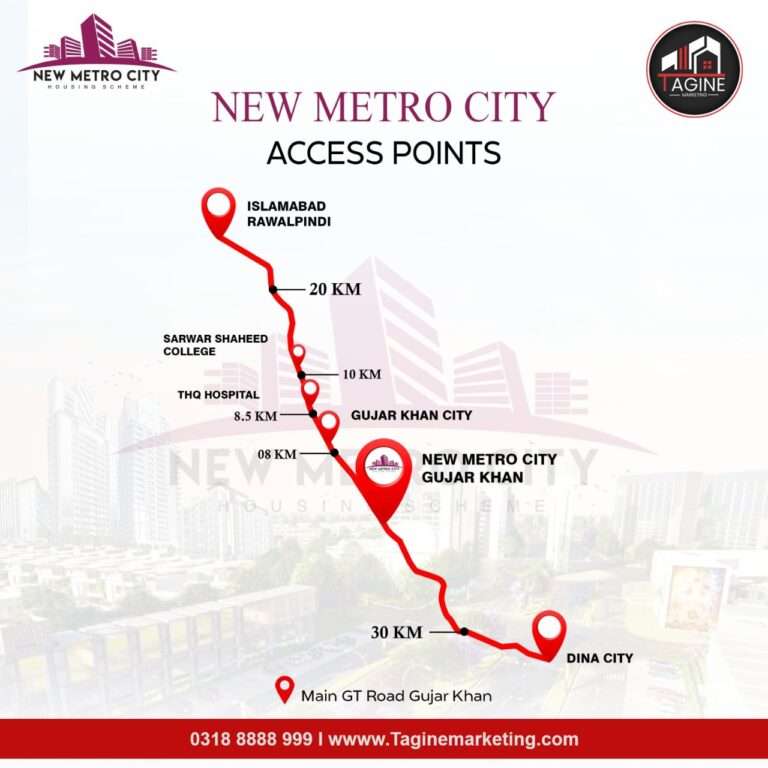 When you are on the searching for a new place to call home, the first things that will come to mind are going to be the neighborhood and the vibe of the neighborhood. Where exactly in the city the society is placed, as well as how simple it is to get there from different parts of the city, both in terms of the entry and everything else. Keeping all of these issues in mind when building this housing society in Kharian Sarai Alamgir, the goal was to make life easier for the local residents of District Gujrat.
The City Housing Scheme in New Kharian, which is located on one of the most popular and extensive roadways in the province of Punjab and is also known as the major GT road, has a stunning building style. In this location, all of the important regions, including residential and business centres, are not only conveniently accessible but also linked to one another.
It could be an excellent opportunity for builders and investors to take advantage of the chance to purchase a house in this community either for living purposes or to make a secure investment in order to get a expected profit. This could be done either for living purposes or to make a guaranteed profit from a guaranteed profit
Recent Project with the Collaboration of Tagine Marketing
Nova City Islamabad, Faisal Town Phase 2, New Metro City, and many more.
Citi Housing Kharian​ Nearby Landmarks & Places:
The nearby places are always a big part of how much a piece of real estate is worth. Everyone knows that a good neighbor gives you good things, and the same is true for them. When buying a commercial or residential plot on the real estate market, you can't ignore the importance of nearby places. So, you need to look at nearby places to figure out how much your plot will be worth in the coming days.
Accessibility
It takes 0 minutes to get to GT Road.
It takes 0 minutes to reach Grand City Kharian.
Drive time to Buraq City is 0 minutes
Drive time to Kharian cityis 15 minutes.
It takes 4 minutes to go to New Metro City Kharian.
It takes 22 minutes to go to Jhelum City.
It takes an hour to go to Mirpur city.
The trip to Gujrat City takes 50 minutes.
It takes 0 minutes to travel the projected Sialkot-Rawalpindi Motorway.
Citi Housing Kharian Master Plan:
The payment plans are easy to follow and don't cost too much. Citi Housing Kharian's plots for sale are made to be as cheap as possible so that all types of investors can buy them. People with small investments can also put money into the project because the payment plans are flexible.
New Citi Housing Kahrian Master plan:
The developers come up with the master plan for Citi Housing Kahrian. Also, master plan is a very important part of how society grows and changes. So, the master plan for Citi Housing Kahrian considers all of the residents' current and future needs. This society will have all the infrastructure it needs, and it will be the best it can be. Also, the society's main street will be 250 feet wide, and streets and lanes will be 40 feet wide. Also, each side of the boulevard will have a 10-foot green belt.
The project plan for Citi Housing Kahrian was made by architects and civil engineers who are very skilled and work at an international level. Also, a lot of attention has been paid to building up infrastructure. The people who built New Metro City Gujar Khan really want it to stand out from other housing communities in Gujar Khan. New Metro City Gujar Khan will also have a business and shopping district. This will meet the needs of people who want to buy property in Pakistan.
Citi Housing Kharian Payment Plan:
The payment plans offered by New Metro City Gujar Khan are not only simple on the wallet, but also convenient in terms of their instalment schedules.
The Metro City plots that are now up for sale may be reserved at prices that are easy on the wallet.
The management and the developers have given the matter a lot of attention in order to maintain the prices at their current low levels. People with lower incomes have been able to take advantage of a potentially lucrative investment opportunity because to the historically low interest rates.
Features and Facilities CITI Housing scheme
The housing society offers its people some of the most attractive and luxury facilities, and on top of that, it has a Golf Course for the benefit of the people, which leads to the housing humanity's ability to provide current and higher standards of living. The purpose of this cutting-edge undertaking is to bring Pakistan up to speed with the most current developments in the worldwide quality of life.
A Golf Course provides the residents with a touch of a modern lifestyle. The wide main entrance provides an eye-catching view.
The features provided here are as follows:
Futuristic Amenities.
Zoo.
Grand Jamia Mosque.
Ferris Wheel.
International Standard Schools & Colleges are built to ensure that your children get standard education.
A network of carpeted roads.
Parks, lakes, and hills.
Fully Functional Health Center with 24/7 facilities.
Branded Shopping.
Spa, gym facilities & fine dining.
Mosques.
Community Centre fulfilling all your needs.
Sports complex with different indoor and outdoor gaming.
Maintenance Staff to make sure everything is maintained and in working condition.
A well-built sewerage system.
24/7 security and camera surveillance.
Water Supply.
Shopping Malls with all the facilities and brands under one roof.
Restaurants provide you with quality food.
Community's Grand Mosque.
Water filtration plants.
Eifel Tower.
Community's Gymnasium.
Community's Graveyard.
Safari Park.
Swimming Pools.
Cricket Stadium.
Riding Club/ Race Course.
3D Cinema.
Electricity.
Gas.
Dancing Fountains.
Disney Water Theme Park.
Jogging Club.
Rose Garden.
Cricket Street.
Lake View.
Agricultural University.
Nursing College.
The University of South Asia in Knowledge Village
Why Invest in Citi Housing Kharian?
There are countless reasons to invest in Citi Housing Kharian. For any investor looking to invest in a profitable project, Citi Housing is the best investment opportunity in Kharian. Some of the main reasons to invest in Citi Housing Kharian are mentioned as follows:
Eco-friendly
Affordable
Prime location
Spacious properties
Luxurious amenities
Well-known developers
International infrastructure development
Guidelines to Follow While Purchasing/Sale of Plots:
Following are the guidelines to follow:
Document Verification:
Please always check all the paperwork to your full satisfaction to avoid any confusion or miscommunication. Before you buy or sell a piece of property, make sure to check with the authorities about the NOC and approved documents. This way, your paperwork will be valid in any way that will make your customers happy.
Financial Security:
Before the conclusion of any sale or purchase of the property, please ensure that your funds align with your purchase plan. In this way, your purchase or sale will be made without any issue.
Property Visits:
Visit the site before making any purchases and after verifying the legality of the papers to make sure the written materials comply with the requirements outlined in the plot description.
Documentation Requirement for Booking:
The following are the documents required to buy property in Citi Housing Kharian:
Two passport-size pictures
NICOP for overseas clients
Two copies of your National Identity Card
Two copies of the I.D card of your next kin
Benefits of Real Estate Investment:
Investing in real estate is recently ranked among the most successful of businesses worldwide. This is due to the fact that it offers excellent potential returns on investments. However, you need to bear in mind that in order for it to be successful, it must first be carried out in the appropriate manner. Investing in the real estate market may result in many different sorts of advantageous outcomes for the investor.
Some of the main benefits are as follows:
Financial Security:
If a person has some extra income or someone has some asset, and if that person wants to maintain the value of that asset high, then yes, the real estate sector is the sector that can keep the value of investment high and not depreciate it. This is because real estate prices tend to rise over time.
Stable Income:
A person may acquire a solid income with investing in real estate immediately. For example, one may purchase a property, construct it, buy a developed property, and rent it monthly or annually. Not only this, the rent increases every year by some percentage, so it would not be inappropriate to state that it becomes better than stability.
Feasibility:
An investment is not like a living thing that you have to take care of every day. You will only have to check on your property once in a while to make sure it doesn't fall into the wrong hands . As citi housing has delivered its projects in seven cities, they have established their credibility with the investment community.
Earnings from the comfort of your own home:
Once someone has put money into a piece of real estate, they could get passive income from things like rent. Investors buy a property that is already built or develop a plot of land that isn't being used and then rent it out. This gives them a steady source of income throughout the year However, when investors decide to engage in a project like Citi housing Kharian that is in the pre-launch phase, the first announced pre-booking prices will gain in a very short time, allowing investors to benefit from the varying amounts of appreciation in payment plans.
Non-depreciable Asset:
When properly managed, an investment in real estate is the kind of enterprise that will never depreciate in value. The value of real estate almost always rises year after year. And if any important project, either public or private, is begun in the neighborhood, then the value may grow by a factor of several.
Citi Housing Kharian Booking Procedure:
Tagine marketing always advises its respected customers that inquire about the latest booking procedure from management to clear out any communication. The booking procedure is as simple as possible.
All you have to do is follow the steps mentioned below:
Fill out your booking application form with full attention
Attach the CNIC copies of the applicant
Pay down payment via cheque or pay the order in favour of "Citi Housing Kharian," but confirm the management process in case of new changes
Cash payments are also accepted after confirmation by the management
Submit all the required documents and payment, and get the receipt
Pros & Cons:
Following are the pros & cons of Citi Housing Kharian.
24/7 water         
24/7 electricity  
24/7 gas    
Peaceful/ healthy/secure environment
Surveillance systems, CCTV cameras & guards       
Very close to the central locations & other projects       
Security system 
Solid waste disposal mechanism
How to purchase Citi Housing Kharian Application Form:
You can submit the application form for Citi Housing Kharian acquiring from the official website or official management.
But tentatively, you would have to attach the following documents with the application form:
Passport size photographs
Copy of CNIC or passport
Copy of NICOP
Copy of payment receipt
Screenshot of online payment slip
Thinking About Buying a Plot in New Metro City ?